Toblerone Cheesecake is delicious! If you love those milk chocolate Toblerone packed full of nougat, honey and almonds, you can give it a no better treatment than to make this super easy no bake Toblerone cheesecake. With a buttery shortbread biscuit base, an extra drizzle of milk chocolate and fresh whipped cream, it's worth heading to duty-free just to stock up on the giant ones and make this dessert!
When I need some joy, I love making my way to the kitchen and creating a new recipe. This delicious bad-boy cheesecake was created for my husband's birthday and it was very very well received.
He is addicted to Toblerone so making a no-bake Toblerone cheesecake was a no-brainer. and you've got yourself a next-level incredible no-bake dessert.
There are so many cheesecakes in the world but I think this would have to be in my top 3. Although I am pretty sure I say that about all my cheesecakes. They are all delicious. I'm now craving cheesecake again.
Why you'll love this recipe
It uses the wonderful Toblerone. Need I say anymore?
This is a super easy recipe which is doesn't take long and can be made ahead of time for an event or special treat. The No-Bake Toblerone Cheesecake will be a favourite of yours once you've tried it.
I decorate this no bake Toblerone cheesecake with a melted chocolate drizzle and chopped-up pieces of Toblerone so it not only tastes amazing but looks it too.
Top Questions
What is Toblerone?
Are there alternatives to Toblerone?
How many people does a 6″ cheesecake serve?
Why make a no-bake cheesecake?
What cream cheese is best for no-bake cheesecake?

Ingredients
For the full recipe and instructions scroll to the bottom of the page for the recipe card.
Toblerone Chocolate
The no bake Toblerone cheese cake wouldn't be complete without a healthy helping of delicious Toblerone.
I chopped up the triangles so you can see the inside of the Toblerone and you get the perfect ratio of crunch to soft cheesecake. For this recipe I used a 360g sized Toblerone. I use one third of it chopped up small to mix into the cream cheese layer. And the remainder tops the cheesecake in large chunks.
When I say the remainder, in theory, there should be some left to decorate your no-bake cheesecake with Toblerone. But I would definitely recommend enjoying a bit of the Toblerone while making it. Just like enjoying a glass of wine make making dinner that uses wine. You need to know the chocolate is edible of course!
Good Quality Cream Cheese
When making a Toblerone cheese no bake I would recommend using a good quality cream cheese. It helps your Toblerone dessert set quick and thicker
There are so many different types of cream cheese available and having tried a few different ones I think they all work pretty well.
Philadelphia is probably the most well-known brand in the UK and US and this is obviously great to use. Supermarket own-brand varieties I've often found to be just as good.
I would however recommend that you avoid using super savers versions as sometimes they can be a bit bitty and not have the nicest flavour. I would also recommend that you avoid any flavoured varieties.
How to make a Toblerone Cheesecake – step by step
Crush the biscuits to make your base and mix in your melted butter until the biscuit crumbs are fully coated in melted butter.
Pack your biscuits into a spring-away tin to make your Toblerone dessert base and pop it in the fridge to set, while you make the cheesecake mix.
Whip your cream into soft peaks, gently fold in your sugar and cream cheese and once combined add some chopped Toblerone pieces into your Toblerone cheesecake.
Then simply decorate!
How to decorate the no-bake Toblerone Cheesecake
I kept decorating it simple but with only 3 ingredients the topping looks wonderful. It doesn't take much to make this cheesecake look spectacular.
A little drizzle of chocolate, some pipped double cream and a mountain of Toblerone shards on top. It will definitely be a show-stopper of a cheesecake!
By chopping up the Toblerone in a chunky style you get to see the gorgeous insides. This also makes the pieces easier to nibble on once the no bake Toblerone cheesecake has been served.
The drizzle of chocolate adds a lovely bit of extra chocolate to the mix. Not that you needed it but why not! I don't completely cover the cheesecake with chocolate as once it goes hard, it can be hard to slice the cheesecake up to serve without squashing the cream cheese layer. These little bits make it easy to slice and serve.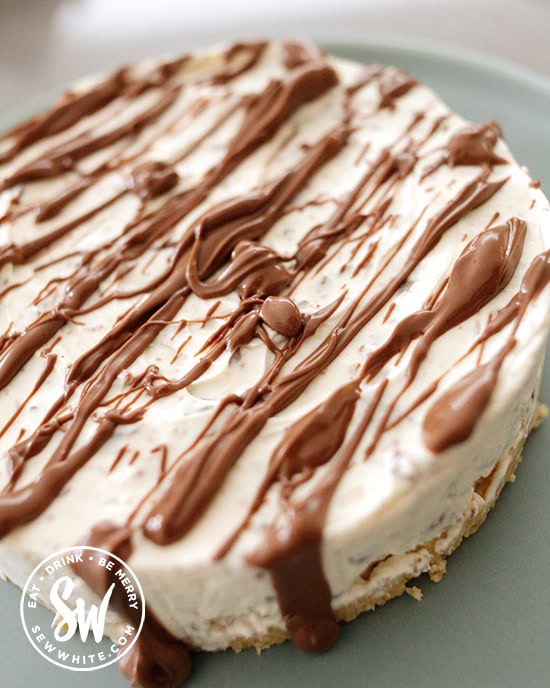 1) Melt chocolate in short burst in the microwave and drizzle it over the cheesecake.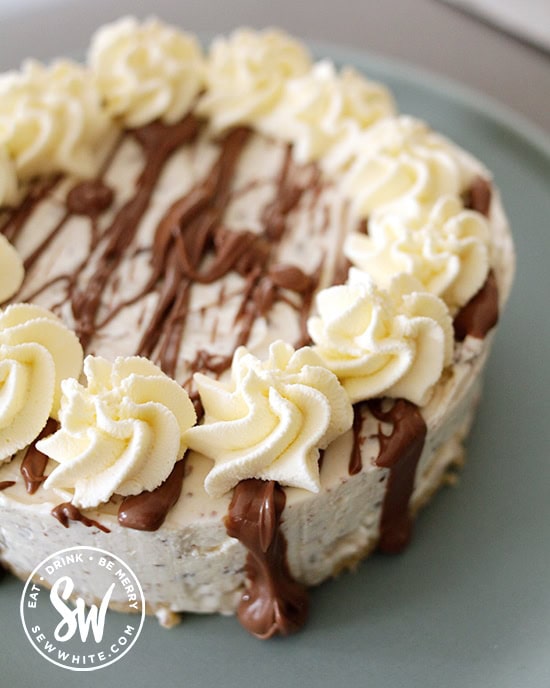 2) Whisk up double cream until thick and pipe into swirls around the outside.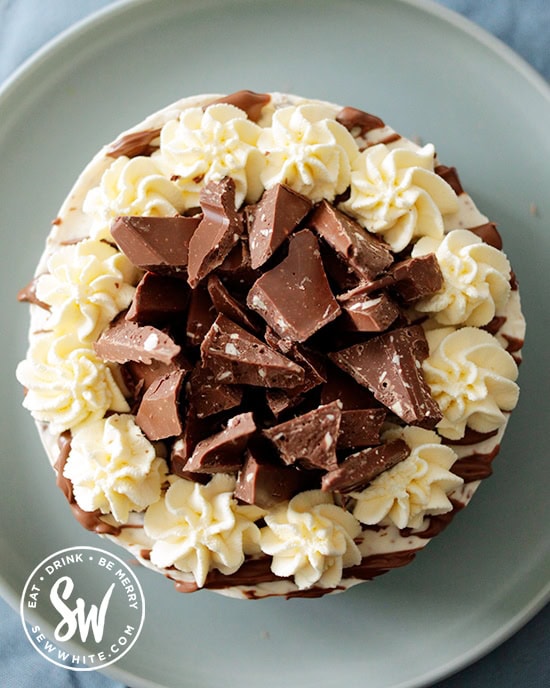 3) Roughly chop up the remaining Toblerone and add it to the centre of the cheesecake when ready to serve.
Top Tips
Get your cream and cream cheese out of the fridge about half an hour before you want to use them. This will help the cream cheese to soften so it's easier to mix.
Use your favourite biscuit to make the Toblerone cheesecake base. I love using a chocolate bourbon biscuit with this recipe as it adds an extra chocolate element.
Make your no-bake cheesecake with Toblerone in a spring-away cake tin. This makes it much easier to get the cheesecake out of the tin without it all sticking to the sides.
Serving Suggestions
This Toblerone cheesecake makes the perfect Christmas dessert if you aren't a fan of the spiced Christmas pudding. You can simply make it a day before, let it set overnight and enjoy!
To really pimp up your cheesecake you could make mini individual Toblerone cheesecake. These look amazing served in dessert glasses or in little ramekins.
Equipment
This list contains affiliate links
Loose Bottom Cake Tin
2 or 3 Bowls for mixing
Whisk
Piping Bag
Substitutions and variations
Bourbon Biscuit Cheesecake
Bourbon biscuits are a great addition to cheesecakes and often my favourite. A Toblerone cheesecake with a bourbon base is a wonderful addition to the chocolate goodness. Use the same weight in bourbon biscuits you would shortbread.
For bourbon biscuits you will need to use a food processor to to whizz them up in to crumbs. Breaking them up with a rolling pin doesn't work as well as it does for other biscuits because of the cream filling.
Dairy Free Cheesecake no bake
You can make a dairy-free cheesecake by using dairy-free alternatives of the cream cheese, cream and butter used for the base. You can keep the quantities the same.
Christmas Chocolate Cheesecake
Not a fan of Toblerone? Why not make this Toblerone dessert with your favourite Christmas chocolate instead. Use your leftover Christmas Father Christmas, chocolate coins or a mix of everything!
Leftover Easter Chocolate Cheesecake
If you come across the recipe a little earlier in the year you can make an Easter chocolate cheesecake too! Chop some mini eggs, creme eggs and chocolate Easter bunnies on top your no bake cheesecake mix.
Using mini Toblerones to make cheesecake
For the decoration of this cheesecake I used a full size Toblerone cut up into shards. But a lovely way to decorate is with mini Toblerone bars. The little pieces work so well and look super cute piled up on the Toblerone Cheesecake.
They are also far easier to chop up! Still be careful when cutting though as they will be awkward to cut.
Storing / Making ahead of time options
You will need to store your cheesecake in the fridge. It is a good idea to cover it if you can to prevent it from absorbing other flavours from the fridge.
A well stored cheesecake will keep for up to 3 days in the fridge. This means that you can make it up to several days in advance. I do recommend that you do not add the whipped cream and chocolate decoration until you are nearly ready to serve.
How to freeze a no-bake cheesecake
No bake cheesecakes are ideal to freeze. You should remove the cheesecake from the tin and wrap it in clingfilm (saran wrap) then freeze. Storing it in an airtight container will add an extra layer of protection if you have room in the freezer.
To thaw the cheesecake, take it out of the freezer the day before and leave it in the fridge overnight to defrost.
I would not recommend decorating the cheesecake with the cream and Toblerone shard before freezing so this should be done once the cheesecake has thawed. You can however freeze the chocolate drizzle.
FAQS
What is Toblerone?
Toblerone is classic chocolate which many of us know and love. It has an unfair reputation for only being bought at airports as a last minute holiday gift. But this famous Swiss chocolate deserves more than that.
It is also more than simply chocolate. The classic variety starts with milk chocolate but has tiny pieces of almond, nougat (a chewy candy made from almonds) and honey mixed in. This gives it a distinctive taste.
Of course like most popular chocolates and candy bars, there are any number of other varieties available. White chocolate and dark chocolate versions are available as well as other twists like one packed with fruit and nuts and another with chocolate orange flavours. The good news is that you can use almost any of these varieties in this cheesecake.
Are there alternatives to Toblerone?
Of course, there are many alternatives to Toblerone! Toblerone is the original brand but like most things, many other companies have created their own versions. You can use any of these alternative versions to make this no-bake cheesecake. But I have to admit, I am a fan of the original.
How many people does a 6″ cheesecake serve?
This recipe uses a 6″/15cm tin to make a fairly small cheesecake. I often find that cheesecake recipes can involve large and often expensive quantities of ingredients to make really large cheesecakes.
Making a smaller cheesecake with 8 portions means that it can be a more regular treat for a smaller family and doesn't need to be saved for a special occasion.
But that doesn't mean that you can't easily scale up the recipe to make a bigger version. If you want to make this to feed a lot more people then double or triple the recipe.
Why make a no-bake cheesecake?
Simple – they're really easy as well as being creamy and delicious.
A traditional baked cheesecake is a thing of beauty but simply by their nature, they do take longer to make. They can also be trickier to master and they can crack or curdle. So I am a huge fan of the no-bake version – in fact I have developed lots of delicious varieties.
Many no-bake cheesecakes use gelatin to help set the cheesecake but I do not find this necessary. This means that this cheesecake recipe is suitable for vegetarians.
You can find my whole range in this handy roundup post – The Best No Bake Cheesecake Recipes. There is everything from fruity and boozy favourites to halloween and christmas themed cheesecakes.
What cream cheese is best for no-bake cheesecake?
Most cream cheeses are best for cheesecake. The full-fat versions are great and do give a great taste. Unlike in baked cheesecakes, the reduced-fat varieties can still work.
In both cases, if there is any water on top remove it before adding the cream cheese to the mix. Water can make the final cheesecake not set as well.
Other Recipes you might like
Pin this recipe to enjoy later
Pin me for later or follow me @sewwhiteblog on Pinterest for my latest recipes and to discover my others.
Recipe
Toblerone Cheesecake – No Bake
Toblerone Cheesecake is delicious! If you love those milk chocolate Toblerone packed full of nougat, honey and almonds, you can give it no better treatment than to make this super easy no-bake Toblerone cheesecake. With a buttery shortbread biscuit base, an extra drizzle of milk chocolate and fresh whipped cream, it's worth heading to duty free just to stock up and make this dessert!
Ingredients
50

g

Unsalted butter

200

g

Shortbread biscuits

300

g

Soft cream cheese

60

g

Caster sugar

150

ml

Double cream / heavy cream

120

g

Toblerone
Decorations
100

g

Milk chocolate

150

ml

Double cream / heavy cream

240

g

Toblerone

less some for "taste testing"
Instructions
Lightly grease an 6 inch loose base cake tin. (I also added a greaseproof paper circle at the bottom to help it off the base later).

Melt the butter gently in the microwave in short bursts or in a pan and then take off the heat so it doesn't burn.

Crush the shortbread biscuits in a food processor, or put it in a plastic bag and use a rolling pin to break them up (my preferred method to leave them as a larger crumb).

Put the biscuit crumbs in a bowl and add the melted butter. Stir until all the biscuits are coated in the butter.

Scoop the crumbs into the tin and push down gently to make a hard layer. Place the cake tin in the fridge and leave to harden for 30 minutes while you make the cream layer.

In a bowl cream together the cream cheese and caster sugar until the sugar has dissolved and is well distributed.

Stir in the double cream and cream cheese mixture together.

Take 120g of the Toberlone and chop up into small chunks. Stir in to the cream mix

Remove the cake tin from the fridge and add the cream cheese to the base and put back into the fridge to set for at least an hour. Longer is fine if you want to make it ahead of time for an event.

Remove the cheesecake from the tin and place on a plate.

Melt the milk chocolate and allow to cook slightly before drizzling over the cheesecake.

Whisk the remaining double cream until it starts to thicken. Add a star nozzle to a pipping bag and add the cream. Pipe the cream into swirls on to the cheesecake.

Lightly chop up the remaining Toberlone and add it to the centre of the cheesecake.
Nutrition
Calories:
761
kcal
Carbohydrates:
61
g
Protein:
8
g
Fat:
55
g
Saturated Fat:
31
g
Polyunsaturated Fat:
2
g
Monounsaturated Fat:
13
g
Trans Fat:
1
g
Cholesterol:
111
mg
Sodium:
295
mg
Potassium:
143
mg
Fiber:
2
g
Sugar:
46
g
Vitamin A:
1233
IU
Vitamin C:
1
mg
Calcium:
74
mg
Iron:
1
mg
Please note that the nutrition information provided above is approximate and meant as a guideline only.
Linked up to this weeks fabulous #cookblogshare round up being hosted by Chloe at Feast Glorious Feast.