These Flapjack Easter Nests are so easy to make and taste delicious. They are baked in a cupcake tin and once baked turned into nests ready to decorate. The Mini Egg flapjacks are so easy to make and perfect for children to decorate. They are also brilliant for Easter party snacks and spring picnics.
While at home, my dad and I have been trying loads of different flapjack recipes. We have tried so many and we have refined them and combined them to make this recipe.
In the end this recipe is based on my recipe which I have been used for years. The condensed milk keeps them soft once cooked.
I'm not a fan of flapjacks which go rock hard after cooking. As it's Easter and mini eggs are the only eggs available I had an idea to make the flapjacks into Easter nests. I think they worked incredibly well!
For these I used a a cupcake tray for these. I greased it first and added a square of greaseproof paper to make sure they would come easily. After baking and while they were still in the pan, I used a teaspoon to push the middles down to make the nest shape. I then left to cool. To get them out of the cupcake tin once cooked, I used two spoons to pop them out. When ready to serve I added the mini eggs. They were so easy to make and looked gorgeous!
The finished golden brown Flapjack Easter Nests I think have been a highlight of my Easter weekend. The house smelled amazing as they were cooking and the family while all staying home were getting more hungry as the smell got stronger.
Flapjack additions – Flapjacks with a twist
There are so many things you can add to flapjacks! If you love your chocolate add chocolate chips. Love M&Ms stir them in. Fancy more a nuts and seeds flapjack then add some too.
Flapjacks are so easy to adjust and come up with multiple additions for.
At Easter I love adding mini eggs. In winter cranberries and white chocolate are my favourite.
I've added Biscoff spread in to the flapjacks before and even a chopped up crunchy bar to add in. Aero bubbles also work well and go very gooey.
Kids flapjacks
These flapjacks are so easy to make and very fun for kids to make. They will need to be supervised for when melting the ingredients on the hob though. But as it comes to making the nests they are a perfect activity for little bakers. Especially fun for the kids is decorating the nests once cooked. Someone needs the very important job of adding the mini eggs!
If you want to make them even more kid friendly then you could add some icing and sprinkles to have a creative special. Even a simple white icing drizzle with a few sprinkles to stick on could be a lot of fun.
How to make Easter flapjacks video
Once they were made and photographed, they were devoured. Always a good way to know they were enjoyed. Sadly they have nearly all disappeared now and writing this has made me so hungry!
If you love making an Easter nest, you should try making the white chocolate Easter cake, decorated with a large chocolate Easter nest.
Step by Step – How To make Easter flapjack nests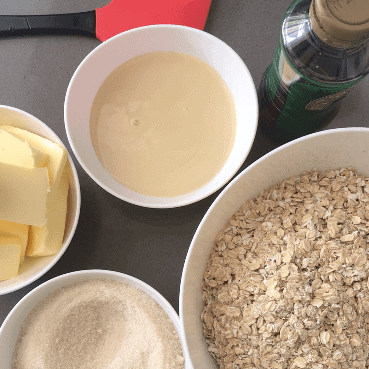 You only need 5 ingredients to make these delicious flapjacks.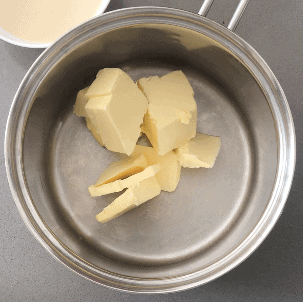 Add the button to a large saucepan.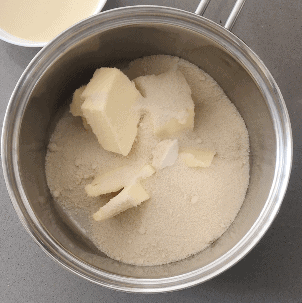 Add in the sugar.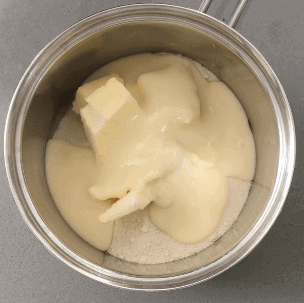 Pour in the condensed milk.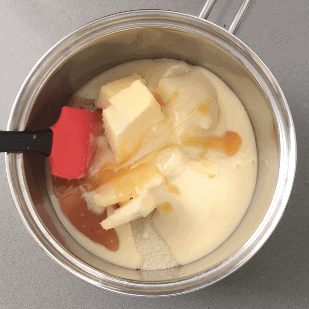 Add the golden syrup.
Pop on the hob on a low heat until it's all melted and mixed together.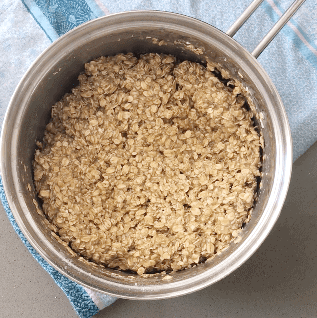 Stir in the oats.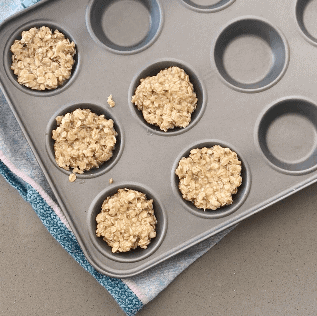 Add a tablespoon of mix into the cupcake tray. Bake.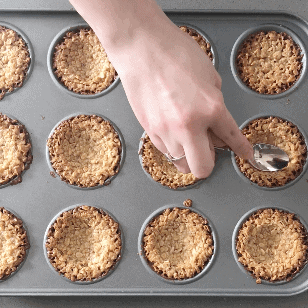 When they are hot out of the oven use a teaspoon to push the middle of the nests down. Leave to cool.
When they are cool top with mini eggs.
Trouble shooting – how to get the Flapjack Easter nests out of the cupcake tin
If you use a non stick cake tin the flapjacks shouldn't stick. However if you are worried about it you can also reduce the risk by adding a layer of greaseproof paper in each cupcake hole. Or even use cupcake wrappers.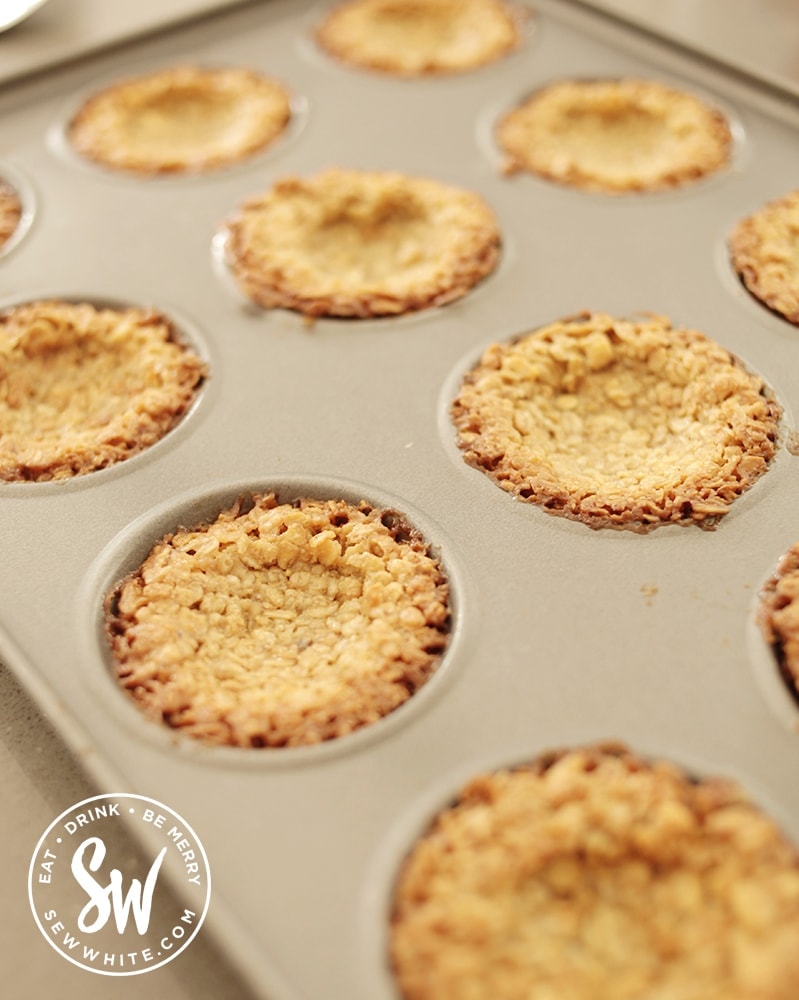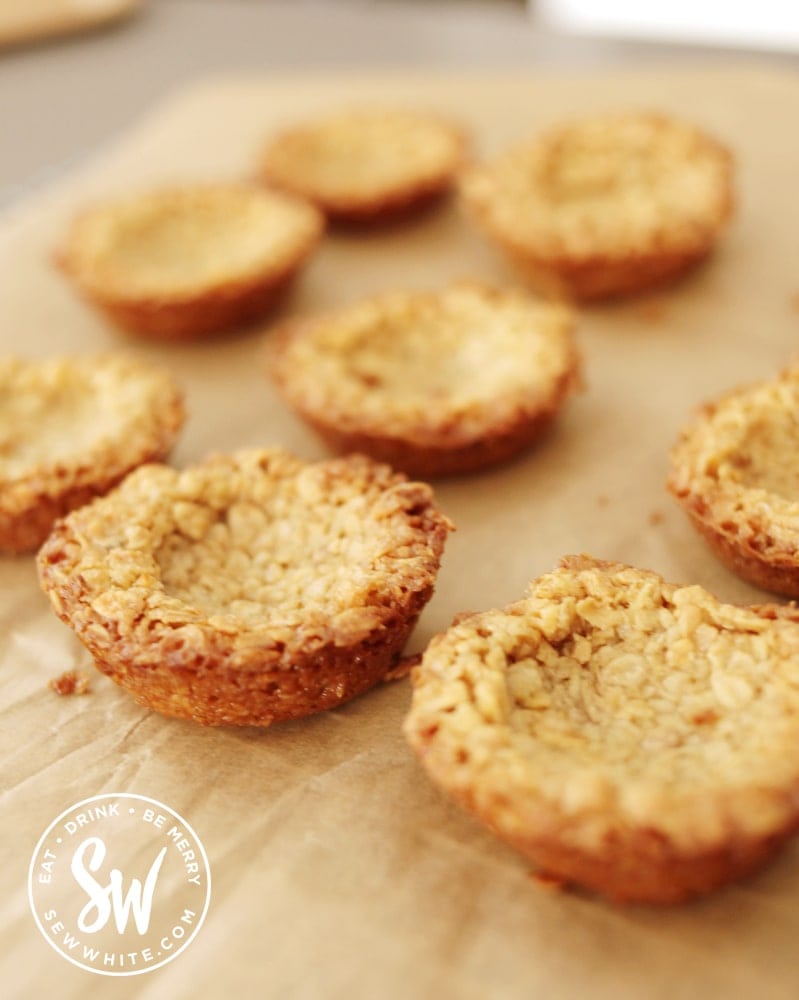 The non stick cake pan will allow the flapjack to cook and while still warm you can use a spoon to loosen them slightly. When they are cool they will also pop out really easily.
I would recommend leaving them in the cupcake pan to cool as it will help keep the shape. The spoon trick as they are cooling to loosen the flapjack nest really makes all the difference.
Gluten free Flapjack Easter Nests
The great thing about this recipe is that without trying this makes gluten free flapjacks. It is a great bake to be able to serve for friends who need to be gluten free but love sweet treats and Easter bakes.
When you make this easy flapjacks recipe check the oats you buy are gluten free as some have been prepared in factories where gluten is present.
Best flapjack recipe soft
I might be biased but I really believe this is the best flapjack recipe soft results. I love a soft flapjack and this recipe really produces great results.
The edges can be a little crisp but the inside is super soft. Even after a few days the flapjacks will be still be soft and beautifully easy to eat.
If you want the outside to be soft too, cover with silver baking foil so it cooks but doesn't catch on the top.
Follow me on Instagram to see what I've been making recently. www.instagram.com/sewwhite
Pin this recipe for later
Recipe
Flapjack Easter Nests
These Flapjack Easter Nests are so easy to make and taste delicious. They are baked in a cupcake tin and once baked turned into nests ready to decorate.
Ingredients
125

g

(

4.41

oz

)

condensed milk

125

g

(

0.6

cups

)

golden caster sugar

2

tbsp

(

2

tbsp

)

golden syrup

150

g

(

5.29

oz

)

unsalted butter

300

g

(

3.7

cups

)

Gluten Free oats don't use instant porridge oats
Instructions
Preheat the oven to 160ºC and grease a 12 hole cupcake tin with a little butter and a piece of greaseproof paper on the bottom. It helps getting them out easily.

Add the butter, sugar, condensed milk and golden syrup to a saucepan. On a low heat melt together and keep stirring until all combined.

Remove from the heat and stir in the oats.

Add a heaped tablespoon of the mix to each of the cupcake tin holes.

Cook for about 12-15 minutes until light golden brown.

When you take them out of the oven use a teaspoon and push the centre of the flapjack down to make the nest.

While they are still be warm, use a spoon to lightly push the flapjacks away from the sides of the cake tin. Be careful, the tin and flapjacks will be hot. This will make sure they are easy to get out when cooler.

Once cool they should be crisp and easy to get out of the cupcake tin.

Top with mini eggs or chocolate Easter eggs and enjoy these egg-citing sweet treats.
Nutrition
Calories:
270
kcal
Carbohydrates:
36
g
Protein:
4
g
Fat:
13
g
Saturated Fat:
7
g
Trans Fat:
1
g
Cholesterol:
30
mg
Sodium:
16
mg
Potassium:
132
mg
Fiber:
3
g
Sugar:
19
g
Vitamin A:
340
IU
Vitamin C:
1
mg
Calcium:
46
mg
Iron:
1
mg
Please note that the nutrition information provided above is approximate and meant as a guideline only.