These Easter Chocolate Fridge Tray Bake are always a fabulous addition to an Easter party or event. Quick to mix up and they fridge bake in about an hour.
Easter certainly seems to be a festival of chocolate this year. To celebrate and give into the good sweet stuff I have update a favourite of my recipes to have an Easter theme. I give you my Easter chocolate fridge tray bake. It's so quick, brilliantly tasty and a fantastic way to use up any bits of chocolate you have left over.
Sweet, chocolatey and delicious Perfect for Easter
It takes about an hour to set but I would recommend leaving it a little longer than that if you can. Definitely take it out to slice when it's still setting though as it makes it so much better to get it done. When it's completely set it is a nightmare to cut up. Unless you want one giant one for a special treat.
It's also a great way to use up any extra chocolate you might have after Easter. It tastes wonderful with one type of eggs for example mini eggs but I love adding loads of different types in. Some fot nougat ones, holhow chocolate ones, caramel ones etc. It's wonderful!
Delicious and I love the addition of extra eggs on top and the last of the chocolate rabbits I had looked so sweet on top.
It looked so inviting when I cut up. I must not eat it all in one go but it appears I might have attempted it.

Happy Easter
I'm entering this chocolate masterpiece into Lucy at Supergolden Bakes weekly round up #CookBlogShare.
I am also entering these into the Chocolate themed Tea Time Treat being hosted by Janie at The Hedgecombers and Karen at Lavender and Lovage.
#teatimetreats
Easter Chocolate Fridge Tray Bake
These Easter Chocolate Fridge Tray Bake are always a fabulous addition to an Easter party or event. Quick to mix up and they fridge bake in about an hour.
Ingredients
100

g

unsalted butter

3

tbsp

golden syrup

400

g

milk chocolate

300

g

digestives

100

g

maltesers

100

g

mini eggs

300

g

white chocolate

100

g

micro eggs for decorations
Instructions
Melt the butter, golden syrup and chocolate in a saucepan on a gentle heat, keep stirring. Take it off the heat when it's all melted together.

Crush the digestives to crumbs and add to the melted chocolate mixture. (I use a rolling pin and hit the biscuits while they are in a bag to make the crumbs.)

Once thoroughly mixed add the maltesers, mini eggs and any other chocolate bits and bobs you have. I also added a few ferrero rocher eggs roughly chopped to enjoy. Jelly beans are also a fabulous thing to add.

Line a medium baking tray with greaseproof paper.

Put the mixture into the pan and press in firmly to compact the mix in.

Melt the white chocolate in a bowl over hot water. When it has melted pour the chocolate over the mix.

Decorate with micro eggs or other eggs/decorations you like.

Put in the fridge until set – after 1 hour cut into slices and return to the fridge. It's easier to cut when it's still soft.
Nutrition
Please note that the nutrition information provided above is approximate and meant as a guideline only.
Other chocolate recipes you might enjoy
A delicious mix of the fresh fruit flavours from a Black Forest Gateau and the rich chocolate from brownies make these Black Forest Brownies perfect combination and are easy to bake at home.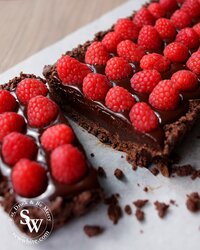 Enjoy a slice of my Chocolate Raspberry Tart with my easy 5 ingredient recipe. A lovely rich truffle recipe studded with fresh raspberries on a bourbon biscuit base.
My Chocolate Star Christmas Tree is a very easy, cute and fun way to get creative with children this Christmas. Build up the stars and get decorating.
I adore these Chocolate Marshmallow Pops. Marshmallows dipped in chocolate are one thing but these are next level treats. Marshmallow pops are so easy to make, look beautiful and will make always be popular with adults and kids alike. Dress them up with sprinkles, dried fruit and even chopped nuts.
My Focaccia Party Bites with Parma Ham and Peach are so easy to make and perfect for a party as you can make them earlier in the day and serve when needed.
Easter Recipes
A wonderful and beautiful show stopping Pinata Easter cake. The Duck egg blue icing is speckled with cocoa powder and when you cut in, you will find there are hidden Easter eggs inside. This Easter Pinata Cake will wow your guests and act as a beautiful centre piece for your Easter lunch. Every Easter table deserves a beautiful speckled egg cake centre piece and this is one for the whole family. Enjoy my Speckled Easter Pinata Cake this Easter. Easy to make and delicious.
Who wants to make an Avocado Easter egg? I love Avocados and the chance to try making an Avocado Easter egg was just something I couldn't pass up.
Every time of year deserves a cocktail. For Easter it had to be a chocolate one! My rum Easter chocolate cocktail is pretty strong and can be served as a pudding too.
Have you ever thought of pimping up your Hot Cross Buns? There are so many different ways you can including chocolate and nuts. However, I think these cranberry hot cross buns are the best! Adding cranberries and lime zest is a game-changer! Some might find this Easter tradition a bit drab and boring, but a citrus twist makes these sweet hot cross buns the perfect Easter treat! Enjoy this cranberry hot cross buns recipe.
Creme Eggs are so popular that I couldn't help trying to turn them into pancakes. The lovely stack of Creme Egg pancakes are easy to make and so moreish! I hope you enjoyed these easy to make and even easier to enjoy Easter pancakes.
My Mini Egg Cookie Traybake takes my cookie tray bake recipe and gives it a super Easter twist. It's pretty much a chunky cookie dotted with mini eggs.
If you have loads of Easter chocolate to use up then this is the Leftover Easter Chocolate Traybake cake for you! This is a quick chocolate sheet cake to chocolate traybake which has leftover easter chocolate inside. Plus it is decorated with leftover Easter chocolate too.
View all my sweet treat recipes.
Follow me on Instagram to see what I've been making recently. www.instagram.com/sewwhite