These Easy Mini Egg Individual Cheesecakes are a super easy and cute way to make an Easter desserts. These no bake Easter cheesecakes are made of a vanilla cream base with chopped in mini eggs stirred in. Mini cheesecakes are so easy to make perfect for a quick dessert but also great for summer picnic food too! I hope you enjoy these individual mini egg cheesecakes.
If you've visited my website before, you will know how much I love cheesecakes. I am obsessed. For Easter I had to make some with mini eggs, also an addiction of mine. Luckily these delicious eggs are seasonal as I would eat them all year if possible. As Individual Cheesecakes you get the best of both words. Delicious cheesecakes and not having to share.
I decided to colour the cream cheese to match the pastel colours of the mini eggs and I think it looks incredible. I used colour pastes as they don't interact with the cream cheese.
There are chopped up mini eggs in the cream cheese part. Plus, of course there needed to be topped with more mini eggs too.
Picnic Ready – Individual Cheesecakes
A little joy about these cheesecakes are you can make them in clip lock jars or similar, and take them out for a picnic. The cheesecakes travel surprisingly well.
Even if at the moment we are all staying home and not allowed out for picnics I've made some to enjoy in the sunshine for something a little bit different.
Getting these Individual Cheesecakes travel ready and having a picnic in the house was an odd and fun experience. It reminded me of having picnics in the living room as a child. Although back then it was crisp sandwiches and Ribena.
Transport the Individual Mini Egg Cheesecakes in the jars. Add a cool pack to a picnic big and you can enjoy the cheesecakes directly out of the jars with friends and family in the sunshine.
What can serve with individual mini egg cheesecakes?
Fresh fruit like strawberries and blueberries
more mini eggs of course.
other Easter chocolates and candy
How to make Individual Mini Egg Cheesecakes
I think the pastel purple was my favourite of the cheesecakes. Even though they look different they all have the same gorgeous vanilla creamy flavour. I love finding the mini egg chunks throughout the cream as you eat it too. Absolutely delicious.
I left some of the cream mixture as plain to go with the white mini eggs. I then did some pastel yellow and the remaining mix pastel pink and pastel purple. Studded with mini eggs to serve they are the cutest no bake mini cheesecakes ever. In my humble opinion about these individual mini egg cheesecakes.
Pastel pink cheesecakes. The perfect pudding and dessert for us pink obsessives.
When you make the cheesecakes don't add the mini eggs to the top until you're ready to serve. This is because the the colour will start to run off when it comes into contact with the moisture from the cream. It won't be too drastic but if they move you will see where they have been.
It's time to make these absolutely delicious Individual Mini Egg Cheesecakes.
How to make Individual Mini Cheesecakes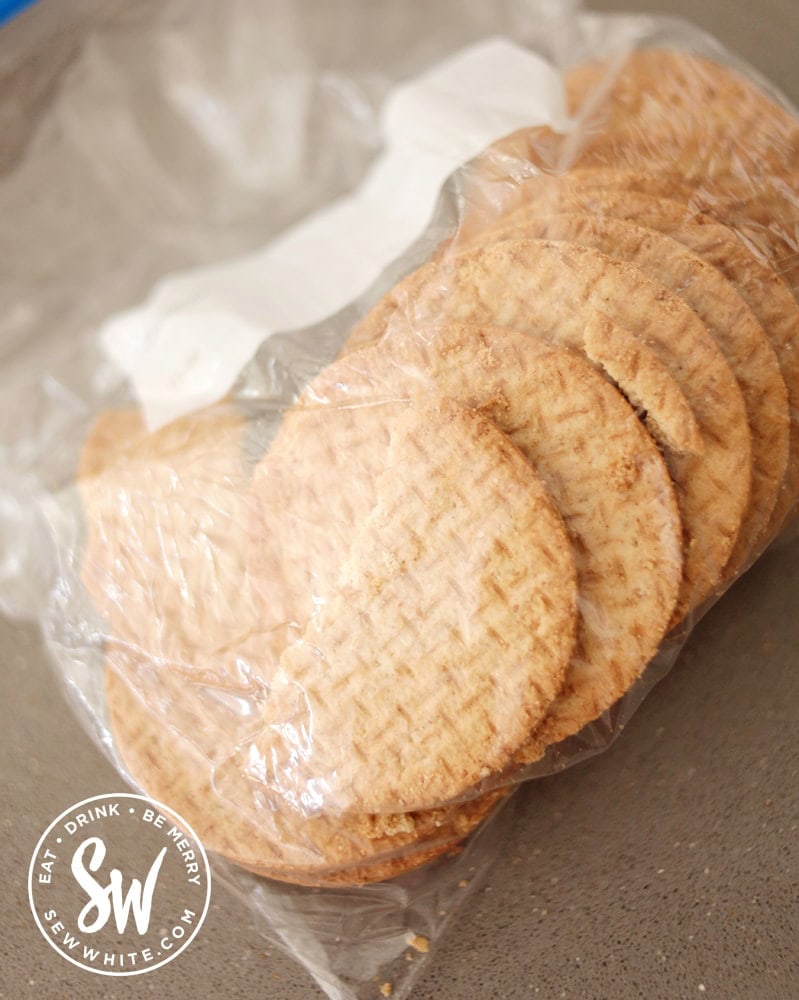 1) Digestive biscuits make a great base for these cheesecakes. I pop them into a bag and bash it with a rolling pin.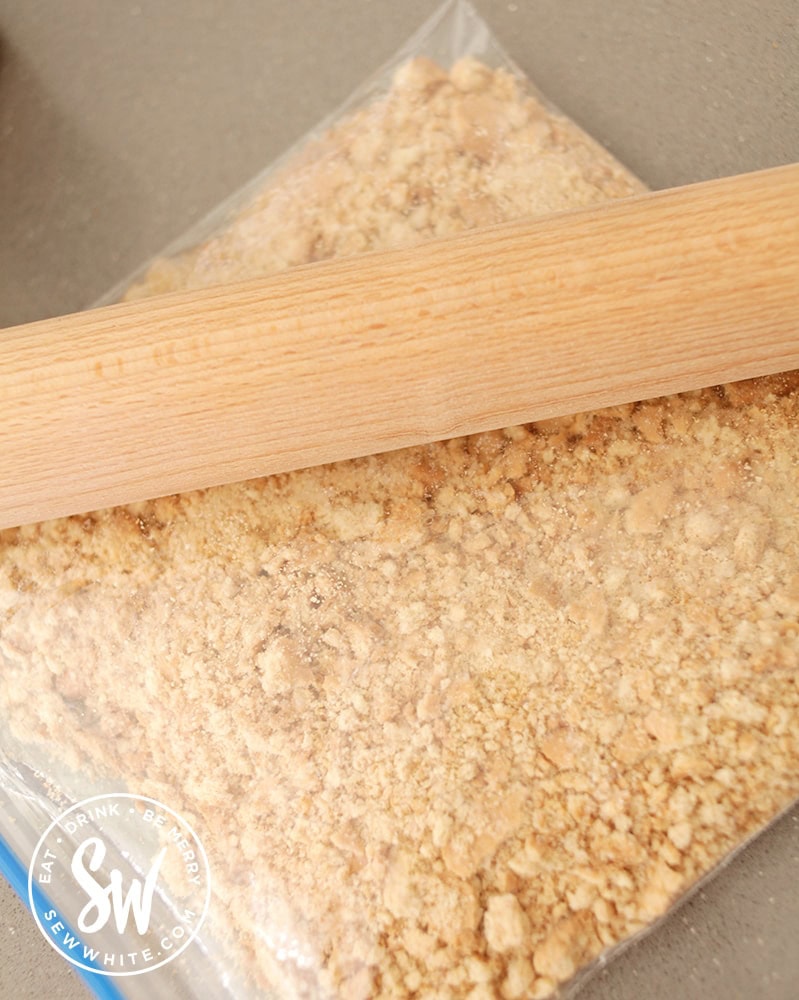 2) The crumbs remain chunkier than if you blitz in the blender. It's also a great stress buster.
3) Mix in the caster sugar and vanilla extract together making sure the sugar has dissolved.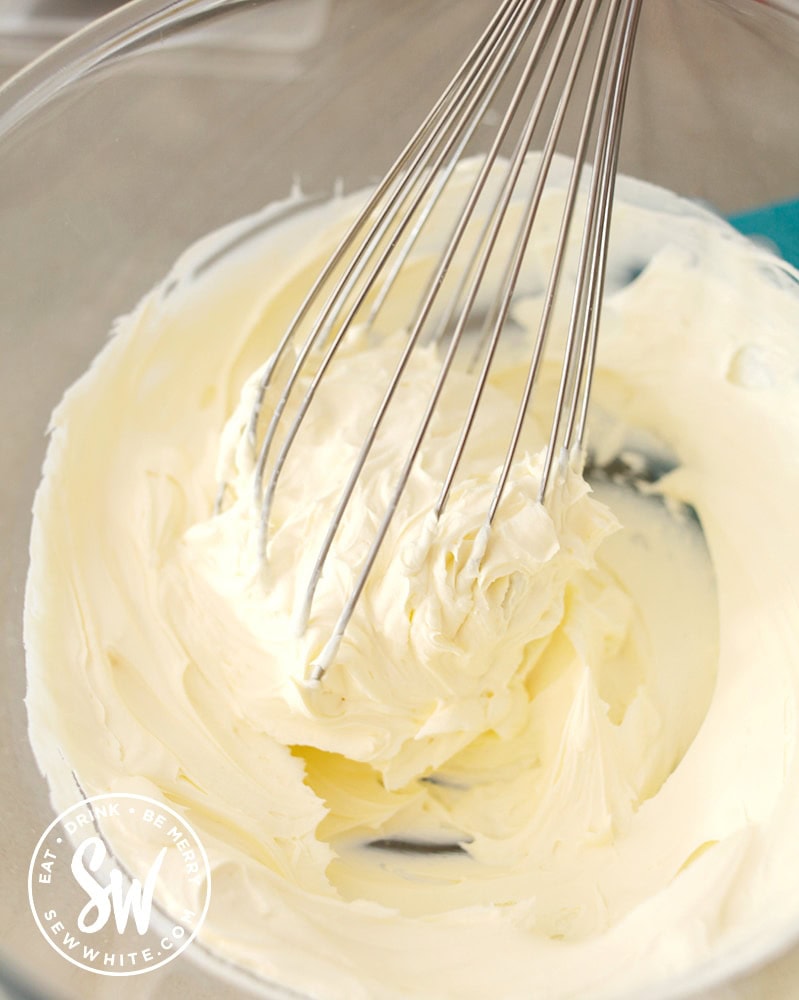 4) Whisk up the double cream until thick. As it's a little amount of cream I would recommend doing it by hand so you don't over whip it.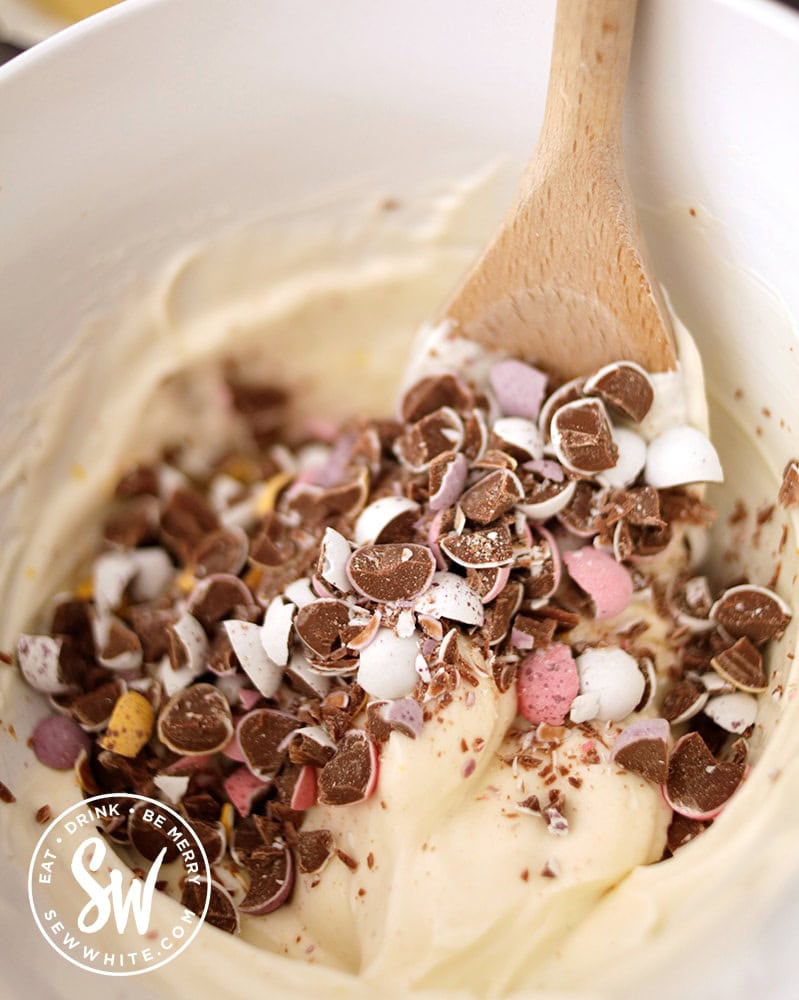 Chop up the mini eggs (please do this carefully) and mix in. I love seeing the colours. From here you can add this mix to each ramekin or cup, or you can divide and add a little food colouring to make the cream cheese part the pastel colours to match the mini eggs.
In this how to I didn't include the part about changing the colour of the mixture with colour paste. However if you want to change the colour divide the mixture in to how many colours you want. I did 4 bowls for 4 colours.
Add a tiny bit of colour paste at a time to make sure you can control how strong the colour goes. As it is a pastel colour you won't need much for the individual mini egg cheesecakes.
The add the broken up mini eggs and continue as per the recipe for the mini cheesecakes as below.
What are the best jars for mini Individual Cheesecakes?
There are so many things you can make these mini Individual Cheesecakes in.
I've used little glass ramekins for this recipe as I wanted to show off the layers. The glass is light and easy to store too. Plus best of all it's easy to wash when they're done.
If you have beautiful cups and saucers they would make it a lovely way to present the mini egg cheesecakes for an Easter dessert.
I love using mason jars for these mini cheesecakes. They are great for transporting the cheesecake if you are making them and taking them to a dinner party or on a picnic too. The clip lock jars are so cute and I can't wait to make more mini cheesecakes in them for the summer.
Making mini Easter cheesecakes at different parts of the year
These little cheesecakes are great all year round and can easily be made for different times of year.
You don't need to add the mini eggs to the mixture as a start. You can make the cheesecake layer as normal. It's a gorgeous vanilla cheesecake and absolutely delicious on it's own.
HALLOWEEN MINI CHEESECAKES
To turn these mini cheesecakes into Halloween mini cheesecakes make them usual. You can add some orange colour paste to make them more pumpkin coloured. Top with your favourite halloween candy.
If you want to make a Halloween cheesecake – check out my Halloween cheesecake covered in Halloween candy recipe
BISCOFF MINI CHEESECAKES
Mix biscoff spread into the Individual Mini Egg Cheesecakes when you add the double cream to the cream cheese. The biscoff will add a lovely flavour and is great with a swirl of double cream on top with a Biscoff biscuit on top.
CHRISTMAS MINI CHEESECAKES
I have turned these mini cheesecakes into Christmas desserts before and they are so gorgeous. A little easy to make no bake cheesecake are great to serve. Especially as they can be made in advance.
You can add a cranberry mix to the top to add a sharpness to the sweet cream layer. It is a lovely combo. Find the recipe for the full cranberry cheesecake here…
What do I need for Easter Cheesecakes?
To make this recipe you only need a few ingredients. I promise it looks complicated but it's not at all. It's very methodical and done in different section. You have the base section which takes about 5 minutes. Followed by the creamy filling section which takes about 10-15 minutes to do. Then the final section is decorating how you would like.
You need Unsalted butter and Digestives biscuits for the base. I love using digestives biscuits for a cheesecake base as it has a flavour but doesn't take away from the flavours in the cream.
For the cream section you need soft cream cheese, caster sugar, vanilla extract and double cream. This is the basics of all of my cheesecakes and then adapted from there for different flavours.
colour pastes in purple, red and yellow (optional)
200 g mini eggs chopped up to go in the cheesecakes.
Plus loads of extra mini eggs for the topping. I love the mini eggs on top!
Sprinkles if you want extra fun for your no bake cheesecake.
Easter egg cheesecake with sprinkles
I love Individual Cheesecakes with sprinkles. You can make a simple cheesecake look fabulous and seasonal with your choice of sprinkles.
I love sprinkles so I tried a few with these sprinkles. I love the addition of sprinkles. Extra colour to finish off these gorgeous mini cheesecakes for Easter. They work so well with the pastel colours of the mini egg colour inspired cheesecake cream layer.
Taking the time to divide the mixture add the colour paste to match the pastel mini egg colours was totally worth it.
What do you think? Add the sprinkles or keep them without?
The most delicious individual cheesecakes!
Other Easter Recipes you might like
Follow me on Instagram to see what I've been making recently. www.instagram.com/sewwhite
I've joined up this mini cheesecakes recipe post to this weeks #CookBlogShare hosted by The Rare Welsh Bit.
Pin this recipe for later
Recipe
Individual mini egg cheesecakes
These Easy Mini Egg Individual Cheesecakes are a super easy and cute way to make an Easter desserts. These no bake Easter cheesecakes are made of a vanilla cream base with chopped in mini eggs stirred in. Mini cheesecakes are so easy to make perfect for a quick dessert but also great for summer picnic food too! I hope you enjoy these individual mini egg cheesecakes.
Equipment
mixing bowls

whisk

Wooden spoon

8 small ramekins or cups
Ingredients
Individual Vanilla Cheesecakes
50

g

Unsalted butter

150

g

Digestives biscuits

300

g

Soft cream cheese

60

g

Caster sugar

1

tsp

vanilla extract

150

ml

double cream / heavy cream

colour pastes

(in purple, red and yellow optional)

200

g

mini eggs

(chopped up to go in the cheesecakes)

100

g

mini eggs
Instructions
Melt the butter gently in the microwave or in a pan and then take off the heat.

Crush the biscuits in a food processor, or put the shortbread in a plastic sandwich bag and use a rolling pin to break them up.

Put the biscuit crumbs in a bowl and add the melted butter. Stir until all the biscuits are coated in the butter.

Scoop the crumbs into the little dishes and push down to make a hard layer. Put in the fridge for 20-30minutes to set.

In a bowl cream together the cream cheese and caster sugar until the sugar has dissolved and is well distributed. Add the vanilla extract.

In a new bowl lightly whip the double cream until it starts to thicken.

Stir in the double cream and cream cheese mixture together.

Break up the mini eggs (I carefully cut them but you can bash them with a rolling pin) and mix them in to the cheesecake cream layer.

Divide the mix in to 4 bowls if you want to change the colours of each to get that pastel look. Add a tiny bit of the purple colour paste to one of the bowls and mix until it's about the same colour as the purple mini egg. Repeat with the other bowls. Leave one plain for the white mix.

Remove the ramekins or cups from the fridge and add the cream cheese mixes to the base and put back into the fridge to set. It takes roughly about 45-60 minutes. If you want you can do layers or keep each little one a different colour. As they are small I'd recommend keeping them indivudal colours. If you want to make this as a 6inch large cheesecake the layers would look gorgeous.

When you are ready to serve add a few mini eggs and sprinkles if you want to. Then enjoy!
Notes
If you want to make this as a normal cheesecake the recipe is same but use a 6inch cake tin.
Nutrition
Calories:
476
kcal
Carbohydrates:
39
g
Protein:
6
g
Fat:
34
g
Saturated Fat:
20
g
Trans Fat:
1
g
Cholesterol:
84
mg
Sodium:
237
mg
Potassium:
94
mg
Fiber:
1
g
Sugar:
29
g
Vitamin A:
1000
IU
Vitamin C:
1
mg
Calcium:
106
mg
Iron:
1
mg
Please note that the nutrition information provided above is approximate and meant as a guideline only.