Do you love Guinness and cheesecake? If so you will love this easy no bake Guinness cheesecake with added chocolate for sweetness. Then topped with pipped double cream to help the finished cheesecake look more like a glass of the iconic drink. The dark base with a white frothy top.
From there I had to add some sprinkles to this delicious Guinness chocolate cake. It would be rude not to! This is a great St Patrick's Day treat and a wonderful way to use Guinness in a no bake cheesecake.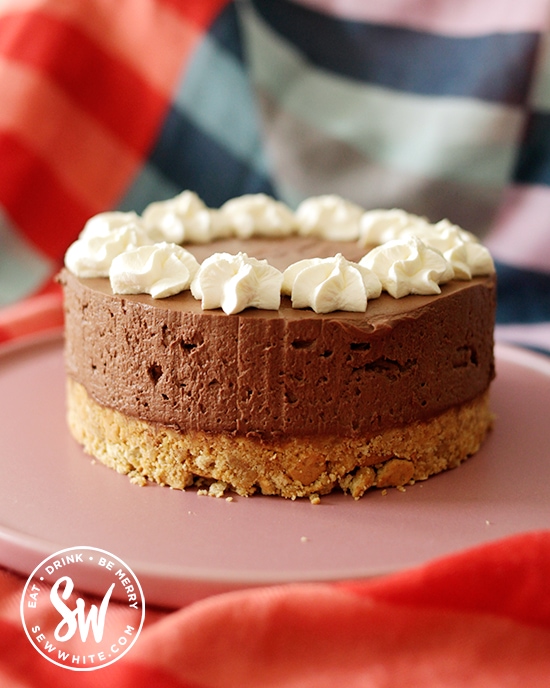 I originally made this for St Patrick's Day but with lockdown taking over the last few months I didn't pop it on the blog. I found the recipe notes scribbled down from my trials of it and finally I'm posting it. Hooray! I adored this Irish inspired no bake cheesecake so much.
The mix of chocolate and Guinness is a great combo and combining them together to make cheesecake it's just the best thing going.
To make it look like a Guinness as well as taste like one I did a chocolate Guinness cream cheese base to look like the body of the drink. Then I topped the no bake Guinness cheesecake with pipped cream decoration to look like the frothy head you get on the finished drink.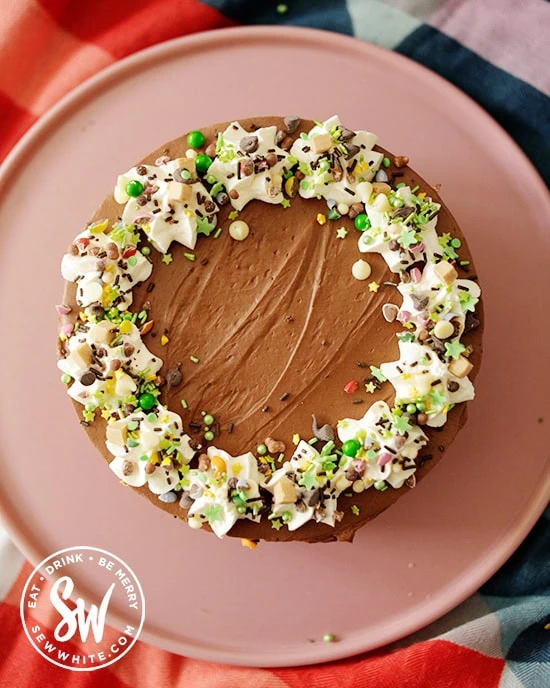 No bake Guinness cheesecake
This is a wonderful no bake Guinness cheesecake and the mix of the iconic flavours of stout and chocolate is beautiful. There are a lot of Guinness and chocolate cake recipes but I think cold cheesecake is even better. Having a cold slice of Guinness cheesecake is a sweeter way of enjoying the beautiful smooth Irish cold drink on it's own.
How do I add Guinness to a cheesecake?
To add Guinness to a cheesecake is actually pretty easy. You take a normal can of Guinness and pop the liquid in a saucepan. Heat it on a low/medium heat and gently let it reduce and thicken up. It should take about 20 minutes to reduce down. You want it to reduce to at least half and the Guinness mixture should be thickening up. Allow to cool before using.
I reduced the liquid down in order to reduce the amount of liquid I was adding to the cheesecake. I wouldn't have been able to add much liquid before the cheesecake became too runny and wouldn't set. By reducing the liquid down the flavour will get slightly more intense so I can use less to get the same amount of flavour.
Easy Chocolate cheesecake
This easy chocolate cheesecake is so soft and sweet it's almost like a mix between chocolate mousse and cheesecake. Although I have added Guinness to this cheesecake you can leave it out and keep it 100% delicious chocolate. You won't need to change the recipe below in any way except remove the Guinness. It helps keep it super simple to make.
If you want to make the easy chocolate cheesecake even more exciting add some chocolate chips to the mix or drizzle molten chocolate on to the set cheesecake. Be careful to make sure the cheesecake has set and the chocolate isn't too hot otherwise it might melt a little bit. Pop it back into the fridge to set ready to serve later.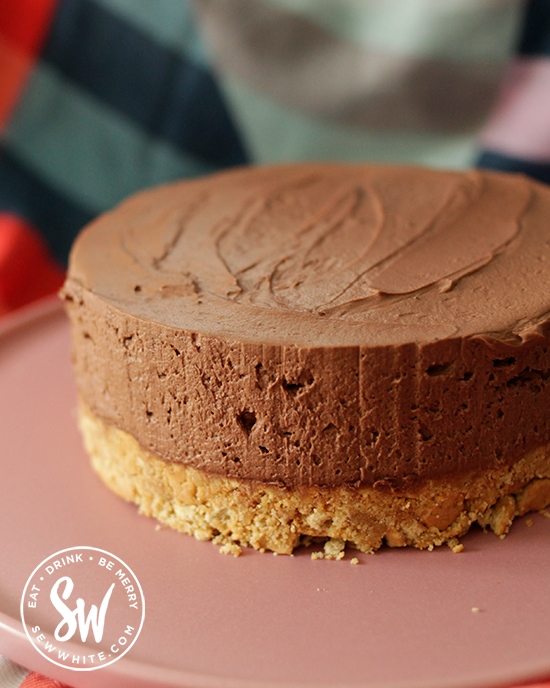 What is the best cheese for a cheesecake?
For cheesecakes, especially no bake cheesecakes I always use a good cream cheese. Some supermarket own brands work really well but if I can I will get Philadelphia cheese (normally when it's on offer).
No matter what the cream cheese you use is, drain any excess liquid off. We don't want to to add any extra liquid in as this will affect how the no-bake cheesecake sets. If you have some kitchen paper then you can also dab it off.
What is the most popular cheesecake?
On my blog the most popular cheesecake is the Baileys and White chocolate cheesecake but I think this recipe for Guinness chocolate cheesecake will be a close second soon! Another of the most popular cheesecake recipes I have is the strawberries and cream one which is a beautiful mix of fresh strawberries and Bailey's Strawberries and cream Liqueur.
This rich, creamy and ever so slightly boozy Baileys and White Chocolate Cheesecake is the perfect treat for an event or party. Quick and easy to make in advance, the Bailey's spiked cheesecake layer also contains hidden white chocolate Lindor truffles. With a classic shortbread biscuit base, and white chocolate drip decoration, I know this no-bake cheesecake will become your new favourite dessert.
This Strawberries and Cream Cheesecake with Baileys summer liqueur and Lindor truffles is just incredible! It's my go-to easy no-bake cheesecake for summer parties and of course celebrating Wimbledon fortnight. With a buttery shortbread biscuit base, a truffle studded cheesecake layer laced with Baileys Strawberry and Cream and a fresh strawberry topping, I have no doubt it'll become your favourite easy dessert too!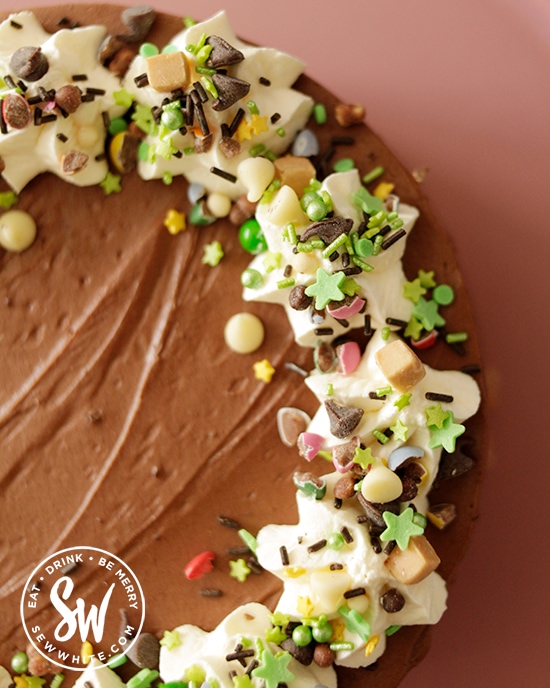 What do I need for a St Patrick's Day Cheesecake?
For this easy no bake St Patrick's Day cheesecake you only need a few ingredients to produce this beautiful result. I can't believe it's only 8 ingredients. It feels like it should be a lot more.
All you need is;
100 g Unsalted butter
200 g Digestives biscuits
300 g Soft cream cheese
60 g Caster sugar
1 tsp vanilla extract
150 ml Double cream
4 tablespoons of cocoa powder
440 ml Guinnesss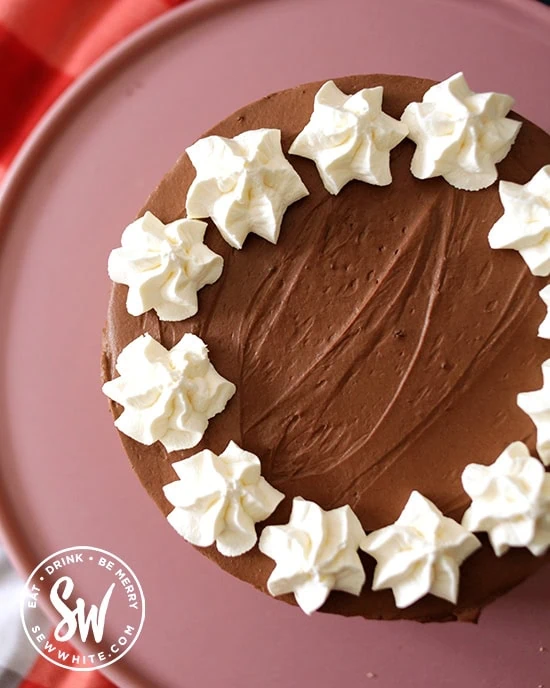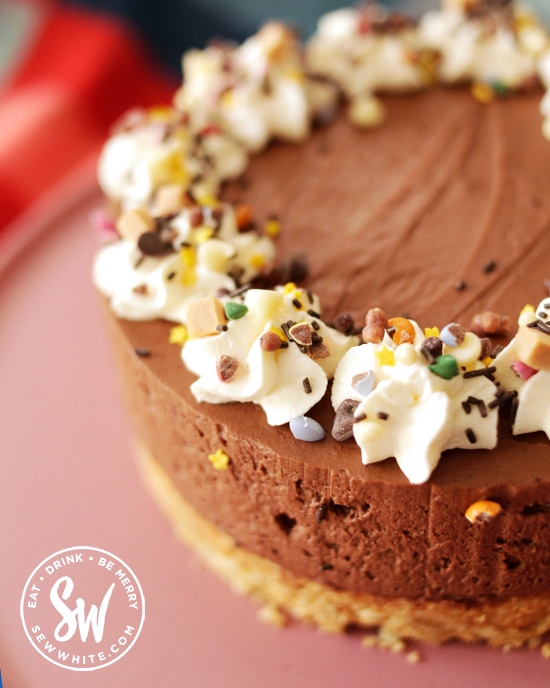 Irish Guinness Cheesecake
Irish Guinness is just next level great. I've only just found my taste for it but I can say there is something refreshing, refuelling and just yum about it. Irish Guinness cheesecake is pretty wonderful if you love Guinness and have a sweet tooth.
This recipe makes the Guinness experience a little longer lasting. Well depending on how fast your friends and family eat it. I think this lasted a few minutes.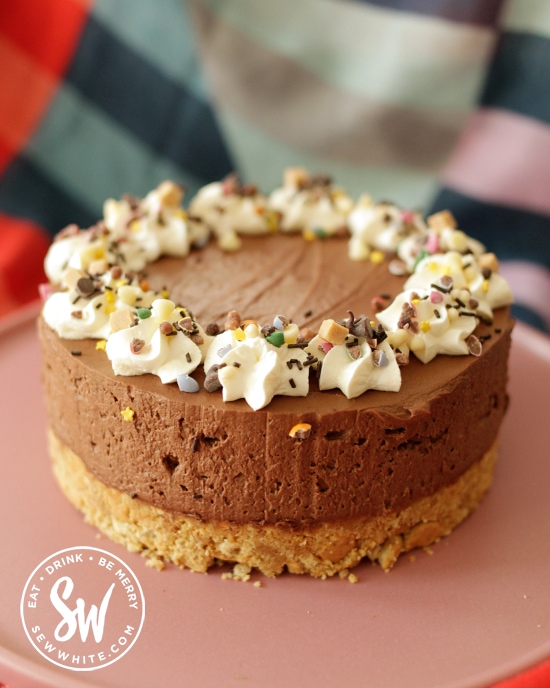 Easy Guinness Dessert
I first tried a Guinness chocolate cheesecake by Nigella and I was in awe of it. It seems like such a long time ago now but it started my obsession off. Since then I have tried adding Guinness to a few bakes but I think my easy Guinness dessert is the best.
This recipe for Guinness chocolate cheesecake will make you want multiple slices. So I'd say if you had left overs they would be great kept in the fridge but it's unlikely you'll have a crumble left over.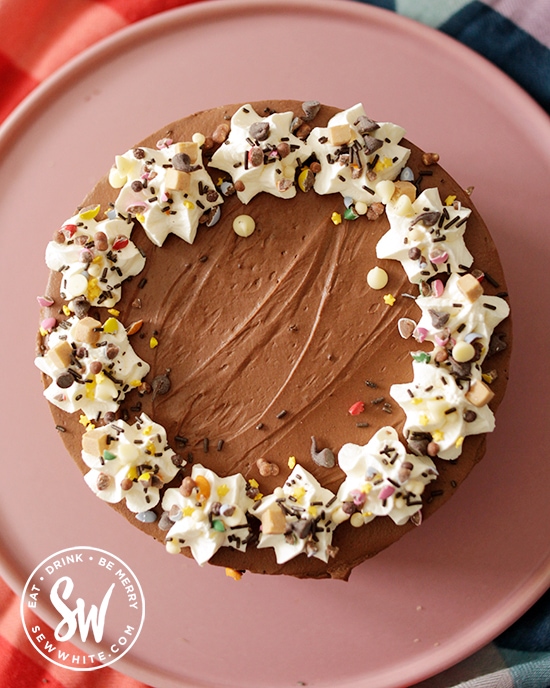 Before I added the green sprinkles I added some little chocolate pieces and sprinkles so there wouldn't just be green sprinkles on top.
I thought having a variety would make it look better and I really think it did. It totally wasn't an excuse to add more sprinkles! I can try and convince myself of that. I hope you like the finished Guinness chocolate cheesecake.
Pin me for later
Follow me on Instagram to see what I've been making recently. www.instagram.com/sewwhite
View my other recipes and see below for more cheesecake recipes you might like.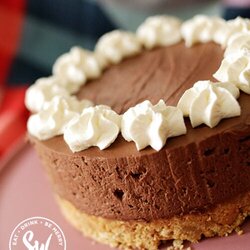 Guinness Chocolate Cheesecake
Do you love Guinness, chocolate and cheesecake? If so you will love this easy no bake Guinness cheesecake with added chocolate for sweetness.
Equipment
6 inch round cake tin with removeable base
Ingredients
100

g

(

3.53

oz

)

Unsalted butter

200

g

(

7.05

oz

)

Digestives biscuits

300

g

(

10.58

oz

)

Soft cream cheese

60

g

(

2.12

oz

)

Caster sugar

1

tsp

(

1

tsp

)

vanilla extract

150

ml

(

150

ml

)

double cream / heavy cream

4

tablespoons

(

4

tablespoons

)

cocoa powder

440

ml

(

440

ml

)

Guinnesss
Decoration
150

ml

(

150

ml

)

double cream / heavy cream

sprinkles
Instructions
In a saucepan add the Guinness and cook on a low to medium heat until it has reduced to at least half and starts to thicken. It should take about 20 minutes. Keep an eye on it and stir regularly. Take off the heat and allow to cool.

Lightly grease an 6 inch loose base cake tin. (I also added a greaseproof paper circle at the bottom to help it off the base later).

Melt the butter gently in the microwave in short bursts or in a pan on a low heat and then take off the heat once melted, so it doesn't burn.

Crush the biscuits in a food processor, or put it in a plastic bag and use a rolling pin to break them up (my preferred method to leave them as a larger crumb).

Put the biscuit crumbs in a bowl and add the melted butter. Mix it all together until all the biscuits are coated in the butter.

Scoop the crumbs into the tin and push down gently to make a hard layer. Place the cake tin in the fridge and leave to harden for 30 minutes while you make the cream layer.

In a bowl cream together the cream cheese and caster sugar until the sugar has dissolved and is well distributed. Then add in the vanilla extract and sieve in the cocoa powder.

Add the Guinness into the cream cheese and caster sugar and gently mix together.

In a new bowl lightly whip the double cream until it starts to thick. If you have an electric mixer it will be quicker but it is managable by hand.

Stir the double cream into the cream cheese mixture together. Be careful not to over mix.

Remove the cake tin from the fridge and add the cream cheese to the base and put back into the fridge to set for at least an hour. Longer is fine if you want to make it ahead of time for an event.

Remove the cheesecake from the tin and place on a plate.

Whisk the remaining double cream until it starts to thicken. Add a star nozzle to a pipping bag and add the cream. Pipe the cream into swirls on to the cheesecake around the outside.

Add your choice of sprinkles if you want to.

Serve and enjoy. Tastes great served with a cold Guinness.
Notes
-If you want to serve this on a warm day keep it inside the fridge or somewhere cool until you need it. Warm weather will make the cream soften.
-It should take about 20 minutes for the Guinness to reduce down. You want it to reduce to at least half and the Guinness mixture should be thickening up.
Nutrition
Calories:
339
kcal
Carbohydrates:
22
g
Protein:
4
g
Fat:
26
g
Saturated Fat:
15
g
Trans Fat:
1
g
Cholesterol:
80
mg
Sodium:
171
mg
Potassium:
104
mg
Fiber:
1
g
Sugar:
11
g
Vitamin A:
912
IU
Vitamin C:
1
mg
Calcium:
49
mg
Iron:
1
mg
Please note that the nutrition information provided above is approximate and meant as a guideline only.