Looking for an easy raspberry cocktail to make at home? This is a super easy white rum and raspberry cocktail perfect for parties and events. An easy cocktail using chambord and lemonade used as a mixer. A cocktail to make it in minutes which you will love and make time and time again.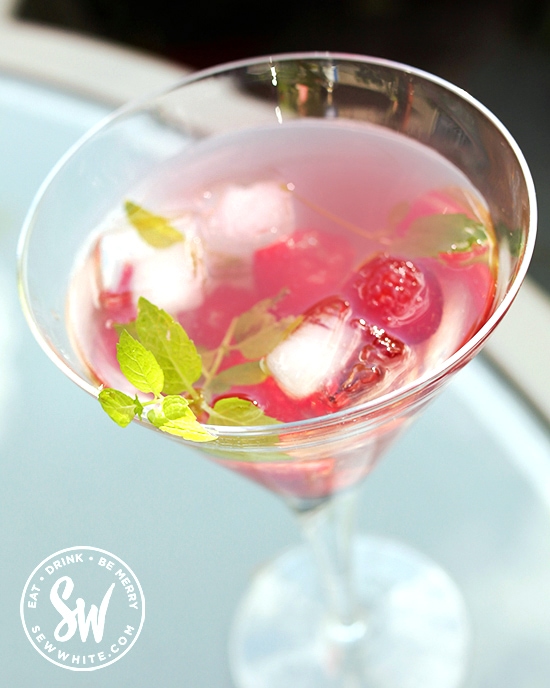 It is time for a new cocktail. This time it's an easy raspberry cocktail made with white rum, Chambord, lime and lemonade. Plus a little mint sprig to add a beautiful earthy smell to the drink. I really like the fizzy lemonade top up on this drink.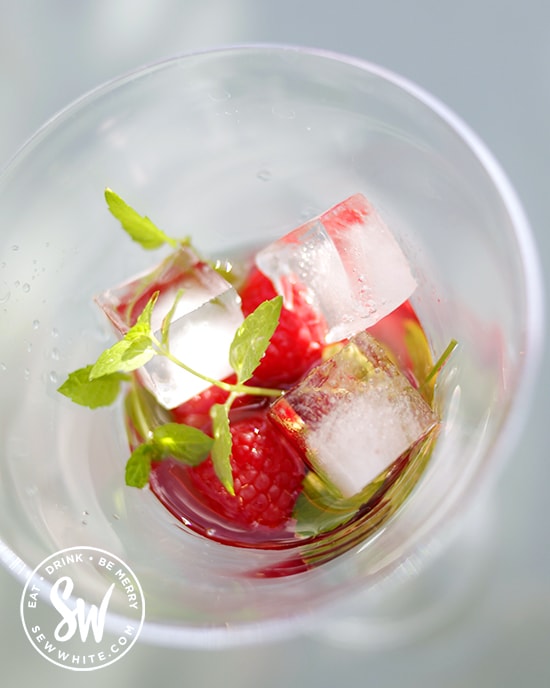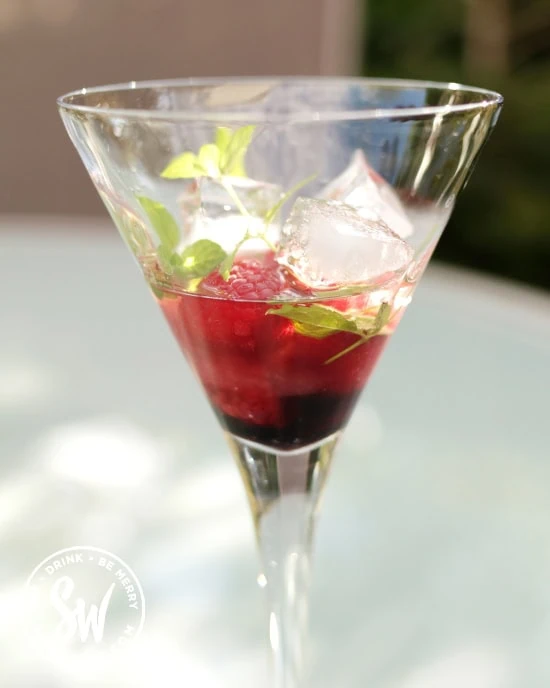 What do I need for an Easy Raspberry Cocktail?
For this super easy raspberry cocktail you only need a few ingredients. From there you can make this over and over and enjoy it all summer long. There is something about this drink that makes it absolutely wonderful in the sun.
The light catches the drink and it just works so well and shows the raspberries in their glory, the mint glows beautifully green and the the pink is so inviting.
You will need
3 raspberries
1 sprig of mint/a few mint leaves
50 ml white rum
12 ml Chambord (or other raspberry liqueuer)
lemonade
The only thing you need to do with this cocktail is gently stir. I say gently as I really mean it. It needs a stir to combine everything in the glass. Some glasses especially cocktail glasses can be fragile so stir gently with a long spoon or even a paper straw will do if you have them.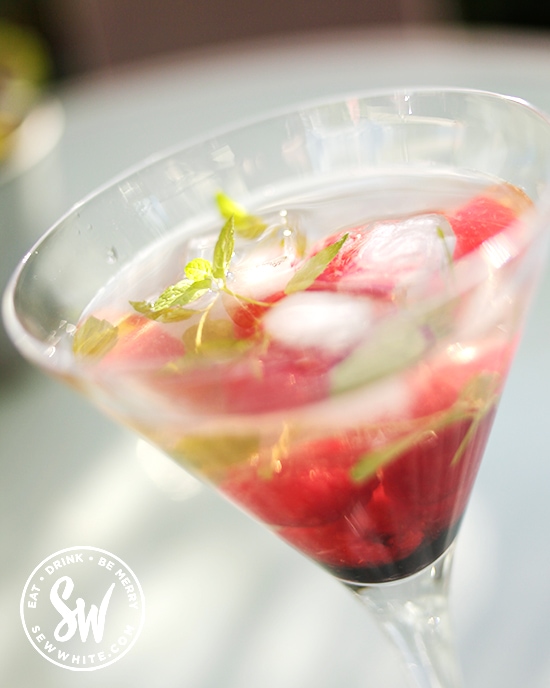 What goes good with raspberry for a cocktail?
Raspberry is a beautiful flavour. It's fresh and fruity, but above all it has that sweetness which is unlike other fruit.
When making cocktails the raspberry flavour has a beautiful ability to combine with so many different drinks. It is adaptable and is becoming one of my favourite flavours and ingredients to use for cocktails.
For alcohol choices my recommendations to go with raspberry include tequila, white rum, vodka and even spiced rum. For mixers my choice would be lemonade, tonic and soda water. Also pineapple juice and raspberry go together really well.
What can Chambord be mixed with?
Chambord is a wonderful ingredient to use for cocktails and adding a little extra sparkle to other drinks. I use Chambord at home to add extra flavour to a glass of Prosecco or Champagne. It is also lovely with a tequila and topped up with lemonade. Even lemonade with a splash of Chambord will be delicious.
What is Chambord and is it alcoholic?
Chambord is made from red and black raspberries, Madagascar vanilla, Moroccan citrus peel, honey and cognac. The fresh fruit is steeped in French spirits for a period of several weeks to produce a brilliant flavour fruit infusion. Chambord liqueur is 16.5% alcohol. It is pretty strong on it's own but will add a lovely level of booze to your drink.
White rum raspberry cocktail
White rum is so often under valued with cocktails at home. It is good for so many drinks apart from the obvious mojito.
White rum has replaced vodka in my cocktail cabinet as my go-to booze drink of choice for simple cocktails. I use it as it doesn't have a very strong taste but works with fruit juices and other things to produce wonderful drinks.
White rum raspberry cocktails are simple yet elegant of course delicious. The white rum adds the alcohol boost and the raspberry cuts through the flavour of the spirit. Adding a twist of lime juice will help cut through and combine the flavours together.
Fresh Raspberry Cocktail
I use fresh raspberries in this cocktail to add that fresh and juiciness to the finished drink. Plus at the end of the drink, you get those juicy alcoholic berries to eat.
I adore those raspberry moments at the end of this drink. In my recipe, I used a few fresh raspberries squashed slightly together at the bottom of the glass. I also add Chambord in this recipe to boost the raspberry flavour and a little more fruit to the drink.
Pin me for later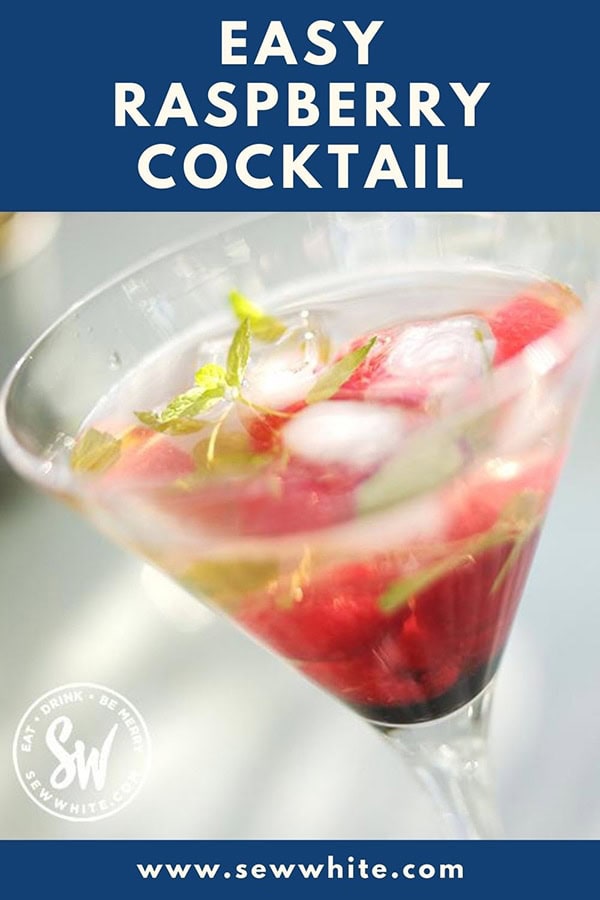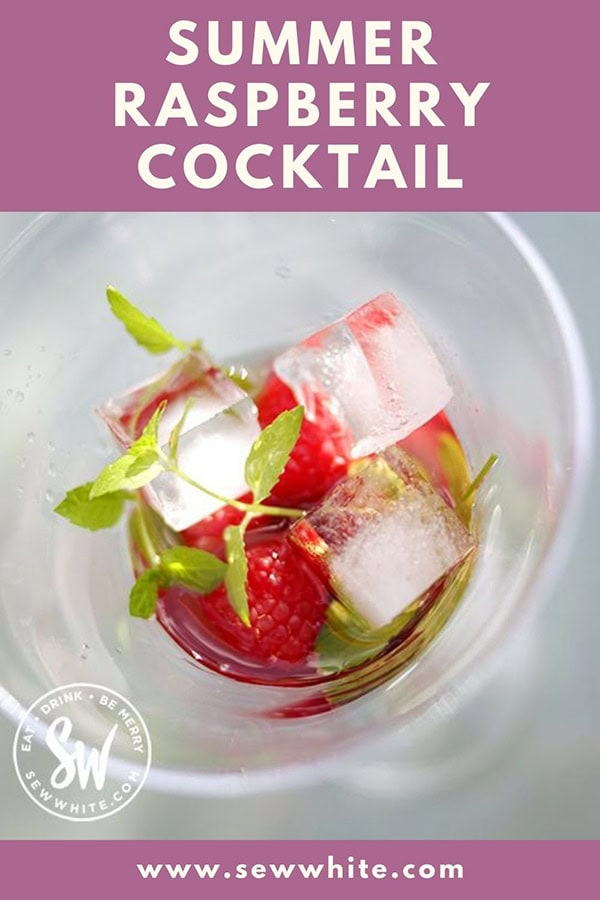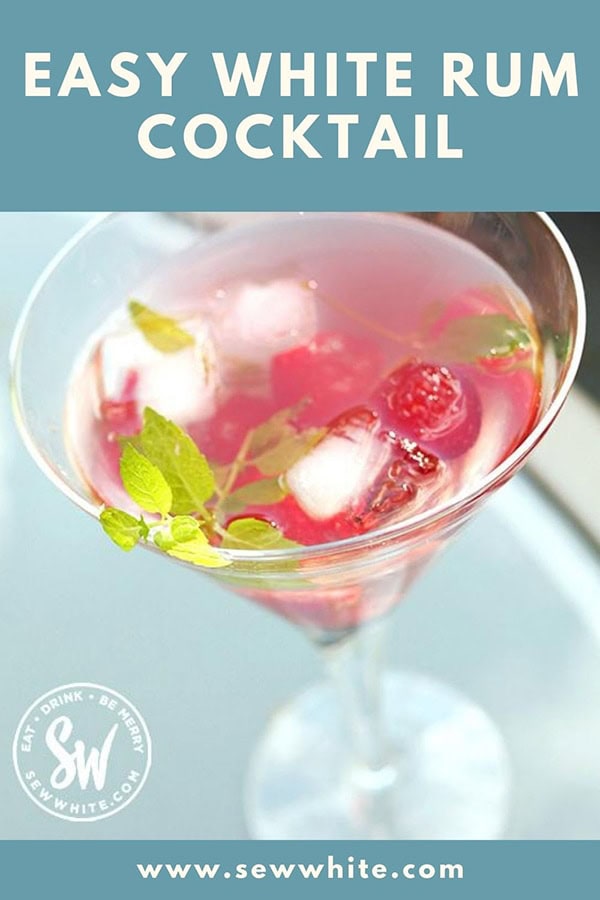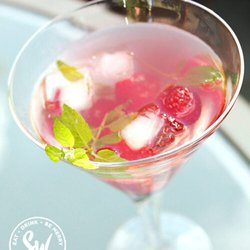 Easy Raspberry Cocktail
Looking for an easy raspberry cocktail to make at home? This is a super easy white rum and raspberry cocktail perfect for parties and events.
Ingredients
3

(

3

)

raspberries

1

(

1

)

mint leaves

50

ml

(

50

ml

)

white rum

12

ml

(

12

ml

)

Chambord

(or other raspberry liqueuer)

lemonade
Instructions
Lightly squish the raspberries and pop them in the glass.

Add the little sprig of mint.

Add in the white rum and Chambord, give it a gentle stir.

Top up with lemonade and enjoy.
Nutrition
Calories:
156
kcal
Carbohydrates:
5
g
Protein:
1
g
Fat:
1
g
Saturated Fat:
1
g
Sodium:
2
mg
Potassium:
19
mg
Fiber:
1
g
Sugar:
4
g
Vitamin A:
44
IU
Vitamin C:
2
mg
Calcium:
4
mg
Iron:
1
mg
Please note that the nutrition information provided above is approximate and meant as a guideline only.
Follow me on Instagram to see what I've been making recently. www.instagram.com/sewwhite
View my other recipes and see below for more cocktail recipes.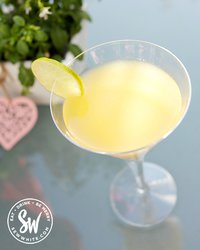 This Malibu vodka cocktail tastes divine and is so easy to make. Add the ingredients to the glass, give it a little stir and you are ready to sip in style.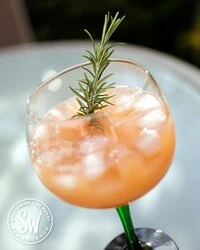 This is an easy yet absolutely delicious Aperol apple cocktail. Apple juice works so well with the iconic Aperol drink and you will want to have more than one of these! Perfect drink for enjoying in the sunshine.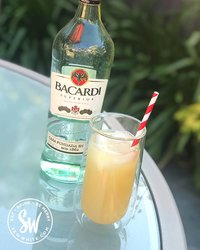 A fresh and fruity easy drink, the White Rum Pineapple Cocktail is quick to make. This no shake, tall drink will refresh you on a sunny day at home or will be a hit at a party or event with friends and family.
This delicious Summer Berries Gin and Tonic uses up frozen berries to create an easy cocktail. It is a wonderful way to add flavour without using fresh fruit.