Halloween Cheesecake
Are you looking for a delicious way to use up your Halloween candy? Then check out this delicious No Bake Halloween Cheesecake. This no bake cheesecake is so easy to make and only has 6 ingredients to make the cheesecake.
Then it's just topped with your favourite sweets and can be made ahead of your Halloween party and topped with your delicious Trick or Treat candy. A fantastic centre piece and show stopper for a Party food too! It really is the best of all Easy Halloween Desserts.
This tasty cheesecake is so easy to make and is the most perfect centre piece for a Halloween party. The main cheesecake part is only 6 ingredients and from there you can top it with your Halloween candy and sweets.
All you need for the main cheesecake is shortbread biscuits and butter for crumbly base. Then cream cheese – I used Philadelphia, caster sugar, vanilla extract and double cream for the delicious creamy layer.
As this no bake cheesecake is so easy to make and is beautifully simple in it's flavour without topping you could eat it normally. However it's Halloween and I wanted to create a Halloween Sweets Cheesecake which would a delicious and beautiful centre piece for a Halloween party.
Halloween Candy Cheesecake is definitely the best Halloween sweet treat you are going to enjoy this October 31st.
What Halloween Candy works for the Halloween cheesecake?
The best thing about this Halloween cheesecake as it's so easy to customise to exactly how you like it. If you love sour candy then I would say build it up with sour sweets. If you love chocolate you could have just chocolates on top. Build it up with your favourites. That is what makes this so brilliant. It's only your favourites on top.
Easy Halloween Desserts
This is a super Easy Halloween Dessert. It takes less than 2 hours and most of that it's "baking" in the fridge. No Bake cheesecakes are brilliant but adding leftover Halloween sweets makes it out of this world.
What do I need for a Halloween Cheesecake?
For the main part of the cheesecake you only need 6 ingredients. From there it's only a few more to add decorations.
For the cheesecake you will need;
Unsalted butter
shortbread biscuits
Soft cream cheese (I used Philadelphia)
Caster sugar
Double cream
vanilla extract
The butter and shortbread biscuits combine to make the beautiful biscuit base. I prefer to bash the biscuits with a rolling pin as it keeps the crumbs large and I think it looks better.
For the cream cheese layer, it's a mix of cream cheese, vanilla extract and caster sugar which is then mixed with double cream which has been whisked up to be thick. Whisking up the double cream helps the cheesecake hold it's shape.
For the decorations;
100 g White chocolate
red colour paste
vegetable oil
Halloween Sweets and Candy
For the decorations I used white chocolate as a drizzle then topped it with sweets. You don't have to use the white chocolate drizzle but I think it really adds a nice taste and look to the Halloween cheesecake. It hardened pretty quickly and then I topped it with the best Halloween candy from Ask Mummy and Daddy!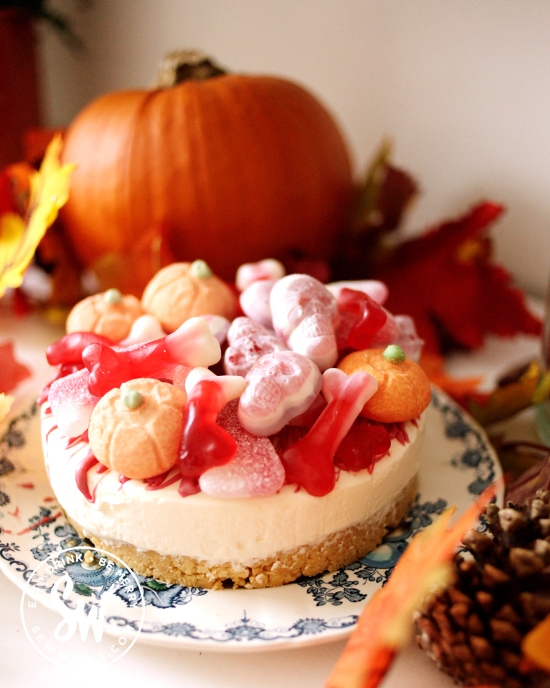 Halloween sweet range from Ask Mummy and Daddy (gift)
For this gorgeous cheesecake I have collaborated with Ask Mummy and Daddy. A brilliant company who sell the most incredible sweets. I enjoyed their tuck shop box over lockdown and I loved it. It was full of flying saucers, sherbet and even a sweetie necklace that I haven't had since I was a child.
For Halloween they have bought a wonderful range of scary sweet treats and ghoulish yummy things. There are the cutest marshmallow pumpkins which look so perfect it feels so sad to eat them. I think I will be ordering more to use on other bakes and as decorations for a Halloween party.
To go with the pumpkins we also have fizzy fangs! I love a sour sweet and I was so surprised with how well these went with the vanilla creaminess of the Halloween cheesecake. It also added another dynamic to the cheesecake of something chewy to go with the softness.
Next up is the jelly bones. These are so morish! I could eat a lot of these in one go so putting them on the Halloween candy cheesecake was a great idea. It stopped me from sacking on them. Well it slowed me down. I ate a good few while making the cheesecake.
Last but in now way least are the gummy skulls sweets. These are brilliant. They are so detailed and tasty too. They are creepy but you also want to take bite of them. They are squidgy and tasty but above all just look below to see how brilliant they look.
The mix of red and white layers attracts your eye and once this Halloween cheesecake had been photographed they were the first thing to be pinched off the top.
Check out Ask Mummy and Daddy and their spooky sweets and order here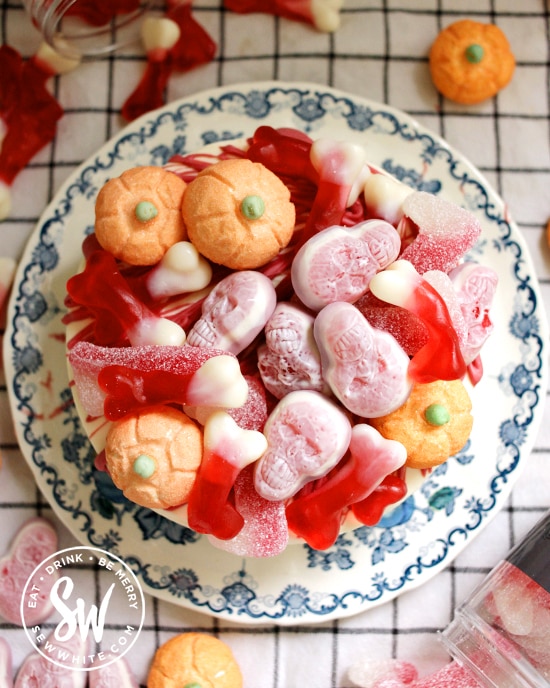 How do I make a no bake candy bar cheesecake?
A candy bar cheesecake is one of my favourites. I have so many I have created using different candy bars and sweets I love.
When making a no bake candy bar cheesecake I would recommend making a simple vanilla or lemon cheesecake first. From there when you add your favourite candy bars to the cheesecake the flavour of the candy won't be over done by cream cheese layer.
For Halloween it seemed like a great opportunity to use the trick or treat candy to make something new.
I would love to make this cheesecake before trick or treating and then return home to add my favourite pieces of candy bars to the cheesecake. It would be a fun way to stop kids eating it all straight away. Give them the joy of using their Halloween to be creative with later.
Turning the Halloween candy into a cheesecake should also help make the sweets last a bit longer and not be eaten all in one go. I remember being a kid and, even though we only got a few things then, I would still scoff the lot pretty quickly.
The best Halloween Desserts
This cheesecake is one of my all time favourite Halloween Desserts. It's easy and as no bake desserts go it's so simple. Which I'm sure we can all agree is the best thing ever.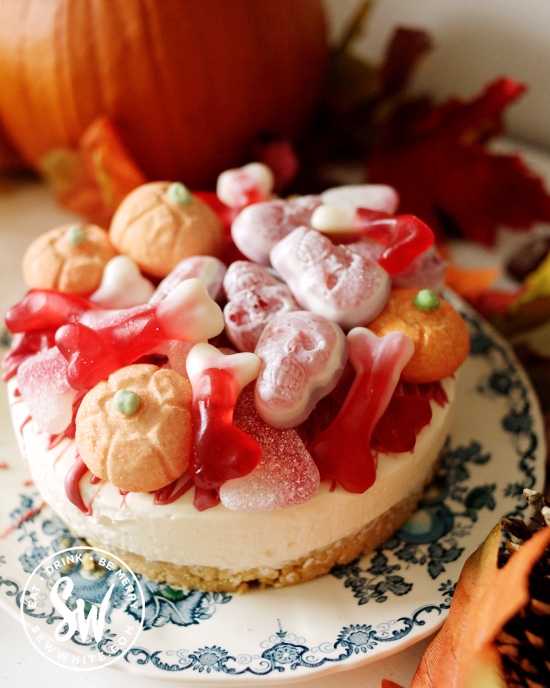 What do do with leftover Halloween candy?
There are so many things you can do with left over Halloween candy! Including tasty things like this leftover Halloween candy cheesecake. There is also fridge bakes like my chocolate traybake – usually I create it for Easter but you can add your Halloween candy instead. Find the recipe below
These Easter Chocolate Fridge Tray Bake are always a fabulous addition to an Easter party or event. Quick to mix up and they fridge bake in about an hour.
Other things you can make include rocky road, decorate a simple sponge with your goodies. If you have chocolate candy in your trick or treat haul then I would recommend breaking it up and mixing it in to brownies. I love adding delicious chocolate things into a simple brownie recipe. It works so well every time.
Halloween cheesecake bites
This recipe is perfect for making into Halloween cheesecake bites. Make the cheesecake as per the recipe below. You can use the 6 inch cake tin and have slices as the bites but what you could do is change over to square tin. This would make it easier to cut into small bite size pieces. Either way works and both way they will be absolutely loved by your guests.
Once cut up place the cheesecake pieces on the serving tray. Then top up with your choice pieces of Halloween candy. You will love it. You guests will love it and it will be a great tasty bite for your party.
Sugar eye sprinkles for Halloween
I recently found these brilliant sugar eyes sprinkles which I had to use for this Halloween cheesecake. It's a simple addition which I think adds a fantastic fun to the finished no bake cheesecake. It adds an extra level of ghoulish to the finished piece. I found these in Waitrose in the baking aisle.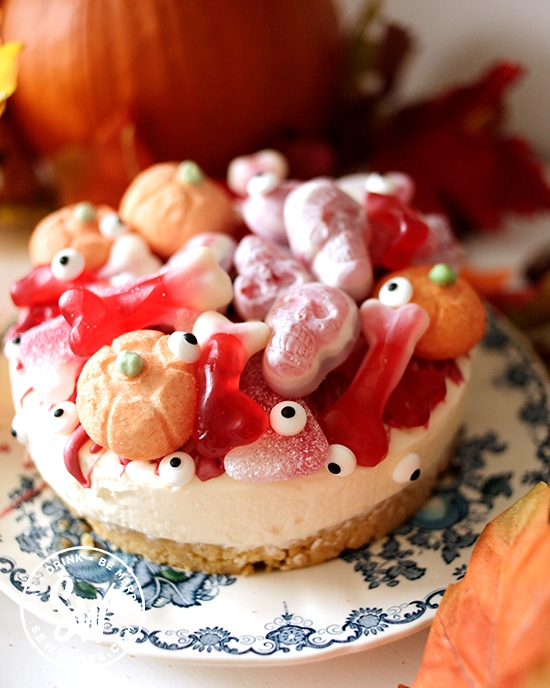 Pin this delicious candy cheesecake for later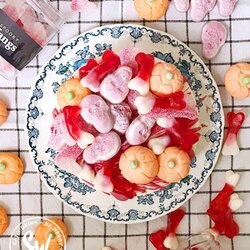 Halloween Cheesecake – Easy No Bake Recipe
Are you looking for a delicious way to use up your Halloween candy? Then check out this delicious No Bake Halloween Cheesecake. This can be made ahead of your Halloween party and topped with your delicious Trick or Treat candy. A fantastic centre piece and show stopper for a Party food too! The best of Easy Halloween Desserts!
Equipment
6 inch Cake Tin

Sandwich Bag

Rolling Pin

Mixing bowl x 2

Wooden spoon

whisk

spoon
Ingredients
50

g

Unsalted butter

200

g

shortbread biscuits

300

g

Soft cream cheese

I used Philadelphia

60

g

Caster sugar

150

ml

double cream / heavy cream

1

teaspoon

vanilla extract

100

g

White chocolate

red colour paste

(don't use liquid colouring as it will cause the chocolate to go weird)

1

teaspoon

vegetable oil

Halloween Sweets and Candy
Instructions
Lightly grease an 6 inch loose base cake tin with a little melted butter – use a little of the same butter that you use for the base. (I also added a greaseproof paper circle at the bottom to help it off the base later).

Melt the butter gently in the microwave in short bursts (in a microwavable bowl) or in a saucepan on a low heat and then take off the heat so it doesn't burn.

Crush the shortbread biscuits in a food processor, or put it in a plastic sandwich bag and use a rolling pin to break them up (my preferred method to leave them as a larger crumb).

Put the biscuit crumbs in a bowl and add the melted butter. Stir until all the biscuits are coated in the butter.

Scoop the crumbs into the tin and push down gently with the back of a spoon to make a hard layer. Place the cake tin in the fridge and leave to harden for 30 minutes while you make the cream layer.

In a bowl cream together the cream cheese and caster sugar until the sugar has dissolved and is well distributed. Then stir in the vanilla extract.

In a new bowl whip the double cream until it is thick.

Gently stir in the thick double cream and cream cheese mixture together.

Remove the cake tin from the fridge and add the cream cheese to the base and level off.

Put back into the fridge to set for at least an hour. Longer is fine if you want to make it ahead of time for an event.

Remove the cheesecake from the tin and place on a plate.

Melt the white chocolate in bowl in short bursts in the microwave to make sure it doesn't burn. Once melted add a tiny bit of red colouring paste at a time until it goes a gorgeous red colour. Add the teaspoon of vegetable oil and it will make much more of a liquid.

Drizzle the chocolate over the cheesecake. Don't leave it too thick as it will hard to cut and you'll squash the cheesecake trying to cut through. A good drizzle will add an extra flavour and texture but still make it easy to cut.

Add all your favourite sweets and candy.

Serve and enjoy.
Notes
•This is a great no bake dessert for Halloween and Halloween Parties.
•You can create this cheesecake in advance for a party or event.
•Store leftovers in the fridge in an airtight box. It will last about 3 days.
Nutrition
Calories:
310
kcal
Carbohydrates:
22
g
Protein:
3
g
Fat:
24
g
Saturated Fat:
13
g
Trans Fat:
1
g
Cholesterol:
59
mg
Sodium:
180
mg
Potassium:
86
mg
Fiber:
1
g
Sugar:
13
g
Vitamin A:
640
IU
Vitamin C:
1
mg
Calcium:
56
mg
Iron:
1
mg
Please note that the nutrition information provided above is approximate and meant as a guideline only.
Follow me on Instagram to see what I've been making recently. www.instagram.com/sewwhite
Check out my other recipes and Halloween recipes below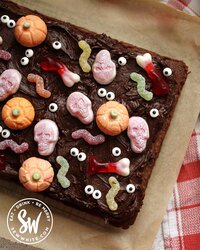 If you are looking for an Easy Halloween Chocolate Cake then you need this easy Halloween sheet cake recipe. An easy way to use up leftover Halloween candy and create a beautiful piece perfect for a Halloween party. The Easy Halloween Cake is a simple chocolate sponge traybake decorated with a rich chocolate cream cheese buttercream. For the easy Halloween cake decoration I used my favourite Halloween sweets.
Halloween can be healthy! These Healthy Halloween Snacks are the cutest thing to make and will get the kids creative too.
This is the best spooky dinner for All Hallows Eve! My Halloween Graveyard Pie takes a delicious cottage pie and makes it a little scarier.
Bleeding Apple Mummy Pastries are a cute and gruesome bake perfect to make this Halloween. Easy to make with children and fun to eat too!
It's time for another gruesome Halloween dinner and this time it's bleeding ribs spicy sausage rolls.