Chocolate Cranberry Cake – Easy Christmas Loaf with Terry's Chocolate Orange Bars
Terry's Chocolate Orange and cranberries are two of the most iconic flavours for Christmas. In this easy Christmas loaf I combine them to make a delicious and easy Christmas loaf.
This chocolate cranberry cake is a soft Christmas sponge with chocolate orange pieces. Then I added in dried cranberries to add some beautiful sweetness to the finished bake. A wonderful bake for a Christmas afternoon tea. It's also a lovely easy Christmas cake for friends and family, which isn't your usual fruit cake. Enjoy my chocolate orange loaf.
Sponsored Post in collaboration with Terry's Chocolate Orange
To celebrate the release of Terry's Chocolate Orange bars, I have been working with them to create this delicious Chocolate orange and cranberry loaf cake. This chocolate orange loaf is a simple bake but tastes even more incredible than it looks from my photos.
Terry's Chocolate Orange Bars
In the range of new bars from Terry's Chocolate Orange there was something new to discover. There are the traditional and favourite iconic flavour of the chocolate orange. However, there are also two new flavours.
There are also two more bars which you are going to have to try. I've already bought a few more bars from the supermarket after trying them. I want to make sure I have enough of them to last me for the festive period. Mostly so I can make this easy bake again.
The two new bars from Terry's Chocolate Orange are the limited edition cranberry bar and the biscuit bar. They are both the normal chocolate orange chocolate but with tasty things added to add a little extra something special.
I adore this Chocolate cranberry cake. The mix of Terry's chocolate orange with cranberries is a beautiful combination of rich chocolate, citrus and sweet cranberries. I adore it!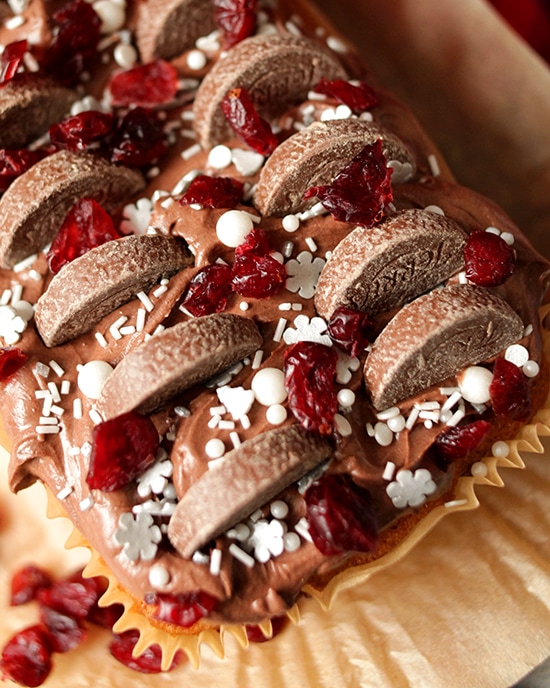 It's a soft and moist loaf cake packed full of the chocolate, orange and cranberry flavours from the new Terry's Chocolate Orange bar.
I loved making this Christmas loaf but I also loved eating it. It was special and totally moreish. I think we all went back for seconds and third slices. Who could blame us, just look at it. The beautiful cream cheese chocolate buttercream was so smooth and licking the spoon is definitely encouraged.
What equipment do I need for a Christmas loaf?
The main pieces of equipment you need for the Christmas loaf cake are a mixing bowl, wooden spoon, sieve, 2lb loaf tin and loaf tin liner or greaseproof paper. Plus of course weight scales!
For the decoration of the Christmas loaf, the equipment you will need is a mixing bowl, electric hand mixer or stand mixer, sieve and a big spoon to smear the chocolate over the cake.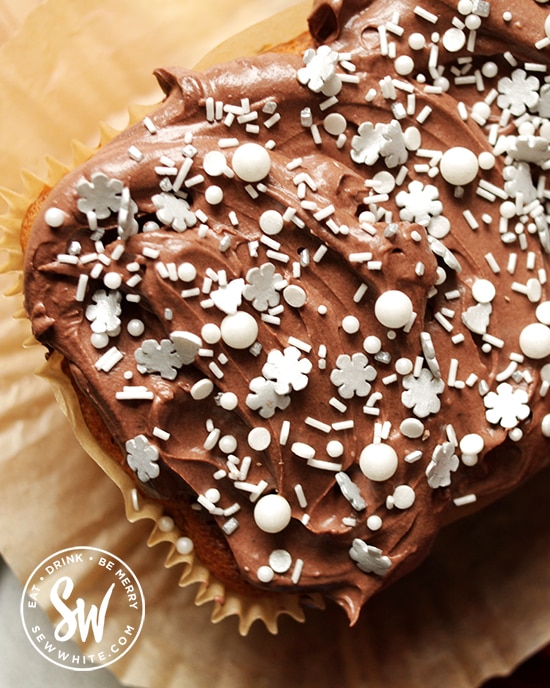 What do I need to make a Chocolate Cranberry Cake?
•250 grams unsalted butter or stork- for this bake I used stork but both work perfectly.
•250 grams light brown soft sugar – I went with light brown soft sugar so it gave a warmer richer taste to the finished Chocolate cranberry cake.
•4 medium eggs – this helps bind the mixture together.
•250 grams self raising flour – as we want out cake to rise.
•1 teaspoon vanilla extract – for a lovely vanilla flavour that helps support the other flavours in the cake.
•2 teaspoons baking powder – to help the cake rise even more.
•1 Terry's Chocolate Bar with cranberries or 90g milk chocolate
•50 g dried cranberries – to add even more cranberries to the mix.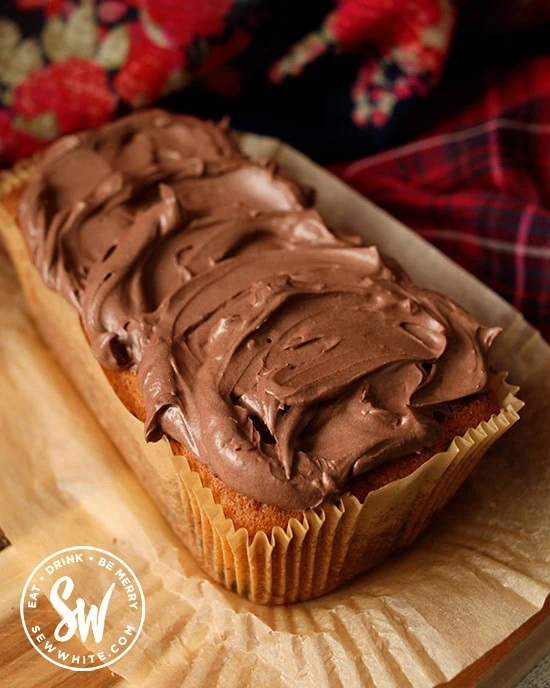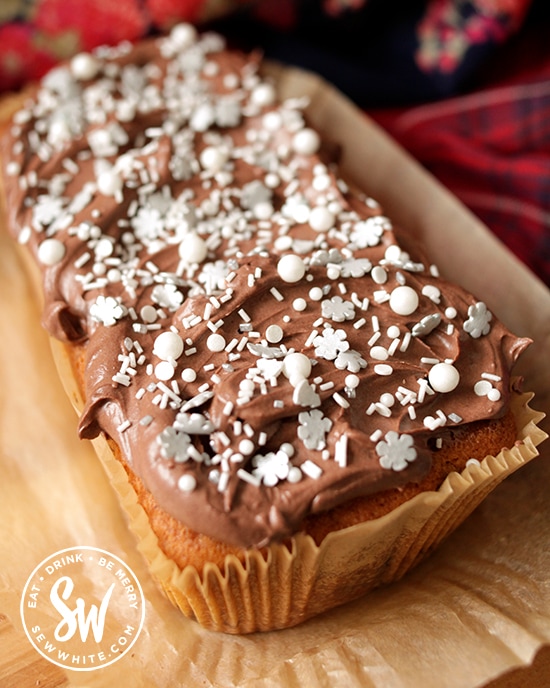 For the decorations you need
•125 g unsalted butter – the butter to make the butter cream.
•150 g icing sugar to add that sweetness to buttercream
•180 g full fat Philadelphia cream cheese adds an incredible flavour to buttercream but doesn't make it as sweet as other buttercreams.
•3 tablespoons cocoa power – well it is a chocolate bake, so chocolate buttercream is needed.
•sprinkles
•dried cranberries
•Terry's Chocolate orange segments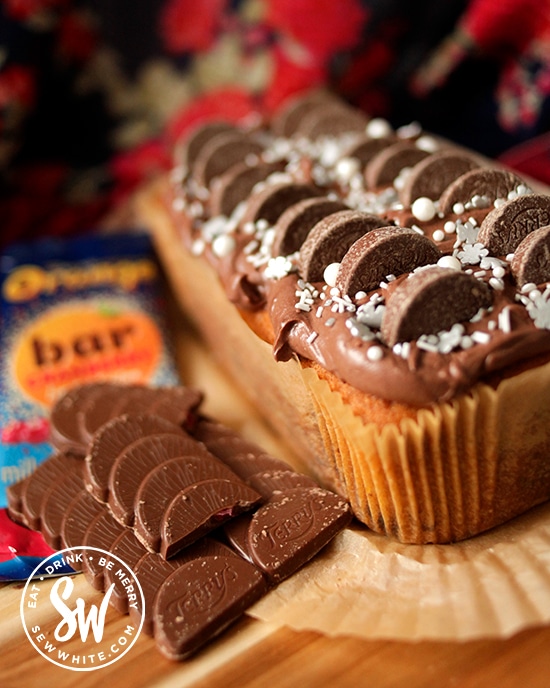 Can I make this Chocolate Cranberry Cake if I can't find the Terry's Chocolate Orange bar?
Yes you absolutely can make this if the new limited edition is unavailable. If you can't find the Terry's Chocolate Orange Cranberry bar you can use a normal chocolate bar chopped up and add some dried cranberries into the cake mix.
For the best results chop the chocolate bar on an angle. By chopping against the normal squares you can create a beautiful shard of chocolate. This then mixes in really easily and is so tasty! It also looks so good too. I find this helps keeps the chunks smaller so the chocolate doesn't sink while the chocolate orange loaf is baking.
The incredible flavours of this cake is easy and I'm sure it will be enjoyed time and time again. It definitely will in out house.
Step by Step how to make the Chocolate Cranberry Cake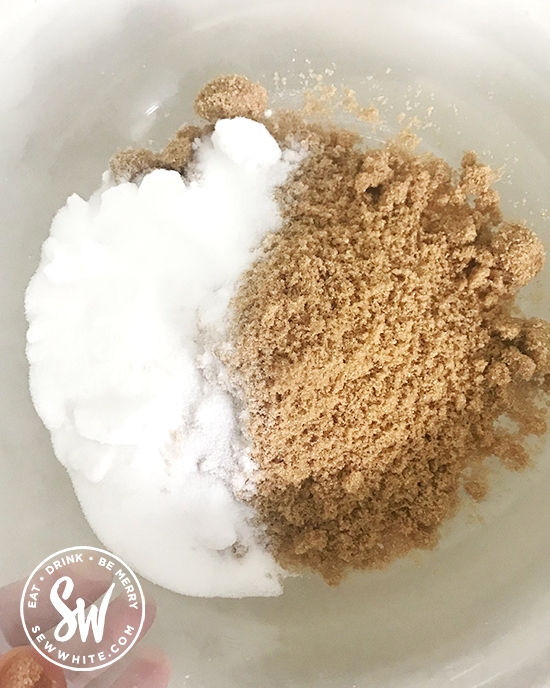 Add the caster sugar and light brown soft sugar to a bowl.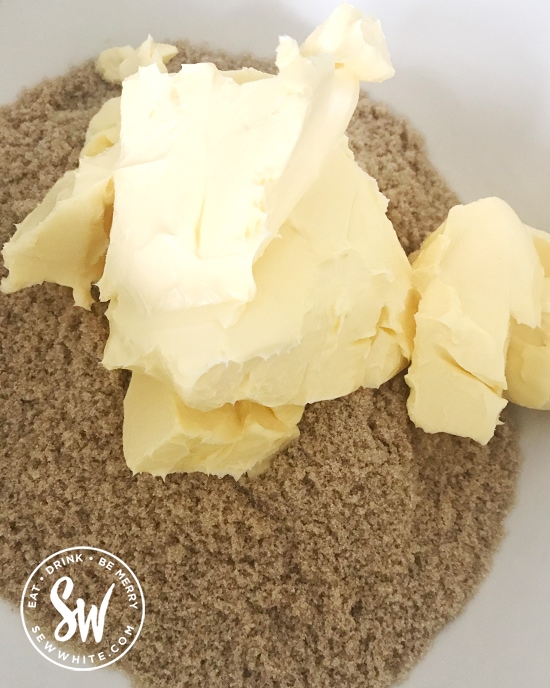 Add in the unsalted butter or stork baking butter.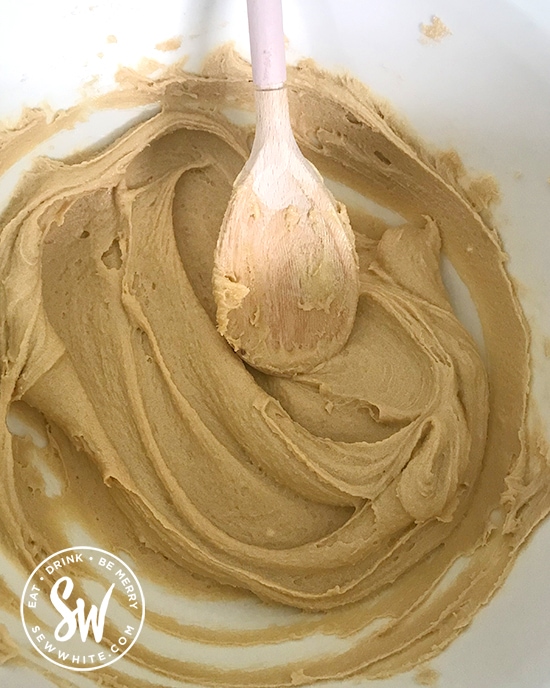 Mix together until light and fluffy. The mix should be smooth and the sugar should have dissolved.
Add in the eggs and vanilla extract. Mix well to combine the mixture.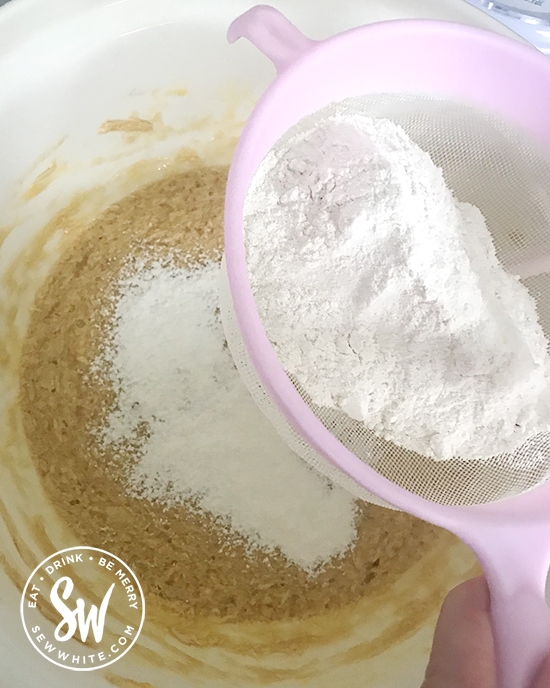 Sieve in the flour, baking powder and a pinch of salt. Give it a good stir in.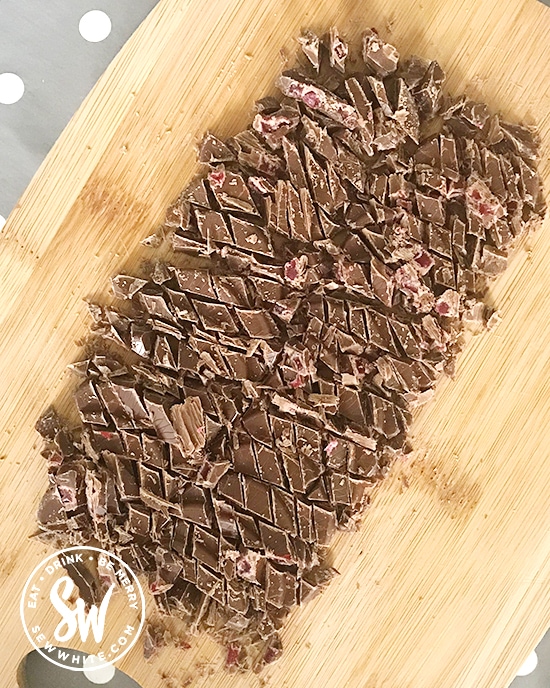 Chop up the Terry's Chocolate orange bar. Or milk chocolate bar if you can't find the bar.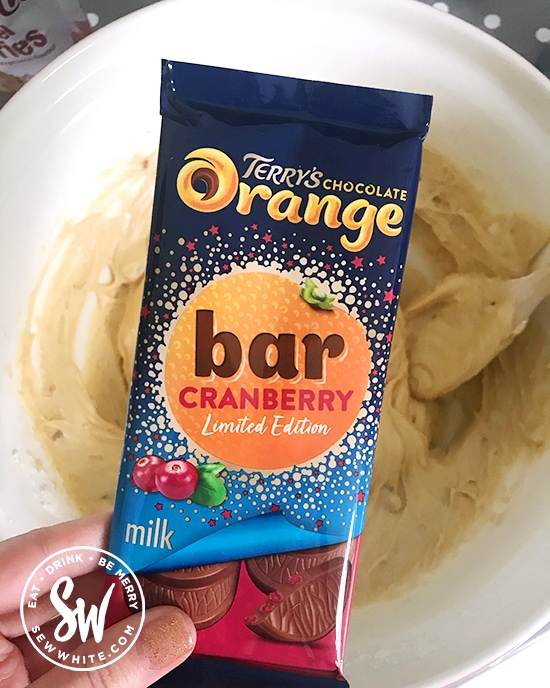 Terry's Chocolate Orange cranberry bar.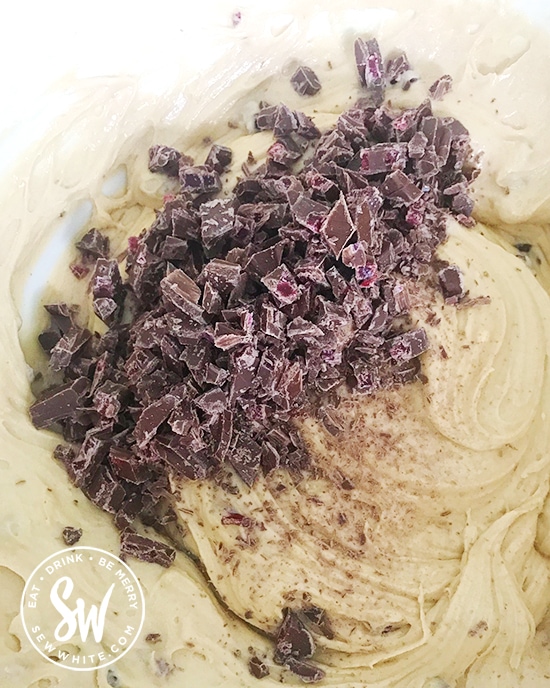 Mix in the chocolate bar. If you have milk chocolate you can add some orange zest at this point to add the extra orange flavour.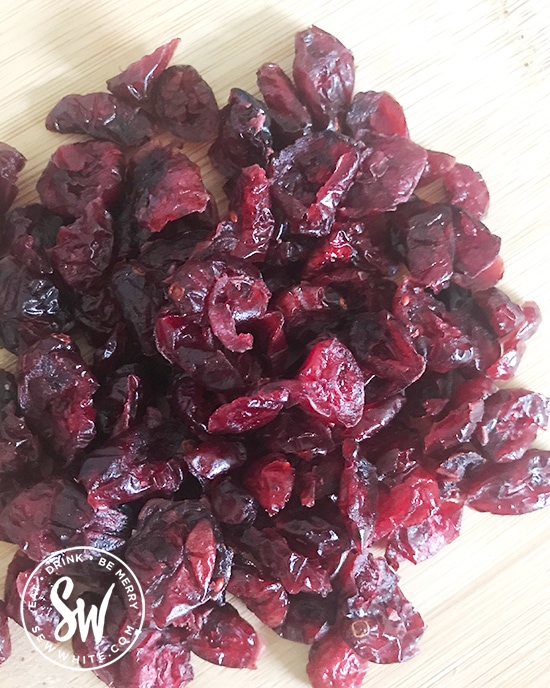 Chop up extra dried cranberries and mix them in.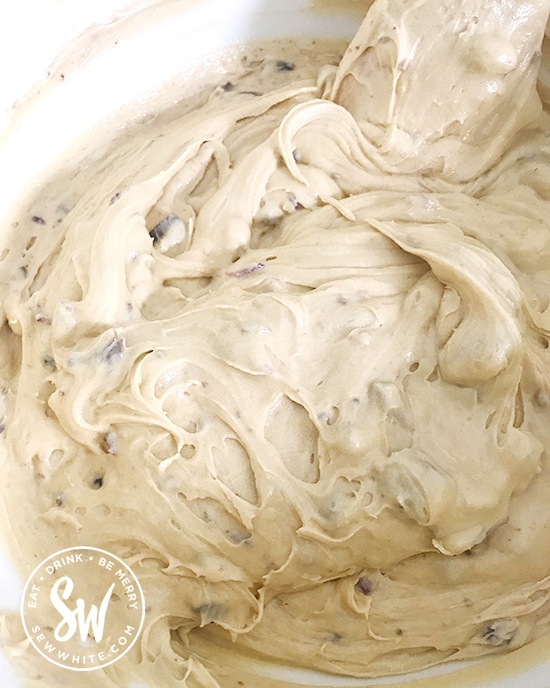 Give everything a great mix together.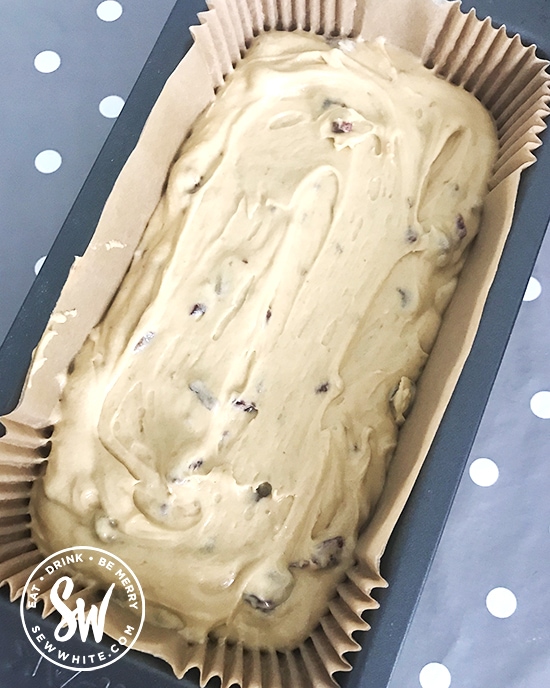 Add the mixture to a loaf tin and bake until golden brown.
Scroll down for the full recipe and instructions.
What flavours are in a Christmas loaf?
To make a Christmas loaf you need the iconic flavours of Christmas. In the case of this Christmas loaf I have opted for chocolate, orange and cranberry. Three flavours which work so well together. A few people don't believe cranberry and chocolate go together but they really really do. I promise.
If you wanted to make it even more Christmassy the other flavours I would recommend adding to your Christmas loaf include ground cinnamon, maybe a little pinch of ground cloves as that flavour goes so well with cranberries and orange.
Cloves and chocolate are a bit more unusual together but I adore them. I would definitely say only add a little though as it is a strong flavour for sure. Other flavours you could add include ground ginger and mixed spice. Oh the new Christmas loaf ideas I'm having right now!
Christmas loaf cake ideas
Other ideas I have had for a Christmas loaf include orange and cinnamon loaf, chocolate and cherry loaf (a sort of take on a black forest combination of flavours), cranberry and orange loaf and mulled wine loaf (stay tuned for this recipe is coming out soon)
How to serve a Chocolate Cranberry Cake?
Serving this cake is easy. Place the loaf cake on a nice shopping board or decorative plate. I leaving a few of the decorations on the plate so little fingers and big kids can start nibbling before the cake has been cut. I would recommend a good inch to two inch thick piece. It's a good chunky slice but believe me that is a good quantity for an adult. It will be enjoyed a lot!
If you have added a the chocolate segments like in the photo below I would cut a slice so each slice had two pieces of chocolate on. It's a great way to help keep the slices the same size.
How long will the Chocolate Cranberry Cake last?
The Chocolate cranberry cake will last about 3-5 days if stored in a cool place, in an air tight container. Somewhere cool is preferred to the fridge. As cake doesn't like the fridge too much as it's a bit cold and will affect the cake.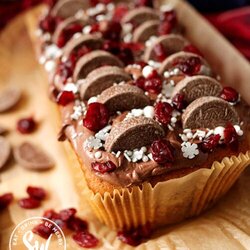 Chocolate Cranberry Cake
Terry's Chocolate Orange and cranberries are two of the most iconic flavours for Christmas. In this easy Christmas loaf I combine them to make a delicious and easy Christmas loaf.
Equipment
2lb Loaf tin

loaf tin liner

weighing scales

sieve

mixing bowls

Wooden spoon

hand whisker

spoon
Ingredients
250

grams

unsalted butter

or a baking butter like stork

250

grams

light brown soft sugar

4

medium eggs

250

grams

self-raising flour

1

teaspoon

vanilla extract

2

teaspoons

baking powder

1

Terry's Chocolate Bar with cranberries

or 90g milk chocolate

50

g

dried cranberries

zest of half an orange

125

g

unsalted butter

150

g

icing sugar / confectioners sugar

180

g

Cream Cheese

3

tablespoons

cocoa powder

sprinkles

dried cranberries
Instructions
Line a 2lb loaf tin with a liner and preheat the oven to 180ºC/160º fan.

Cream together the butter and sugar until light and fluffy.

Add the eggs one a time and mix in.

Sieve the flour and baking powder in to the mix and gently stir it in.

Chop up the chocolate bar and add to the mix.

Lightly chop the dried cranberries and add to the mixture along with the orange zest.

Add to the prepared loaf tin.

Pop into the oven and bake for 35-40 minutes until golden brown and until a cake tester comes out clean.

Leave to cool on a wire rack.

In a mixer (or using a hand mixer), beat the butter and sugar together to make a smooth buttercream.

Drain off any excess water in the cream cheese and add it to the buttercream mix along with the vanilla extract.

Beat again until smooth and pop it in the fridge to set slightly.

When the cake is cool add the cream cheese buttercream and use the back of spoon to smear it all over.

Add your decorations and serve.
Nutrition
Calories:
514
kcal
Carbohydrates:
53
g
Protein:
6
g
Fat:
32
g
Saturated Fat:
12
g
Trans Fat:
1
g
Cholesterol:
93
mg
Sodium:
344
mg
Potassium:
103
mg
Fiber:
1
g
Sugar:
36
g
Vitamin A:
1287
IU
Vitamin C:
1
mg
Calcium:
92
mg
Iron:
1
mg
Please note that the nutrition information provided above is approximate and meant as a guideline only.
Follow me on Instagram to see what I've been making recently. www.instagram.com/sewwhite
Check out my other recipes and Christmas recipes below
Looking for easy Christmas cookies? Then look no further, this is the Christmas recipe for you. My Cranberry White Chocolate Cookies are my favourite bake at Christmas. The creamy white chocolate and sweet cranberries are fantastic together in these oat cookies. Cranberry and oatmeal cookies are loved by the whole family and Santa has enjoyed them too when we've left them out for him. These finished results of these cranberry white chocolate chip oatmeal cookies are Delicious Crunchy & Soft Cookies which are the perfect Christmas cookies.
It's finally Christmas season and that means it's time to enjoy this easy chocolate cranberry cake! It's fruity, sweet and creamy – and ridiculously delicious!
This light and fluffy Orange Cranberry Loaf Cake is packed with dried or fresh cranberries and zesty orange flavour. The cake is simple to make in one bowl with no fancy equipment. And the decoration is so simple you can enjoy it freshly baked and warm from the oven without delay! Plus it's an ideal Christmas Loaf Cake if you are looking for something a little lighter than traditional fruit cake.
These Filo Pastry Mince Pie Rolls are a delicious twist on the classic British festive treat. Extra crispy and spiked with cranberry sauce, they're easy to make, easy to bake and easy to eat. What more could you ask for?! They're ideal as a simple festive snack, a fun addition to a buffet or party spread or even as a cheeky appetiser. Or warm them through and serve with brandy butter for the ultimate Christmas dessert.
My delicious no-bake Cranberry Cheesecake is a beautifully fruity and creamy dessert, packed with iconic Christmas flavours of cranberry and orange. A Christmas cranberry cheesecake is a wonderful alternative (or addition) dessert to a Christmas fruit cake, while still having all the flavours of the festive season. This easy no-bake Christmas cheesecake can be made ahead of time to save time when preparing for a festive dinner, to bring to a family meal, or for a Christmas party dessert.