Cranberry Bundt Cake with lemon
My Cranberry Bundt Cake with lemon is a delicious show stopper of a cake. It's an tasty Christmas cake to make and quick to decorate with sugar dusted cranberries. The delicious cranberry sponge cake with added lemon for flavour is a great centre piece for a Christmas dinner party. I love how easy this Christmas Bundt cake is.
If you don't have a bundt tin this recipe can be used for a normal layer cake too, use two eight inch cake tins.
Bundt cakes are always a favourite of mine and now I've combined some great flavours for a winter cake. The cranberries taste great inside the cake and look beautiful on top. Spending a few minutes to give them that sugared snowy look really is worth it for a show stopper of a cake.
Lemon Bundt Cake
This cake is decorated super simply, but I believe it looks absolutely beautiful. It was stunning on the table and everyone wanted a slice. The lemon and citrus flavour mixed with the sweetness of the cake and tartness of the cranberries is a combination in heaven.
Drizzle icing on the cranberry bundt cake
For this cake I wanted to drizzle it in a different way than I usually do. I made up a runny icing and using a fork drizzled it everywhere. It looked so beautiful on the cooling rack. I liked this more abstract look. This is also my brilliant trick and a good way to hide any little bits of damage. Sometimes if you don't grease the tin well enough some of the cake can get stuck in the tin.
How do I grease the Bundt Tin?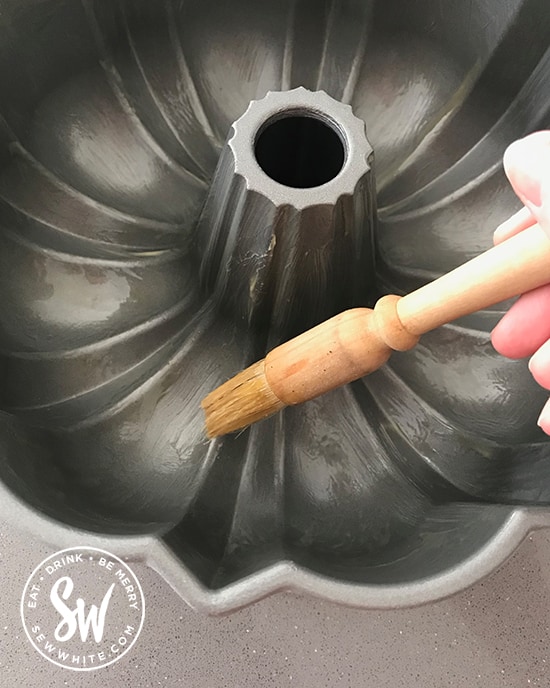 To make sure your cake slips out of the bundt tin easily it's so important to grease it. I start off with melted butter which I brush on to the tin. I do this twice leaving a few minutes for the butter to harden slightly before the next coat is added.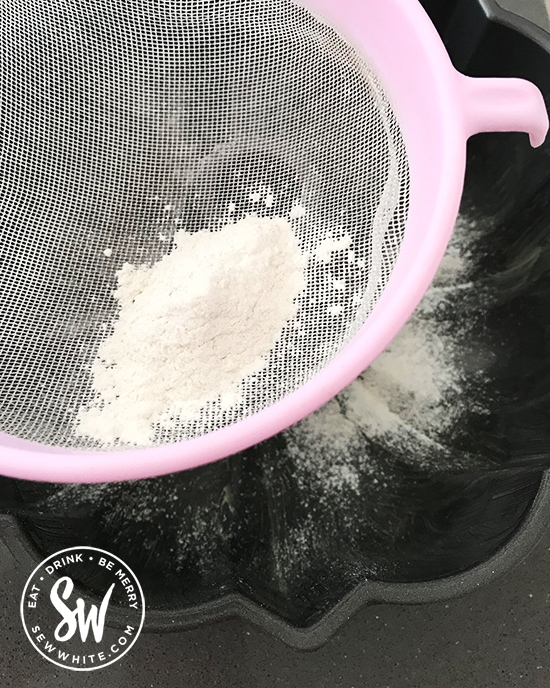 When I have done the two layers I sieve the flour in to the tin and tap the excess away. This also gives the tin an extra layer to help the cake come out smoothly. This dusting however also is important as it shows anywhere you might have left.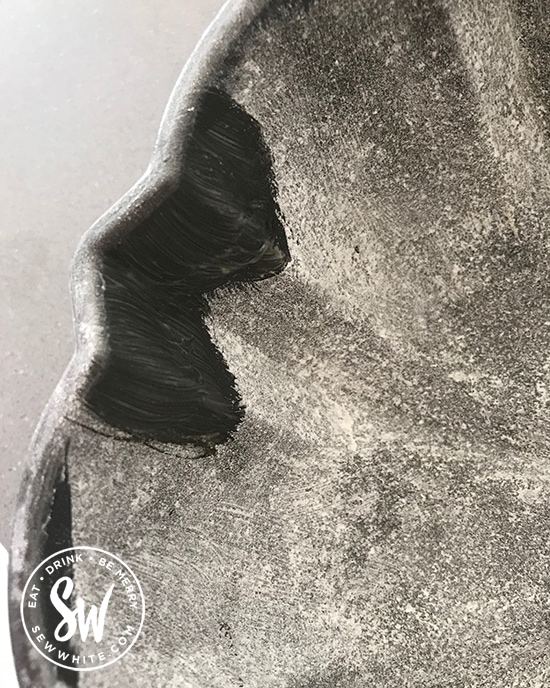 If you see any areas that didn't get done the first time make sure you go over with the butter layers and flour again. It will then be ready to use.
How do I cool a Bundt cake?
To cool a bundt cake once it's cooked, remove from the oven and leave it to cool for about 15-20 minutes in the tin. Then gently turn the cake out on to a cooling rack. I put the wrack on to the top of the tin and turn them together so it lands on the rack. From there leave it somewhere to cool. As they are dense cakes it can take a while. Leave it somewhere cool and it should be cold in about an hour. In rare cases it might take a bit longer.
Do not put the cake in the fridge to cool. Fridges are too cold and will make the cake sweat as it cools.
Cranberry and Lemon Bundt Cake
Why are bundt cakes so moist?
Bundt cakes I make are so moist because I use yoghurt in the mixture. The bundt cake will cook like a regular cake. The yoghurt also helps the cake stay soft and moist for longer. This recipe will last 3-4 days in a cool place and still be soft and delicious.
Dried cranberry Bundt cake
If you don't have fresh cranberries you can 100% make this recipe with dried cranberries. I would recommend lightly chopping them up and mixing them in. They will soften up in the cake mix and be beautiful little bite size pieces throughout the cake. If anything I think I prefer dried cranberries bundt cake as it helps have the cranberries all the way through. Delicious.
How to sugar dust cranberries for a cake?
There are multiple ways to create beautiful sugar dust cranberries. My way only takes a few minutes and they will look as beautiful as my photos. Take your cranberries to use as your decoration and run them under cold water to clean them. Add some caster sugar to a small plate or bowl. Dab off the water from the cranberries but do not dry them and add a few to the sugar. Roll the fresh cranberries around gently so they are coated. Remove and leave them on another plate until you need to use them.
The sugar will stick enough to place them. There are other versions of this which are more time consuming but just for decorations I have found that this works perfectly for the Cranberry Bundt Cake.
Just a reminder – do not eat the fresh cranberries as decoration. When they are fresh incredibly bitter.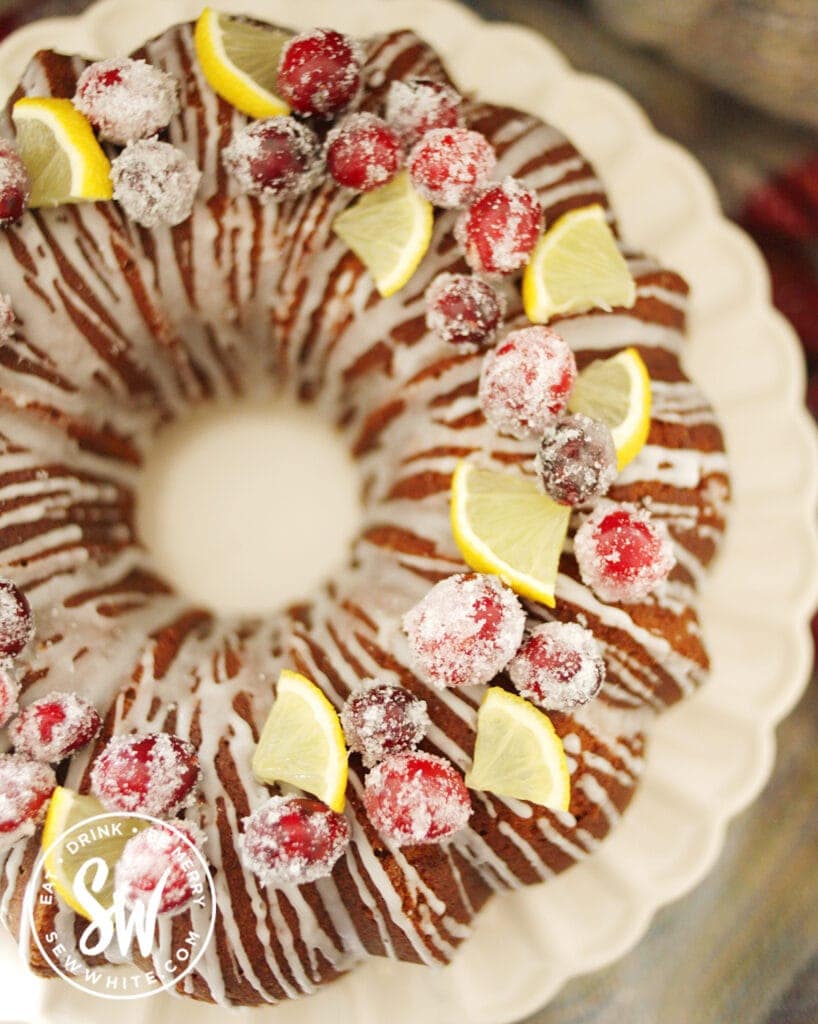 What is the point of a Bundt cake?
A bundt cake is a beautiful type of cake where the shape of the tin it is cooked in adds a distinctive shape and design. Bundt cake tins are made by Nordic Ware and come in a huge range of designs. There are classic shapes like the one I used in this recipe. There are also more dynamic shapes including a heart, cathedral style and for the children there is even a fairy tale cottage. The way they are made means they incredibly durable and can be used over and over again.
The best point of a bundt cake is that the cake looks beautiful even before decorating. You've got a beautifully presentable cake straight out of the oven. (Do leave it a little while to cool before turning out but you do get what I mean). They are the best way of making a wonderful cake which doesn't need a huge amount of time to decorate. Time saving and people love to see these cakes on a table. They look special and that alone is worth it. To decorate this Cranberry Bundt Cake I only added some drizzle icing and then some fruit on top. How easy and quick to do!
Nordic Ware Bundt Tins
The fact is best Bundt tins are made by Nordic Ware. Infact they invented them! There are so many designs to explore and I'm sure if you're like me you'll end up with a few designs that you use over and over again. The best tip I have is to spend the money and get a proper Nordic Ware tin. There are cheaper knock-offs but they aren't as good and the non stick isn't as good either.
Pin the Cranberry Bundt Cake for later
Please don't eat the cranberries from the top of the cake as raw cranberries are very bitter and can cause some stomach upset. The ones inside the cake are fine to eat.
Follow me on Instagram to see what I've been making recently. www.instagram.com/sewwhite
View my other recipes and see below for more cranberry recipes.
This light and fluffy Orange Cranberry Loaf Cake is packed with dried or fresh cranberries and zesty orange flavour. The cake is simple to make in one bowl with no fancy equipment. And the decoration is so simple you can enjoy it freshly baked and warm from the oven without delay! Plus it's an ideal Christmas Loaf Cake if you are looking for something a little lighter than traditional fruit cake.
My delicious no-bake Cranberry Cheesecake is a beautifully fruity and creamy dessert, packed with iconic Christmas flavours of cranberry and orange. A Christmas cranberry cheesecake is a wonderful alternative (or addition) dessert to a Christmas fruit cake, while still having all the flavours of the festive season. This easy no-bake Christmas cheesecake can be made ahead of time to save time when preparing for a festive dinner, to bring to a family meal, or for a Christmas party dessert.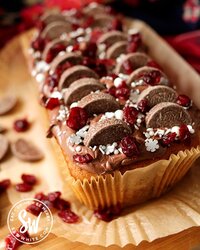 Terry's Chocolate Orange and cranberries are two of the most iconic flavours for Christmas. In this easy Christmas loaf I combine them to make a delicious and easy Christmas loaf.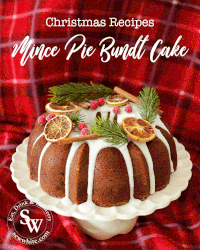 It's beginning to taste a lot like Christmas with my Mince Pie Christmas Bundt Cake. Filled with mince pie filling and spices it's great Christmas bake.
This is a delicious bake and a favourite of mine during the festive period. Try my Christmas Apple and Cinnamon Bundt cake.
It's finally Christmas season and that means it's time to enjoy this easy chocolate cranberry cake! It's fruity, sweet and creamy – and ridiculously delicious!
Enjoy a slice of my Strawberry Prosecco Cake this summer. It's a fruity light sponge with prosecco drizzle. Made in a Le Creuset Kugelhopf tin.
I have added this recipe to this weeks #CookBlogShare round up
Cranberry Bundt Cake with Lemon
My Cranberry and Lemon Bundt Cake is a delicious showstopper of a cake. It's also so easy to make and quick to decorate. This recipe can also be used to create a normal layer cake in time for Christmas.
Equipment
Nordic Ware bundt tin

or 2x 8 inch cake tin

Mixer

Mixing bowl

pastry brush

microwave proof bowl

sieve

measuring jug

weighing scales

knife
Ingredients
250

g

unsalted butter

220

g

golden caster sugar

200

g

light muscovado sugar

4

large eggs

350

g

lemon yoghurt

zest and juice from half a lemon

350

g

plain flour / all purpose flour

2

teaspoon

bicarbonate of soda

tiny pinch of salt

100

g

fresh cranberries

(You can use 150g dried cranberries if fresh are not available)
Decorations
200

g

icing sugar / confectioners sugar

a few drops of water

100

g

fresh cranberries

1

lemon
Instructions
Preheat the oven to 180ºC/175ºc fan.

Grease the bundt cake tin (or 2 x 8 inch round cake tin) with melted butter and dust with flour – this will help you see if you haven't greased any spots.

In a stand mixer cream the butter at room temperature and sugars until pale and fluffy.

Add the eggs one at a time and mix together.

Measure and mix in the yoghurt.

Add in the zest and juice from half of one lemon.

In a separate bowl, measure and sieve out the flour, bicarbonate of soda, salt.

Sieve in the flour gradually and stop when the flour is evenly mixed in.

Pour the mix into the prepared tin. Stud with the cranberries and push down slightly so they are covered. This stops the cranberries falling to the bottom of the cake and getting stuck on the tin.

Bake for 1 hour or until a skewer comes out clean and the cake starts to pull away from the sides of the tin. Turn it around after 35 minutes to make sure it's evenly cooked.

Leave the cake to cool fully before removing from the tin.

Mix the icing sugar with a few drops of water to make an icing and drizzle it over the cake.

To make the sugar coated cranberries, take the cranberries and wash them. Place caster sugar in a bowl and place the damp cranberries in. Shake the bowl so the cranberries roll around to get a good coating of sugar on them. Take them out and add to the cake.

Using the other half of the used lemon cut small slices and add them to the cake with the cranberries.
Notes
The leftover cake will last 3-4 days in an air tight container in a cool place.
Nutrition
Calories:
305
kcal
Carbohydrates:
42
g
Protein:
4
g
Fat:
14
g
Saturated Fat:
8
g
Cholesterol:
75
mg
Sodium:
158
mg
Potassium:
68
mg
Fiber:
1
g
Sugar:
25
g
Vitamin A:
450
IU
Vitamin C:
4
mg
Calcium:
25
mg
Iron:
1
mg
Please note that the nutrition information provided above is approximate and meant as a guideline only.