This Christmas I have been working with Elys Wimbledon to create a stunning Silver Christmas Table as Inspiration.
What is so beautiful about this table is the sophisticated style which also happens to be so easy to create. The colour palette of bright whites, shiny silver highlights and the verdant green work together to give a clean and elegant look. I hope you enjoy my Silver Christmas Table Inspiration.
Silver, Green and White
To create this look we used the speckled silver runner from Le Chateau on top of the dark metal table. From there we added the vibrant garland from The White Company. Garlands are great to use on your table and in the dark and cold of winters brings in a little of nature to the house. The are also reusable which makes them brilliant value for money. I would recommend going for a simple garland that you can add extra pieces to each year. It will keep it looking fresh and adaptable to the colours and style of your Christmas decorations.
By stacking the plates and bowls from largest to smallest you get a beautiful nesting effect on the table. A wonderful insight to the meals to come. In the top bowl we added silver glitter pinecones with cord holders to direct the guests to their places. To tie into the greenery in the middle we added a little stem of rosemary behind the name. This bought a striking flash of green from the centre into each place setting. It also broke up the white of the plates on the table. The range of plates and tableware is from Simply Home.
Adding Height with Candle Sticks
To continue the silver highlights through the table the we chose the silver band glasses from LSA Glassware. The gorgeously stylish glasses were elegant and statuesque on the table adding a new heigh to the overall display. The silver band glistened in the light from the thin wire of lights in the centre and candles too. It's also worth mentioning that the glasses we used were large wine glasses perfect for letting red wine breathe. The tall and elegant champagne glasses would look incredible when filled with champagne. I love seeing the bubbles rising. Perfect Silver Christmas Table Inspiration. The addition of the wide bottom tumblers which were a good handful and beautifully balanced.
The beautiful cutlery was the Mirage range from Monsoon. the dimpled handles are beautiful and definitely for life and not just for Christmas.
Silver Christmas Table Inspiration – Adding height
The last items to be added were the candles. We had 4 silver candle sticks from Parlane of two heights (two medium and two tall). These increased the height of the table and made it look wonderful.
Among the foliage we had little glass and silver tea lights to continue the colour theme. I loved how the silver tones were throughout the tables at different heights. The white crockery was stacked in uniform ways and the greenery looked wild and fluid in the middle uniting it all.
The finished table was absolutely stunning. By keeping the colours to only three it gave the finished table a sense of unity. Having a few stand out pieces of one colour, in our case the silver, made the table really come together. The pieces can be used time and time again to create completely different looking tables.
4 Place Settings Ideas for the Silver Christmas Table
I thought I would show how simple it is to create something quick and beautiful for the top of the stack of plates. As the white plates can look a bit empty against the back drop of the foliage and sparkles, it's nice to add something to break up the blank space. Check out my top 4 ideas below.
Last thoughts and thanks
I absolutely love what we created for the Elys Christmas Style magazine. It's wonderful to be creative on such a large project. It took a lot of fine tuning to get every piece exactly where it needed to be to make the table look exquisite. I absolutely loved my day. Getting Christmassy is always fun and getting to be featured in the magazine was a dream come true. Thank you so much to Elys and Time & Leisure for letting me set such a wonderful table in time for Christmas 2019. It is such an honour to be working with Elys as their Food and Home blogger.
Other Christmas table inspiration from 2019
Feeling Christmassy? Try out these delicious festive recipes.
My delicious no-bake Cranberry Cheesecake is a beautifully fruity and creamy dessert, packed with iconic Christmas flavours of cranberry and orange. A Christmas cranberry cheesecake is a wonderful alternative (or addition) dessert to a Christmas fruit cake, while still having all the flavours of the festive season. This easy no-bake Christmas cheesecake can be made ahead of time to save time when preparing for a festive dinner, to bring to a family meal, or for a Christmas party dessert.
To make this an 8inch cheesecake then add half again to the ingredients.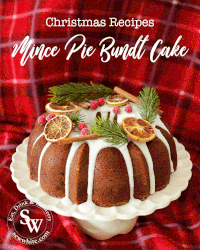 It's beginning to taste a lot like Christmas with my Mince Pie Christmas Bundt Cake. Filled with mince pie filling and spices it's great Christmas bake.
Looking for an easy Christmas punch? Then you are in the right place. Christmas parties, time with friends and days with family are approaching and this is the drink you can use for every event! This Christmas cranberry punch is easily adapted to use the spirit of your choice. It can be a vodka Christmas punch, rum Christmas punch or even a gin Christmas punch. This cocktail is made from fruity cranberry juice, fiery ginger beer and sharp lime resulting in a wonderful cranberry punch.
These Filo Pastry Mince Pie Rolls are a delicious twist on the classic British festive treat. Extra crispy and spiked with cranberry sauce, they're easy to make, easy to bake and easy to eat. What more could you ask for?! They're ideal as a simple festive snack, a fun addition to a buffet or party spread or even as a cheeky appetiser. Or warm them through and serve with brandy butter for the ultimate Christmas dessert.
Check out my other Christmas recipes
Follow me on instagram to see what I've been making recently. www.instagram.com/sewwhite