Cookery classes are a great way to learn new foodie skills and are a wonderful experience to gift. My dad visited the Cookery School at Little Portland Street to try out a class and learn new delicious skills to use at home.
Featured in my Top 5 gifts for men Christmas gift guide, cookery classes area a great experience to gift. It is a hands on way to learn new skills which can be used at home for years to come. Plus it is one that friends and family will be happy you did. My dad visited the Cookery School at Little Portland Street to take part in their poultry and meat class. This is what he said about the day and his experience. Written by Will White.
Arriving at the Cookery School at Little Portland Street
It started with a smile and a glass of wine and a cheese scone on a wet Saturday afternoon. At the Cookery School at Little Portland Street in the centre of London the group for the day met and got ready to learn.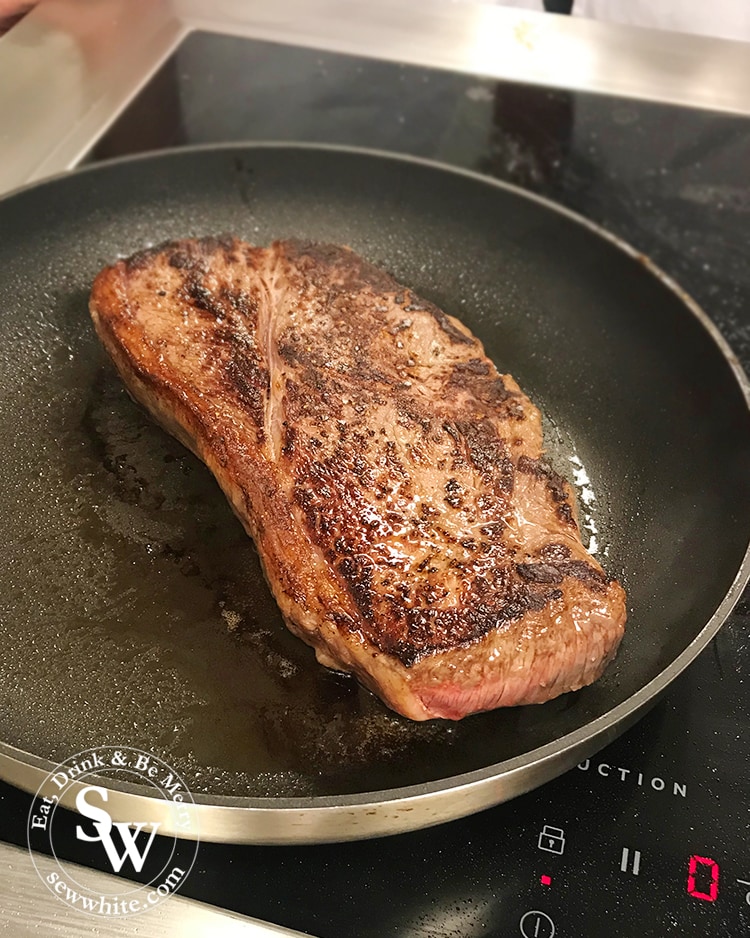 We were given an insight into the ethos behind the school and it's focus on sustainability as well creating a friendly environment to learn more about food. The meat and ingredients used are organic and come from sustainable farms. The cookery school are also single use plastic, cling film and silver foil free. Our teacher and chef for the day was Jane along with her fabulous team of Edwin and Ricardo.
In our afternoon class there was an enormous amount of recipes, cooking and information to get through. However the planning was fantastic and we got through it all and created a wonderful spread.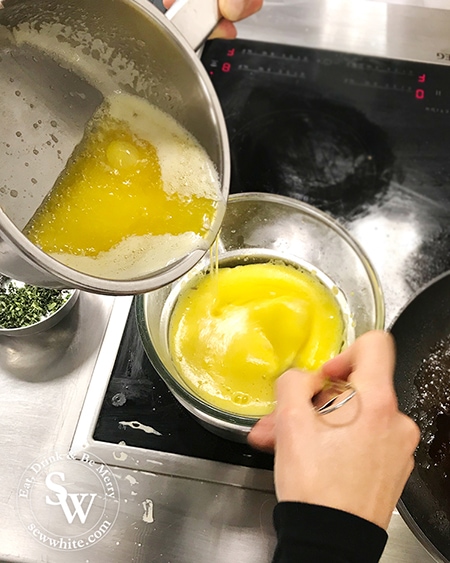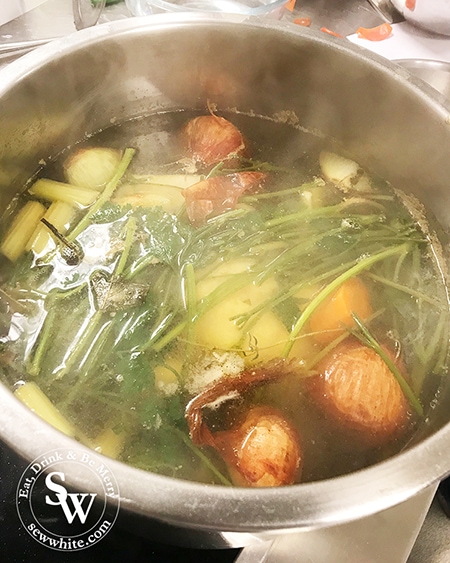 The class at the Cookery School at Little Portland Street was a great introduction to the various styles of cooking meat. We covered everything from lamb ragu to spatchcock chicken and an absolutely enormous piece of rump steak. I now know the difference between a ragu and how to braise a guinea fowl. Along with how to make chicken stock and the secrets to perfect Yorkshire puddings. If you want to know them you'll have to go on the course and find out! At the end of the session (although 5 1/2 hours long it went incredibly fast) we had a feast with everything we had prepared and cooked. It tasted beautiful. It was a lovely way to end the day and the experience.
Deboning a chicken
One of the highlights of the day, and there many, was where we were taught about deboning and stuffing of a chicken. No one lost a finger despite the sharp knives being used. Jane's step by step teaching was extremely good, helpful and easy to follow. Deboning a chicken was very tricky.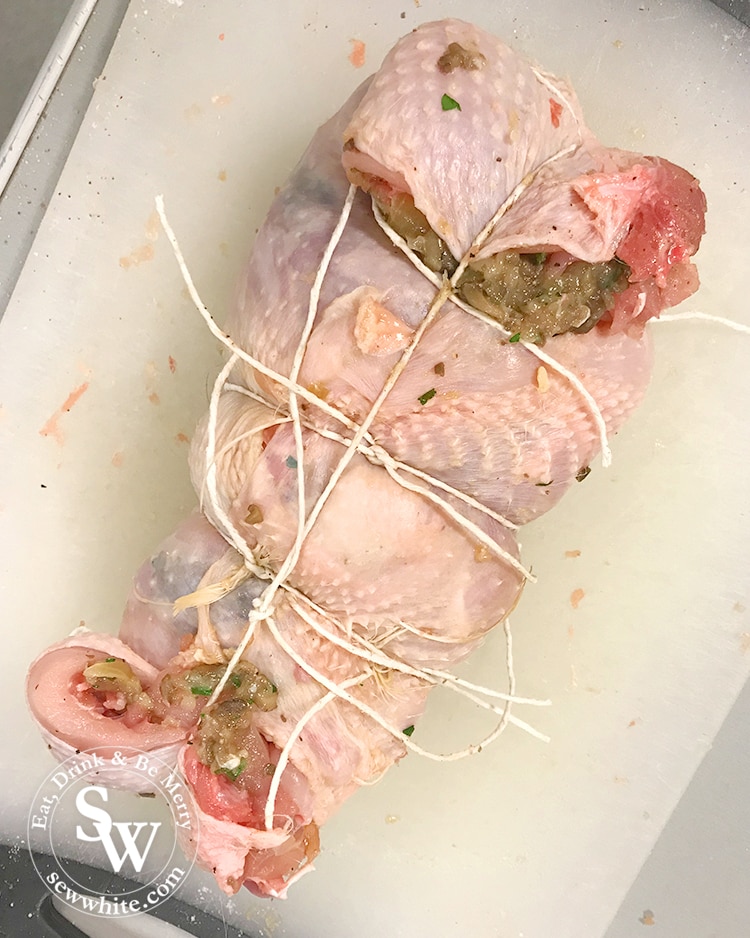 It started with a cut down the back of the spine and cutting while scraping as close to the bone as you could. Working your way down the rib cage and on to the legs. Which eventually you pull inside out as you cut away from the bone. There was lots of concentration and muttering under our breaths until finally a rectangle of meat and skin remained. There is definitely a huge amount of skill involved with deboning a chicken. It is one I will be practicing at home. The stuffing was then rested on top. We then rolled it into a long roll and simply tied with string. This we took home and I cooked mine the following day and it was stunningly tasty.
The list of what else we did was huge; we all cut and diced onions, garlic, shallots, carrots, celery for the different recipes, learnt and took in turns browning the lamb and guinea fowl, rubbed mixtures onto a piece of beef topside and mixed a marinade for the spatchcock chicken. We were all involved in all aspects of the cooking, when to season and when not to. Learning timing is key. We also tasted as went which only made us hungrier to try everything.
Reflecting on the day
For me it was a straight forward introduction that I will carry on with at home. I now have the tools and skills which will help me to improve my repertoire. At home I look forward to cooking each of the recipes for myself over the next few weekends. All I can hope for is they look taste as good as those we did at the cookery school.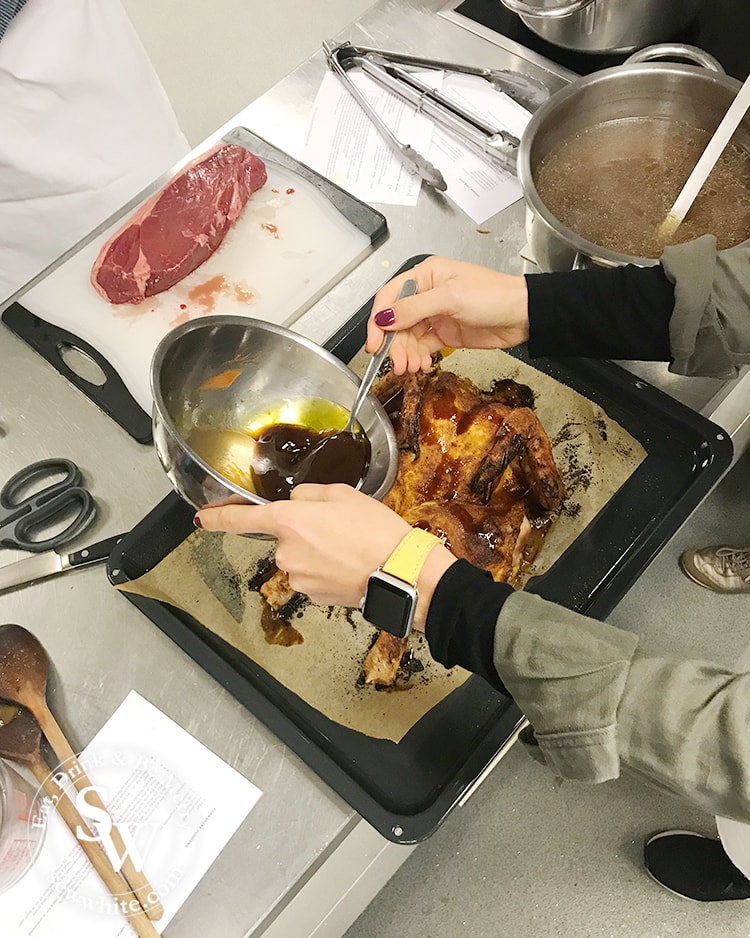 I thoroughly enjoyed my afternoon out and have come away better equipped to tackle some more difficult recipes. I also left with a better understanding of some of the complexities involved with meat and poultry.
On the day I was quite nervous to start with. However the relaxed atmosphere and hands on teaching style all the mysteries disappeared. Lots to take in but not as difficult as I initially feared.
Thanks to all at the cookery school for having me.
To find out more about Cookery School in Little Portland Street visit their website here.
Disclaimer this is a gifted experience. All opinions are my own
Read more of my lifestyle blog posts just click to Be Merry!