My Parma Ham and Peach Focaccia Party Bites are so easy to make and perfect for a party as you can make them earlier in the day and serve when needed.
Party season is sneaking up on us and I've been creating some delicious and slightly healthier alternative to nibbles. My Focaccia Party Bites topped with Parma Ham and Peaches are the perfect sharer. It is a mix of soft bread that compliments the creamy mozzarella, fruity peaches and salty ham. Plus with the fresh thyme you get that green earthiness that hits all the senses.
I have eaten so much of these focaccia bites already. They are delicious bites and way to easy to keep having a few more as a party goes on. They were definitely a hit with my guests who loved the mix of flavours. Plus also that they were seems a more health party nibble. Having the fresh peaches added a sweet touch that takes it away from being more like a pizza to something much more elegant I think.
I love being able to turn a simple focaccia loaf into a focaccia party food which is easy to share and enjoy.
If you like this you might like my Maple Syrup Grilled Peach and Nut Salad
How to make them
Cut the focaccia into bite size pieces. Pull apart the Parma ham and lay a piece on each piece of focaccia.
Add torn up pieces of mozarella and slices of peaches to each bite. Sprinkle over the fresh thyme and then drizzle the olive oil and balsamic vinegar over just as you are ready to serve.
What do you serve with focaccia?
My favourite thing to serve with focaccia is a delicious range of Mediterranean goodies. From a range of cheeses including mozzarella and feta too. To a charcuterie board willed with delicious salamis, chorizo and of course Parma ham. Big salads and pasta salads all work too. Even some smoked salmon and cream cheese will a delicious addition to what to serve focaccia.
What is the best way to serve focaccia?
There are so many ways to serve this beautiful iconic loaf. You can serve it along side salads at events. Try layering it up as a sandwich. Grill it with soft cheese which will melt into the bread and eat with some charcuterie. (One of my favourite ways) It tastes wonderful with a home made Mediterranean tomato soup and it also lasts really well for lunch boxes if you have some left over. If you have some salty bacon or ham add it to the focaccia. It will be a great bread vessel for such a sandwich.
Can you toast focaccia?
Absolutely! It toasts incredibly well. Why not try toasting your focaccia and rubbing on some garlic into the hot bread. It will taste incredible. Top your toasted focaccia with a mix of tomatoes, chopped basil and mozzarella and a drizzle of oil and tiny dash of balsamic vinegar. It will taste incredible.
Do pay attention when you toast the focaccia. Sometimes it can go from being almost gorgeous golden brown to burnt very quickly.
Can you use tinned peaches?
For this recipe fresh do work best but if you have some tinned peaches that need using then of course try it. You will need to drain them fully and serve straight away. If you can get them in juice over syrup this will also help the finished the focaccia party bites.
They might be a bit softer than the fresh ones so you might need to add a tooth pick or something to hold the layers together to stop them sliding off.
Focaccia Party Bites – Parma Ham and Peach
Focaccia Party Bites with Parma Ham and Peach
My Focaccia Party Bites with Parma Ham and Peach are so easy to make and perfect for a party as you can make them earlier in the day and serve when needed.
Ingredients
Focaccia
250

g

strong white flour

5

g

salt

5

g

instant yeast

80

ml

olive oil

180

ml

water

fresh rosemary
Toppings
2

mozzarella balls

Parma Ham

4

Peaches

Olive Oil

Balsamic Vinegar

Fresh thyme
Instructions
Focaccia
Add the flour to a mixing bowl with the salt on one side and the yeast on the other. Add half of the olive oil and three quarters of the water and mix it with the flour with your hand. Add the water a little at a time until the dough is coming together. Don't add all the water if you don't need it. It will be a little wetter than normal doughs but not too much.

Add the remaining olive oil to the work surface and knead the dough into it for 5-10 minutes until the dough is soft and elastic.

Add oil to a baking tray and leave the dough to rise for about 1 hour and until at least doubled in size.

Drizzle more olive oil on to the work top and gentle move the dough on to it. Try not to remove the air from the dough. Stretch the dough out add it to an oil greased baking tray. Leave for another hour to rise again.

Preheat the oven to 200ºC. Press your fingers into the dough to make dimples. Drizzle with a little extra olive oil and sprinkle with chunky salt and stud with the fresh rosemary.

Bake for 15 minutes until golden brown. When you tap the bottom of the focaccia it should sound hollow. Leave to cool.
Toppings
Cut up the focaccia into bitesize pieces.

Pull apart the Parma ham add a piece to each piece.

Top with pieces of mozarella and slices of fresh peach.

Sprinkle the fresh thyme over the pieces.

Drizzle a little olive oil and baslamic vinegar when you are ready to serve.
Nutrition
Please note that the nutrition information provided above is approximate and meant as a guideline only.
I really hope you enjoy my recipe.
Please leave a comment. They mean a lot to me!
Here are some other recipes you might enjoy.
This Christmas Raspberry Prosecco Cocktail is a quick and easy cocktail to make and tastes wonderful too. This rosemary raspberry cocktail is a mix of raspberry liqueur topped up with prosecco and decorated with a sprig of fresh rosemary. A beautiful easy Christmas cocktail to make at home.
My quick and easy puff pastry tomato tart is a super delicious seasonal summer dish. It is absolutely brilliant for summer parties, events and picnics. The puff pastry tomato and mozzarella tart is perfect for using up all your fresh home-grown tomatoes! Serve with a few fresh basil leaves to really add some extra aroma and taste to the finished tomato tart.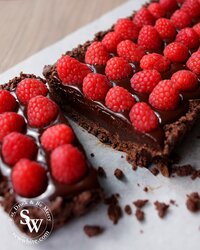 Enjoy a slice of my Chocolate Raspberry Tart with my easy 5 ingredient recipe. A lovely rich truffle recipe studded with fresh raspberries on a bourbon biscuit base.
Easy to make delicious bites size treats, my Vietnamese steak lettuce bites are packed full of flavour and healthy too.
I adore these Chocolate Marshmallow Pops. Marshmallows dipped in chocolate are one thing but these are next level treats. Marshmallow pops are so easy to make, look beautiful and will make always be popular with adults and kids alike. Dress them up with sprinkles, dried fruit and even chopped nuts.
Focaccia Bundt Loaf is a great way to serve a focaccia at a party or event and even for dinner. The Bundt tin makes the finished bread shape look gorgeous.
This recipe has been shared in the CookBlogShare group
Follow me on instagram to see what I've been making recently. www.instagram.com/sewwhite