I adore these Chocolate Marshmallow pops. Marshmallows dipped in chocolate are one thing but these are next level treats. Marshmallow pops are so easy to make, look beautiful and will make always be popular with adults and kids alike. Dress them up with sprinkles, dried fruit and even chopped nuts.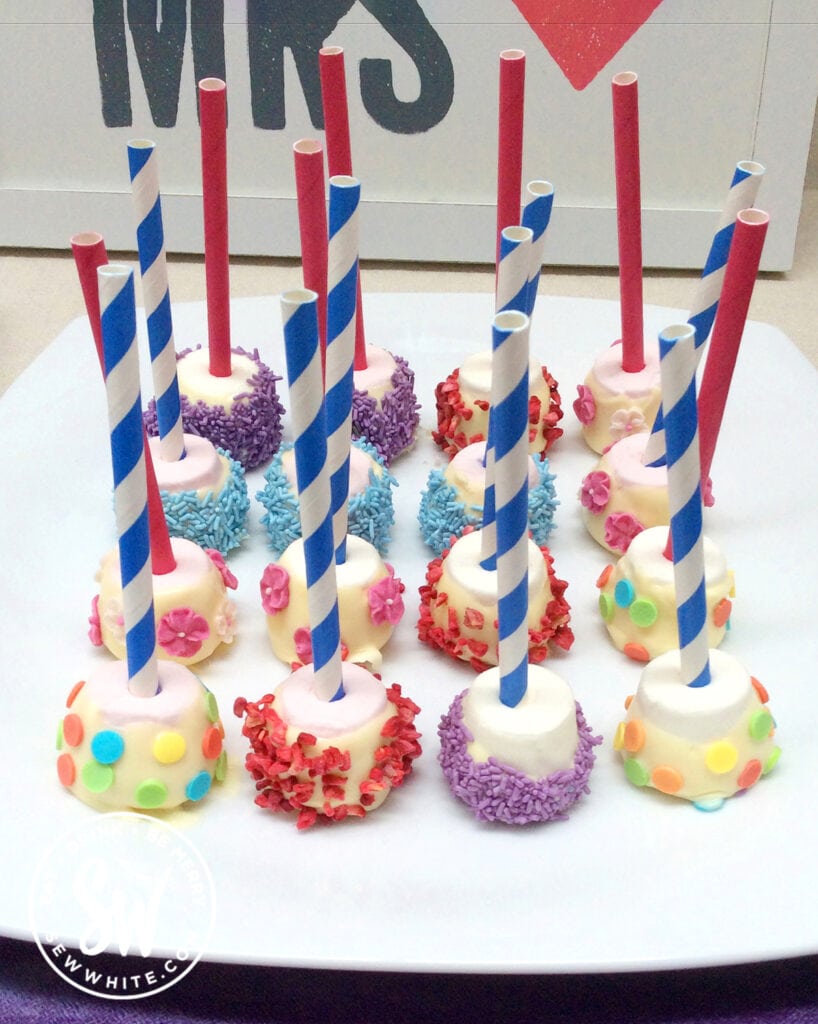 I love marshmallows and chocolate. They are a winning combination and one that I'm trying to add to everything where I can. For a surprise wedding anniversary party for my parents I made these lovely little finger food sweet treats.
These lovely marshmallow pops are so easy to make and are loved by everyone. I think adding the little paper straw holders really invites everyone to try them. Plus little ones were happy to run off with them like flowers and nibble them like a lolly pop.
Since the party I've had a lot of requests to make them for friends and family and their events so I have been busy. I can see why they are delicious and you can eat a lot of these marshmallow lollipops!
I first had these when I was little by dipping the marshmallows into melted chocolate. It was a happy childhood treat so this is a more grown up version but it still tastes great and I love sprinkles. It is also a lot neater now too!
Why you'll love this recipe
Its fun for everyone! You can pre-dip your marshmallow lollipops and decorate them ready for a party or you can lay out all the items you need and then get everyone together to make their own!
These chocolate dipped marshmallows look wonderful when decorated! The sprinkles and decorations are the perfect way to liven up your party food table and they taste wonderful!
It couldn't be easier to whip up these chocolate marshmallow pops, simply melt your chocolate, dip and decorate!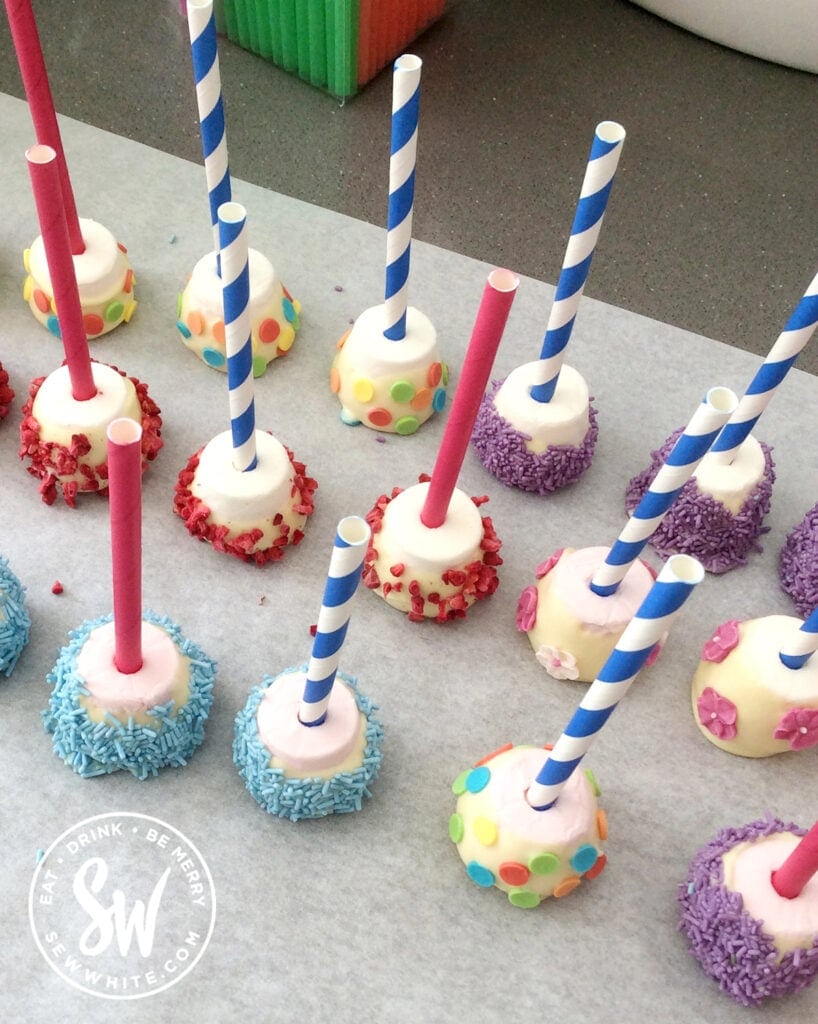 Top Questions
What are marshmallow lollipops called?
Is Marshmallow a candy?
How do you make marshmallow lollipops?
How long to chocolate marshmallow pops last?
Ingredients
For the full recipe and instructions scroll to the bottom of the page for the recipe card.
MARSHMALLOWS
Wonderfully soft and squishy, marshmallows are one of my favourite sweet treats. They are perfect when dipped in chocolate and made into chocolate marshmallow lollipops.
CHOCOLATE
In this recipe I used my favourite white chocolate to melt and dip the marshmallows into make these beautiful marshmallow pops. Make sure your marshmallows are dry and your chocolate doesn't burn while you melt it down.
SPRINKLES
The perfect colourful decoration! Sprinkles make everything look exciting and taste even better. I love decorating my chocolate dipped marshmallow lollipops. You can roll your dipped marshmallows in sprinkles to decorate them.
DRIED FRUIT
Another way to decorate your marshmallows dipped in chocolate is with little pieces of dried fruits like dried cranberries or even dried strawberries!
CHOPPED NUTS
A Christmas crunchy treat! Chopped salted peanuts are wonderful with the sweet creamy milky chocolate that your marshmallow lollipops are dipped in. The sweet and salty flavours are perfect!
How to make – step by step
Poke a straw into your marshmallows to create the lollipop
Melt your chocolate and then get ready to dip!
Once you've dipped the marshmallows in the melted chocolate, allow them to dry for just a moment so they become sticky.
Now it's time to decorate!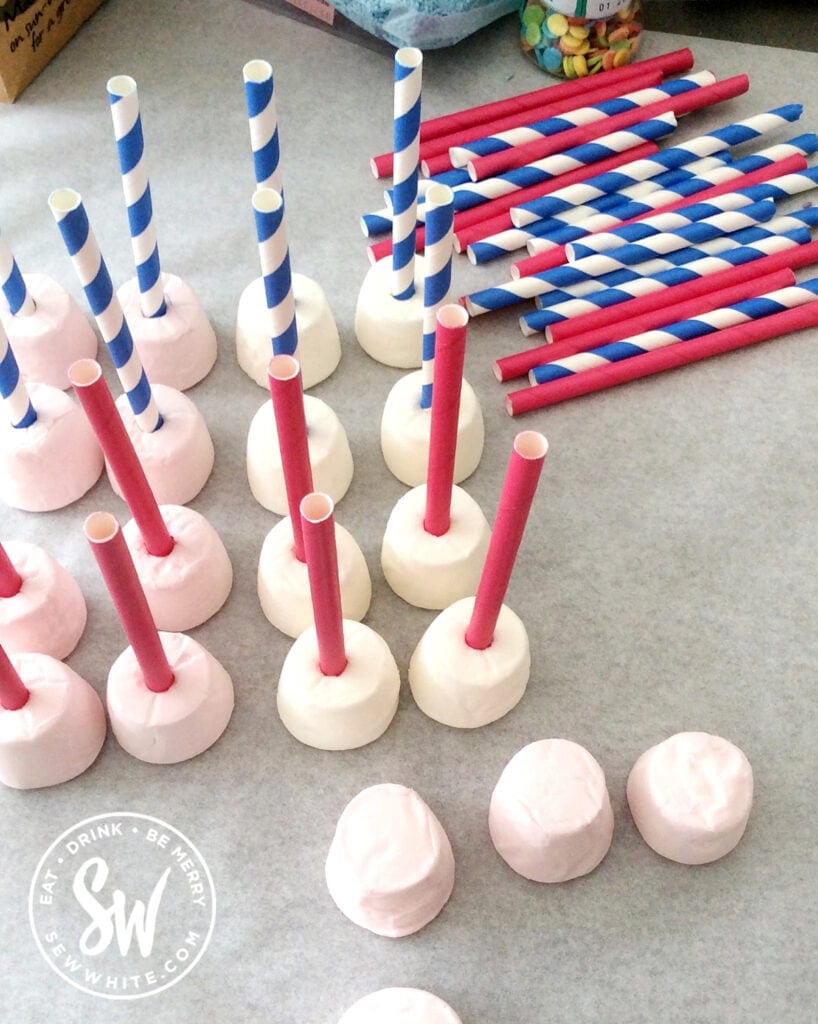 Marshmallow Chocolate Bites Making Station
It is a lovely quick activity and always makes everyone smile to make them. These can be made in advance for parties so great to get done the day before. Cut a paper straw in half (good and sustainable) and push it almost the whole way through the marshmallow.
Melt your choice of chocolate in short bursts in the microwave. I used white this time but all chocolates work really well. Dip the marshmallows into the sprinkles and leave them to set. That is it. All done. Ready to eat.
The finished treats look lovely and were gone very quickly.
Top Tips
Use a mixture of white chocolate, milk chocolate and dark chocolate with your different decorations – it allows for a number of different flavour combinations that tastes wonderful.
Make sure to put your straws into the marshmallow before you dip them in chocolate, this will make it much easier for you to handle them whilst the chocolate dries
Serving Suggestions
These chocolate marshmallow pops are perfect served as soon as they are decorated.
They can be stand on their own and look wonderful with all the sprinkles and chopped fruits and nuts. You can organise them so all the flavours are muddled together or separated.
Equipment
This list contains affiliate links
Substitutions and variations
You could use fruit instead of marshmallows for a slightly healthier sweet treat!
Personally I love strawberries dipped in white chocolate, its a perfect summery treat.
Storing / Making ahead of time options
Due to the nature if these marshmallow chocolate pops they are best served soon after you've made them. Otherwise your chocolate may melt and go sticky. Then you may loose your decorations!
FAQS
What are marshmallow lollipops called?
I like to call marshmallow lollipops chocolate marshmallow pops! They are tasty, sweet at perfect party food. Marshmallow lollipops or chocolate marshmallow pops are the perfect chocolate dipped marshmallow lollipops.
Is Marshmallow a candy?
Yes, marshmallows are a candy! They are a sweet sugary treat made from gelatine. In America they call chocolate candy, so if you are reading this in the USA, they are a different type of candy.
How do you make marshmallow lollipops?
You make marshmallow lollipops by sticking a straw or lollipop stick into your marshmallow, this gives you something to hold onto whilst you eat your marshmallows pops. Then I decorated mine by dipping them in melted chocolate and rolling them in sprinkles for a tasty treat that looks good too!
How long to chocolate marshmallow pops last?
Marshmallow pops will last a couple days in a cool dry cupboard, it is important that they are kept some where cool ( that is not the fridge) as otherwise the chocolate may. melt and become sticky. If you leave marshmallows out of an air tight container for too long they will go hard and are less enjoyable.
Other Recipes you might like
Pin this recipe to enjoy later
Pin me for later or follow me @sewwhiteblog on Pinterest for my latest recipes and to discover my others.
Recipe
Marshmallow Chocolate Pops
I adore these Chocolate Marshmallow Pops. Marshmallows dipped in chocolate are one thing but these are next level treats. Marshmallow pops are so easy to make, look beautiful and will make always be popular with adults and kids alike. Dress them up with sprinkles, dried fruit and even chopped nuts.
Equipment
Paper straws

(cut in half)
Ingredients
200

g

marshmallows

200

g

chocolate

(I used white for this batch of treats dark works well too)

assorted sprinkles
Decoration Options
dried fruit chopped up

freeze-dried fruit

chopped nuts

candy

grated chocolate
Instructions
Melt the chocolate slowly in a bowl over hot water. Or in short bursts in the microwave.

Lay out a piece of greaseproof paper/ parchment paper on a baking tray so they are easy to move.

Cut the straws in half to make a smaller handle and stick the cut end into the marshmallow. As the marshmallows are sticky they will cling to the straws without having to use anything else.

Dip the marshmallows in to the chocolate and sprinkle the sides with sprinkles.

Place on the greaseproof paper and repeat with all the marshmallows.

Place the tray in the fridge and allow it to cool if it's a hot day. If it's a cool day they should harden in an hour or so.

When the chocolate is set the treats will peel off the greaseproof paper easily.
Nutrition
Please note that the nutrition information provided above is approximate and meant as a guideline only.