This Christmas cocktail is a quick and easy one to make and tastes wonderful too. Raspberry Rosemary Fizz is a mix of raspberry liqueur topped up with fizz.
This is the most delicious quick celebration drink to make. It tastes amazing and looks beautiful. It's also so quick. The whole thing takes less than 5 minutes to create and can be easily topped up.
As well as looking beautiful and so good you could just reach out and grab a glass. I also love how beautiful this drink tastes. It mixes together the sweet and fruity raspberry liqueur, the herby and earthy smell from the rosemary and the tart bubbly prosecco works a treat. I love creating drinks that mix taste and smell to create something beautiful.
Gigglewater Prosecco in the Raspberry Rosemary Fizz
I created this recipe using Gigglewater Prosecco. Gigglewater is the original name for an alcoholic beverage. It is a great name. I love it. I will now be talking referring to Prosecco as Gigglewater from now on.
Gigglewater was founded on the idea of living a life of balance and having fun – happiness & health are core to life.

Catherine owner of Gigglewater
I hadn't tried Gigglewater before but I have really enjoyed drinking it. (I received it as a gift to try). It's fruity and bubble and above all fun. It is feels fun and calls to be shared among friends. It has a light smell of crisp fruits. The smell that reminds you of summer sunshine. I will have to get some more bottles for summer parties. Paring wise this is definitely an aperitif drink. Serve before food or with little nibbles so you can really appreciate the flavour.
I really like the bottle. It's more unusual and more squat that regular bottles. It's now a got lights in to add a little extra sparkle in time for Christmas.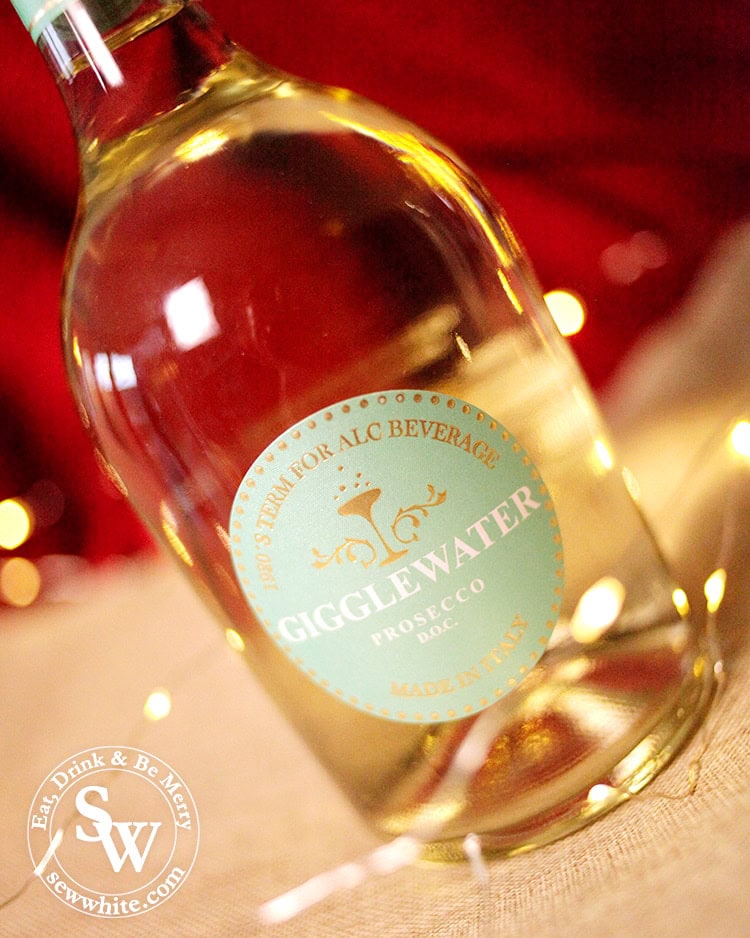 It is a great drink to make ahead and just top up with Prosecco when you're ready, just like the photos below. The little decoration flourishes really make this a special drink and people always want one with the little bit extra. It looks spectacular especially for Christmas. The rosemary and cranberries really show off the Christmas spirit. Pardon the pun.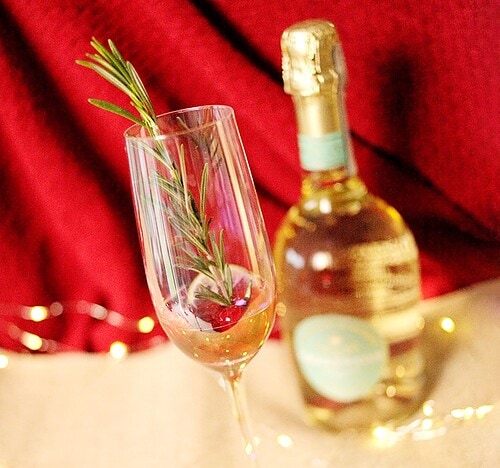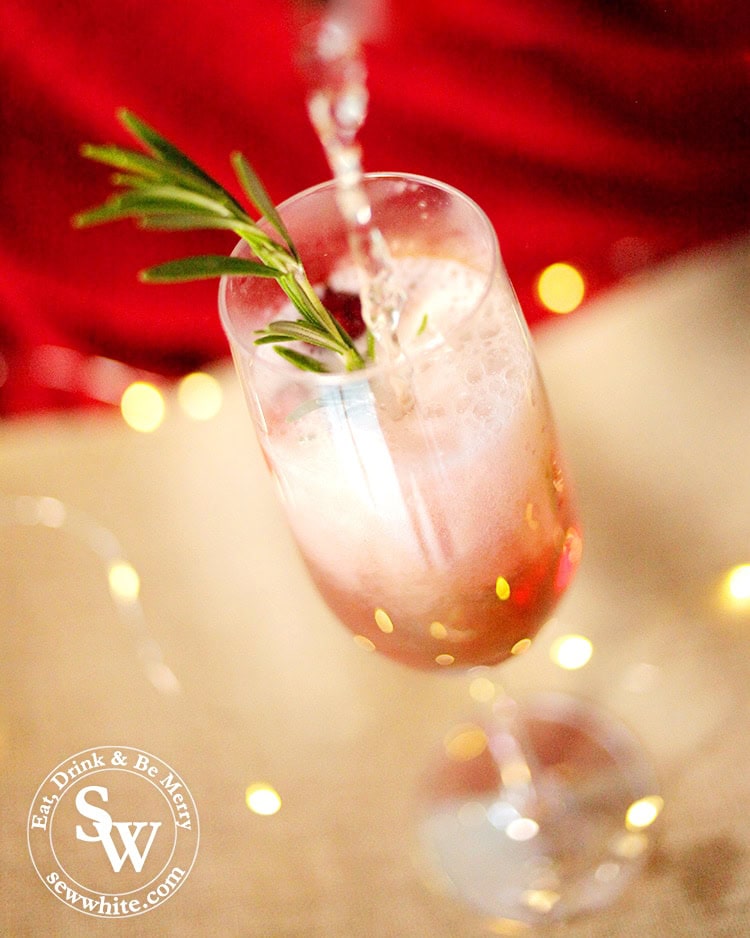 Raspberry Rosemary Fizz
This Christmas cocktail is a quick and easy one to make and tastes wonderful too. Raspberry Rosemary Fizz is a mix of raspberry liqueur topped up with fizz.
Ingredients
25

ml

raspberry liqueur

lime

sprig of rosemary

a few fresh cranberries

prosecco
Instructions
In a champagne glass pour in the raspberry liqueur.

Add the rosemary sprig and a few fresh cranberries (don't eat these).

Thinly spice a lime and add a slice to the glass.

Top up with prosecco and serve.
Nutrition
Please note that the nutrition information provided above is approximate and meant as a guideline only.
Other Christmas recipes you might like
This is definitely going to be a Christmas favourite! My Christmas Cranberry Gin Cocktail is a Christmas twist on a classic gin cocktail.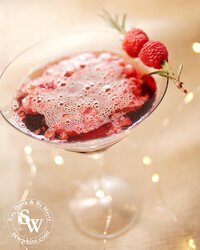 This delicious Rum and Raspberry Cocktail is always a winner at a party. The spiced rum and raspberry flavours work so incredibly well together.
Enjoy a glass or two of my Sparkling Cranberry Ginger Cocktail. It's a warming and fiery blend of cranberries, ginger beer and cranberry liqueur.
Looking for an easy Christmas punch? Then you are in the right place. Christmas parties, time with friends and days with family are approaching and this is the drink you can use for every event! This Christmas cranberry punch is easily adapted to use the spirit of your choice. It can be a vodka Christmas punch, rum Christmas punch or even a gin Christmas punch. This cocktail is made from fruity cranberry juice, fiery ginger beer and sharp lime resulting in a wonderful cranberry punch.
I absolutely love these Lemon Spice Cakes. They are a delicious mix of lemon citrus, sweetness from the cake and spice which tastes like Christmas.
Everyone should try my Easy Brussels Sprouts with Bacon and garlic at least once because that is all it will take for you to want to make them again. These Brussels Sprouts with garlic and bacon are my go-to way to cook Brussels Sprouts for Christmas… and all year long too. Adding garlic to the Bacon Brussels Sprouts add extra flavour and bite to the dish.
I love roast potatoes! At Christmas and special occasions I make my Perfect Goose Fat Roast Potatoes. Light and fluffy while also being crispy on the edges.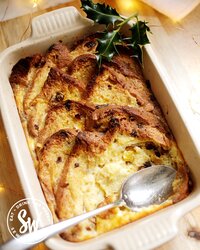 I adore bread and butter pudding and of course with Christmas on the way I had to make it with Panettone. It's so fruity with a smooth homemade custard and has a delicious toasted flavour too. Panettone Bread and Butter Pudding is a wonderful winter dessert or Christmas pudding. It's a family favourite dessert in our house and a brilliant Christmas bake. The Christmas spices in the custard add some lovely warmth and flavour to the finished baked dessert.
Follow me on Instagram to see what I've been making recently. www.instagram.com/sewwhite
View all my sweet treat recipes.
This delicious Summer Berries Gin and Tonic uses up frozen berries to create an easy cocktail. It is a wonderful way to add flavour without using fresh fruit.
My Blueberry Gin and Tonic Recipe is a perfect drink for any event or just a really good evening when you're after a fruit gin and tonic. A simple blueberry gin cocktail which takes seconds to make and is a perfect summer cocktail.
Cool down this summer with my fresh and fruity Watermelon and Strawberry Martini. Simple to make and far too easy to sip.
Enjoy a glass of my Spring Gin Lemonade Cocktail in the sunshine. It's a great party sharing drink and in a glass dispenser it looks beautiful.