This is definitely going to be a Christmas favourite! My Christmas Cranberry Gin Cocktail is a Christmas twist on a classic gin cocktail.
Now this is a Christmas cocktail! My Christmas Cranberry Gin Cocktail is perfect for parties and gin fans too. The mix of cranberries, gin and soda is a refreshing way to enjoy a cocktail. If you are more of a tonic fan you can use tonic. I would recommend soda as it works so well with cranberry. It keeps the flavour strong without taking away anything from it.
Christmas Cranberry Gin Cocktail
Decorating the glass is so super easy too. It doesn't take much to make this drink look very inviting and ultra Christmassy. I added ice, fresh cranberries, a sprig of rosemary and a slice of lime. It's like a Christmas dream. Especially in the always stunning gin balloon glasses. If you have friends or family who like gin a pair of balloon glasses is a great Christmas present to give.
Ready to enjoy! How gorgeous does this look!
Like most of my drinks this is super easy to make. No shaking, just pour it all in and give it a little stir and you're ready to go. I think the rosemary really makes it look beautiful. It also adds a wonderful sent as you drink it.
This drinks goes perfectly with my Christmas graze table.
Graze tables are a wonderful centre piece for a party. So in time for the festive season I have created a fantastic Christmas graze table.
For this gin cocktail I used the very moreish Brighton Gin which I featured on my Top 5 Eco Presents Christmas Gift Guide. I used their Seaside Strength Navy Gin for this recipe. It's a fresh gin with juniper, fresh orange and lime peel, locally-grown coriander seed which really helps boost the Christmas cocktail.
Find out more about Brighton Gin and buy your bottle.
Check out these other Christmas recipes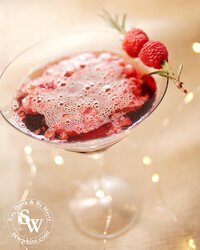 This delicious Rum and Raspberry Cocktail is always a winner at a party. The spiced rum and raspberry flavours work so incredibly well together.
Enjoy a glass or two of my Sparkling Cranberry Ginger Cocktail. It's a warming and fiery blend of cranberries, ginger beer and cranberry liqueur. This is a perfect sparkling ginger cocktail. My cranberry ginger beer cocktail is so easy to make and is a great recipe for your favourite Christmas party drinks collection.
This Christmas Raspberry Prosecco Cocktail is a quick and easy cocktail to make and tastes wonderful too. This rosemary raspberry cocktail is a mix of raspberry liqueur topped up with prosecco and decorated with a sprig of fresh rosemary. A beautiful easy Christmas cocktail to make at home.
Looking for an easy Christmas punch? Then you are in the right place. Christmas parties, time with friends and days with family are approaching and this is the drink you can use for every event! This Christmas cranberry punch is easily adapted to use the spirit of your choice. It can be a vodka Christmas punch, rum Christmas punch or even a gin Christmas punch. This cocktail is made from fruity cranberry juice, fiery ginger beer and sharp lime resulting in a wonderful cranberry punch.
Toast to the joy and merriment of the holiday season with this exquisite clementine cocktail featuring Silent Pool Gin and the vibrant essence of freshly squeezed clementines. Immerse yourself in the festive atmosphere as you sip on this delightful drink, filled with the flavours of Christmas. Get ready to raise a glass, celebrate, and create unforgettable memories with this festive orange gin cocktail.
Follow me on Instagram to see what I've been making recently. www.instagram.com/sewwhite
Christmas Cranberry Gin Cocktail
This is definitely going to be a Christmas favourite! My Christmas Cranberry Gin Cocktail is a Christmas twist on a classic gin cocktail.
Ingredients
ice cubes

50

ml

gin

I used Brighton Gin

50

ml

cranberry Juice

rosemary sprig

soda

lime slice for decoration

fresh cranberries for decoration

don't eat these
Instructions
Add the ice cubes to a gin balloon glass. Add the gin and cranberry juice.

Pop in the rosemary sprig, lime slice and fresh cranberries.

Top up with soda and serve.
Nutrition
Please note that the nutrition information provided above is approximate and meant as a guideline only.