Christmas is stressful when it comes to cooking so I've come up with a really simple one pot chicken recipe which keeps the Christmas flavours.
AD This recipe is in partnership with Le Creuset. Recipe and opinions are my own.
I love a roast chicken and normally that involves far too much washing up. So I've been trying new ways of cooking a one pot recipe that cooks the chicken really well, has a great flavour and of course involves less washing up. The Christmas One Pot Chicken is now my go to recipe. Simply enough you pop a chicken in a pot, surround by chopped up onions, carrots, celery and orange slices. Then pop a whole bottle of red wine over the chicken. Pop on the hob and leave for a few hours. If you want to make it look extra gold on top, pop it in the oven for the last 30 minutes with the lid off.
For this recipe I used the Le Creuset 26cm Casserole dish. These cast iron casseroles are a heritage piece. They will last for years. My parents had their classic orange Le Creuset casserole for 35 years before it eventually gave up. That is a lot of Sunday roasts and dinners. I love my red casserole. It holds a large chicken easily as you can see but I've also used it for little dishes for one – beef stew always in the winter. I've also used it to poach pears in wine for puddings and used it as a frying pan for fajitas.
Find out more about the casseroles from Le Creuset.
Christmas One Pot Chicken
Christmas is stressful when it comes to cooking so I've come up with a really simple one pot chicken recipe which keeps the Christmas flavours.
Ingredients
1

chicken

2

onions

1

carrot

2

celery sticks

2

oranges

1

bottle

red wine

3

star anise

5

whole cloves
Instructions
Chop up the onion into chunky quarters, chop the celery in half and chunkily chop the carrot too. Add half of the veg to the large casserole.

Add the chicken on top and surround by the remaining vegetables.

Slice up 2 oranges and add them to the casserole.

Add the star anise and cloves.

Pop the lid on and put the casserole on the hob on a medium tempterature. Bring the mix up to a simmer and then reduce the temperature and allow the chicken to cook for 3 hours.

Cut a slice into the breast to see if it is cooked.

You can serve straight away or If you want to brown off the chicken pop into the oven at 180 for 30 minutes with the lid off.

Save the juice. Remove the vegetables, fruit and spices and pop it back on the hob with a little plain four to thicken up and give a great gravy.
Nutrition
Please note that the nutrition information provided above is approximate and meant as a guideline only.
Before and after chicken. The chicken will shrink a little but not a lot. The juice left over is wonderful if you want to turn it into a gravy. Just remove the vegetables, fruits and spices. Add a little plain flour and whisk it while on the heat to turn it in to a thicker gravy. A beautiful chicken and red wine stock.
How to make Christmas One Pot Chicken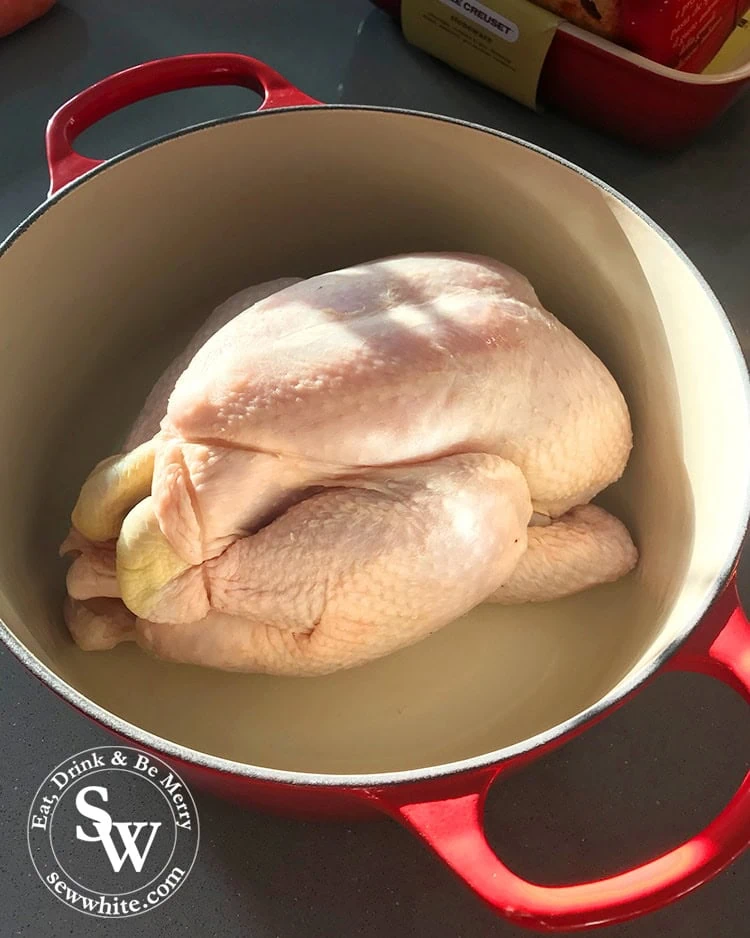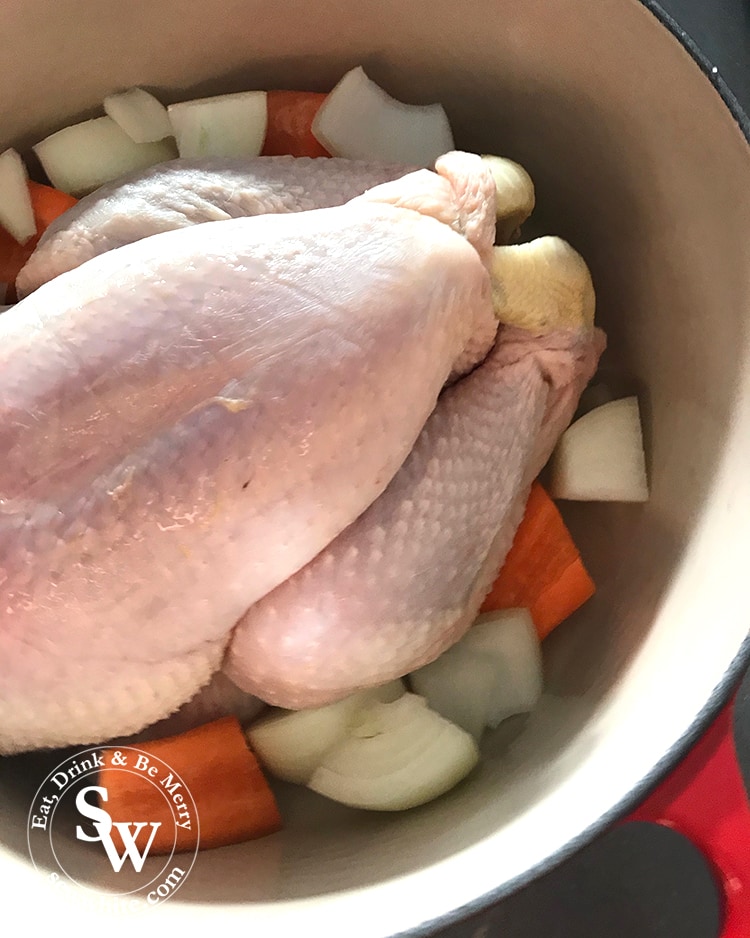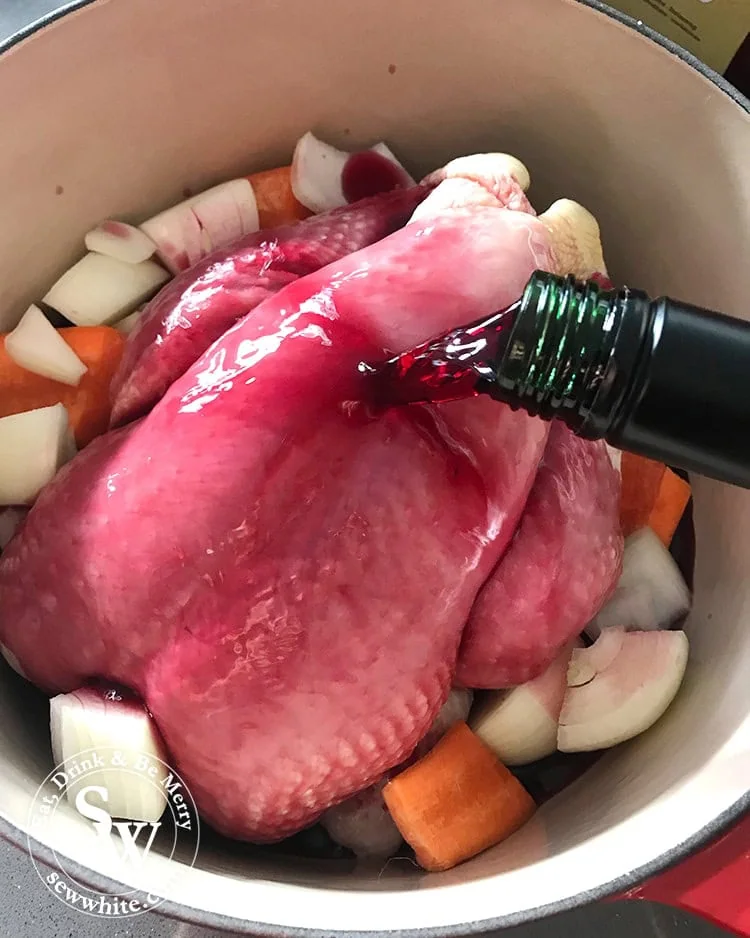 Recipes to go with the Christmas one pot chicken.
I love roast potatoes! Especially goose fat roast potatoes at Christmas and special occasions. I make my Perfect Goose Fat Potatoes which are light and fluffy while also being crispy on the edges. Using goose fat for potatoes is really easy and gives such brilliant results time and time again.
Everyone should try my Easy Brussels Sprouts and Bacon recipe at least once because that is all it will take for you to want to make them again. These Brussels Sprouts with garlic and bacon are my go-to way to cook Brussels Sprouts for Christmas… and all year long too. Adding garlic to the Bacon Brussels Sprouts adds extra flavour and bite to the dish. Bring on the bacon garlic sprouts!
I absolutely love these Lemon Spice Cakes. They are a delicious mix of lemon citrus, sweetness from the cake and spice which tastes like Christmas.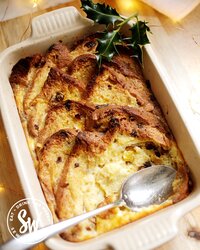 I adore this Christmas bread and butter pudding and of course with Christmas on the way I had to make it with Panettone. It's so fruity with a smooth homemade custard and has a delicious toasted flavour too. Panettone Bread and Butter Pudding is a wonderful winter dessert or Christmas pudding. It's a family favourite dessert in our house and a brilliant Christmas bake. The Christmas spices in the custard add some lovely warmth and flavour to the finished baked dessert.
Looking for an easy Christmas punch? Then you are in the right place. Christmas parties, time with friends and days with family are approaching and this is the drink you can use for every event! This Christmas cranberry punch is easily adapted to use the spirit of your choice. It can be a vodka Christmas punch, rum Christmas punch or even a gin Christmas punch. This cocktail is made from fruity cranberry juice, fiery ginger beer and sharp lime resulting in a wonderful cranberry punch.
Follow me on Instagram to see what I've been making recently. www.instagram.com/sewwhite