Lemon Spice Cakes
I absolutely love these Lemon Spice Cakes. They are a delicious mix of lemon citrus, sweetness from the cake and spice which tastes like Christmas. They are the perfect Christmas bake which make tasty edible gifts and are also fabulous for a festive Christmas party treat. These mini cakes are so tasty and perfect to make with children too.
AD This recipe is in partnership with Le Creuset. Recipe and opinions are my own.
These little cakes are a wonderful Christmas bite and perfect as a quick Christmas bake. The mix of lemon and spice is a beautiful combo and will become addictive. Or at least it is to me. I love lemon cakes and this is just the latest in my lemon cake portfolio.
On my red and white Christmas table I stacked up the beautiful plates and bowl from Le Creuset. To fill the gap of bright white in the bowl I used a little star cake. I think this made it look so cute!
It was a very popular little bite of cake before the meal. Everyone dived right in for theirs. I really liked adding something home made and foodie for the place setting. Felt very me to use food. If I was better at icing I would have written everyone's names on the cakes but I think that will take a bit more practice.
I'm sure it's well known by know that I love bakeware which lasts. My latest and very well used already is this star cake tin from Le Creuset. It so super non stick and makes the most beautiful little cakes. I've also used it for brownies and flapjacks as well as cakes. I'm sure I will think of more things to use it for too. It's only £15 too which, I think, is such a great price for a quality non stick item.
Lemon Spice Cakes as place settings
Christmas Food Recipe Inspiration
Lemon Spice Cakes
I absolutely love these Lemon Spice Cakes. They are a delicious mix of lemon citrus, sweetness from the cake and spice which tastes like Christmas.
Ingredients
120

g

unsalted butter

200

g

caster sugar

2

medium eggs

175

g

lemon yoghurt

zest of half a lemon

175

g

plain flour / all purpose flour

half a

teaspoon

mixed spice

half a

teaspoon

ground ginger

pinch of cinnamon

1

teaspoon

bicarbonate of soda

tiny pinch of salt
Instructions
Preheat the oven to 180ºC/175ºc fan.

Grease the cake tin with melted butter and dust with plain flour.

Optional for decoration – Cut a slice of lemon and cut that into the quarters. Dab with kitchen paper and dust with flour Place in the bottom of the star.

In a stand mixer or by hand, cream the butter at room temperature and sugars until pale and fluffy.

Add the eggs one at a time and mix together.

Mix in the yoghurt.

In a separate bowl, measure and sieve out the flour, bicarbonate of soda, salt and the mixed spices.

Sieve in the flour gradually and stop when the flour is evenly mixed in.

Divide the mix into tin. Over the lemon slices if you've added them.

Bake for 10-15 minutes until golden brown and a skewer comes out clean.

Leave in the tin for a few minutes to cool slightly and remove to cool completely on a wire rack.
Nutrition
Please note that the nutrition information provided above is approximate and meant as a guideline only.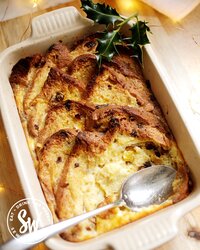 I adore bread and butter pudding and of course with Christmas on the way I had to make it with Panettone. It's so fruity with a smooth homemade custard and has a delicious toasted flavour too. Panettone Bread and Butter Pudding is a wonderful winter dessert or Christmas pudding. It's a family favourite dessert in our house and a brilliant Christmas bake. The Christmas spices in the custard add some lovely warmth and flavour to the finished baked dessert.
Christmas is stressful when it comes to cooking so I've come up with a really simple one pot chicken recipe which keeps the Christmas flavours.
It's finally Christmas season and that means it's time to enjoy this easy chocolate cranberry cake! It's fruity, sweet and creamy – and ridiculously delicious!
Everyone should try my Easy Brussels Sprouts with Bacon and garlic at least once because that is all it will take for you to want to make them again. These Brussels Sprouts with garlic and bacon are my go-to way to cook Brussels Sprouts for Christmas… and all year long too. Adding garlic to the Bacon Brussels Sprouts add extra flavour and bite to the dish.
I love roast potatoes! At Christmas and special occasions I make my Perfect Goose Fat Roast Potatoes. Light and fluffy while also being crispy on the edges.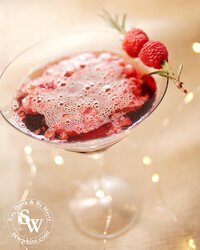 This delicious Rum and Raspberry Cocktail is always a winner at a party. The spiced rum and raspberry flavours work so incredibly well together.
Enjoy a glass or two of my Sparkling Cranberry Ginger Cocktail. It's a warming and fiery blend of cranberries, ginger beer and cranberry liqueur.
What a great and delicious dessert to share around the dinner table. My Black Forest Truffle Eton Mess mixes the great black forest flavours in a new way.
View all my sweet treat recipes.
Follow me on Instagram to see what I've been making recently. www.instagram.com/sewwhite