Enjoy a glass or two of my Sparkling Cranberry Ginger Cocktail. It's a warming and fiery blend of cranberries, ginger beer and cranberry liqueur.
I absolutely love this drink. It's so refreshing, warming and fruity but also has that delicious alcoholic buzz which is perfect for Christmas parties. It's such a quick drink to make which doesn't require shaking so just pour it into a glass and go. I like to add fresh cranberries and a slice of lime when I make it to make it a little extra festive. You can also make this in to a large punch bowl by sizing the recipe up.
The mix of cranberry and ginger is a really wonderful flavour combination. The squeeze of fresh lime really makes the ginger and cranberry taste pop. If you wanted to make an alcohol free version you could just make a similar drink with cranberry juice and ginger beer and a squeeze of lime.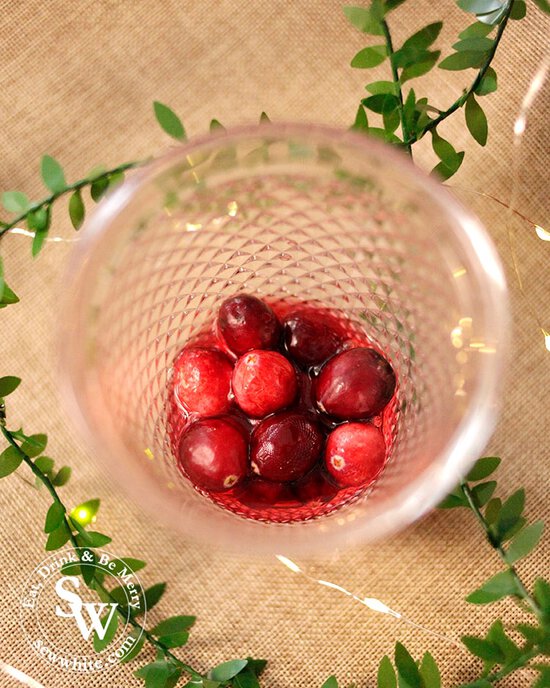 Making a Sparkling Cranberry Ginger Cocktail
For this recipe I used Cranes Cranberry Liqueur. It is a delicious tipple perfect for cocktails. I've used in a few cocktails so far but it is also perfect for adding to champagne for a little flavour and colour. Especially in time for Christmas. Find out more about Cranes.
The Liqueur is hand crafted from the highest quality cranberries sourced from Wisconsin USA. It is then infused with natural blood orange juices and orange rind. Making it a wonderful Christmas flavour drink which you will be using all year for it's fruitiness and freshness. It also works so well added to a gin and tonic.
I included Cranes in my my top 5 drinks Christmas Gift Guide.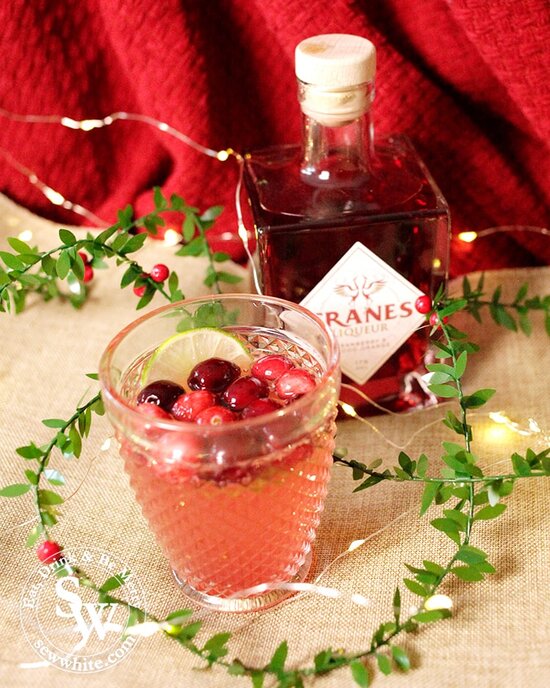 Sparkling Cranberry Ginger Cocktail
Enjoy a glass or two of my Sparkling Cranberry Ginger Cocktail. It's a warming and fiery blend of cranberries, ginger beer and cranberry liqueur.
Ingredients
25

ml

cranberry juice

25

ml

Cranes Cranberry Liqueur

25

ml

vodka

I used Red Berry Ciroc but plain vodka works too

quarter of a lime freshly squeezed

ginger beer

Fresh cranberries for decorations (don't eat)
Instructions
In a glass add in the cranberry juice, cranberry liqueur and vodka. (If you don't have cranberry liqueur add half again of the cranberry juice and vodka).

Squeeze in the juice form quarter of a lime.

Top up with ginger beer, sprinkle in a few cranberries for decoration and serve.
Nutrition
Please note that the nutrition information provided above is approximate and meant as a guideline only.
Other drinks to try this festive season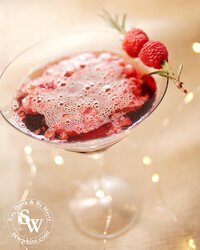 This delicious Rum and Raspberry Cocktail is always a winner at a party. The spiced rum and raspberry flavours work so incredibly well together.
Looking for an easy Christmas punch? Then you are in the right place. Christmas parties, time with friends and days with family are approaching and this is the drink you can use for every event! This Christmas cranberry punch is easily adapted to use the spirit of your choice. It can be a vodka Christmas punch, rum Christmas punch or even a gin Christmas punch. This cocktail is made from fruity cranberry juice, fiery ginger beer and sharp lime resulting in a wonderful cranberry punch.
This Christmas cocktail is a quick and easy one to make and tastes wonderful too. Raspberry Rosemary Fizz is a mix of raspberry liqueur topped up with fizz.
This is an easy way to turn a glass of Prosecco into a cocktail. My prosecco cocktail with Rose and Elderflower is perfect for sipping for parties. A great party drink that is easy to make and even easier to enjoy.
Follow me on Instagram to see what I've been making recently. www.instagram.com/sewwhite