This delicious Rum and Raspberry Cocktail is always a winner at a party. The spiced rum and raspberry flavours work so incredibly well together. It is the perfect party cocktail. It is so easy to make and great for events too! I also love making this as a Christmas party drink as it's rich red colour and the addition of rosemary and fresh raspberries on the glass makes it feel even more like Christmas.
Good drinks are perfect all year round. I have loved coming up with new cocktails and easy to make drinks in time for the festive season and beyond. This one is probably my favourite. Raspberries and rum work incredibly well together.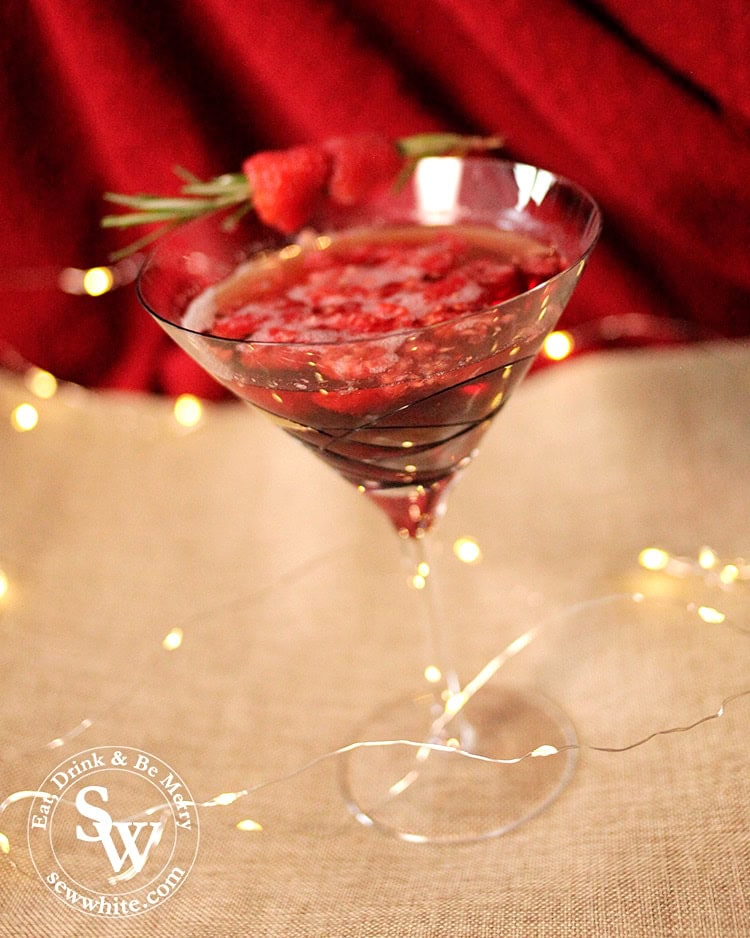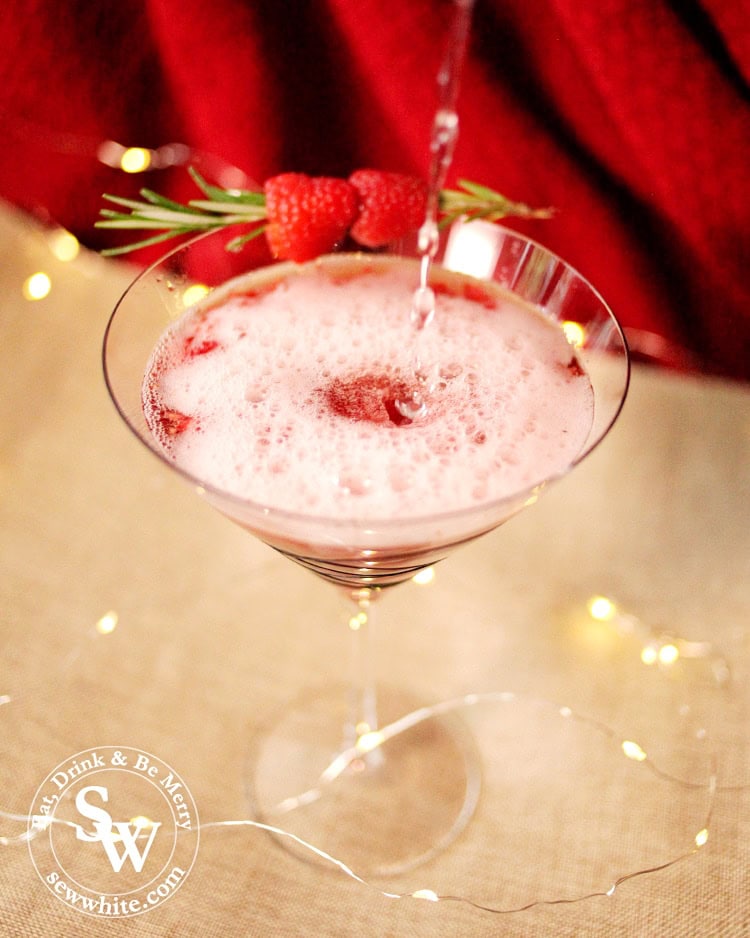 How to garnish a Christmas cocktail
I added a little garnish of a rosemary sprig with raspberries threaded on to give it a more fancy look. Rosemary is great for decorating Christmas food and drink as it sort of looks likes Christmas tree. Plus it smells divine. The rest of the year it is a really nice flourish.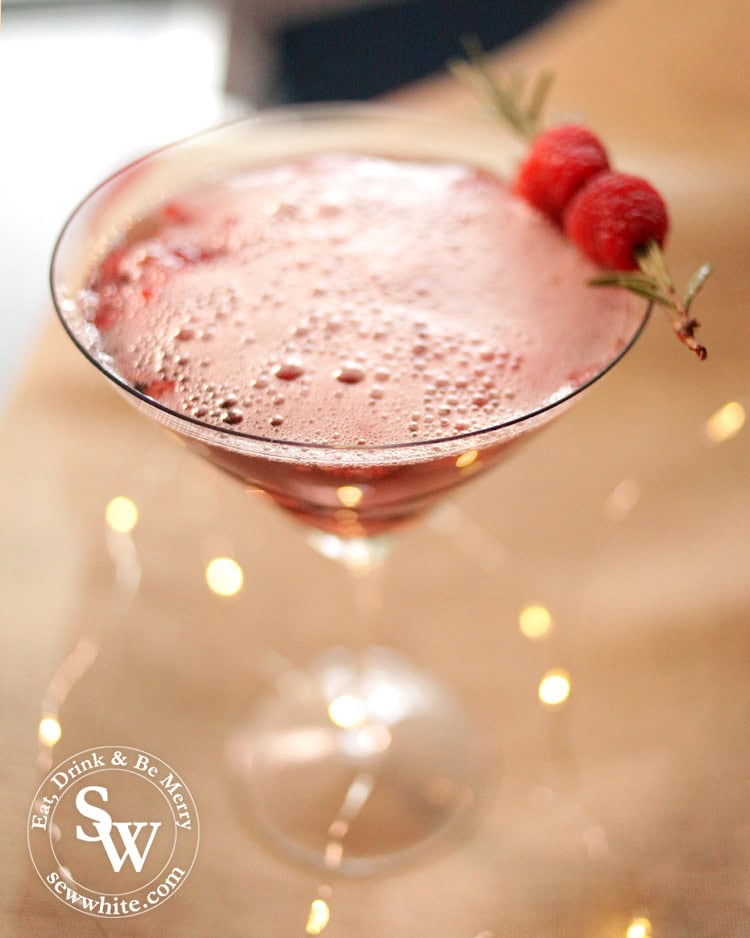 This drink goes perfectly with my Christmas graze table. Click the link below to find out more about what I created for this incredible Christmas sharing table.
Graze tables are a wonderful centre piece for a party. So in time for the festive season I have created a fantastic Christmas graze table.
Raspberry Liqueur or Fresh Raspberries?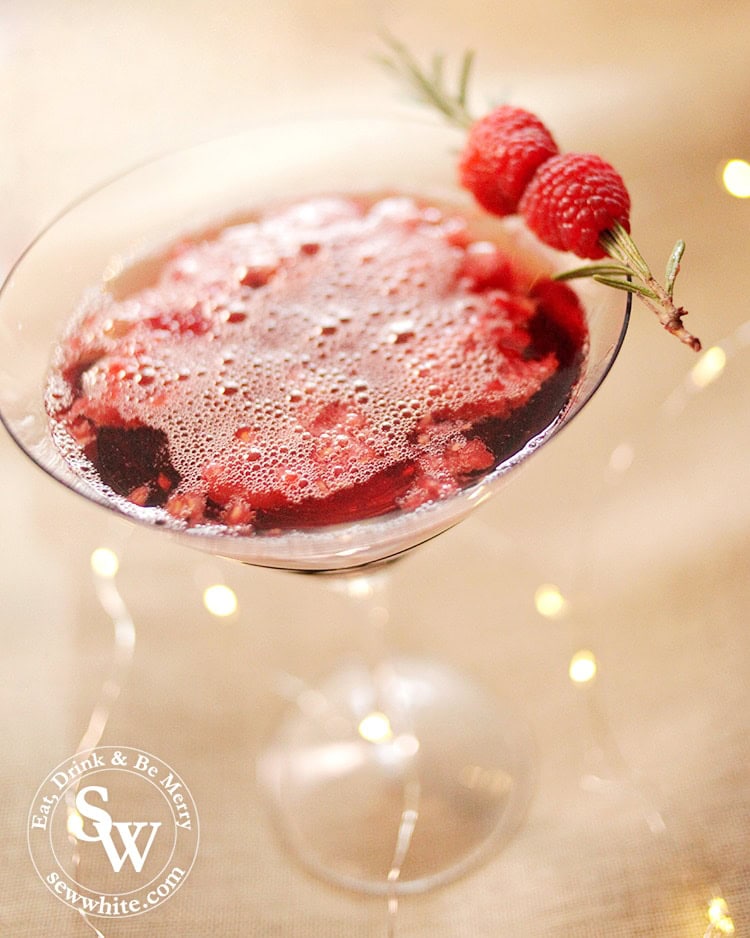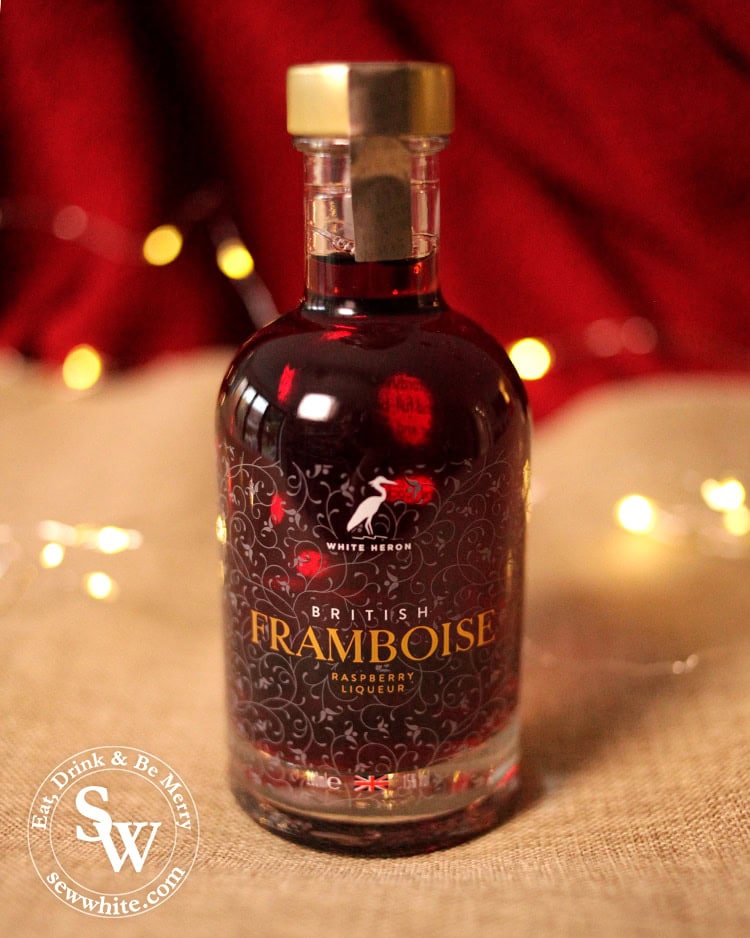 Heron Framboise Raspberry Liqueur Recipes
For this drink I used Raspberry Liqueur. I was gifted a bottle of the White Heron British Framboise Raspberry Liqueur and I haven't stopped using it. It's lovely in Prosecco or Champagne but also as a way to make lemonade a little more interesting after work. If you have just with lemonade add a little fresh lemon juice. It tastes wonderful.
The essence of our raspberries, grown in the fields of Herefordshire, is perfectly captured in this liqueur. The vibrant colour is matched by irresistible summer flavours, light and zesty yet crammed with fruity notes. A wonderful addition to fizz and champagne and an exciting new dimension to cocktails.

White Heron
You only need a little of this at a time as the flavour is delicious and is so fruity. I hadn't used raspberry liqueur before trying this but is now a drink I would always have in my drinks cupboard.
Fresh Raspberry – Rum and Raspberry Cocktail
If you don't have a raspberry liqueur it's easy to make a fresh raspberry substitute for this cocktail recipe. Start off by taking a few raspberries, about 5 per glass you're going to make. Pop them in a chopping board and using a fork squish them. Squish them real good. Then add the juicy raspberries into the glass and then create the drink as the instructions below. Scroll down.
Step by step – How to make the Rum and Raspberry Cocktail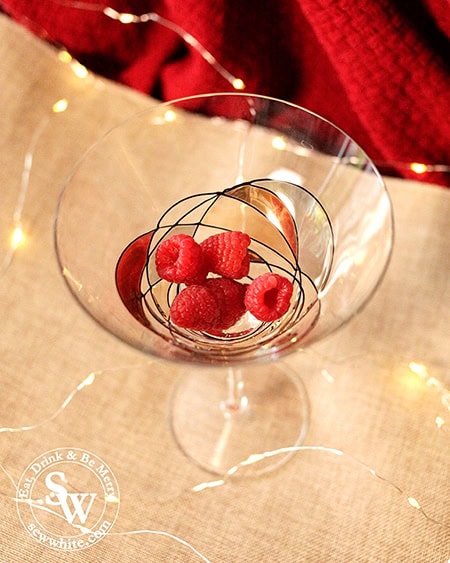 Squash or chop up the raspberries and add them to the bottom of a glass.
Add in the spiced rum.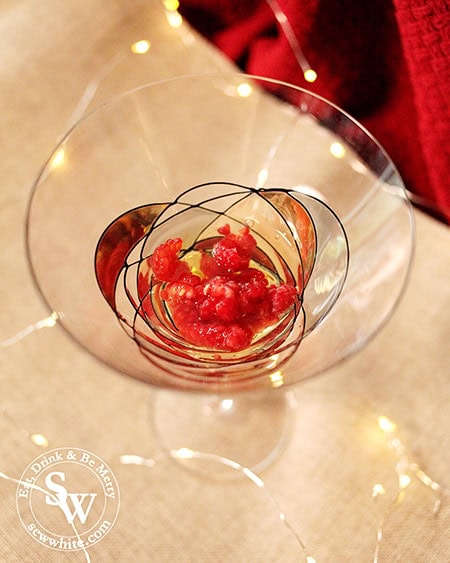 Then the raspberry liqueur.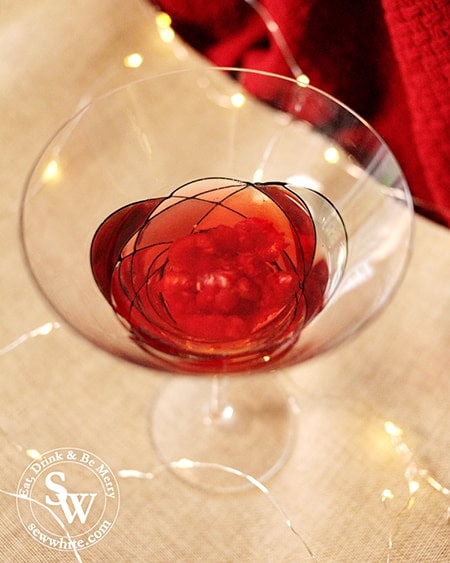 Add the cranberry juice.
Gently stir.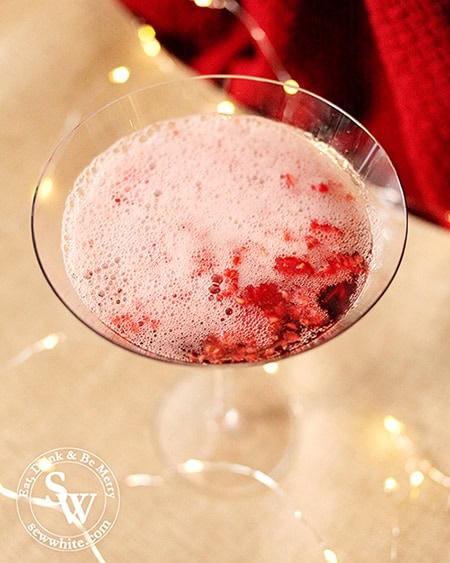 Top up with lemonade and serve.
Pin me for later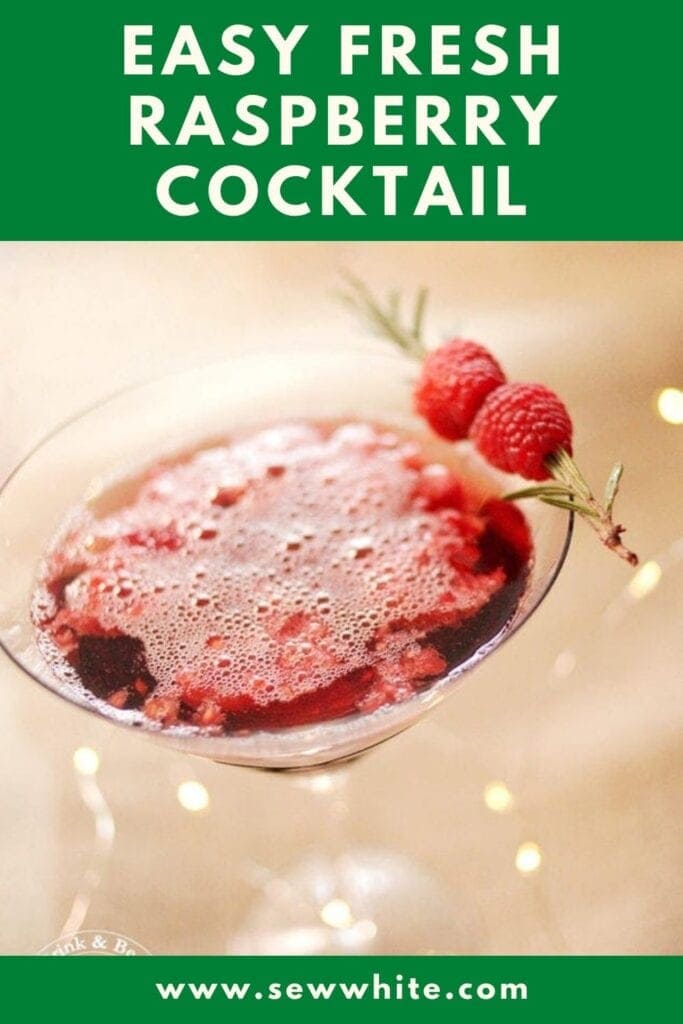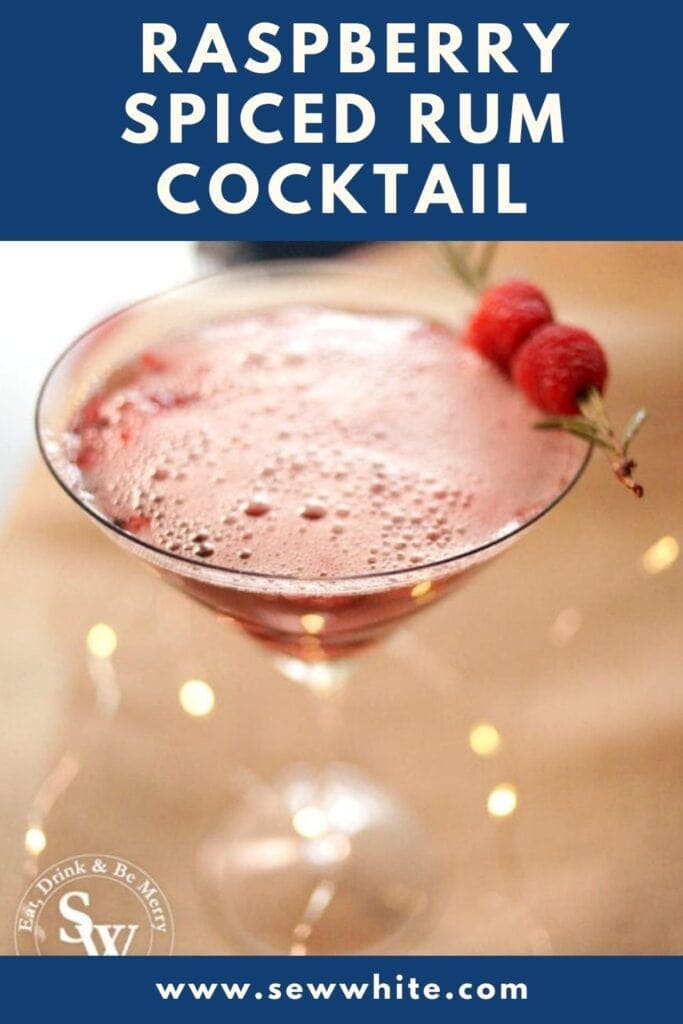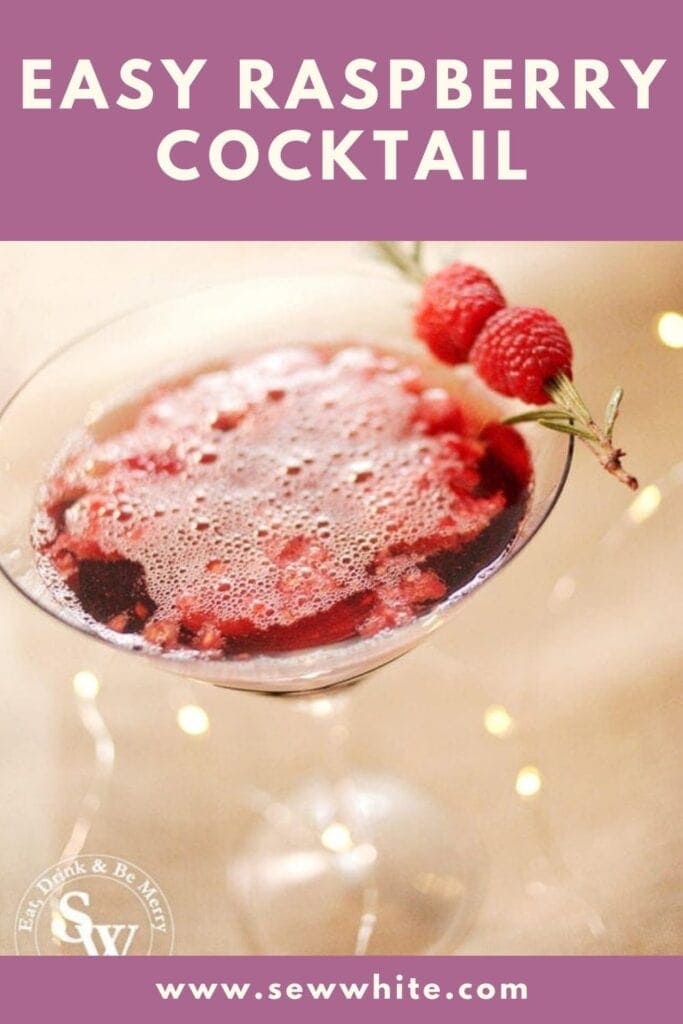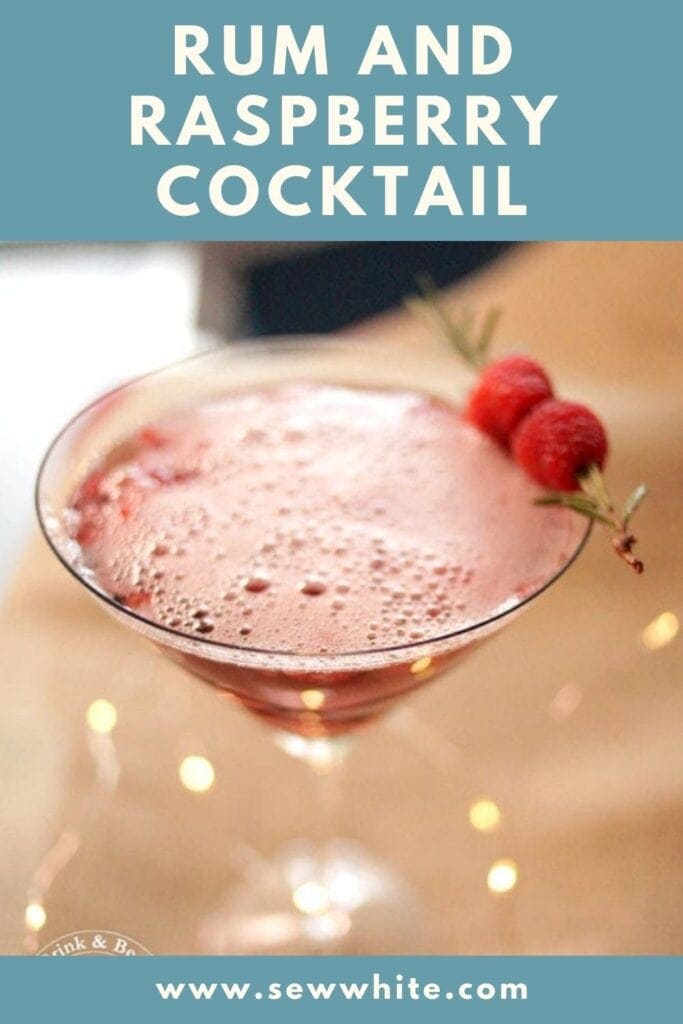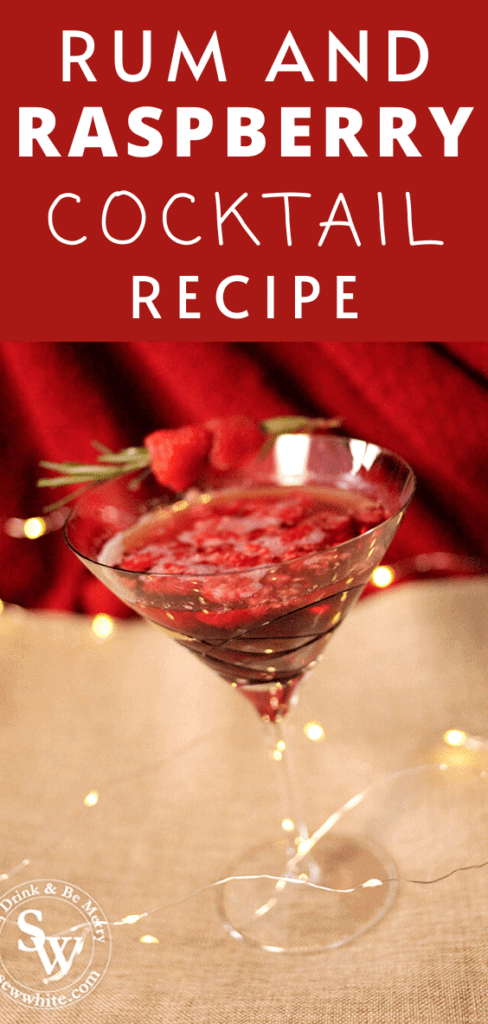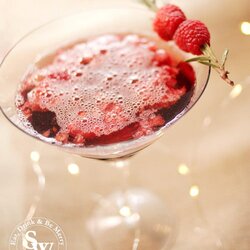 Rum and Raspberry Cocktail
This delicious Rum and Raspberry Cocktail is always a winner at a party. The spiced rum and raspberry flavours work so incredibly well together.
Ingredients
4

raspberries

25

ml

spiced rum

25

ml

raspberry liqueur

50

ml

cranberry juice

lemonade
Decoration
1

rosemary sprig

2

raspberries
Instructions
Chill a glass with a few ice cubes for a minute or so.

Squash or chop up the raspberries and add them to the bottom of a glass.

Add in the spiced rum, raspberry liqueur and raspberry juice and gently stir.

Top up with lemonade and serve straight away.

If you want to decorate and add a little flourish push the raspberries into the sprig of rosemary and balance on the side of the glass.
Nutrition
Please note that the nutrition information provided above is approximate and meant as a guideline only.
Follow me on Instagram to see what I've been making recently. www.instagram.com/sewwhite
Enjoy a glass or two of my Sparkling Cranberry Ginger Cocktail. It's a warming and fiery blend of cranberries, ginger beer and cranberry liqueur. This is a perfect sparkling ginger cocktail. My cranberry ginger beer cocktail is so easy to make and is a great recipe for your favourite Christmas party drinks collection.
This Christmas Raspberry Prosecco Cocktail is a quick and easy cocktail to make and tastes wonderful too. This rosemary raspberry cocktail is a mix of raspberry liqueur topped up with prosecco and decorated with a sprig of fresh rosemary. A beautiful easy Christmas cocktail to make at home.
Looking for an easy Christmas punch? Then you are in the right place. Christmas parties, time with friends and days with family are approaching and this is the drink you can use for every event! This Christmas cranberry punch is easily adapted to use the spirit of your choice. It can be a vodka Christmas punch, rum Christmas punch or even a gin Christmas punch. This cocktail is made from fruity cranberry juice, fiery ginger beer and sharp lime resulting in a wonderful cranberry punch.
This is definitely going to be a Christmas favourite! My Christmas Cranberry Gin Cocktail is a Christmas twist on a classic gin cocktail.
My Blueberry Gin and Tonic Recipe is a perfect drink for any event or just a really good evening when you're after a fruit gin and tonic. A simple blueberry gin cocktail which takes seconds to make and is a perfect summer cocktail.
This delicious Summer Berries Gin and Tonic uses up frozen berries to create an easy cocktail. It is a wonderful way to add flavour without using fresh fruit.