My Blueberry Gin and Tonic Recipe is a perfect drink for any event or just a really good evening when you're after a fruit G&T. This easy fresh fruit gin and tonic is the perfect party drink and is also an easy party cocktail.
This fresh blueberry gin and tonic made with Tanqueray gin will be an easy blueberry gin cocktail you make time and time again.
Post contains affiliate links
This is the perfect drink for summer evenings, nights in and celebrations. It's good the time. It is a delicious mix of sweet fruit and tartness of the Tanqueray gin and of course the bubbly tonic.
I love how pretty this drink is. The blueberries all squished with mint give the drink a beautiful soft purple colour. It looks delicate and yet incredibly appealing. The purple really makes the bubbles stand out more.
I also love the hints of green floating in the drink and the white ice cubes. I think the colour is very inviting. Even writing this up I'm getting thirsty and will have to make another this evening.
Drinks for good weather – Blueberry Gin and Tonic Recipe
What is better than a twist on a gin and tonic while relaxing in this glorious weather! I've been enjoying trying out new G&T combinations with fruit to enjoy this summer.
My favourite so far is this blueberry, mint and lime gin and tonic. It is super quick to make and very delicious, fresh and refreshing. Any super quick delicious cocktails have my vote in time for summer.
One, or a few, of these in the sunshine mixed long evenings with friends is a highlight of the summer for me. Fresh fruit with gin is definitely great to experiment with. Can you call a Gin and tonic a cocktail? A blueberry gin cocktail definitely goes on the easy cocktail list for me!
Squash the blueberries with mint leaves and a wedge of lime. Add to the glass and top up with ice cubes. Even without the gin and tonic it already looked so gorgeous! Top up with the tonic and serve.
I really hope you enjoy the gin and tonic. It's a super refreshing drink and a classic in my house now. It is a simple drink but absolutely delicious and now a family and friend favourite. It definitely lends itself to summer but I see no reason why you can't enjoy it all year round.
What do I need for this blueberry gin cocktail
Gin glasses. If you don't have these already and love a gin and tonic you need to invest. There is something about how it tastes in a large gin bowl which makes it even better. You can keep it simple with a G&T or use it for a cocktail.
Tanqueray Gin. It's a classic gin and one that works so well with fresh fruit. It has a lovely fresh flavour which adds taste but doesn't over power the fruit in this recipe.
Substitutions and variations
A really lovely little tip I have for this drink if you want to make it sweeter is add some raspberry liqueur or fresh raspberry juice to the bottom of the glass with the blueberries. It really brings out an extra flavour and compliments the blueberries really well.
The lime helps to make both flavours blend but also stand on their own. Other options for flavours that work include strawberries with a dash of Aperol. Fresh pomegranate seeds with a little pomegranate juice is fresh and fruity.
A great summer alternative is also to add fresh watermelon chunks and juice. It works really well for a summer G&T.
Even before topping up with tonic the drink looks gorgeous. The bright white ice cubes mixed in with the squashed blueberries and mint glisten in the sunshine. Almost like it's reaching out for the tonic to make it hole.
If you want to make these for a party you can make up a big batch of squashed up blueberries and mint add it to each glass. When you're ready to serve add ice cubes and then top up with tonic.
What fruit do you put in Tanqueray gin?
Tanqueray gin is a hugely versatile gin with a botanical flavour which you want to compliment. Using lemon is a classic. However to work with the Tanquerary gin I've found berries like blueberries or earthy herbs like rosemary and mint work with it so well.
A little about Tanqueray gin and why it's so great for this recipe
Tanqueray was first created in the 1830s in London by it's name sake Charles Tanqueray. He was not afraid to mix up brave ideas in his own unique style when it came to distilling this now iconic gin. It's the perfect mix of ingenuity, heritage and hard work. The hard work definitely paid off.
Due to it's unique flavour it blends it self so well to enjoying on it's own with tonic or as a base to add others flavours to. London dry gin is made by double distilling the grain. Then during it's second distillation selected botanicals are added to give it's distinctive flavour.
Although the exact recipe of Tanqueray is a secret, it is known to contain the botanicals: juniper, coriander, angelica root, and liquorice.
How incredible does this look? The rich purples and vibrant greens stand out and are so tempting in this easy blueberry gin cocktail!
Feeling inspired by gin recipes? Check out these delicious recipes from other bloggers
Gin Cucumber Basil Smash by Kitchen Sanctuary
Moules Écosse – Scottish Gin and Tonic Mussels by Foodie Quine
Earl Grey G&T Cocktail by Recipes and Reviews
Love Potion: Rose Gin Cocktail by Munchies & Munchkins
Thank you to Tanqueray for sending me a bottle to experiment with for World Gin Day. Recipe is my own.
Pin me for later
Other delicious drinks to try out if you enjoyed the Blueberry Gin and Tonic Recipe
This is an easy way to turn a glass of Prosecco into a cocktail. My prosecco cocktail with Rose and Elderflower is perfect for sipping for parties. A great party drink that is easy to make and even easier to enjoy.
A fruit and floral drink perfect for summer days.
Cool down this summer with my fresh and fruity Watermelon and Strawberry Martini. Simple to make and far too easy to sip.
This delicious Summer Berries Gin and Tonic uses up frozen berries to create an easy cocktail. It is a wonderful way to add flavour without using fresh fruit.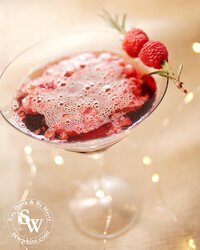 This delicious Rum and Raspberry Cocktail is always a winner at a party. The spiced rum and raspberry flavours work so incredibly well together.
Fresh strawberries, rum and ginger ale are a match made in heaven. This easy Strawberry Rum Cocktail is the perfect way to cool down on a hot day. This strawberry ginger cocktail is a wonderful summer drink, an easy party cocktail to make at home and is also an easy rum cocktail. As a refreshing rum strawberry cooler, you can easily make a large jug and serve it at a summer party or event.
I love a gin and tonic and this is such a simple way to make it a little bit more interesting. Why not try a fresh fruit bar at a party and allow your guests to create their own unique flavours for their G&T. Mint and fresh lime also help to boost flavours so make sure you don't forget them.
Follow me on instagram to see what I've been making recently. www.instagram.com/sewwhite
Blueberry Gin and Tonic
My Blueberry Gin and Tonic Recipe is a perfect drink for any event or just a really good evening when you're after a fruit gin and tonic. A simple blueberry gin cocktail which takes seconds to make and is a perfect summer cocktail.
Ingredients
100

g

(

3.53

oz

)

blueberries

1

(

1

)

lime

a few mint leaves

ice cubes

100

ml

(

100

ml

)

Tanqueray gin

tonic
Instructions
Take the blueberries and in a bowl and give them a bit of a smash just to break them slightly.

Add ice, 2 lime wedges and a few mint leaves into two glasses. Divide the blueberries between the glasses.

Add 50ml of gin to each glass (this is a double but if you want it a little weaker just add 25ml per glass).

Top up with tonic and serve straight away.
Notes
• Best enjoyed straight away but it does travel well for picnics if you make it before hand.
Nutrition
Calories:
154
kcal
Carbohydrates:
11
g
Protein:
1
g
Fat:
1
g
Saturated Fat:
1
g
Sodium:
2
mg
Potassium:
74
mg
Fiber:
2
g
Sugar:
6
g
Vitamin A:
44
IU
Vitamin C:
15
mg
Calcium:
14
mg
Iron:
1
mg
Please note that the nutrition information provided above is approximate and meant as a guideline only.