Cool down this summer with my fresh and fruity Watermelon and Strawberry Martini. Simple to make and far too easy to sip.
This is the best way to bring out the sunshine no matter what the weather. I love this drink. It's worth taking the time to make because it gives such great results. I hope you enjoy the Watermelon and Strawberry Martini.
This is a delicious fresh and fruity cocktail which is super easy to make and even easier to sip on in the sunshine. It's simply made by whizzing up watermelon and strawberries in a blender and then shaking with vodka, fresh lime and ice. You can either serve it strained once to stop the ice and remove some of the pulp or double strain it so you have a smoother cocktail.
Watermelon and strawberries are my most favourite summer fruits. Together they work so well in puddings and of course in cocktails! I love adding the smaller slice of watermelon and the strawberry with the little stripe straw to make it even cuter. Everyone loves this serving suggestion plus the joy of having a little piece of the flavour to nibble on as you sip is a joy in the summer.
Let's get shaking… Watermelon and Strawberry Martini
Flex your muscles and get shaking to create this delicious cocktail. This recipe works really well if made to order. You can make it in to a pitcher but you will need to keep it stirring each time you want to serve. Also make sure you don't add ice once it's mixed as it will dilute the drink that way.
The addition of a little strawberry and mini slice of watermelon makes the presented cocktail so cute! And of course a paper straw. I used one but cut in half for the two drinks so it sat prettily between the fruit.
Pin me for later!
Watermelon and Strawberry Martini
Cool down this summer with my fresh and fruity Watermelon and Strawberry Martini. Simple to make and far too easy to sip.
Ingredients
200

grams

watermelon

without rind or seeds

200

grams

strawberries

Half of a

lime

75

ml

vodka

12.5

ml

simple sugar syrup

(optional)

ice cubes
Decorations
watermelon wedges

strawberries
Instructions
Whizz up the strawberries and watermelon in a blender.


Fill up a shaker half way with ice.


Squeeze the juice of half the lime


Add in the vodka, fresh lime juice, simple syrup and 150ml of the watermelon and strawberry juice. (save any left over watermelon and strawberry juice for another cocktail. It will last in the fridge for 2-3 days but will need a stir).

Shake together and pour through a strainer in to the cocktail glasses.


Decorate with a garnish of a mini sized watermelon slice and a strawberry and enjoy straight away.

Nutrition
Please note that the nutrition information provided above is approximate and meant as a guideline only.
Follow me on instagram to see what other cakes I've been making recently. www.instagram.com/sewwhite
This Christmas Raspberry Prosecco Cocktail is a quick and easy cocktail to make and tastes wonderful too. This rosemary raspberry cocktail is a mix of raspberry liqueur topped up with prosecco and decorated with a sprig of fresh rosemary. A beautiful easy Christmas cocktail to make at home.
Looking for an easy Christmas punch? Then you are in the right place. Christmas parties, time with friends and days with family are approaching and this is the drink you can use for every event! This Christmas cranberry punch is easily adapted to use the spirit of your choice. It can be a vodka Christmas punch, rum Christmas punch or even a gin Christmas punch. This cocktail is made from fruity cranberry juice, fiery ginger beer and sharp lime resulting in a wonderful cranberry punch.
This is an easy way to turn a glass of Prosecco into a cocktail. My prosecco cocktail with Rose and Elderflower is perfect for sipping for parties. A great party drink that is easy to make and even easier to enjoy.
Enjoy a sip on a Lemon Lychee Martini. A mix of limoncello, sweet lychee juice mixed with vodka and topped up with the double lemon mixer from Double Dutch.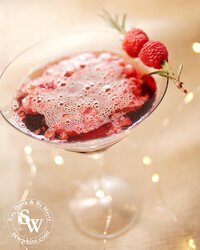 This delicious Rum and Raspberry Cocktail is always a winner at a party. The spiced rum and raspberry flavours work so incredibly well together.
Enjoy a glass or two of my Sparkling Cranberry Ginger Cocktail. It's a warming and fiery blend of cranberries, ginger beer and cranberry liqueur. This is a perfect sparkling ginger cocktail. My cranberry ginger beer cocktail is so easy to make and is a great recipe for your favourite Christmas party drinks collection.
A fruit and floral drink perfect for summer days.
Strawberry Jam Gin and Tonic is my new favourite drink! Adding jam is a
quick way of adding a new taste to a classic gin and tonic.
My Blueberry Gin and Tonic Recipe is a perfect drink for any event or just a really good evening when you're after a fruit gin and tonic. A simple blueberry gin cocktail which takes seconds to make and is a perfect summer cocktail.