Strawberry Jam Gin and Tonic is my new favourite drink! Adding jam is a quick way of adding a new taste to a classic gin and tonic.
Happy Friday! It's time for a cocktail and I've been making a gorgeous range of G&Ts recently and this happens to be my favourite. Mixing jam into the gin to make a really fruit gin and tonic that can be adapted a million different ways. I've used shop bought jams and my own homemade jams too. I've found using Whitley Neill gin works really to balance the sweetness while keeping their delicious flavour.
Strawberry Jam gin and tonic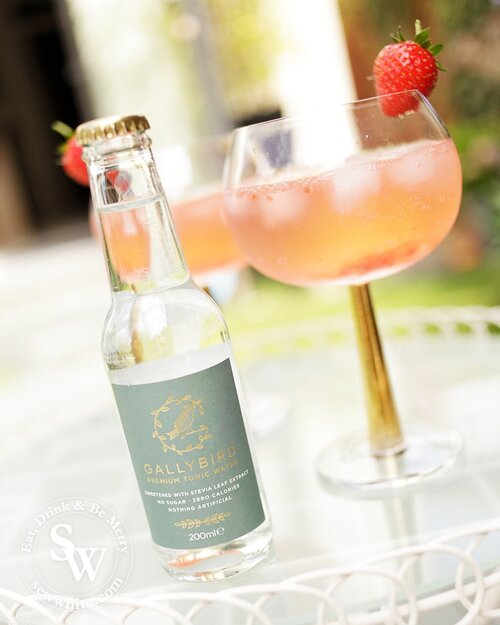 I loved seeing the jam and large pieces of strawberries in the glass. You can use chunky or smooth jam in this recipe. It's just my preference to use chunky to add some extra texture to the finished drink.
How to make Strawberry Jam Gin and Tonic
It sounds like adding jam to gin might be tricky or fiddly but it's so super easy. It's now my favourite way to adding flavour to a G&T without buying expensive other liqueurs.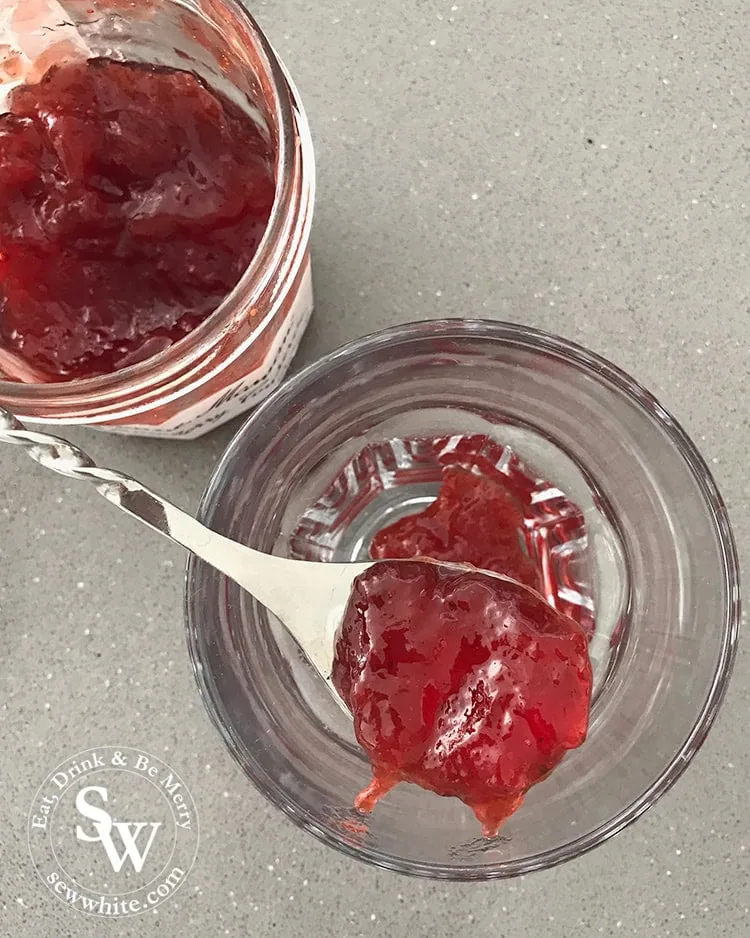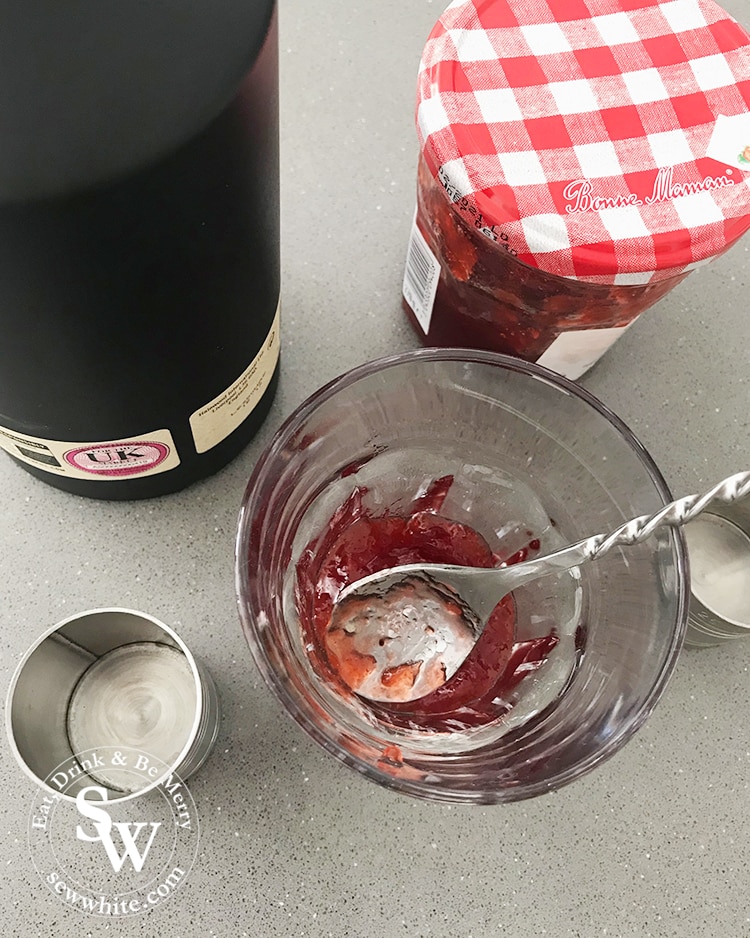 For 2 Strawberry Jam Gin and Tonics add 3 heaped teaspoons of strawberry jam to a glass. Pour over the gin and give it a really good stir. After a few stirs the jam will start to break up in the gin.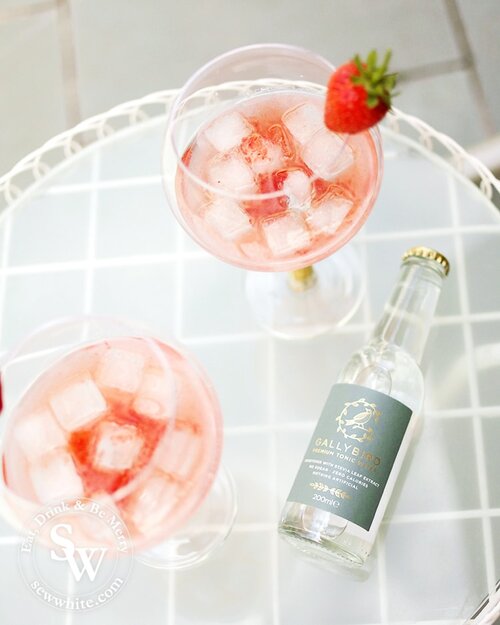 Gallybird Tonic Recipes
Pour into the gin balloon glass with a good few ice cubes and top up with tonic. I used Gallybird Premium tonic water for this recipe. They recently sent me a few bottles to try out and I love it. It has a very fine tuned flavour. Which I've rigorously tested to find it works with a variety of gins. It's also sugar free and has no calories so why not give it a try.
"Created in the heart of Sussex, Gallybird is the first sugar free premium tonic water sweetened purely with stevia leaf extract and expertly blended using the highest quality natural ingredients. It has the perfect balance of subtle sweetness with a little extra sparkle to give a feather light, delicious tasting tonic. Thanks to the power of plants Gallybird is a healthy alternative to the sugary tonics currently on the market. Those who enjoy a tipple finally have a natural and unique mixer option with no sugar and nothing to hide." www.gallybird.com
Strawberry Jam Gin and Tonic Recipe
Raspberry jam gin cocktail
If you have raspberry jam you can turn that it into a gin and tonic too. Raspberry jam gin cocktail is the same to make like this strawberry one. Add the jam to a glass, add the gin and mix together. Add to the cocktail glass and top up with the tonic. Raspberry jam works so well for an easy to make cocktail. Add some fresh raspberries to the glass for extra raspberry goodness.
The glasses are the gorgeous LSA glasses from Elys Wimbledon. Read more about my summer haul from them here.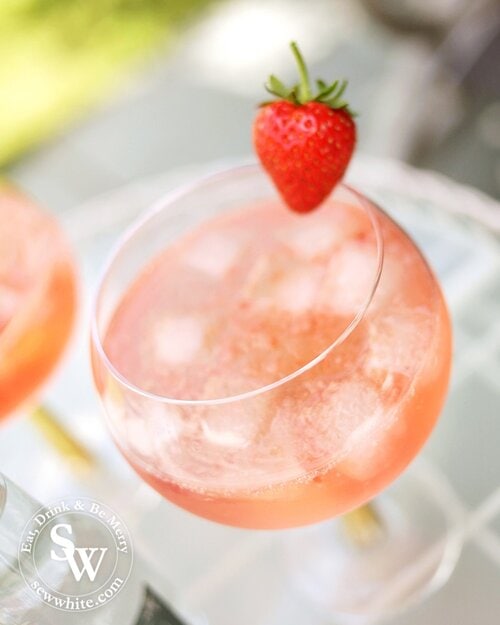 Strawberry Jam Gin and Tonic
Strawberry Jam Gin and Tonic is my new favourite drink! Adding jam is a
quick way of adding a new taste to a classic gin and tonic.
Equipment
2 gin balloon glasses

Jigger or measuring jug

Spoon
Ingredients
3

tbsp

strawberry jam

100

ml

gin

ice cubes

tonic water

fresh strawberries

for decoration
Instructions
In a glass mix the strawberry jam and gin together to break down the jam.

Add a good few ice cubes to each glass.

Divide the jam and gin mixture between the glasses.

Top up with tonic water and decorate with a strawberry and serve.
Nutrition
Please note that the nutrition information provided above is approximate and meant as a guideline only.
Follow me on instagram to see what I've been making recently. www.instagram.com/sewwhite
Other drinks to try…
Enjoy a sip on a Lemon Lychee Martini. A mix of limoncello, sweet lychee juice mixed with vodka and topped up with the double lemon mixer from Double Dutch.
Looking for an easy Christmas punch? Then you are in the right place. Christmas parties, time with friends and days with family are approaching and this is the drink you can use for every event! This Christmas cranberry punch is easily adapted to use the spirit of your choice. It can be a vodka Christmas punch, rum Christmas punch or even a gin Christmas punch. This cocktail is made from fruity cranberry juice, fiery ginger beer and sharp lime resulting in a wonderful cranberry punch.
This delicious Summer Berries Gin and Tonic uses up frozen berries to create an easy cocktail. It is a wonderful way to add flavour without using fresh fruit.
This Christmas Raspberry Prosecco Cocktail is a quick and easy cocktail to make and tastes wonderful too. This rosemary raspberry cocktail is a mix of raspberry liqueur topped up with prosecco and decorated with a sprig of fresh rosemary. A beautiful easy Christmas cocktail to make at home.
This is an easy way to turn a glass of Prosecco into a cocktail. My prosecco cocktail with Rose and Elderflower is perfect for sipping for parties. A great party drink that is easy to make and even easier to enjoy.