Prosecco Cocktail with Rose and Elderflower
This is an easy way to turn a glass of Prosecco into a cocktail. My prosecco cocktail with Rose and Elderflower is perfect for sipping for parties. A great party drink that is easy to make and even easier to enjoy.
This is a lovely and very romantic drink perfect for engagement parties, weddings and summer parties too. I used the gorgeous iridescent champagne glasses I was given for my birthday. They have a great purple and pink shimmer which works so well with the baby pink roses.
Easy Prosecco cocktail
This is a super quick cocktail and I think you can have a good few glasses made up in a matter of minutes. The easy Prosecco cocktail in this recipe is exactly that – easy. Add the rose syrup and elderflower cordial to the glass and top up with the Prosecco.
Easy Cocktail using Prosecco
Making an easy Prosecco is exactly that – easy. Prosecco can be used for so many drinks and I love adding different flavours to it to see what I can create.
Pimping up prosecco is a lot of fun and a great way to flavours and colours to the drink when you serve them. I went for a delicious combination of rose syrup and elderflower. The fruity and floral mix is one that I love. It's a very easy way to forget it's alcoholic.
I used the Fentimans Rose Syrup which is available on amazon and some supermarkets (we found it in ASDA). It's a beautiful flavoured syrup which also smells incredibly like fresh roses. I find that it is not too sweet which also works well with the elderflower which can be a bit over sweet sometimes.
Prosecco cocktail with elderflower
I created this for a friends wedding as something that would be easy to get ready with the elderflower and rose in the glasses done before hand which would then just be topped up with Prosecco. It can also work really well with lemonade if you want an alcohol free version. I've also tested it with children and it got a massive thumbs up. Especially in the iridescent glasses which they said made it look more mermaid-y. I think that is a good thing.
There are a few ideas I have for Prosecco cocktail with elderflower. You can keep it simple just with elderflower, add rose too like this recipe. Or one that I have enjoyed a few times recently is Prosecco, elderflower and passion fruit. Raspberries and elderflower in Prosecco work incredibly well too.
When should I drink Prosecco?
I find this a great questions. Prosecco can be drunk at any time of the day really. It's great for a bubbly brunch, posh lunch, evening celebration and so much more. I don't think there are many opportunities in the day which Prosecco wouldn't improve. By adding different flavours to the Prosecco you can tailor make the Prosecco cocktail to be more fitting to the time.
This recipe for the Prosecco cocktail with rose and elderflower is a soft fruity drink which is perfect for events. I have made this for the engagement parties and I know one lovely reader has used it at their wedding. The soft pink purple colour adds a lovely splash of colour to a table or event.
What goes best with Prosecco?
Prosecco is a hugely versatile drink to use with other flavours and things like liqueurs and juices. This recipe I use rose which adds a sweetness to the sometimes sharp Prosecco. Elderflower also used in this recipe softens the Prosecco and I find makes it a lot easier to drink. Not that it was difficult to enjoy in the first place.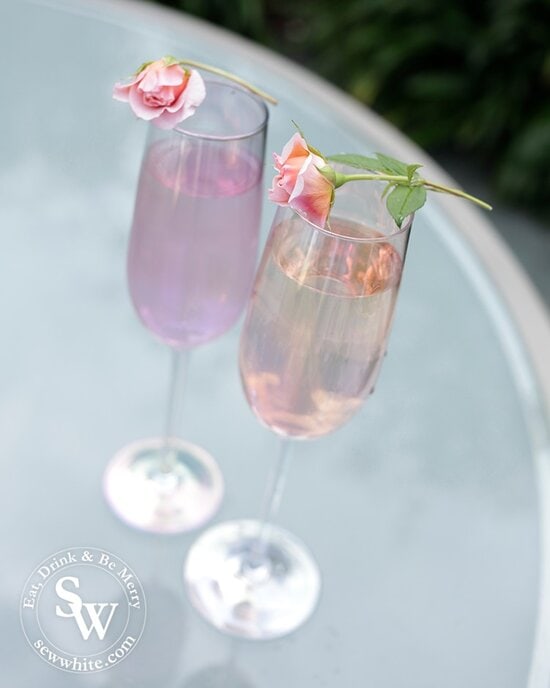 2-ingredient Prosecco Cocktails
Although I use three ingredients for this recipe if you can't find the rose syrup or the elderflower then use the other with the prosecco and enjoy. You can create a 2-ingredient Prosecco cocktail with either Prosecco and elderflower cordial. Or create a 2-ingredient Prosecco with the rose syrup. Both will work beautifully, but combined together it will be even more delicious.
Decorating ideas for Prosecco
Make sure you use roses which are clean and don't have any pesticides on. These were little ones growing in our garden. *please don't eat them*. They are decoration only. If you don't know if it's edible, don't eat it.
You can buy edible roses and edible rose petals online which are perfect for drinks. You can find some lovely ones available which will look lovely in the drink or balanced on top. There are also some treats like sprinkles which you can add to the bottom of the glass which are edible and pretty. Including dried rose petals, lavender, gomphrena globosa, jasmine, chrysanthemum, lily, forget-me-not, dianthus caryophyllus too. It's lovely to add a little something extra to the glasses.
Of course there is also so many fresh fruit little things which you can add in too. Fresh raspberries, strawberries, blackberries… the list goes on.
Buy yours here… (Amazon Affiliate links) These are decorations so be careful to tell your guests.
Affiliate link – 4 bags per box Flower Petals and Buds: Chrysanthemum, Lily, Forget-me-not, Dianthus caryophyllus.
If you want to add a little extra sparkle upgrade the prosecco for real Champagne! It really makes the fizz even more exciting.
Pin me for later
Prosecco Cocktail with Rose and Elderflower
This is an easy way to turn a glass of Prosecco into a cocktail. My prosecco cocktail with Rose and Elderflower is perfect for sipping for parties. A great party drink that is easy to make and even easier to enjoy.
Ingredients
12.5

ml

Elderflower Cordial

12.5

ml

Rose Syrup

(I used Fentimans Rose Syrup)

Prosecco

edible flowers or berries

(optional)
Instructions
Add the rose syrup and elderflower cordial to the champagne glass.

Decorate with roses or edible flowers or berries. (optional)
Nutrition
Please note that the nutrition information provided above is approximate and meant as a guideline only.
Follow me on instagram to see what I've been making recently. www.instagram.com/sewwhite
A fruit and floral drink perfect for summer days.
Strawberry Jam Gin and Tonic is my new favourite drink! Adding jam is a
quick way of adding a new taste to a classic gin and tonic.
My Blueberry Gin and Tonic Recipe is a perfect drink for any event or just a really good evening when you're after a fruit gin and tonic. A simple blueberry gin cocktail which takes seconds to make and is a perfect summer cocktail.
Enjoy a glass of my Spring Gin Lemonade Cocktail in the sunshine. It's a great party sharing drink and in a glass dispenser it looks beautiful.
Cool down this summer with my fresh and fruity Watermelon and Strawberry Martini. Simple to make and far too easy to sip.
Take a sip on the gorgeous Watermelon and Cucumber Rum Punch, the perfect drink for cooling down at summer parties. Cheers to a gorgeous summer.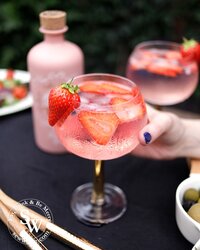 Strawberry Gin and Tonic. Yes you read it right! It's a fabulous mix of strawberries and cream gin, fresh strawberries and of course tonic.
Enjoy a sip on a Lemon Lychee Martini. A mix of limoncello, sweet lychee juice mixed with vodka and topped up with the double lemon mixer from Double Dutch.