*the glasses and rum are gifted – recipe and content is my own*
Fresh strawberries, rum and ginger ale are a match made in heaven. This easy Strawberry Rum Cocktail is the perfect way to cool down on a hot day, or warm up on a cold day with the delicious spiced rum. This strawberry ginger cocktail is a wonderful summer drink, an easy party cocktail to make at home and is also an easy rum cocktail. As a refreshing rum strawberry cooler, you easily make a large jug and serve it at a summer party or event.
What rum can I use for the strawberry cooler?
There are so many rums available but I have rounded up my top 5 which will work for this summer strawberry cooler recipe. They are all utterly delicious and you can't go wrong using any of this recipe.
Rumbullion! Spiced Rum. This is a rich and spicy rum which is brilliant all year round. In winter it works with cranberry flavours to make a Christmas flavoured cocktail. However in summer it works incredibly well with the strawberry and lime to add a tropical flavour to the mix.
Dead Man's Fingers Spiced Rum. This rum is slightly lighter but doesn't have a strong flavour like Rumbullion!. It's still delicious and is a great choice for making cocktails at home as it's blended in a way to be mixed.
Kraken Black Spiced Rum. This is a darker rum which can be a bit strong for fruity cocktails like this. However if you love a deep rich dark rum then try it!
Sailor Jerrys Spiced Rum. There are rich vanilla tones with warm hints of cinnamon and nutmeg. I find Sailor Jerry's works incredibly well with cranberry cocktails.
Captain Morgan Spiced Rum. This is a great spirit on the cheaper end of the scale. It has a nice medium strength taste and is hugely adaptable for cocktails.
Rumbullion! Spiced Rum Cocktails – Gifted bottle
In this recipe I was lucky enough to experiment with the beautfiully bottled and delicious spiced rum by Rumbullion!
This beautiful spirit is rich and spicy and really brings out and compliements the fresh fruit and herbs in this cocktail. Although the rich spices can bring out the feelings of Christmas and winter spices this rum is hugely adaptable to summer cocktails as well as winter ones.
Order your bottle of Rumbullion! from Masters of Malt
How do I turn the strawberry rum cocktail into a pitcher amount?
The easiest way to turn this strawberry cocktail in to a pitcher of cocktail is to muliply the amounts by 10. There is also a serving number on the recipe below which you can increase to make more and it will work out the amounts for you. This recipe is easy to increase and serve as a pitcher but it's also easy to multiple drinks at the same time.
Fancy another cocktail? Check out my round up of the best cocktails recipes
What equipment do I need?
I would recommend that you use gin bowls or the large gin style glasses which are available everywhere. Even the local supermarket had some basic ones which are a perfect start. Especially if you love a gin and tonic. The do look extra special when in tall bowl type glass. If you don't have these style of glasses a tall hi ball glass would work too.
For this easy cocktail recipe you don't a shaker. It's a simple pour it in and give it a little stir. It saves so much time and helps get the drinks out quicker. Plus it leaves a lot less washing up!
A jigger or measuring jug. when making cocktails it's best to use a jigger which has the smaller amounts in millitres. You can find them on Amazon and even in supermarkets. A jigger has the small amounts like 12.5ml and 25ml which are common in cocktail making.
Gold rimmed cocktail glasses
These beautiful cocktail glasses with shiny gold rim are possibly my most favourite drink accessory at the moment. They were kindly gifted to me from Sassali – a lovely homeware shop in Wimbledon. The shop is onthe broadway and a must be on your list of places to visit. The shop is filled with beautiful pieces including kitchenware, homeware, decorations, candles and the most beautiful fragrance sticks.
At the moment you can only shop in store but if you fall in love with these glasses it's definitely worth a visit. https://www.sassali.co.uk/
What to serve with a Strawberry Rum Cocktail
There are so many things you can serve with this strawberry rum cocktail. It works with both sweet and savoury dishes. It is great with nibbles and starters before a meal too. It's hugely adaptable. My top dishes I would serve with the cocktail are;
Hands up who wants a slice of this incredible Pimms Cake! This is a gorgeous citrus cake with a Pimm's syrup drizzle, topped with a cream cheese buttercream and studded with all the iconic Pimm's fruit. This impressive cake is easy to make and a perfect summer cake for summer events and summer parties. It is also a brilliant showstopper cake to serve during Wimbledon fortnight as a tennis party cake.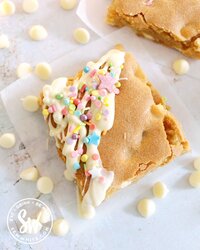 If you are looking for the best white chocolate brownies recipe you have come to the right place. These white chocolate chip blondies are so delicious and great picnic food, a lovely lunch box home-made treat and yummy party food.
White chocolate is a great flavour to add to these no cocoa brownies and keep the chocolate theme going. As well as having white chocolate chips in the blondies I have also drizzled white chocolate over the top too. Adding sprinkles is just extra bit of fun to finish off the white chocolate blondies.
The pavlova is a classic summer dessert. This Strawberry Passionfruit Pavlova not only has a gorgeous easy to make meringue base, but the cream topping with strawberries and strawberries is just delightful. Adding the tart passionfruit takes it to the next level. It's fresh and fruity and the best thing is it can be made ahead and bought out when ready. It really is a show stopper of a dessert. It is perfect for summer picnics, summer parties and events in the summer months.
What rum is best for cocktails?
There is a huge range of rums available and it can be a bit daunting knowing what to use them for and if they will work with what you're thinking. The three main types of rums are white, dark and spiced. From there you can go into different brands and varients of the flavours.
White rum is often used in cocktails like mojitos, where you want a crisp clean flavour that won't interfer with the ingredients too much. A dark rum is often used for richer drinks as it a stronger flavour which needs to be used and complimented with the other ingredients. Spiced rum offers a lovely rich spicy flavour which is great for winter cocktails as it uses a mix of winter spices. It is also great for cocktails all year as that spice is truely moreish. Spiced rum definitely has my vote as the best.
Other drinks and cocktails you might enjoy for you party
In this easy gin prosecco cocktail, I create a simple drink that is a perfect party drink all year round. I used Jaffa Cake gin, a lovely spirit that has the iconic chocolate and orange flavour while also being alcoholic. If you love citrus and chocolate you are going to love the chocolate orange Jaffa Cake Gin Spritz cocktail. One of the easiest gin cocktails to make.
This delicious Summer Berries Gin and Tonic uses up frozen berries to create an easy cocktail. It is a wonderful way to add flavour without using fresh fruit.
This is an easy way to turn a glass of Prosecco into a cocktail. My prosecco cocktail with Rose and Elderflower is perfect for sipping for parties. A great party drink that is easy to make and even easier to enjoy.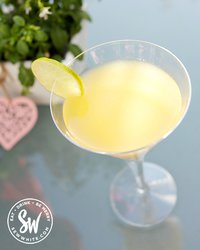 This Malibu vodka cocktail tastes divine and is so easy to make. Add the ingredients to the glass, give it a little stir and you are ready to sip in style.
This gin limoncello cocktail with a hint of crushed thyme is a beautiful drink. An easy cocktail which is full of flavour is a great summer party cocktail. A gin limoncello tonic is perfect for sipping in the sun and has a fresh aromatic yet glorious citrus flavour. If you are looking for a limoncello cocktail you are in the right place!
My Blueberry Gin and Tonic Recipe is a perfect drink for any event or just a really good evening when you're after a fruit gin and tonic. A simple blueberry gin cocktail which takes seconds to make and is a perfect summer cocktail.
Linked up to this week's CookBlogShare hosted by me!
Pin me for later or follow me @sewwhitefoodblog on Pinterest for my latest recipes and to discover of my others.
Strawberry Rum Cocktail
Fresh strawberries, rum and ginger ale are a match made in heaven. This easy Strawberry Rum Cocktail is the perfect way to cool down on a hot day. This strawberry ginger cocktail is a wonderful summer drink, an easy party cocktail to make at home and is also an easy rum cocktail. As a refreshing rum strawberry cooler, you can easily make a large jug and serve it at a summer party or event.
Ingredients
Strawberry Puree
300

g

(

2.08

cups

)

fresh strawberries
Strawberry Rum Cocktail
ice cubes

4

tablespoons

(

4

tablespoons

)

strawberry puree

25

ml

(

25

ml

)

spiced rum

(white or dark rum also work)

12.5

ml

(

12.5

ml

)

lime juice

(the juice of half a medium lime)

ginger ale

fresh mint

(to use as a garnish)
Instructions
Making the strawberry puree
Set aside a strawberry or two for garnish.

Hull the strawberries and then chop them in half.

Pop the strawberries into a blender and pulse until it is smooth.
Making the strawberry rum cocktail
Add a few ice cubes to the glass or tumbler.

Add 4 tablespoons of the strawberry puree to the glass.

Measure and add the rum and lime juice.

Add the fresh mint as a garnish and serve.
Notes
•To make the strawberry puree I blend a carton of strawberries at a time. It will make making multiple drinks a lot easier to get it done in bulk. You can store it in the fridge for 2-3 days.
•The cocktails are best served fresh.
•To turn the cocktail into a pitcher of cocktail for party multiple the amounts by 10.
Nutrition
Calories:
80
kcal
Carbohydrates:
6
g
Protein:
1
g
Fat:
1
g
Saturated Fat:
1
g
Polyunsaturated Fat:
1
g
Monounsaturated Fat:
1
g
Sodium:
1
mg
Potassium:
106
mg
Fiber:
1
g
Sugar:
3
g
Vitamin A:
13
IU
Vitamin C:
39
mg
Calcium:
11
mg
Iron:
1
mg
Please note that the nutrition information provided above is approximate and meant as a guideline only.