Using CoSchedule Blog Calendar has changed my attitude to managing my social media and above all my workflow. Using the scheduler and the incredible ReQueue button, I know my posts are being sent out. Without me having to do a thing! Saving me time and effort each week.
If you are interested in trying out CoSchedule then use my referral link here. (affiliate link)
CoSchedule Blog Calendar has been an incredible part of moving my blog to a new level in the last year. CoSchedule has helped me to batch input my blog posts and take care of my social media for me.
Each week and every day CoSchedule works out what posts I have programmed to send. It then finds the best time to post them to Facebook and Twitter. So far I have only been posting to these two social media apps. However, I have now started using them for Instagram too.
The reason I kept it to just Facebook and Twitter so far is that the images I post on my blog are portraits. As it stands the Instagram schedule from Coschedule will only share the square images. As I want to get my Instagram also automated as much as possible I have started adding square images into my Coschedule marketing calendar that will post directly to Instagram. Again it's work now but I know it will be easier in the long run when it's all set up.
Bring on the batch work.
The best way to automate your social media with CoSchedule
I have tried so many ways to automate my social media and by far the things you can do with CoSchedule outdo anything else. Yes, it's heavy batch work to set up a few hundred old posts into the system but once it's done – IT IS DONE!
I love that I don't have to think about my social media sharing of old posts each week. I now only think about adding the new content and anything that needs to be added to stories or added as one-off.
Each week you receive an email from CoSchedule that details what they have been doing for you with sending messages. The best part of these emails is they tell you how much time you have been saved by using them. My average at the moment is about 10 hours a week. This is over a day of work saved each week and I am so thankful for the service to take it out of my hands and run with it.
CoSchedule's Requeue Function
One of the main reasons I love using CoSchedule Blog Calendar is the Requeue function. This is a button that adds your existing posts back into the collection of messages to share again.
As you add your social media message you have the option to Requeue it and place it back in the mix to be shared again a few weeks later. So once your social media message has been sent it will automatically be recycled and posted again. This saves hours and hours each week and each month.
When I set up the social media message for a new post I click the Requeue button. That one post will be continually shared until I choose to stop it.
Requeue groups
As well as automatically resharing your social media messages, Requeue also has a group function. This means you can divide your social media messages into anything you fancy. I have an Evergreen group – any recipe which would work all year long. A Halloween group, a Christmas group etc. You get the picture.
The groups also offer a timing option so you can pick the exact time of the week, months or period of time you want those messages to be sent. For example, my Halloween posts are set to be sent out from the beginning of September to the first week of November. During that time my Halloween content will automatically be sent out and automatically stop after the time has passed. It's a brilliant way of getting ahead with content and save time too!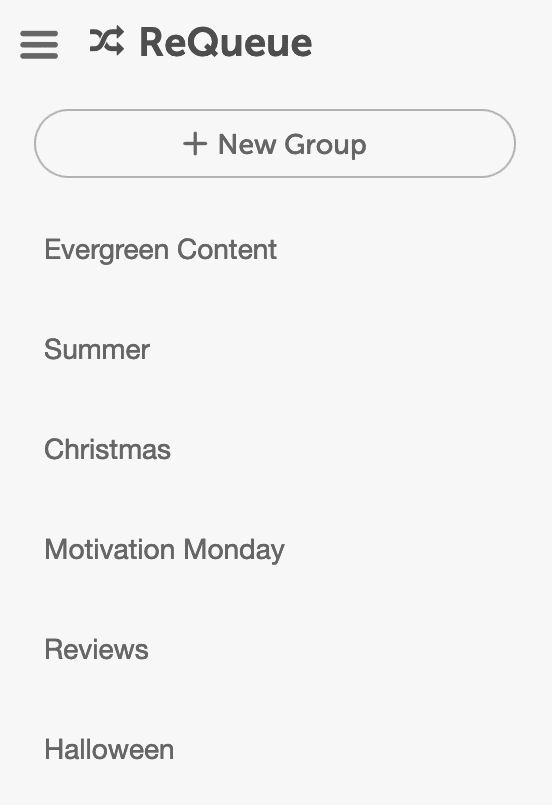 Check out this video on using the marketing calendar
So after a year of Coschedule, I am still convinced of how brilliant it is. It saves me time. I love that it does so much and helps support me in my blogging work.
If you are interested in trying out CoSchedule then use my referral link here (affiliate link).