Limoncello, Thyme and Gin Cocktail
The Limoncello and Gin Cocktail with a hint of crushed thyme is a beautiful drink, easy to sip in the sun and has a fresh aromatic yet glorious citrus flavour.
The gin and tonic is a classic drink and one that is proving so popular at the moment. I've enjoyed trying out different gins but I love a cocktail so I've been experimenting with adding other flavours to my G&T. My latest, and no go to, addition to my gin and tonic is adding limoncello with a hint of crushed fresh thyme. The mix of the strong gin and bubbly tonic flavour with the citrus and sugary lemon mixes so well. The addition to the thyme adds an earthy flavour and incredible smell that ties all the tastes together.
Yes you can see a cake behind the cocktails… find the recipe for the cake here

This is such an easy drink to make, even easier to drink I'm sure. It's a lovely mix of citrus fruit, strong gin and the earthy herb. The reason I chose to use thyme is mostly because of it's smell. The rich green smell works with the citrus to compliment it and in-turn they boost each other. The smell makes you taste the lemon in a different way.
Limoncello is a very interesting flavour and lovely as a little shot of sunshine with a pizza or pasta. Mixing it with gin might sound like it will be strong, well it might be, but it's definitely tasty. If you want to keep it softer and less strong add small amounts of the alcohol as you mix it. Since I've made this a few times I now add a bit more limoncello as I love the lemon flavour so much.
Not shaken bit stirred. Here's the recipe for the Limoncello and Gin Cocktail
Enjoy a glass of the Limoncello and Gin Cocktail this summer.
Limoncello and Gin Cocktail with Fresh Thyme
The Limoncello and Gin Cocktail with a hint of crushed thyme is a beautiful drink, easy to sip in the sun and has a fresh aromatic yet glorious citrus flavour.
Ingredients
2

sprigs

fresh thyme

50

ml

Gin of choice

25

ml

Limoncello

Half

lime (freshly squeezed lime juice to taste)

tonic

ice cubes
Instructions
In a high ball glass lightly crush the sprigs the thyme in your hand and add to the glass. Top up with ice cubes.


Add the Gin and Limoncello along with a fresh squeeze of lime to taste. Stir together.

Top up with the tonic.


Garnish with a lemon wedge and sprig of thyme and serve.

Nutrition
Please note that the nutrition information provided above is approximate and meant as a guideline only.
Check out my other cakes and sweet treats
Follow me on instagram to see what other cakes I've been making recently. www.instagram.com/sewwhite
Other recipes you might enjoy
This delicious Summer Berries Gin and Tonic uses up frozen berries to create an easy cocktail. It is a wonderful way to add flavour without using fresh fruit.
Enjoy a sip on a Lemon Lychee Martini. A mix of limoncello, sweet lychee juice mixed with vodka and topped up with the double lemon mixer from Double Dutch.
My Blueberry Gin and Tonic Recipe is a perfect drink for any event or just a really good evening when you're after a fruit gin and tonic. A simple blueberry gin cocktail which takes seconds to make and is a perfect summer cocktail.
Cool down this summer with my fresh and fruity Watermelon and Strawberry Martini. Simple to make and far too easy to sip.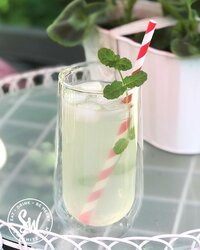 This White Rum Elderflower Cocktail is a super easy tall drink perfect for summer days to enjoy in the sun. It is a great easy drink to make with white rum.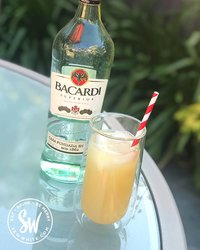 A fresh and fruity easy drink, the White Rum Pineapple Cocktail is quick to make. This no shake, tall drink will refresh you on a sunny day at home or will be a hit at a party or event with friends and family.