Strawberry Gin and Tonic. Yes you read it right! It's a fabulous mix of strawberries and cream gin, fresh strawberries and of course tonic.
Is there anything better than sitting in the garden on a sunny summer day and sipping a G&T? I love it. It's happiness in a glass as they taste so good and can be made at home.
In time for the tennis my Strawberry Gin & Tonic is the most refreshing and fruity way to watch the action live from SW19. A mix of strawberries and cream gin mixed with fresh strawberries and topped up tonic. It will take a few minutes to make so make sure you try it.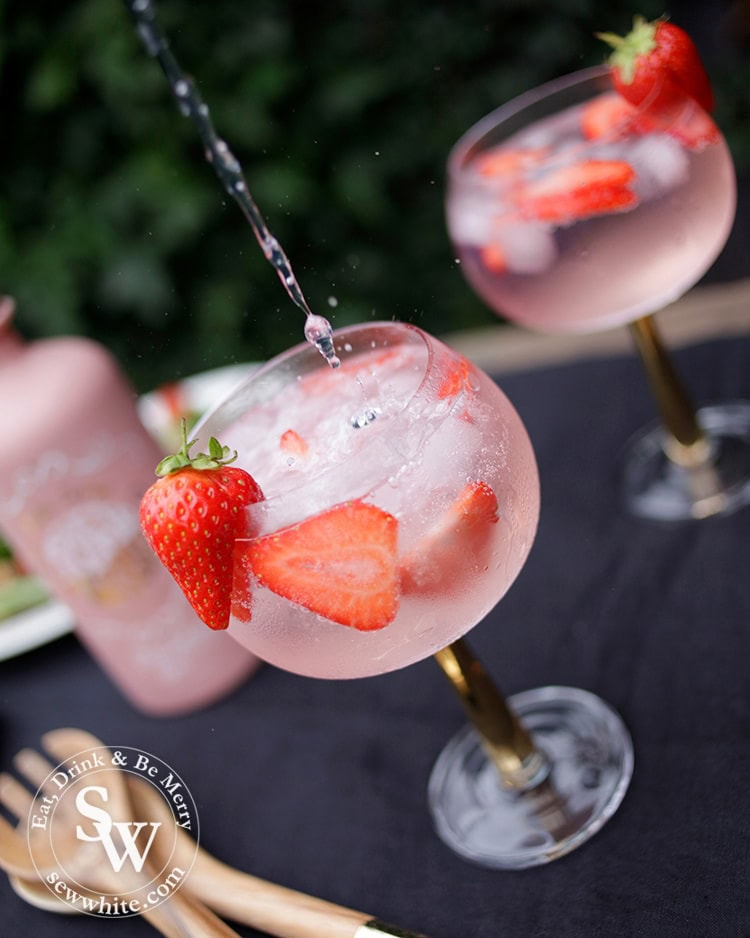 Adding a strawberry to the side is an added touch plus the ones thinly sliced inside will soak up a bit of the gin and taste great if you want to fish them out. The thinly sliced strawberries in the glass also give the finished drink a boosted red colour. The gin is pink so does dilute with the tonic, adding the strawberries makes it a nice way to keep the red tone to the drink.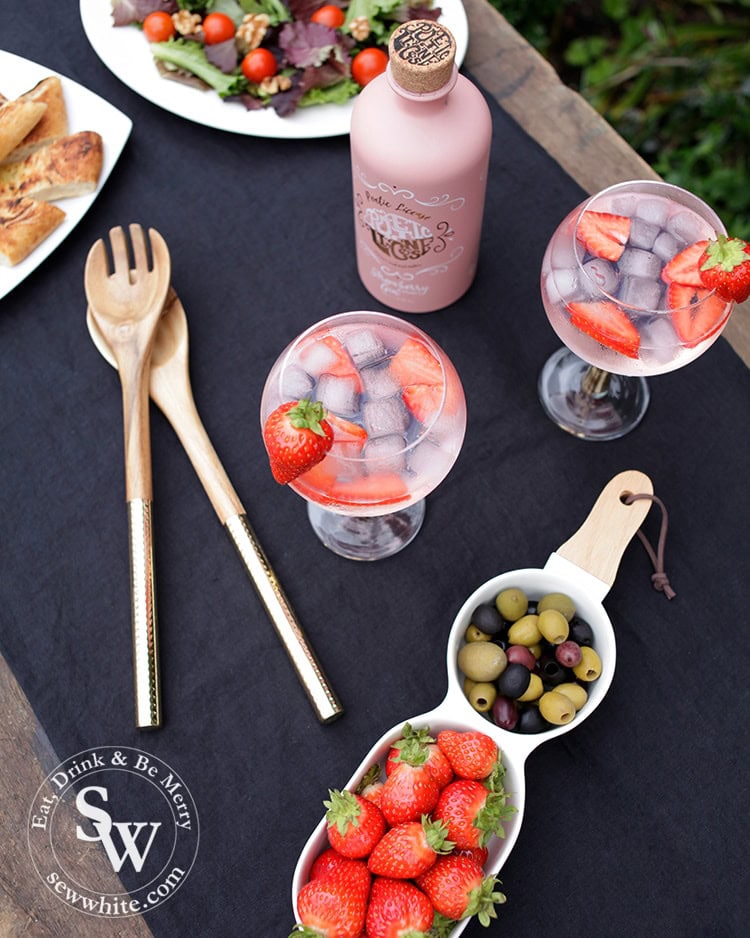 As part of a Wimbledon watching feast table I think the strawberry gin and tonic added something really special. It looked gorgeous and my guests couldn't wait to tuck in. (We were watching Queens but it will all be repeated for when Wimbledon starts).
How to make the Strawberry Gin and Tonic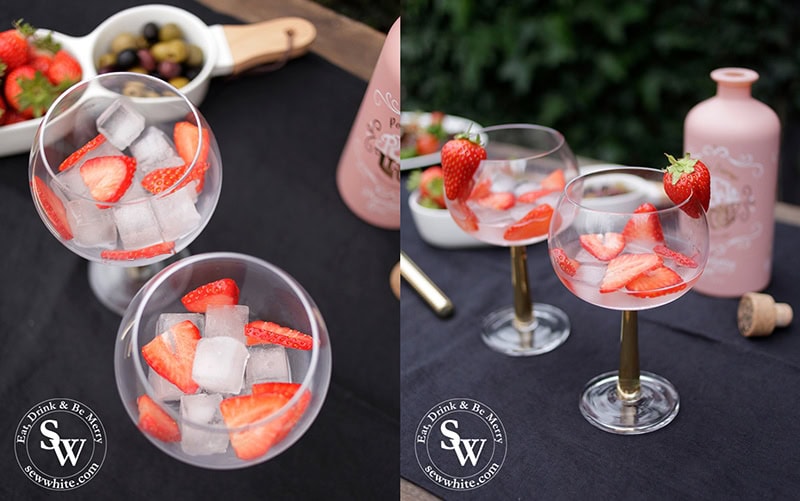 This is super easy to please do try it. In your gin balloon glasses add ice cubes. Thinly slice a few strawberries and add them to the glasses. Add 50ml of strawberries and cream gin and let the fruit muddle for a while – a few seconds to a minute should be enough. It really helps to get the gin infused into the strawberries.
Top up with tonic water and serving straight away. Happy sipping.
Strawberry Gin and Tonic Recipe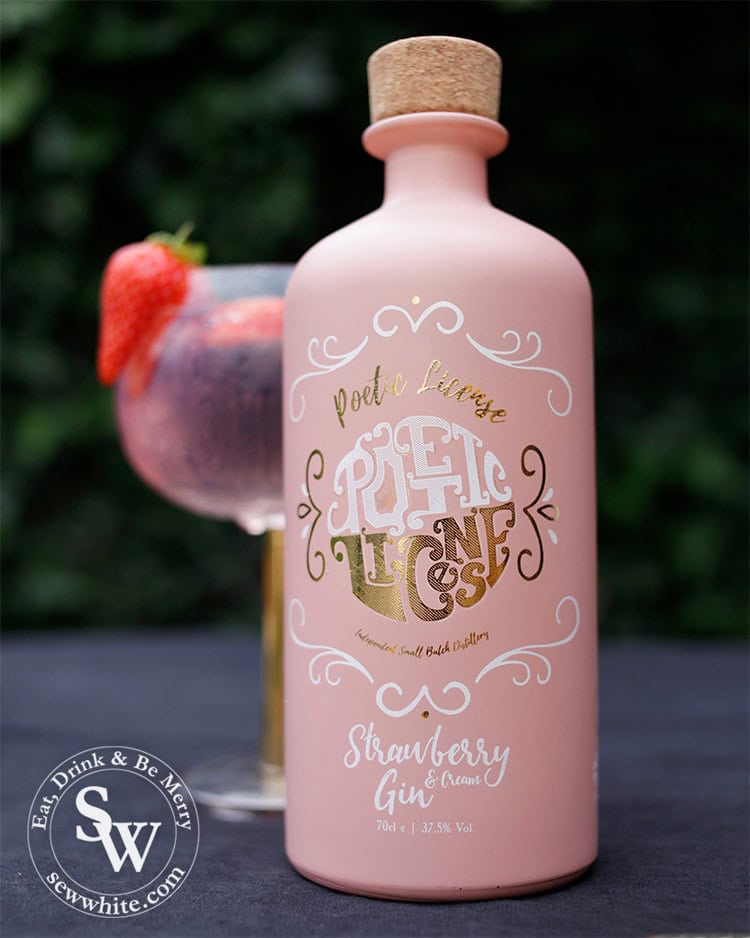 I think it's safe to say that the centre piece of the table was the G&T. Even the bottle matched the colour scheme. Don't you just love when that happens! The gold from the gold stemmed glasses and servers and the white from the serving stick.
Check out this gin and tonic action shot… Thirsty yet?
The perfect summer table in collaboration with Elys of Wimbledon.
Navy Blue Table Cloth
With only 5 pieces from the Elys of Wimbledon summer collection I created this gorgeous table. The dark navy blue table cloth really makes the colours of anything on top pop out and look so vibrant. I love a table cloth especially one that really pulls your attention to everything on top like this one did.
Gin Balloon Glasses
As Gin & Tonics are so incredibly popular it's only right to drink them in the proper way… with gin balloon glasses. These gorgeous ones made by LSA have hand painted gold stems which adds something extra special to them. They are weighty but in a great way that even though delicate they are strong and easy to hold and sip from. Gin balloon glasses are fantastic for making G&Ts at home as they really enhance the smell as you sip. They are also a lovely little bit of luxury to enjoy at home.
Strawberries and Cream Gin
To go in the gorgeous gold stemmed glasses what could be better than the Strawberries and Cream gin by Poetic License. It tastes so good. I thought there was no way that the iconic flavour of strawberries and cream could be captures. Also the idea of cream in a G&T sounded weird. However I was proven wrong and the cream bit is very subtle and the taste was delicate but captures the flavour well.
Salad Servers
For serving up the food and adding a little extra of the gold touch from the gin glasses I chose the gold handled salad servers. The acacia wood and gold work so well together and with the other times look very inviting. The gold from both pieces shining out against the blue.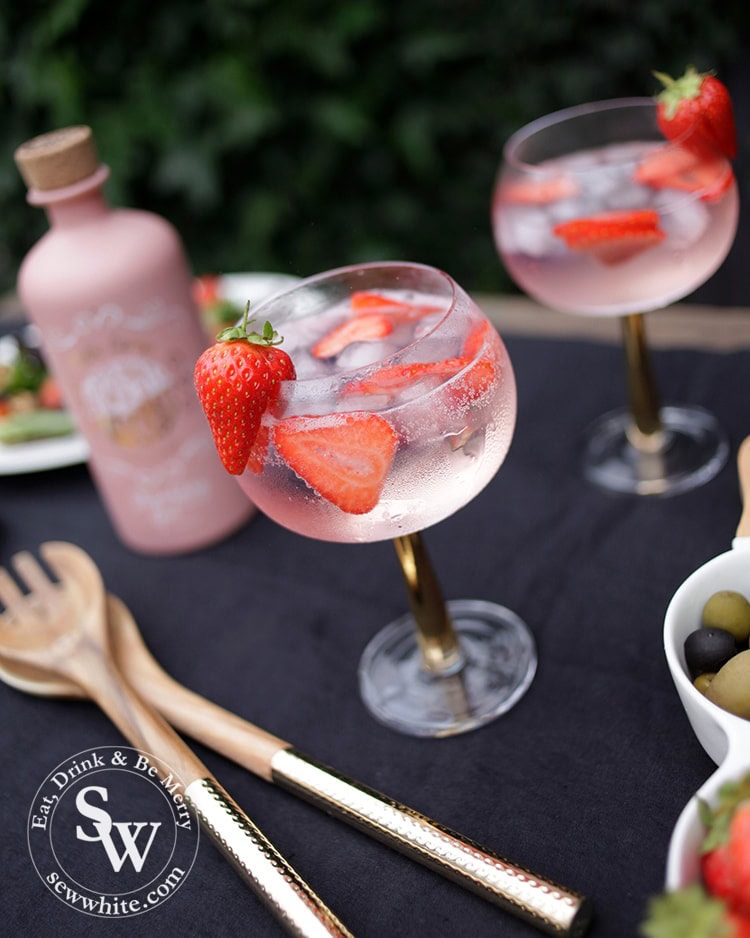 Serving Stick
The final touch to my summer garden party table was the 2 part service stick. A crisp ceramic bowl divided up into 2 section but with the cutest added bonus of having handle to help serve with. I filled half up with olives and the other with strawberries. The wooden handle linked to the wooden servers and helped to create a table display I'm really proud of.
It was a lovely way of adding a few tasty bites to the table. You would think, looking at the serving stick, that it was rather small. It actually fit in way more than I thought. Another added bonus. There are also bigger ones and different sizes available in store.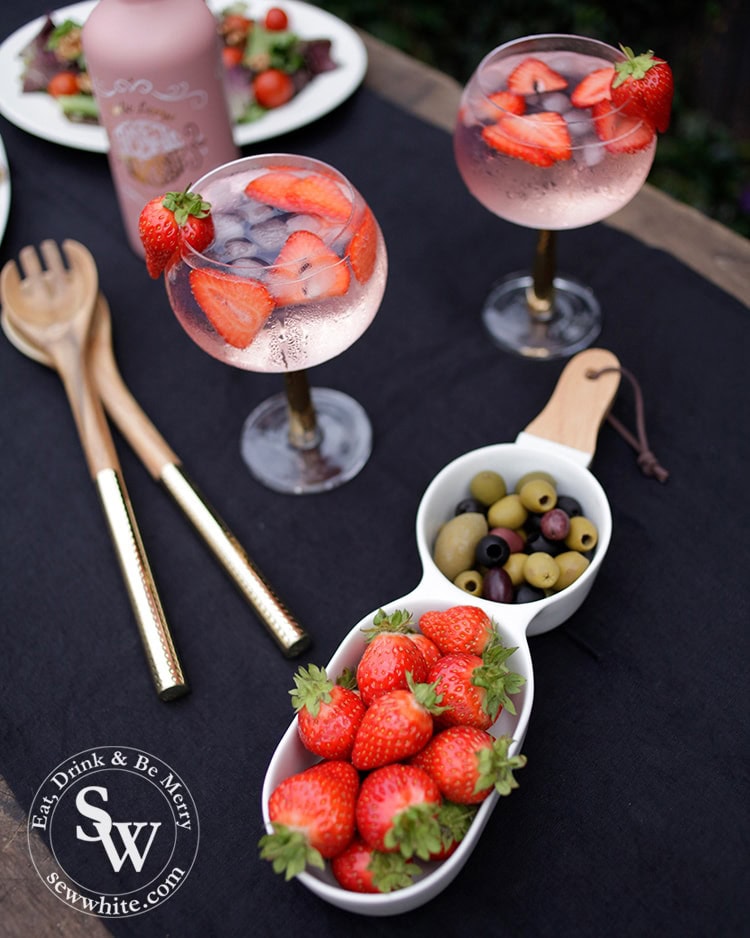 Table cloth by Also Home £65. 2 part serving stick with handle by Ladelle £14. Gold Handled salad servers by Ladelle £15. Gold Stemmed gin balloon glasses by LSA £48. Strawberries and Cream gin by Poetic License £35. All available at Elys of Wimbledon.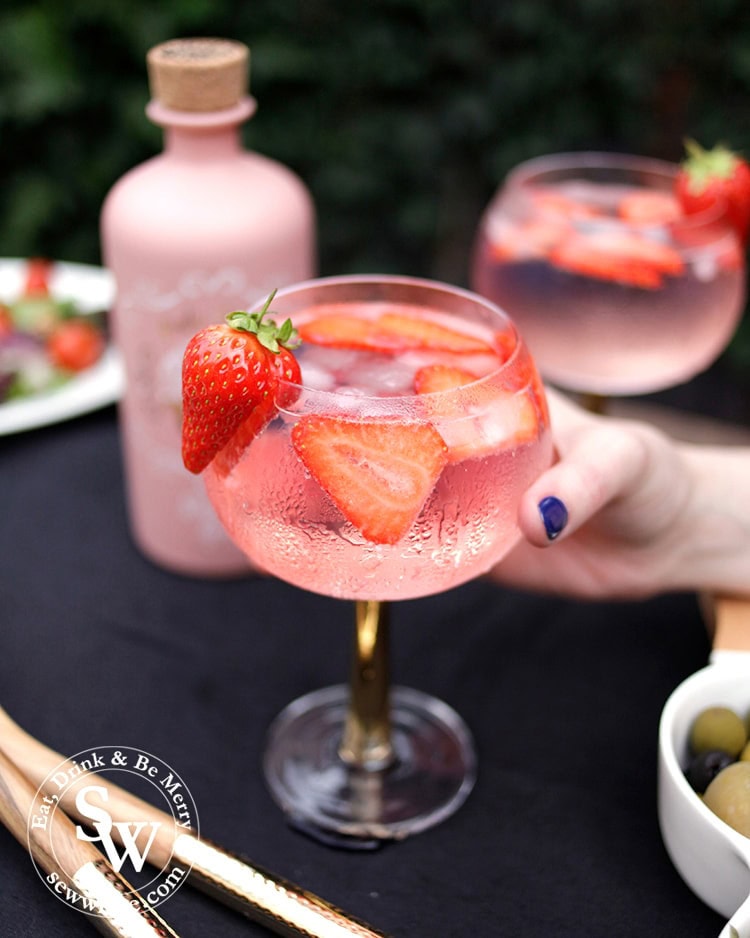 Pin me for later
Strawberry Gin and Tonic
Strawberry Gin and Tonic. Yes you read it right! It's a fabulous mix of strawberries and cream gin, fresh strawberries and of course tonic.
Ingredients
ice cubes

4

Fresh strawberries

100

ml

strawberries and cream gin

Fever Tree tonic water
If you don't have strawberries and cream gin make this
8

strawberries

100

ml

gin of your choice

small squeeze of lemon
Instructions
Half fill the gin balloon glass with ice cubes.

Thinly slice two strawberries and add the slices to the ice.

Add a single strawberry to the rim of each glass as decoration.

Add 50ml of gin to each glass.

Top up the glass with Fever Tree tonic water and enjoy straight away.

Top tip – Snack on the strawberries in and on the glass as you go.
If you don't have strawberries and cream gin then
Chop up the strawberries into small pieces or use a blender. Add the lemon juice and genlty mix with the gin. Add it to the glass and top up with tonic.
Notes
To keep your G&T even colder put some strawberries in the freezer and add them to the drink.
Nutrition
Please note that the nutrition information provided above is approximate and meant as a guideline only.
Disclaimer this post is sponsored by Elys of Wimbledon. All opinions and the recipe are my own.
Try out my other drinks recipes.
My Blueberry Gin and Tonic Recipe is a perfect drink for any event or just a really good evening when you're after a fruit gin and tonic. A simple blueberry gin cocktail which takes seconds to make and is a perfect summer cocktail.
This delicious Summer Berries Gin and Tonic uses up frozen berries to create an easy cocktail. It is a wonderful way to add flavour without using fresh fruit.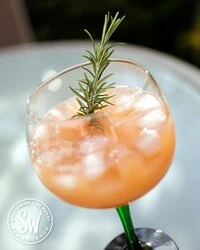 This is an easy yet absolutely delicious Aperol apple cocktail. Apple juice works so well with the iconic Aperol drink and you will want to have more than one of these! Perfect drink for enjoying in the sunshine.
This is a twist on a classic daiquri cocktail. The Passion Fruit Daiquiri mixes together the iconic flavour with a fruity twist.