This is a twist on a classic daiquiri cocktail. The Passion Fruit Daiquiri mixes together the iconic flavour with a fruity twist.
Bring on the cocktails! I love cocktails and I've just started making a few more. As I'm getting more confident I thought I would share the ones I have worked on and work time after time. This one definitely counts.
This is a bit of a mash up of drinks as I love daiquiris and passion fruit cocktails so I thought I'd combine them and see how they taste – answer AMAZING. The sharpness of the rum and lime with the fruit are a delicious combination and one that you will love too. I really like my daiquiris sour so I add extra lime juice. If you want them sweeter make the version in the recipe. I've added how much lime I used in brackets if you want sour too.
I also love how this cocktail looks. It's classically elegant and really attracts attention. I love making these for small parties and events. They are quickish to make but you can easily spend all evening making daiquiris and missing the event. Learn from my experience and don't be the bartender all evening. Unless that is what you want to be.
Passion Fruit Daiquiri
Making the Daiquiri slightly sour for this works really well with the sweetness of the passion fruit. It has a really juicy flavour and is incredibly refreshing. I can't wait to enjoy it when the warm weather comes back!
A simply delicious drink!
If you like tequila you can make this drink with passion fruit and tequila instead. It's really delicious. Tequila or rum this is a great drink. I;d suggest starting with the classic and then venturing out from there.
Want to try other passion fruit cocktail? Try out this Pineapple, Passionfruit and Citrus Mocktail from Coriander Queen
Passion Fruit Daiquiri
This is a twist on a classic daiquri cocktail. The Passion Fruit Daiquiri mixes together the iconic flavour with a fruity twist.
Ingredients
100

ml

white rum

50

ml

fresh lime juice

(add a dash more if you like if more sour – I have 75ml)

30

ml

sugar syrup

2

passion fruits
Instructions
Add a few ice cubes to two cocktail glasses to chill them.

Add the rum, lime juice and sugar syrup to a shaker over a few ice cubes with the fruit from one passionfruit. Shake!

Pour the drinks in to the chilled glasses through a strainer and serve with half a passion fruit.
Notes
1 ounce is roughly 25ml.[br]sugar syrup – equal parts water and sugar
Nutrition
Please note that the nutrition information provided above is approximate and meant as a guideline only.
Follow me on Instagram to see what I've been making recently. www.instagram.com/sewwhite
My Blueberry Gin and Tonic Recipe is a perfect drink for any event or just a really good evening when you're after a fruit gin and tonic. A simple blueberry gin cocktail which takes seconds to make and is a perfect summer cocktail.
This delicious Summer Berries Gin and Tonic uses up frozen berries to create an easy cocktail. It is a wonderful way to add flavour without using fresh fruit.
Enjoy a sip on a Lemon Lychee Martini. A mix of limoncello, sweet lychee juice mixed with vodka and topped up with the double lemon mixer from Double Dutch.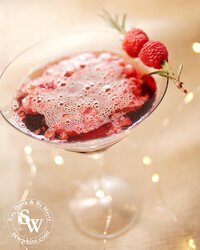 This delicious Rum and Raspberry Cocktail is always a winner at a party. The spiced rum and raspberry flavours work so incredibly well together.
This gin limoncello cocktail with a hint of crushed thyme is a beautiful drink. An easy cocktail which is full of flavour is a great summer party cocktail. A gin limoncello tonic is perfect for sipping in the sun and has a fresh aromatic yet glorious citrus flavour. If you are looking for a limoncello cocktail you are in the right place!
This is an easy way to turn a glass of Prosecco into a cocktail. My prosecco cocktail with Rose and Elderflower is perfect for sipping for parties. A great party drink that is easy to make and even easier to enjoy.