I was lucky enough to join other food and lifestyle bloggers at a special event to try out new dishes at the Giggling Squid New Menu Tasting.
It is a great evening when you get to be one of the first people to try the updated menu at one of your favourite restaurants. Giggling Squid is an incredible Thai restaurant filled with delicious dishes perfect for sharing. Made by an exclusively Thai chef team to make sure the dishes have the most authentic flavours. Their restaurants are so popular they opening up all over the country and going from strength to strength.
Giggling Squid New Menu – Warning these photos will make you hungry.
To start off we enjoyed the Samui Zingy Prawns. Drizzled with citrus dressing and unbelievably fresh in flavour.
Samui Zingy Prawns, citrusy and fresh is how I describe the sauce drizzled on the prawns.
The delicate and delectable pork dumplings were very easy to eat. Steamed dumplings filled with tender pork and served with a gingery light soy and rice vinegar dip. Plus prawn crackers are a must.
The most photogenic mushroom starter. The Big flavour mushroom larb is juicy, exotic mushrooms tossed in a power-punch of fresh mint, dried chilli flakes, ground toasted rice and shallots.
The best seller for Giggling Squid is the salt and pepper squid. A hint of sweetness from the fresh squid and a touch of salt and pepper in the light, crispy coating.
All the starters are so beautiful and almost too good to eat. Almost.
These Crunchy duck and lychee bites are a crispy discs of toasted rice topped with succulent duck, star fruit and sweet lychee for a mouthful of delight. The duck was so mouth wateringly tender and soft against the crunch of the rice bases.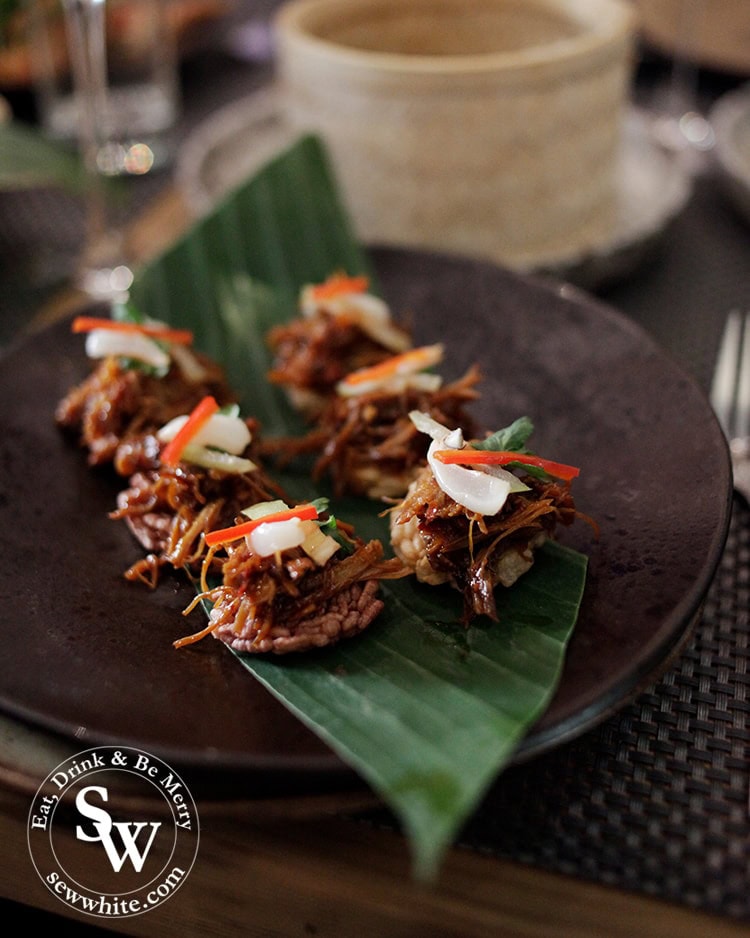 Iconic spring rolls. The delicious starter is always a favourite when I visit. Crispy spring rolls filled with shredded vegetables and served with homemade sweet chilli sauce!
Main meals at The Giggling Squid
Two of the iconic curries available on the menu.
Tropical Jungle Curry. A refreshing and spicy dish made without coconut milk unlike many other Thai curry dishes. It's made with fragrant herbs which add something so different to this curry.
The Massaman curry is a rich but not spicy dish. Simmered in coconut milk and perfumed with cumin, cinnamon and star anise. It's a lovely flavour and perfect for those who don't like spicy food.
Red Duck Curry
Their famous curry has had a make-over using duck confit and adding juicy star fruits and pea aubergine in a red curry sauce. It's a creamy curry and you can see why it is so highly recommended by the staff and return customers. You can see the star fruit in the curry and as an extra tasty treat there were lychees too. My friend Clare had this has her main and I was happy when she gave me a little taste.