With a heatwave hitting the U.K. I have rounded up the best recipes which are perfect to enjoy in the heat. In this Easy Food for Hot Weather recipe collection, I pick a few delicious recipes for you to enjoy. These include savoury dishes, sides and of course sweet treats. With all the fruit and seasonal goodies available, this will be a tasty inspiring round-up to enjoy.
Easy Food for Hot Weather – Dips and Sides
With this glorious hot weather I for one don't want to spend hours in the kitchen but I do still want delicious food. I love a light dish and I also love a good dip to enjoy with breadsticks or slices of carrots. Checkout these options for something to eat in hot weather.
SPICY ROASTED CARROT HUMMUS
Flavoured with cumin and paprika, this spicy roasted carrot hummus is delicious as a healthy dip with vegetables, pitta chips or bread sticks. Why not make it as part of a mezze spread or for a light lunch? It's also easy to transport and great in lunch boxes and picnics. Feeling hungry check out this recipe by Searching for Spice.
I not only love the colour but I absolutely love the flavours of this dip. It's rich and spicy and absolutely moreish. Make extra because you will need it.
CREAMY POTATO SALAD WITH CIRPSY BACON
It would be fair to say that I do love the humble potato: mashed; roasted; fried – I'm really not fussy. However, one of my absolute favourite ways to serve potatoes is this creamy potato salad with bacon. Find the full recipe from Lost in Food.
This is a recipe which is perfect as a light dish on it's own, however I would have it as a side dish. It would be great to enjoy with a BBQ. It can also be eaten hot or cold so perfect for picnics too.
Main Meals to beat the heat
15 MINUTE LEMON CAPER CHICKEN BREASTS
Quick, easy and delicious, this Lemon Caper Chicken one pot is packed with flavor and you'll be amazed by how easy it is to make. Pan seared chicken breast is served in a silky lemon, caper and butter piccata sauce, all in under 20 minutes! Check out the recipe by The Family Food Kitchen.
Chicken, capers and lemon is a flavour combination that is perfect for a summer meal. It's light but is still full of flavour. A meal this good in under 20 minutes has my vote.
SAUSAGE CARBONARA WITH LEMON & PARSLEY
Sausage Carbonara is a fresh take on the classic, with sausage meatballs and a hint of lemon and herbs. Quick, easy and so tasty! This Sausage Carbonara uses pork or chicken sausages instead of the typical guanciale. The creamy egg-based sauce is enhanced with some lemon and parsley for a lovely fresh taste that perfectly compliments the sausage. Find the full recipe on Carrie's Kitchen.
A carbonara main dish is one of my favourites. Adding the sausage is a great way to add more flavours and I can't wait to try it.
Summer Deserts for hot days
EASY STRAWBERRY ICE CREAM
Enjoy this easy strawberry ice cream on a hot summer's day. It's a no-churn version, so it's super fast to make and there's no need for an ice cream maker. Take your pick from two versions. One is made with balsamic vinegar to bring out the strawberry flavour and cut through the richness. The other contains rose syrup which gives a slightly sweeter result with a floral accent. Both are smooth, creamy and delicious. Check out the recipe on Tin and Thyme.
A hot day needs ice cream. This is fact. Strawberry ice cream with balsamic vinegar really takes to a new height and
Spiced Rhubarb Cake (Traybake) is a delicious and simple one-bowl cake made with fresh rhubarb, cinnamon, ginger, and cloves. It has a sweet and crunchy topping of flaked almonds and demerara sugar that makes it really special. Check out the recipe from Farmersgirl Kitchen
I know it's a cake and that requires popping the oven on, but the great thing about the weather we have been having is how well a lot of Rhubarb has grown. So many of us are growing it and it's a fabulous ingredient to use in recipes. A slice of this and a cold iced coffee in the sunshine has my name all over it.
More on the strawberry theme – Balsamic vinegar Strawberry tart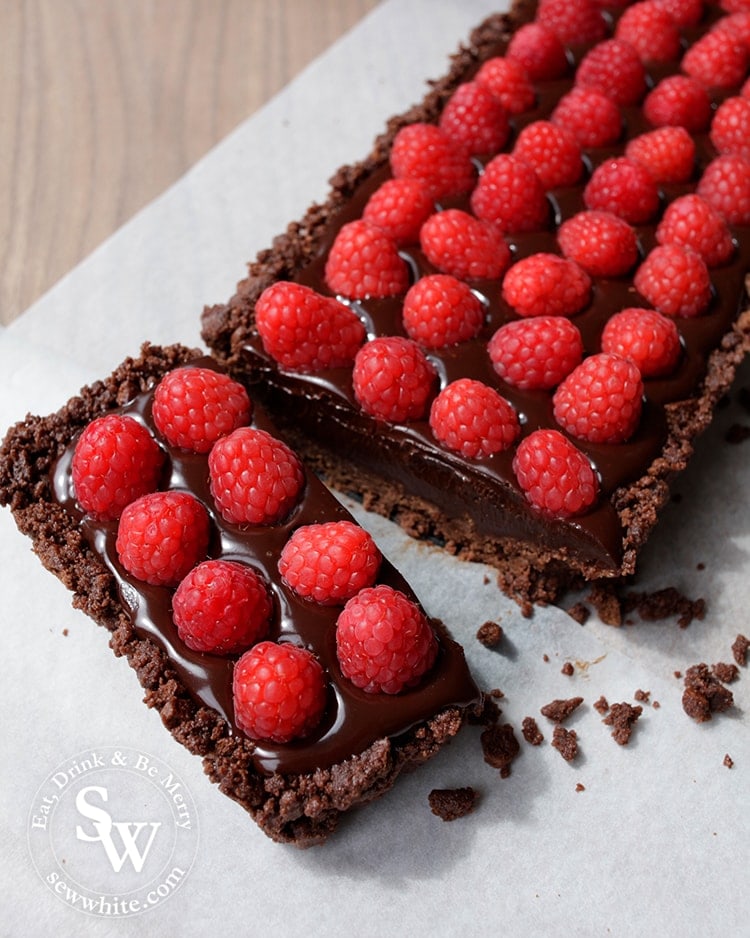 Chocolate galore with this 5 ingredient raspberry chocolate tart
Join this week's #CookBlogShare
We will be tweeting and commenting (on all of the links). The recipes will be pinned to the #CookBlogShare group board on Pinterest.
Share on social media
If you are on Twitter we invite you tag @lavenderandlovage and @sewwhite using the #CookBlogShare hashtag for retweets.
Please feel free to add the #CookBlogShare hashtag to their Instagram posts. Or post your recipes on the Cook Blog Share Facebook Page.
Non Bloggers – skip to the bottom of the page and click on the thumbnails that catch your eye to take you to the website where the recipe can be found. Remember they will be added to as the week goes on. Don't forget to pop back and take a look again later.
Bloggers – How do I join #CookBlogShare Week 29 & 30?
•You can link up any foodie posts you have. Both old and new posts are welcome as long as they have not been linked to #CookBlogShare before. Link up a recipe or foodie post by clicking the blue 'add your link' button below and following the instructions. You can link up to 4 posts.
•Add a link from your post back to this post https://www.sewwhite.com/recipe-collections/easy-food-for-hot-weather/ (so everyone else can find it and link up too!)
•Add the #CookBlogShare badge to your post (Code below – for WordPress copy and paste the code below into the text view of your post or copy and save image).
•Comment on some of the other recipes linked up here (at least 2 for each link you added but the more you can the better) and generally share the love with a bit of social media action!
•Plus comment one of the posts labelled HOST in the linky.
By joining in you are giving the #CookBlogShare hosts permission to use your pictures in a roundup and on social media if your recipe is selected as one of their favourites!
Due to my error, I can't extend the first week as it had already closed but here is the join up for the second week – please comment on the posts from the selection above.
Thank you for taking part in this week's round up.
The next CookBlogshare will be hosted by Karen at Lavender and Lovage on the 3rd August 2021.