My Lychee and Coconut Summer Colada Cocktail is a beautiful addition to any event. It's freshy, fruity and very refreshing.
Luckily cocktails are good no matter the weather and a perfect way to feel summery even if the weather isn't the best. This cocktail is a very fresh and fruity vodka based cocktail. The mix of coconuts and lychees is a winner and so wet and refreshing. You could be in a kitchen in Wimbledon or a beach in India and the cocktail would work in both places. I definitely wouldn't mind the latter but for now drinking this cocktail in London will be absolutely fine.
I added a little fresh slice of coconut and I love the lychees in the drink. By the time you get to them at the end of the drink they have infused with the vodka so they are a brilliant alcoholic fruit treat at the bottom of each glass.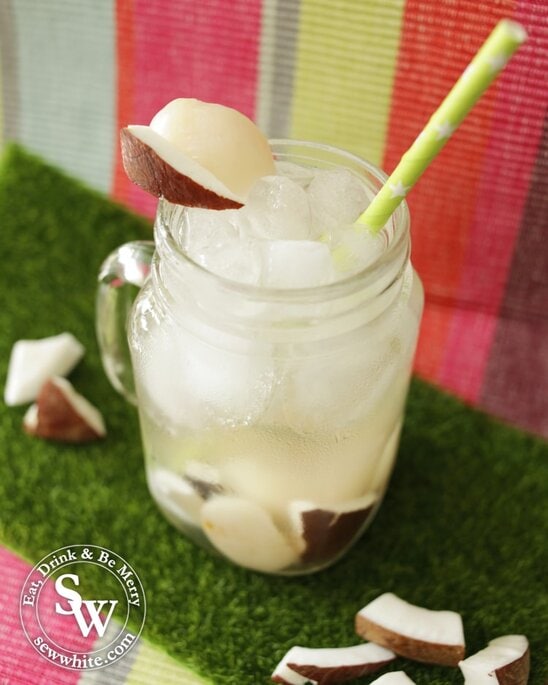 The Lychee and Coconut Summer Colada Cocktail recipe
Pin me for later
Check out my other drinks
Lychee and Coconut Summer Colada Cocktail Recipe
Ingredients
100

grams

Coconut Pieces

100

grams

Tinned or fresh lychees

Ice Cubes

100

ml

Ciroc Summer Colada Vodka

100

ml

lychees juice

(or syrup from the tin)

coconut water
Instructions
Add a few lychees into each glass with a few pieces of coconut too. Top up with ice cubes.


Measure and pour in 50ml of Ciroc vodka and 50ml of lychee juice or syrup.


Top up with coconut water and stir. Taste to see if it works for you. You can add a little more vodka or lychee juice if you want it stronger or sweeter.


Add a few more ice cubes and a straw and serve.

Please note that the nutrition information provided above is approximate and meant as a guideline only.
Follow me on Instagram to see what I've been making recently. www.instagram.com/sewwhite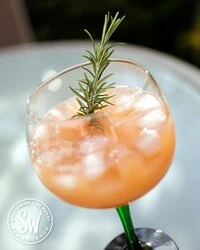 This is an easy yet absolutely delicious Aperol apple cocktail. Apple juice works so well with the iconic Aperol drink and you will want to have more than one of these! Perfect drink for enjoying in the sunshine.
Enjoy a sip on a Lemon Lychee Martini. A mix of limoncello, sweet lychee juice mixed with vodka and topped up with the double lemon mixer from Double Dutch.
My Blueberry Gin and Tonic Recipe is a perfect drink for any event or just a really good evening when you're after a fruit gin and tonic. A simple blueberry gin cocktail which takes seconds to make and is a perfect summer cocktail.