Easy Goose Fat Roast Potatoes
I love roast potatoes! At Christmas and special occasions I make my Perfect Goose Fat Roast Potatoes. Light and fluffy while also being crispy on the edges. Using goose fat for potatoes is really easy and gives such brilliant results time and time again. Although goose fat does make them a little less healthy, at Christmas it's totally worth it. This easy goose fat roast potatoes recipe will make your roast potatoes an essential dish for Christmases going forward.
Fluffy roast potatoes are a winner no matter how old you are. I love a roast dinner and that has to include roast potatoes. Normally I wouldn't use goose fat as it isn't the healthiest choice to roast your potatoes in but for special occasions a goose fat potato is just next level delicious.
Making Perfect Goose Fat Roast Potatoes
The best tip I can give for normal roast potatoes or goose fat is to precook and boil the potatoes. Let them cool, fluff them up in the pan by gently rolling them in the pan to bash them a little bit when you cool them. This will allow the edges to allow the fat to catch in the oven and make them go crispy. It also works for saving time and planning ahead for meals. You can get the potatoes peeled, boiled in water and cooled until you're ready to roast them. Freeing up a hob for other cooking to place.
There is such a thing as Easy Roasted Potatoes
There is such a thing as Easy Roasted Potatoes. By partially boiling them before roasting, you are preparing the best potatoes. They are mostly cooked so they fluff out on the outside which helps produce the incredible crispy areas of the finished potatoes. The fluffier pieces will 'catch' in the goose fat and cook quicker. So the finished result is the best roast potatoes! Goose Fat Potatoes are easy to make. The goose fat really works with the potatoes on a truly delicious level. The fat absorbs differently to oil or butter. It doesn't smoke or have a reaction so you get
Easy roasted goose fat potatoes
For this recipe of Easy Goose Fat Potatoes you don't need a huge amount of goose fat. Melt it down in the pan to start. I used about 3 heaped tablespoons of goose fat which was about 200g. Pop a baking tray on the hob and get it hot. Be careful as the pan will get hot so use an oven glove if you need to hold it. Melt the goose fat down and add in the cold dry potatoes. By allowing the potatoes once partially boiled to cool, they dry out allowing the fat to be absorbed better. Coat the potatoes in to the melted fat and pop in the oven to cook. As they are cooked a but already they won't take too long. After 10 minutes move them around so they get evenly brown. It should take about 20-30 minutes depending on how big the pieces are.
Which potatoes are best for Goose Fat Potatoes?
For this easy roast potato recipe I have tried a few different potatoes to find the best results. All potatoes work so don't worry if you can't find them or anything like that. My favourite potatoes for Goose Fat Potatoes has to be Albert Bartlett Rooster Potatoes. I don't know why they work so well but they do. They are definitely the posh potatoes for events and big family meals. Usually I just use basic white potatoes. Definitely not fancy but definitely delicious. The goose fat has a subtle flavour but it transforms easy roast potatoes into epic goose fat potatoes.
I presented these potatoes in the wonderful Le Creuset round stoneware baking dish. Of course I chose red to go for the Christmas table. It also works very well for strawberries dishes in the summer during Wimbledon time. Safe to say I love red dishes so the fact it works for Christmas is just a massive bonus. The dish is oven proof too! I wouldn't cook this recipe in the stoneware dish just as the metal baking trays work so well. However serving is a joy. I really love big plates and serving dishes on the table for roast dinners. although when we make this recipe it usually is a fight to get to the last potato.
As they are being moved in to the serving dish I add fresh thyme and tumble them together. The thyme sticks slightly and the heat of the potatoes really makes the smell of the herb radiate. Catching anyone who hasn't been getting hungry by the smell.
By taking the time to cook the potatoes first and allow them cool you save time but also gives you the chance to fluff them up. When you empty the water from the pan roll the potatoes around to lightly hit each other. Doing this when they are soft will fluff them up before roasting.
Other Christmas recipes you might enjoy.
Christmas is stressful when it comes to cooking so I've come up with a really simple one pot chicken recipe which keeps the Christmas flavours.
I absolutely love these Lemon Spice Cakes. They are a delicious mix of lemon citrus, sweetness from the cake and spice which tastes like Christmas.
Everyone should try my Easy Brussels Sprouts with Bacon and garlic at least once because that is all it will take for you to want to make them again. These Brussels Sprouts with garlic and bacon are my go-to way to cook Brussels Sprouts for Christmas… and all year long too. Adding garlic to the Bacon Brussels Sprouts add extra flavour and bite to the dish.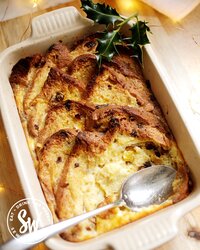 I adore bread and butter pudding and of course with Christmas on the way I had to make it with Panettone. It's so fruity with a smooth homemade custard and has a delicious toasted flavour too. Panettone Bread and Butter Pudding is a wonderful winter dessert or Christmas pudding. It's a family favourite dessert in our house and a brilliant Christmas bake. The Christmas spices in the custard add some lovely warmth and flavour to the finished baked dessert.
This is definitely going to be a Christmas favourite! My Christmas Cranberry Gin Cocktail is a Christmas twist on a classic gin cocktail.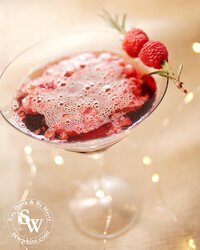 This delicious Rum and Raspberry Cocktail is always a winner at a party. The spiced rum and raspberry flavours work so incredibly well together.
Follow me on Instagram to see what I've been making recently. www.instagram.com/sewwhite
Perfect Goose Fat Roast Potatoes
I love roast potatoes! At Christmas and special occasions I make my Perfect Goose Fat Roast Potatoes. Light and fluffy while also being crispy on the edges.
Ingredients
6

large

Maris Piper Potatoes

pinch of salt

rapeseed oil

200

g

goose fat

fresh thyme
Instructions
Peel and cut up the potatoes into big chunks.

Place in a saucepan and cover with water and a pinch of salt. Bring to the boil and allow to simmer.

When they are about half way cooked removed from the pan and run under cold water to help them cool and stop cooking. In the pan roll the potatoes to fluff them up. Be gentle so they don't break.

Drain them and leave them to cool and dry out. You don't want them to be watery or the fat will spit.

Preheat the oven to 180ºC fan. 30 minutes before you are ready to serve them put a baking tray on the hob with the goose fat and 2 tablespoons of rapeseed oil.

Let it heat up and gently add the potatoes. Don't let it get too hot. Using a spoon, move the potatoes about so they get covered.

Place in the oven and turn every 10 minutes to make sure all the edges get covered and can brown off.

When they are golden brown remove from the oven and put in a serving dish. Stir in a few sprigs of fresh thyme and serve.
Nutrition
Please note that the nutrition information provided above is approximate and meant as a guideline only.