This easy butternut squash tart with chorizo is a wonderful light dish that's perfect for all weathers – spring, summer, autumn or winter!
It's great hot or cold too – so leftover slices of tart work perfectly for lunchboxes while you can enjoy the first portions warm – or just reheat it!
Autumn is the main season for butternut squash, so I originally intended this to be a fairly autumn and winter-specific recipe. But actually, it's so tasty that I'll be making it all year round!
The rich and smoky flavour of the chorizo works perfectly with the earthy and sweet butternut squash. And I certainly wouldn't have expected chorizo to be so good on a pastry tart. It really steals the show!
This butternut squash tart is actually super quick to make as well – and ridiculously easy! That's a big part of why it's become such a favourite in my house – it's easy enough for me to make often enough to keep up with the demand for it!
I do hope you enjoy this beautiful recipe! It's too easy to not give it a try, that's for sure! It takes about 20 minutes to roast the butternut squash (hands-off time), then cool for another 10 minutes (more hands-off time). Then you just assemble and bake on the pastry!
This also means that you can roast the butternut squash the day beforehand when you have the oven on for dinner. This lets you have a great last-minute meal the next day! It's the sort of easy meal prep (without eating the same things everyday) that I can really get behind!
Plus, the tart keeps very well in the fridge so it's definitely worth making a double batch – one for dinner and one for lunch boxes! While it's not as good cold as it is fresh out of the oven, it certainly beats a simultaneously soggy and dry sandwich like you might usually have!
This tart is actually very similar to my tomato puff pastry tart. This is a gorgeous summertime version with plenty of fresh tomatoes and mozzarella – it's stunning!
Since butternut squash and chorizo are so flavourful and the tart looks so impressive, you could even make it for parties or events!
In fact, instead of one larger tart, you could even make several smaller ones to serve as bite-sized nibbles (a lot like my strawberry chocolate tart bites) to keep your guests going through longer events! It's worth making at least twice as many as you think you'll need though. Everyone will be going back for seconds and thirds!
What do I need to make this butternut squash and chorizo puff pastry tart?
You don't need very many ingredients at all! And none of them are too expensive either – another reason why it's my new favourite meal!
1 butternut squash – ideally in-season but if you can get a decent one any time of year then go for it! Or, even better, grow your own!
Olive oil for roasting the squash so that it goes perfectly lightly crispy on the outside
Herbs de provence for extra flavour on the roasted squash
Salt and pepper to season the butternut squash before roasting
Fresh chilli – this is optional, but it does go very well with chorizo! If you're not a fan of spice then it's ok to leave it out though – it'll still be delicious!
Store-bought puff pastry – because why bother making your own when it's so cheap, easy, buttery and flaky? I'm all for store-bought pastry!
Cherry tomatoes – it's worth slicing them even as they're already small since it lets their juices escape and baste the squash and chorizo – it's heavenly!
Thinly sliced chorizo – the store-bought sliced sort works well since I know that I for one can never get it quite so thin and even!
See? Nothing unusual at all! It's actually a super cost-effective meal – especially when you consider the amount of flavour it has! That sort of flavour normally costs big bucks, several hours and weird ingredients that nowhere sells!
How do I make this butternut squash tart?
The method here is pretty easy! Honestly, if you taste-tested the tart and I gave you the measurements then you could probably get it pretty much completely correct on your first guess!
The only thing that surprised me was how fast it actually was to roast the butternut squash! I usually associate roasted veggies with ages in the oven and a ton of oil, but that's not the case here at all!
Preheat the oven
Peel, seed and dice the butternut squash into bite-sized cubes
Place the cubes in a baking tray then drizzle with oil, season and add the herbs and chilli if using.
Bake for 20 minutes or until soft and set aside to cool.
Unroll the sheet of puff pastry and, leaving a 2cm border around the outside, add the chorizo in a thin layer. Then cover with an even layer of butternut squash and tomatoes.
Drizzle with a little more olive oil and bake for 15-25 minutes or until golden brown (this should be the same amount of time as your sheet of pastry says on the packaging – all brands vary so it's worth checking!)
Serve and enjoy!
Leftovers keep well in an airtight container (or wrapped in foil) in the fridge for up to 3 days.
So there we go – easy peasy! Now it's your turn!
I first created this recipe for my food news page in Time & Leisure magazine.
Easy Puff Pastry Chorizo & Butternut Squash Tart
This easy butternut squash tart with chorizo is a wonderful light dish that's perfect for all weathers – spring, summer, autumn or winter!
Ingredients
1

butternut squash

Olive oil

Herbs de Provence

Salt & pepper

Fresh chilli

optional

350

g

ready rolled puff pastry

300

g

cherry tomatoes sliced

75

g

thinly sliced chorizo
Instructions
Preheat the oven to 200°C.

Peel, seed and chop the butternut squash into bite size cubes.

Put the butternut squash in a baking tray and drizzle with the oil, sprinkle with the salt, pepper and herbs and add a little fresh chilli.

Bake for 20 minutes or until soft.

Set aside to cool.

Unroll the puff pastry and leaving a 2cm boarder around the outside, add the chorizo first and cover with the butternut squash and tomatoes.

Drizzle with a little more oil and bake for 15-25 minutes until golden brown.

Serve and enjoy straight away.
Nutrition
Please note that the nutrition information provided above is approximate and meant as a guideline only.
Follow me on instagram to see what other cakes I've been making recently. www.instagram.com/sewwhite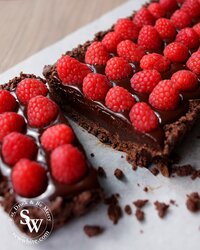 Enjoy a slice of my Chocolate Raspberry Tart with my easy 5 ingredient recipe. A lovely rich truffle recipe studded with fresh raspberries on a bourbon biscuit base.
For a rich and fruit tart try my Balsamic Vanilla Strawberry Tart. The mix of sweet vanilla, fruit strawberries with the acidic balsamic works a treat.
My quick and easy puff pastry tomato tart is a super delicious seasonal summer dish. It is absolutely brilliant for summer parties, events and picnics. The puff pastry tomato and mozzarella tart is perfect for using up all your fresh home-grown tomatoes! Serve with a few fresh basil leaves to really add some extra aroma and taste to the finished tomato tart.
My bite-sized strawberry and chocolate pastry tart bites are a delicious party snack or summer dessert. The rich chocolate truffle and sweet fresh strawberry work perfectly together – and they're perfect for BBQ season!
This rich, fruity and flavourful white chocolate tart with ginger is absolutely perfect for any special summer occasion! You can make it in advance easily, and just top with fruit when you're ready to serve!