This incredible Chocolate Strawberry and Passion Fruit Tart is so quick and easy to make. It is perfect centre piece for Wimbledon tennis parties. A slice of this chocolate truffle tart with fresh strawberries and passion fruit is a show stopper of a dessert. Plus as a no-bake dessert it's a simple pudding to whip up for a party or event.
This incredible Chocolate truffle and Strawberry Tart is so quick and easy to make. It is perfect centre piece for Wimbledon tennis parties as well as delicious for summer dinner parties. The mix of rich creamy chocolate with the fresh and fruity strawberries compliment each other to create a divine dessert.
This has been described as the best dessert I have ever made. So it's pretty good. The mix of chocolate bourbon biscuits as the base, chocolate ganache, strawberries and passion fruit is delicious and you will most definitely want more than one slice. This is a really easy pudding to make. It only takes about 30 minutes altogether and then can sit in the fridge happily for a few hours before serving.
Making the ganache/truffle filling for the Chocolate Strawberry and Passion Fruit Tart
I love how shiny the ganache is. It looks almost too good to eat.
Ganahce is so easy to make and it works brilliantly well as a filling like this but also as a cupcake and cake filling/topping. It's all the good things chocolate, double cream and a little butter to make it shine.
Adding passion fruit is a winner as it gives a gorgeously tart taste which works so well with the sweetness of the strawberries and richness of the chocolate. I'd recommend decorating the tart with the passion fruit when you're ready to serve.
Makes a 24cm tart.
If you don't have a tart tine a loose bottomed cake tin would work well too.
Ready to serve and it was so delicious.
Here are some fabulous summer fruit and chocolate recipes from other brilliant bloggers.
Strawberry Banocolate Muffins by FabFood4All
Slower Cooker Raspberry Brownies by Baking Queen 74
Healthy santa hat brownies from Healthy Hungry Happy
Chocolate Cake Waffles, Lemon Curd and Strawberries by Tin and Thyme
Chocolate Strawberry Pavolva by Elizabeth's Kitchen Diary
Strawberries and dark chocolate by From the Healthy Heart
Follow me on instagram to see what other cakes I've been making recently. www.instagram.com/sewwhite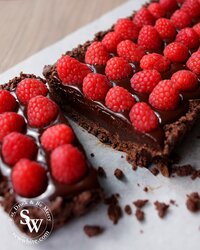 Enjoy a slice of my Chocolate Raspberry Tart with my easy 5 ingredient recipe. A lovely rich truffle recipe studded with fresh raspberries on a bourbon biscuit base.
For a rich and fruit tart try my Balsamic Vanilla Strawberry Tart. The mix of sweet vanilla, fruit strawberries with the acidic balsamic works a treat.
My bite-sized strawberry and chocolate pastry tart bites are a delicious party snack or summer dessert. The rich chocolate truffle and sweet fresh strawberry work perfectly together – and they're perfect for BBQ season!
This rich, fruity and flavourful white chocolate tart with ginger is absolutely perfect for any special summer occasion! You can make it in advance easily, and just top with fruit when you're ready to serve!
Chocolate truffle and strawberry tart
Ingredients
400

grams

(

1.67

cups

)

bourbon biscuits

140

grams

(

0.62

cups

)

unsalted butter

200

grams

(

7

oz

)

plain chocolate

100

grams

(

3.53

oz

)

milk chocolate

250

ml

(

250

ml

)

double cream / heavy cream

2

tbsp

(

2

tbsp

)

unsalted butter

250

grams

(

1.75

cups

)

fresh strawberries

1

(

1

)

passionfruit
Instructions
In a blender or food processor grind up the bourbon biscuits until the resemble bread crumbs. A rolling pin and a sandwich bag is slower but also works well to make crumbs.

Melt 140g butter and add to the biscuits and mix together.

Spoon the mix into the tart tin and push down to make the base and into corners to make the case.

Pop it in to the fridge for 30 minutes while you make the ganache.

In a pan warm up the double cream until it starts to bubble. Don't let it boil.

Add the broken up chocolate pieces to a bowl and add the 2 teaspoons of butter.

Pour the cream over the top and slowly mix together until everything is melted and mixed together.

Take the biscuit case out of the fridge and pour the ganache in.

Stud the ganache with strawberries. I prefer putting the strawberries in whole so you get a good strawberry to chocolate ratio but adding them cut up works well too.

Pop the dessert back into the fridge and leave for at least 1 hour.

When ready to serve sprinkle the passion fruit over the top.

You could serve it with a little extra cream, ice cream or strawberries but it doesn't really need it.

Enjoy
Nutrition
Calories:
569
kcal
Carbohydrates:
49
g
Protein:
5
g
Fat:
43
g
Saturated Fat:
26
g
Polyunsaturated Fat:
2
g
Monounsaturated Fat:
13
g
Trans Fat:
1
g
Cholesterol:
70
mg
Sodium:
140
mg
Potassium:
261
mg
Fiber:
4
g
Sugar:
34
g
Vitamin A:
905
IU
Vitamin C:
17
mg
Calcium:
56
mg
Iron:
3
mg
Please note that the nutrition information provided above is approximate and meant as a guideline only.