This Christmas give the gift of experiences to the men in your life. Get them off their phones with my Top 5 Best Gifts for Men 2019 inspiration guide.
I've constructed this Christmas gift guide as inspiration of lovely experiences to give. I'm sure that I'm not the only one who would like to see their partner off their phone a little more and these gifts require 'phone away'. You're welcome. These experiences were really fun to partake in and now I think there will be repeat visits. Most of these were experiences that I know my partner wouldn't have chosen to try himself but then leaped at the chance to do them when I offered them as a treat.
Styling Update Session at Elys Wimbledon
When I told Sam that he was going to have a style session he looked a little puzzled. I told him how I loved having a style session and how relaxed it would be. I assured him that he would enjoy it and he agreed to go.
Helen (Cocomamastyle on Instagram) greeted us in the private style rooms on the first floor of Elys Wimbledon. We sat down and had a chat about what items he was looking for, what colour did he love, what he didn't like in the way of patterns, where he would be wearing new clothes and what clothing did he already have that he would want to work with the new pieces. We agreed he wanted an autumn smart casual look, perfect for a cosy posh pub lunch and for date nights too.
Helen took on board all that was said and disappeared off to pick out her favourite recommendations. She arrived back in the styling suite arms full of pieces in the most glorious autumn colours. Warming pinks and purples, bright blues and greens and glorious greys too. As Sam tried everything on, with Helen's guidance to mix-and-match pieces, beautiful looks came together and you could see his ease at being styled taking over. Helen showed Sam how to layer up the pieces to create versatile looks that are perfect for this ever-changing autumn weather.
The Belstaff Coat
The moment that Sam tried on the Belstaff coat I knew he was going to invest in it. The waxed Fieldmaster jacket is so iconic and created to last. It has a beautiful and adaptable design where you can pull in the waist to fit your shape and give it more of a tailored look. For Sam he loved its practicality. It has lots of pockets, you can move your arms and it's lightweight but warm.
"If everything had fit perfectly I would have walked away with it all" was Sam's verdict. Of course clothes don't fit everyone 100%. We are all different sizes in different places and if we know all the feeling of things not fitting well. However what Sam took away from the styling session, apart from a glorious new coat, was that there are different colours and clothing styles that suit him. Trousers with a small, subtle patterns were his favourites and, given a bit longer looking on our own time in-store to find the exact fit, I'm sure we will make another purchase. Personal styling definitely had to be in the Top 5 Best Gifts for Men 2019
The styling service at Elys is free so makes for a great gift for your budget! So why not gift them the styling session with a budget for a piece of their choice as the present. Find out more about their styling service on their website here.
Delicious Days out with The Cookery School at Little Portland Street. Top Gifts for Men this Christmas
Learn to cook in London at Cookery School. Situated in Little Portland Street is the wonderful cookery school offers an incredible range of courses perfect for any foodies. Their range of courses include everything from knife skills and basic sauces up to sourdough bread master classes and fresh breakfast pastries.
Cookery School offer a range of day and evening cooking classes for all ages and abilities. The classes are taught by great friendly teachers who are happy to answer all questions no matter how silly you might think they are.
The classes are a mix of an informal and relaxed atmsophere, but well structured and you will leave having learned a lot. They feature a mix of demonstration and practice, trying out the techniques yourself. At the end of most classes you will sit down together around the Cookery School table to enjoy the food that has been cooked along with a glass of wine, coffee or tea. Every session involves tasting all the food that has been made, further enhancing your ability to become a skilled home cook.
Read about my Dad's day at Cookery School here.
They offer single day classes or longer courses if you really want to sink your teeth in even more. Check out all Cookery School offer here.
Building and Constructing with Lego Top 5 Best Gifts for Men 2019
Lego is classic, still popular for all age groups for good reasons, and had to make it into the Top 5 Best Gifts for Men 2019. It's great fun to build items no matter how big or small. I think a gift of Lego is a great experience gift whether it's for a group of people to share and create something together or as a Christmas present to get your partner off their phone, it is a winner. (I have to mention that this works for women too, I love Lego). It's great to get creative!
The Technic range provides a challenge for experienced LEGO builders. The finished model is a little more advanced and includes real-life functions like gearboxes and steering systems. The Chevrolet Corvette had a differential gear which incredible. You could make it move and it was so interesting to see something so detailed and in a small scale in Lego.
The engineer and petrol head angle of the construction really caught Sam's attention and he ended up spending a lot of time explaining different gears and telling me about how cars are built. It really was so much more than just building a car out of Lego.
Check out the Lego Technic range here.
A close shave and stylish hair cut at The Pavement Barber
Pampering for men can be a lovely extra on something they already have done. For example going for a close shave with proper blade and hot towels as they relax in the chair. I would really recommend this. It was great watching Sam chill out among the smooth jazz music and the expert hands of Alex. He came out looking about 10 years younger. It's nice to make more of an event around grooming which for guys seems to be endless.
The Pavement Barbers
The Pavement Barbers is a fantastic independent barbers with a Victorian/Peaky Blinders feel who offer the next level of expertise when it comes to shaving and hair cuts. The staff are lovely but also incredibly experienced in what they do giving them great pride in what they create.
The barbers on Worple Road is a haven in the centre of Wimbledon. The bare brick and Victoriania interiors create a relaxed settings along with the soft jazz playing in the background. I wish they did women's hair as I would love to be pampered here. The lovely team have offered to shave my head more than once if I really want to experience what it is like there.
I love seeing how much confidence can come from a haircut and gifting a hair cut is something I would do time and time again. The great thing about going to a trusted barber is using their experience for advice on how your hair will work with different styles. Alex at the Pavement listened to how Sam wanted the fringe to look and gave his opinion on how to cut it to get the best out of just washed look and different if he was to style it.
Find out more about The Pavement Barbershop by visiting or clicking here for info and to give them a call.
Pedicure and Manicure with Londora – Top 5 Best Gifts for Men 2019
I think it's safe to say this experience was definitely outside of Sam's comfort zone at first. He soon relaxed into the pampering and wants to visit again. A manicure and pedicure is a wonderful relaxing experience which more and more men are doing. It's a great way to look after your hands and feet which get so much use day to day.
At the Londora salon in the Elys department store in Wimbledon we met Iliyana who was the technician taking care of Sam. She was so lovely and you might remember her from my blog post about the launch party of Elys Urban Beauty. Iliyana often does my nails and she is so nice to talk to while also being incredibly talented at what she does.
Sam had his nails refreshed with an express manicure treatment. It involves nail reshaping, pushing back cuticles, buffing the nails plus a lovely hand massage. Getting a hand massage after having your nails looked at, trimmed and filed is the cherry on the cake. I think a manicure is a fantastic way to relax. It really takes the option of using your hands out of picture. All you can do is sit and be in the blissful moment.
Pedicures make the list for the Top 5 Best Gifts for Men 2019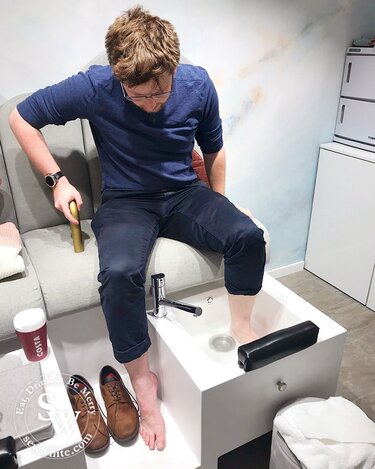 For his feet. They were very much in need of a bit of love and care after he had been on them all day. He enjoyed the The Londora Pedicure. It started with a hot foot bath with a bath bomb which smelled divine. The Pedicure involves removal of hard skin from the soles of your feet, nail reshaping, cuticle removal, a relaxing foot massage and a polish of your choice (of course you don't need to have the polish). There were a few giggles when Sam was having his feet handled but he managed to hold back the laughs much better than I could do.
Sam seemed a lot lighter on his feet and I think he really enjoyed the pedicure treatment. His feet definitely loved it.
Find out more about Londora and book your appointment on their website click here.
Check out my other Christmas Gift Guides.
Disclaimer - Some of these experiences were gifted. All opinions are my own.
Christmas Gift Guides for 2019