The countdown to Christmas is on and I have gathered up my Top 5 Best Gifts for Women 2019. There is a mix of experiences and gorgeous gifts.
Christmas is on the horizon and I am addicted to the festive season. I have worked on a few Christmas gift guides but my first is the Top 5 Best Gifts for Women 2019. I have a great selection of experiences to gift women plus a gorgeous bag which for me anyway is an experience in itself.
Hat Making Workshops. The start of the Top 5 Best Gifts for Women 2019 – Christmas Gift Guide
First up I have chosen a little bit of grown up craft time with a hat workshop. In Kingston the wonderful milliner Bee Smith runs regular workshops from creating cute fascinators for parties to her latest event, a 'Make Do & Mend' 1940s workshop where the guests created vintage inspired headbands.
Bee Smith's studio is based in Kingston, Surrey, where she welcomes clients for individual styling. Her collections capture nostalgic glamour with hats to suit English elegance, with just a hint of eccentricity.
Bee is the most incredible and creative woman and her passion for what she creates will keep you calm and relaxed as you make your hat. It's a great way to meet new creative local people. It could also be a wonderful and different event for your Christmas party or hen do.
Crafting and hand making items have seen a huge creative increase recently. Gifting a chance to be creative and be taught by an expert is a gift I for one would love. The perfect first choice to be included in the Top 5 Best Gifts for Women 2019 – Christmas Gift Guide.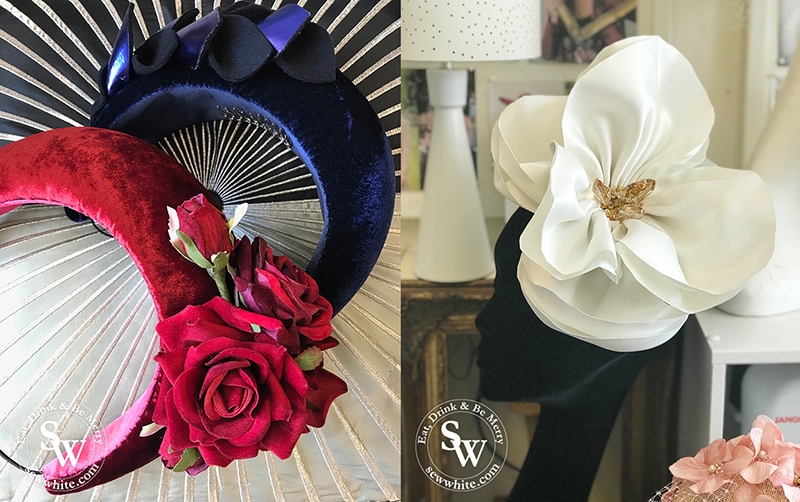 Find out more about Bee's hat workshops and events here.
If you have an event coming up this Autumn/Winter, check out Bee's hats ready to buy here.
Flower Arranging and Wreath Workshops for the Top 5 Best Gifts for Women
Gardenia of London are local legends when is comes to flower power. The team are pretty wonderful and really know their flowers. As a great gift for Christmas why not gift a Gardenia workshop. It's a great environment to work with experts to start at the basics. If you are interested in creating beautiful floral arrangements at home I would recommend it as a great starting point.
In the run up to Christmas, Gardenia run a range of wreath making classes and it was the wreath making that got me more interested in their other courses. It's a lovely feeling to get involved with nature and create something. Plus being able to show off your creation with pride in the weeks going up to Christmas is lovely.
Making my first Bouquet with expert guidance
On my bouquet making lesson with Gardenia I was introduced to the basics of forming the bouquet. Creating a spiral of the initial greenery to easily add (and remove if need be) the fillers and flowers as you go. The beautiful purple, pinks and red and green tones looked wonderful together. I loved using the different flowers to build up the bouquet. It definitely required a strong hand to hold the bunch as you add the flowers in with the other. I will definitely build up the strength in my hands making more bouquets. I loved being able to ask questions and get tips as I went along. It made the experience really personal, creative and above all a lot of fun.
Find out all about their upcoming workshops here.
To order flowers from Gardenia check out their website here.
Make Up Tutorial
It might seem a little weird to gift a make up lesson for a present but it's one experience I would recommend to everyone. It is the greatest way to find out what tones and colours suit you. While also finding the perfect foundation colour. A struggle so many of us go through regularly.
I had my make up lesson with make up artist Becca Gray. A local London make up artist with an incredible flare for what she does. Her lessons are really relaxed and in depth but not too overwhelming. We started off with a chat about what I wanted to learn and get out of the experience. I wanted to know about how to get the best out my eye make up.
About the lesson
At the time I was mostly using golds and brown eye shadows as I wanted to play it safe. Becca told me she thought I would suit grey tones. I was so surprised and thought it would make me look unwell. I was pleasantly surprised. We went through how to do a day to day grey eye shadow look which Becca made appear very simple for me to copy. Since then it has become my day to day look. Embracing the colours that Becca chose has gained me a lot of compliments. I've found a lot of interest on where I learned how to do my make up too. After our lesson Becca recommended a range of her preferred make up pieces, within my price range so I could use what I learned on myself day to day.
To find out more about Becca Gray and book a make up lesson go to Becca's website Click here.
Blow Dry Bar Experience has to make it in to the Top 5 Best Gifts for Women 2019
A little glam goes a long way! Especially at Christmas. Blow Dry Bars are a brilliant experience and one I loved being gifted by Elys and Gina Conway earlier this year. Blow Dry bars are exactly what they say they are – you visit for a wash and a blow dry. It might not sound super exciting but it is a lovely pamper time. Especially if you visit Gina Conway's Blow Dry Bar at Elys Wimbledon.
There are loads of options at the blow dry bar including big waves and even braids. Perfect for a Christmas occasion. As well as being a lot cheaper than a trip to the hair dressers, the blow dry bars are also a lot quicker. I think my blow dry only took about 30 minutes, plus a lot of chatting to Michael my stylist from Gina Conway. The results on my hair were stunning. I loved having an expert tame my long messy hair.
Read all about my trip to the Elys Urban Beauty Blow Dry Bar here.
Book your place or book it as gift through Gina Conway here.
A Stylish and Iconic Bag
A gorgeous bag is definitely a way to give an experience that will last every day. It might just be me but I love having a gorgeous bag. It makes me happy every time I'm out wearing it. As much as I love a stylish bag it also has to be functional. For the use it gets I want to be able to have a beautiful bag which can also fit in all the things I take everywhere. My laptop for jobs on the go, a water bottle, my purse, keys and phone. It seems like a lot to ask from in one bag but it doesn't have to be.
The gorgeous bags from Lawful London have been created to stunningly stylish and also perfectly practical. I have the most elegant Black Dahlia bag and it's so stylish. I've found it looks wonderful dressed up for a night out, for an event but also for dressing down in a simple jeans and t-shirt look.
What's in the bag
The main bag is made of black leather. The leather straps are thick, super sturdy and adjustable which is a nice design feature. The flap is the softest suede and its angular design gives this bag its iconic shape. The evidence of well thought out design continues inside the bag. It has multiple pockets including a zipped one which is always handy. There is space for laptop and A4 folders and a bottle holder. Plus more different size pockets perfect for dividing up keys, phone and purse.
This is a big present and one that I'm sure so many people would thrilled to get. Definitely a highlight of the Top 5 Best Gifts for Women 2019 – Christmas Gift Guide
Check out their full range of bags here. This bag also comes in navy blue and looks gorgeous too.
Check out my other Christmas Gift Blog Posts.
Disclaimer - Some of these items were gifted. All opinions are my own.
Christmas Gift Guides for 2019