Vallebona Deli in Wimbledon is a foodies dream and a place I love to visit for a special trip out. Check my post out for what it is like.
A few weeks ago friends of the family invited us to go for a food tasting at Vallebona Deli in Wimbledon. As we are a family who love food we couldn't say no! I had heard that hidden in the middle of the huge industrial estate was an amazing deli but I had never ventured in to find it. Dad and I cycled down on the Saturday morning to the industrial estate and found the amazing little deli. There was so many incredible things to look at and every Saturday they have tasting so you can try all of their amazing goodies before you fall in love and buy them.
They have a cold room full of cheese in one half and a charcuterie in the other. The cheeses were incredible and my dad who loves cheese was a bit captivated and could have spent all day there. The Vallenbona team were so helpful and asked what flavours you liked and let you try a cheese or piece of meat that they believed you would like.
Thank you to Vallebona for letting me take photos 🙂
Vallebona Deli Wimbledon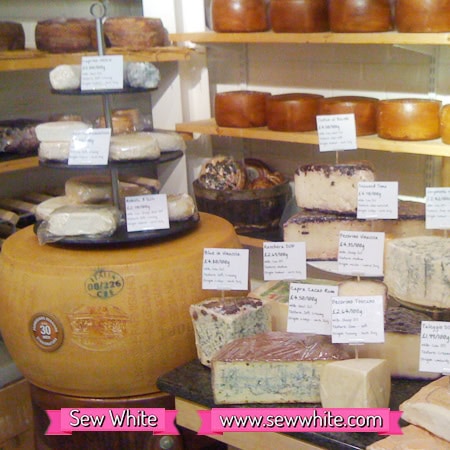 Their huge pasta section was lovely, especially the the decorations on top of the cabinets, I loved all the white decorations and pieces.
There was so much to love and I loved all the pasta and flavours of pasta they had. I will be back to try more soon.
I came away with these pastas, I loved how the Fusillo Napoletano kept it's brilliant curly shape after it was cooked. In the future I will be getting more.
The spinach pasta has a subtle taste and worked very well served with a simple pesto sauce.
As well as gorgeous food items they have a lovely display of chopping boards, candles, lovely little pots for sauces and baskets which their freshly made bread would lovely in.
Above the food was a gorgeous ceiling display of white paper lanterns and white paper stars. I absolutely loved this and could have stared at it for hours!
There was also this amazing book piece of art on display. I had to take a photo!
If you are in Wimbledon and passing through you must visit Vallebona in Weir Road. I'd recommend visiting on a Saturday so you can try before you buy.
(They are closed on Saturday's in August but back open again in September) x
Follow me on instagram to see what I've been making recently. www.instagram.com/sewwhite