This is a delicious and creamy Raspberry Fool made of only 3 ingredients. It's quick to whip and looks beautiful being served in the sunshine.
There is nothing better than a fresh summer fruit pudding to enjoy in the sunshine and my incredibly quick and tasty raspberry fool will do perfectly!
This is a classic and beautiful dish and one that I love making when I have friends and family over and we want something sweet, delicious and easy to make. It's a beautiful colour and are so super cute in their little cups. I use espresso cups with their little saucers. They are all different colours and slightly shimmery. Using little cups makes it easy to fit in the fridge.
Raspberry Fool 3 ingredients
This is one of the first things I ever made when I was little. I love squishing the raspberries for their juice. With only 3 ingredients it's simple to let kids make to show off their culinary skills plus it can get messy and that is rather fun. It can be made earlier in the day as it needs to set for a while and is good for family meals but also good for dinner parties. Although the portions in espresso cups seem small it's enough to enjoy after a main meal.
Although it's only 3 ingredients I would suggest adding an extra to have some biscuit tuile biscuit along side. The crunch really compliments the soft and soothing raspberry fool.
If you can, save a few raspberries to go on top. They are a nice little addition and I think they make them even more special. Best of all they are brilliant to pull out of the fool with your fingers as you start to eat them. Or you have the people who eat around it and fish it out finally after there is no fool left.
Enjoy x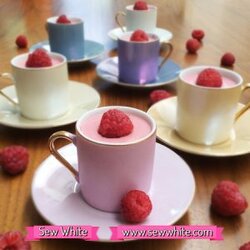 Raspberry Fool
This is a delicious and creamy Raspberry Fool made of only 3 ingredients. It's quick to whip and looks beautiful being served in the sunshine.
Ingredients
300g raspberries

save a few for decoration

50g caster sugar

200ml creme fraiche

optional tuile biscuit curls to serve with the fools
Instructions
Mix the raspberries and half the sugar together so the raspberries are coated.

Press the raspberries through a sieve into a bowl to collect the juice. Discard the pips in the sieve.

Taste the raspberries and add a little more of the sugar is it's too sharp.

In a separate bowl lightly stir the creme fraiche and then fold in the raspberries.- Spoon the mixture into espresso cups or ramekins.

Place the pudding in the fridge for about 3 hours to firm a little.

Add the raspberries for decoration and serve.

Serve with a tuile biscuit curl for a little crunch with the raspberry fool.
Nutrition
Please note that the nutrition information provided above is approximate and meant as a guideline only.
Follow me on instagram to see what I've been making recently. www.instagram.com/sewwhite
My bite-sized strawberry and chocolate pastry tart bites are a delicious party snack or summer dessert. The rich chocolate truffle and sweet fresh strawberry work perfectly together – and they're perfect for BBQ season!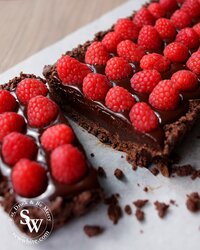 Enjoy a slice of my Chocolate Raspberry Tart with my easy 5 ingredient recipe. A lovely rich truffle recipe studded with fresh raspberries on a bourbon biscuit base.
What a great and delicious dessert to share around the dinner table. My Black Forest Truffle Eton Mess mixes the great black forest flavours in a new way.
My delicious summer fruit sponge pudding combines a light and fluffy lemon sponge on top of a rich layer of summer fruits perfect to enjoy all year.