AD-GIFTED | I had an incredible winter evening in with the John Lewis Spirit of Christmas hamper. Check out what was in the hamper and how my night was.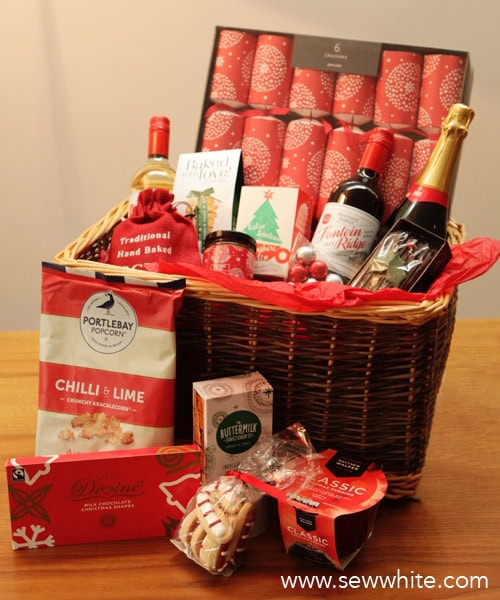 It's a delicious time of year and a hamper from friends and family can be the most wonderful and exciting thing to receive at Christmas. There is a lot of fun to have making up a hamper yourself. However when John Lewis have them ready made with beautiful and tasty products you really should try it. They have a range of hampers for diets and budgets and there really is something for everyone.
I was sent the Spirit of Christmas hamper from John Lewis. With the hamper I could plan an evening based around the goodies it held. It is a luxurious treat and one I loved sharing with my friends and family.
You can buy the hamper here www.johnlewis.com/john-lewis-spirit-of-christmas-hamper
The hamper
While taking out the products out of the Mary Poppins style hamper (it looks small but the lovely things just keep coming, I don't know how it works but I love it!) I found a huge range of products all perfect for a night in. There was biscuits, chocolates, cake, Christmas pudding, tea, wine and Cava and of course Christmas crackers. With most of the items being sweet I thought that a Christmas movie night would be the best way to enjoy them.
For the Christmas movie night I got all the items out and made beautiful piles. I put everything we could eat while watching the film on nice plates and bowls in the living room. The white wine and Cava went into the fridge. The red wine was gently heated with orange slices and cinnamon sticks to make mulled wine. When my friends arrived it was a lovely night. It was a feast of items we had before us was slowly devoured through the evening.
Christmas pudding and chocolate cakes
The Christmas pudding and chocolate cake was the last to come out with the crackers for a special moment before the start of the second film. We watched Miracle on 34th Street first and White Christmas second. They are both such classic films and we loved singing along to White Christmas at the end of the film.
We had fed our senses with Christmas spirit. Tasted wonderful food, smelled the spices and aromas from the delicious Christmas pudding, heard Christmas carols, pulled the crackers and watched Christmas classics on the TV.
The John Lewis hamper made this a much more special evening. I would definitely recommend a hamper between friends this Christmas.

I was given the hamper in exchange for writing about my evening with it.
Follow me on Instagram to see what I've been making recently. www.instagram.com/sewwhite