This delicious Slow Cooked Venison Sausage Casserole makes the most of deer sausages with a flavour packed sauce full of veggies and potatoes. It's as easy to make in the crockpot as it is in the oven and the ingredients are super versatile – you can even make this into a pork sausage casserole.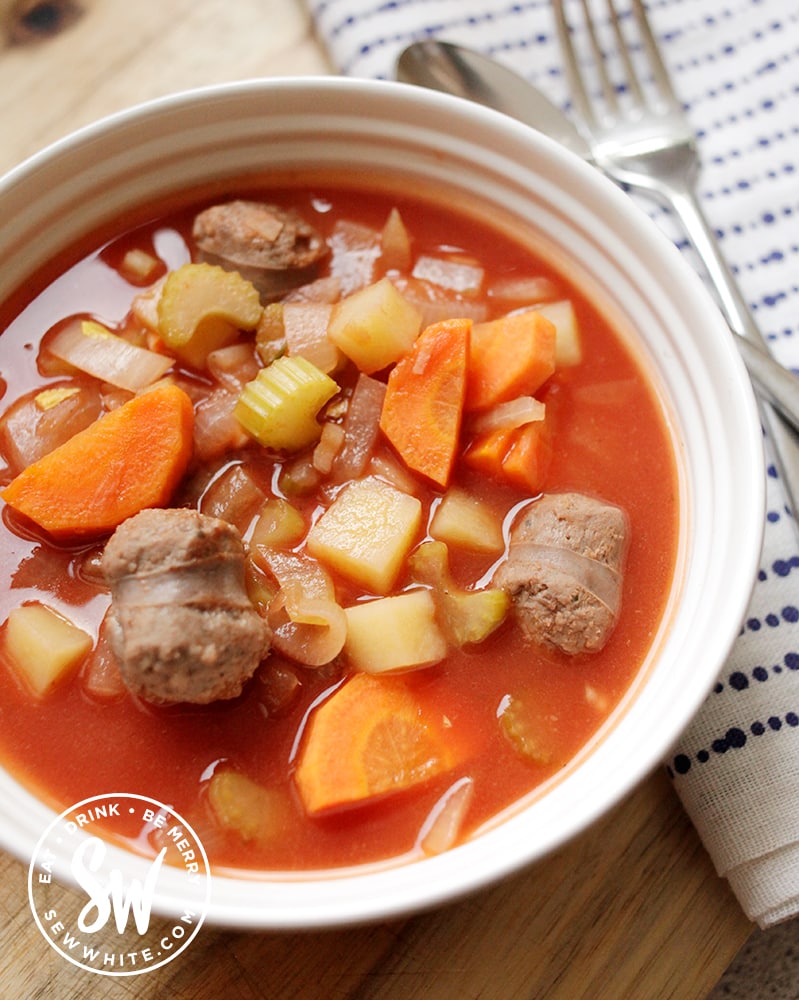 This post contains affiliate links
What I love about a slow cooker sausage stew is how it can be prepared and left to cook leaving you to get on with other things. Then when you are ready to eat it will be waiting for you. This venison sausage casserole can be put on and left until you are ready to enjoy it.
Whilst deer sausages sound exotic, they are now quite easy to find in the supermarkets. And more often than not at local farmer's markets and butchers. All the other ingredients in this slow cooked casserole are standard pantry items like onions, potatoes and stock. So imagine how fancy you'll sound when you invite friends over for "venison casserole". And how smug you'll be knowing that it is actually a really simple and great value for money recipe.
You can make this earthy and delicious stew in a slow cooker or in the oven, I've even included some information on how to cook it on the stovetop. So there is no excuse for not being able to whip up a gorgeous slow cooked casserole.
And as there is red wine in the recipe, you'll no doubt be "forced" to find a good use for the rest of the bottle. Like me, I think you'll manage just fine!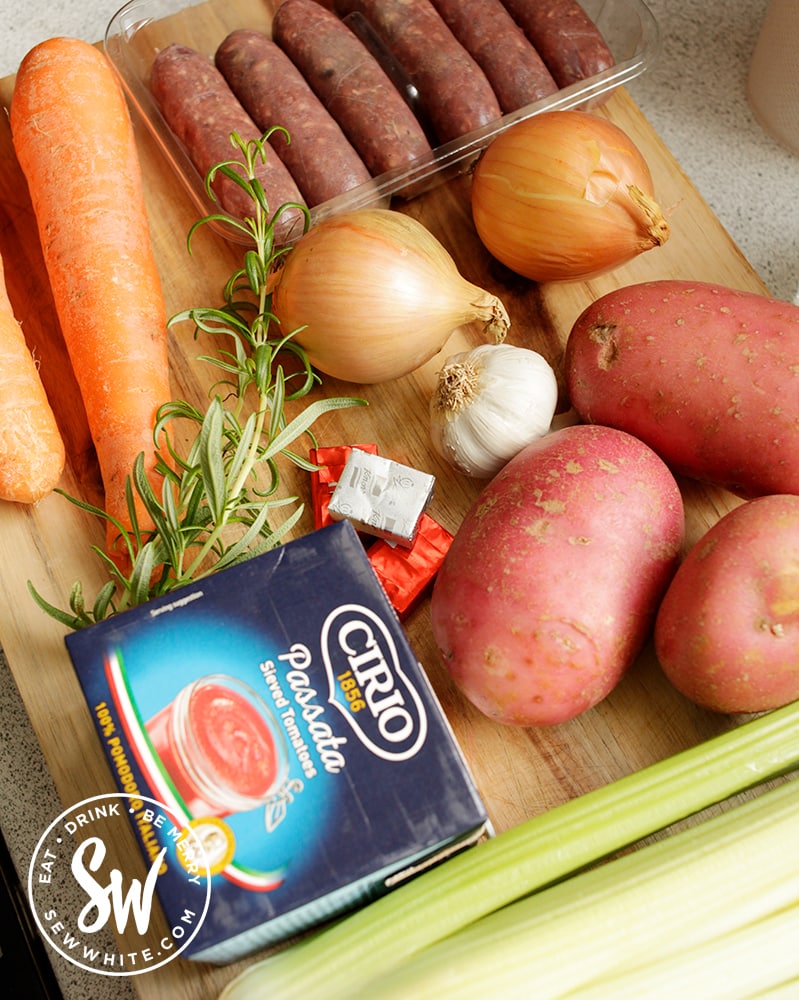 What are venison sausages?
Venison sausages are made from deer. Deer is a rich game meat which makes incredible tasting sausages. Even when they're simply cooked and served with mashed potatoes and rich gravy.
They are not as exotic as you might think! Most of the major supermarkets stock at least one variety. Plus many butchers and farmers markets stock them. Sausages are a really cost effective way to buy and eat venison.
Can I use venison sausages in a casserole?
Yes, you absolutely can use venison sausages in a casserole. Venison sausage casserole is absolutely delicious. I would recommend you try! In fact, nearly all the sausage types I have tried for this recipe have worked really well. Cumberland sausages are a great option too.
Venison sausages are more gamey, rich and earthy than pork sausages, resulting in a deep and more flavoursome sausage casserole. I think the flavour of the venison in the sausage casserole really makes it seem like a more mid-winter meal and perfect for Christmas too.
What's the best way to cook deer sausage?
Like regular sausages, venison sausage can be cooked in many ways. Pop them in a frying pan on a low to medium heat and let them cook thoroughly. You should cook them a little bit slower than you would regular sausages. As venison is a lean game meat, it can be a little drier as they aren't as fatty.
I find that when I cook them, the lower and slower approach seems to keep the moisture and allows the meat to relax as it goes.
You can also cook deer sausage in the oven on a baking tray either on their own or as part of a sheet pan dinner. Deer sausage also cooks really well in a slow cooker. The meat relaxes and tastes incredible.
Depending on the type you buy, deer/venison sausage can sometimes have a rich smoky flavour which can infuse into the dish.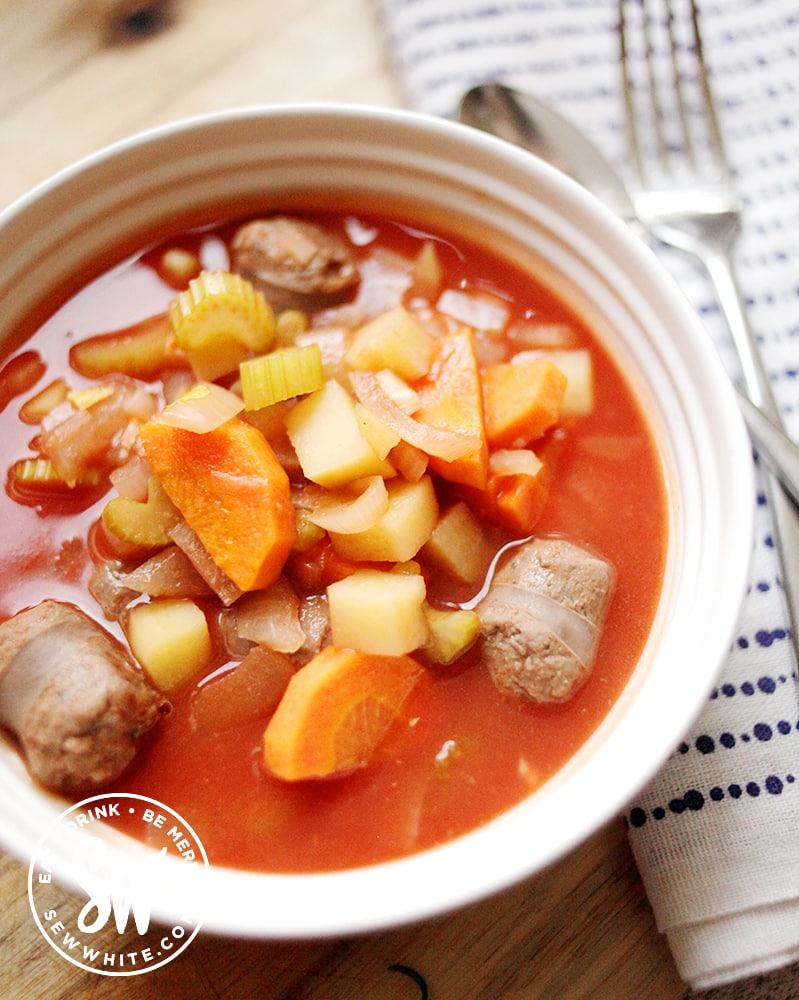 How long do venison sausages take to cook?
Venison sausage take roughly the same amount of time as regular sausages to cook. I prefer cooking them in the oven or slow cooker so they get a longer and slower cook time to make sure they are cooked all the way through. In a slow cooker they take about 6 hours.
20 – 30 minutes should be plenty to bake them in a regular oven. Although this will depend slightly on the size of the sausages. In a frying pan, venison sausages would take 10-15 minutes on medium heat, again depending on the size,
Do you need to brown sausages before slow cooking?
You don't need to but the extra caramelisation and flavour is worth the effort. There is something rather lovely about a slow cooker sausage stew with slightly browned sausages. It makes the look of the finished dish look even better. Plus I'm convinced it does make the venison sausage stew even more delicious.
If your slow cooker / crockpot has the option to use the metal inner on the stovetop, this is a great way of browning the sausages. Alternatively you can use a frying pan to brown and then transfer the sausages (and the onions which I also soften) into the slow cooker.
Some crockpot models have the option to saute directly in the pot. If you have this option – use it! If you are using the slow cooker function on an Instant Pot or multicooker, this is likely an option for you too.
Can you put sausages straight in the slow cooker?
Yes you can if you prefer or are really pushed for time. The sausages will cook through in the cooking time. If you are worried whether they are cooked properly, take a sausage chunk out and cut it open to check.
More Delicious Sausage Recipes
If all this talk of sausages has got you thinking about all the delicious ways you can cook them, why not try one of my other easy sausage based recipes. You can use venison sausages in either of these recipes.
What other Ingredients do i need to make Venison Sausage Casserole?
The other venison casserole ingredients are pretty simple. Vegetables bulk out the stew and provide extra nutrients, flavour and texture. Potatoes add a starchy element and stock, passata and red wine make up the sauce. Other aromatics include garlic and rosemary which like the red wine, pair wonderfully with venison.
Vegetables
In this recipe I've included onions, carrots and celery which really are the holy trinity for this kind of French inspired casserole. The onions are softened before the rest of the ingredients are added. This helps to add a depth of flavour.
One of the great joys of a slow cooked sausage casserole is that you can adapt the ingredients to what you love or simply what you have in the fridge. Mushrooms, courgette, marrow and parsnip all lend themselves to this recipe.
It is also an option to add green vegetables like broccoli, cabbage, tenderstem or their white cousin; cauliflower. These types of vegetables don't need cooking as long as the other ingredients or they will turn to mush. So simply stir them in around an hour or two before the casserole finishes cooking.
The recipe also used passata which is pureed tomatoes. The flavour is essential for the stew and the texture gives some thickness to the sauce. You can substitute passata for chopped canned tomatoes if you prefer to have more texture,
Potatoes
Adding potatoes directly into the casserole makes this truly a one pot dish. You don't need to make any carb sides to serve with it. Unless you choose to of course!
One of the many benefits is that the potatoes soak up the wonderful cooking juices as the casserole cooks. So they taste absolutely delicious.
You can put raw potatoes in a slow cooker. There is no need to cook potatoes before adding them.
I would suggest that you check the potatoes before serving. If they aren't cooked all the way through pop the slow cooker up to high and leave for another 20 minutes and check again. Repeat if needed.
Liquids
I use two types of stock in this recipe. 2/3 beef broth and 1/3 vegetable broth. The mix provides exactly the right level of richness and seasoning. Saying this, if you want to use all of one and none of the other, it will still be delicious. You could also use chicken stock.
I make up the stock with boiling water and stock cubes. If you prefer to use ready prepared or homemade stock, simply use 500ml and leave out the stock cubes and water from the recipe.
Red wine provides flavour and richness. The old adage that you should only cook with wine that you'd drink is somewhat true. The flavour of the wine will come through in the casserole sauce so it is worth using a wine that is pleasant tasting.
If you don't want to cook with alcohol, I would actually recommend using an alcohol free red wine rather than substituting for more stock. You won't regret going to the extra effort for the flavour it brings to the dish.
Aromatics
Crushed garlic and rosemary add to the flavour of the stock. Rosemary is a classic flavour combination with venison. If you prefer you could use thyme, sage or oregano instead. And of course, garlic goes with pretty much everything.
Don't waste the little leaves that come on top of your celery. They're full of flavour so make sure to add them to the stew.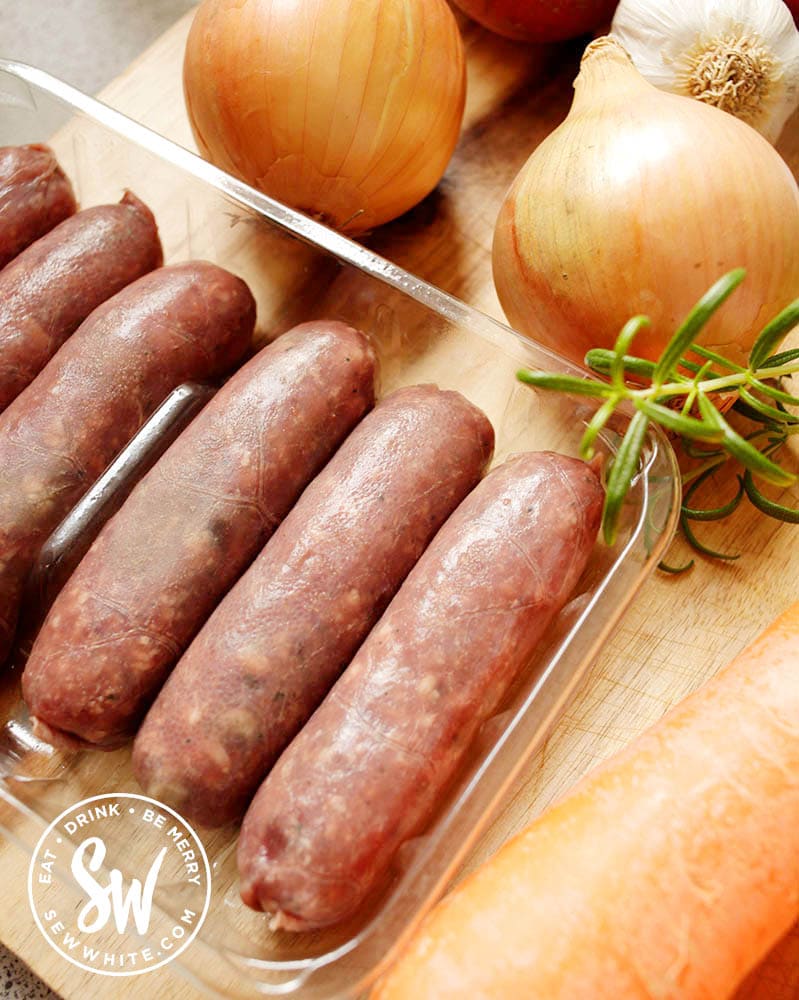 What Slow Cooker is Best to Make Venison Sausage Stew
You can use any slow cooker, Crockpot, Instant Pot or multicooker to make this recipe.
Since I bought my slow cooker I have been a bit obsessed with trying out new recipes like this slow cooker venison sausage stew. The slow cooker I own is the Morphy Richard's Sear and Stew (affiliate link).
I decided on this one because the metal dish can be taken out and used on the hob like a normal pan before being placed back in the slow cooker. I've found this so useful for softening onions and for searing meat before setting it on its slow cooking journey.
Some slow cookers have the option to sauté ingredients directly in the machine. If you have this option, life is extra simple for you. This is also an option if you are using the slow cooker function on an Instant Pot.
For standard slow cookers you can brown the sausages in a frying pan then add them to the crockpot then carry on as per the instructions.
More Slow Cooker Recipes
Make the most of your Crockpot and bookmark these recipes to try next!
Can I Make Slow Cooked Venison Sausage Casserole in the Oven?
Absolutely. I've provided the instructions how to do this in the recipe card below.
You simply need to brown the sausages and soften the onions in the frying pan then add to an ovenproof dish with the rest of the ingredients. If you are using a hob safe oven dish like a Le Creuset or Staub casserole dish, you can do the browning and slow cooking stages in the same dish.
If your dish doesn't have a lid, cover it with foil before putting in the oven.
Can I Make Slow Cooked Deer Sausage Casserole on the Stovetop?
Yes! Follow the recipe but do everything in a good size saucepan on the stovetop.
Leave the casserole to cook on the lowest possible heat. You might find a heat diffuser is helpful to keep the heat very low. If not, the casserole will likely cook in around half the time as if you use the oven or crockpot method.
How to make Venison Sausage Casserole – Slow Cooker Method
You can find the full recipe instructions with ingredients and quantities in the printable recipe card below.
Fry the venison sausage on a medium heat until browned on all sides.
Add the chopped onions and allow them to soften in the pan.
Put the slow cooker inner back into the slow cooker and turn onto the medium setting.
Add the crushed garlic, chopped celery, carrots and potatoes.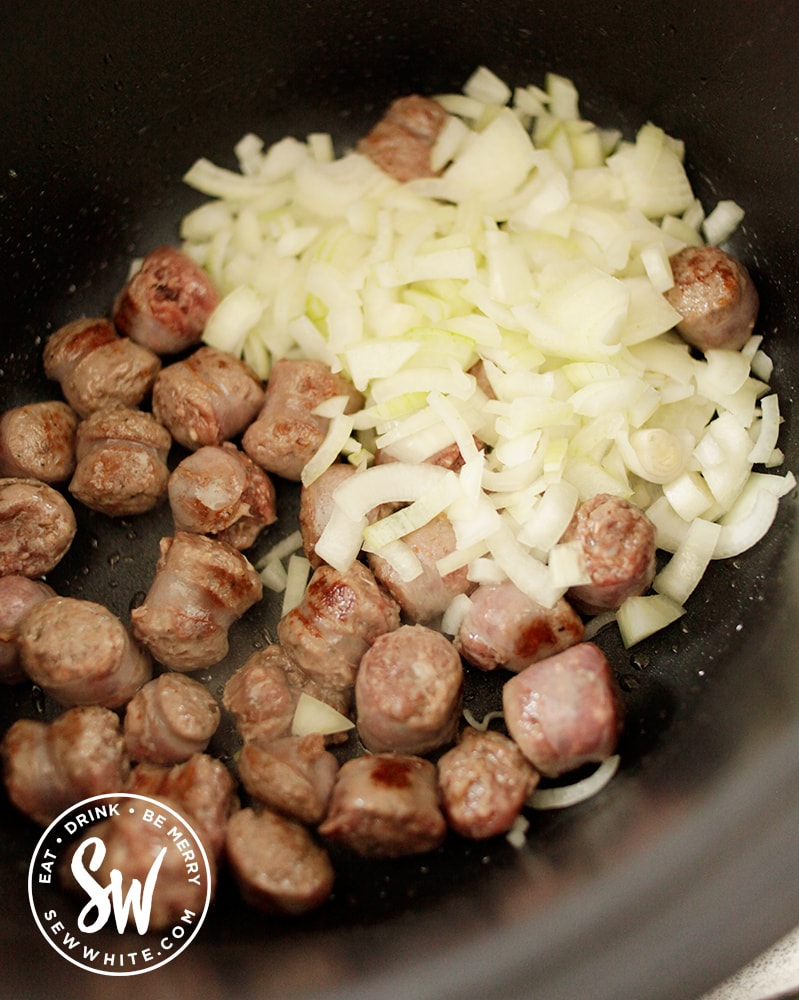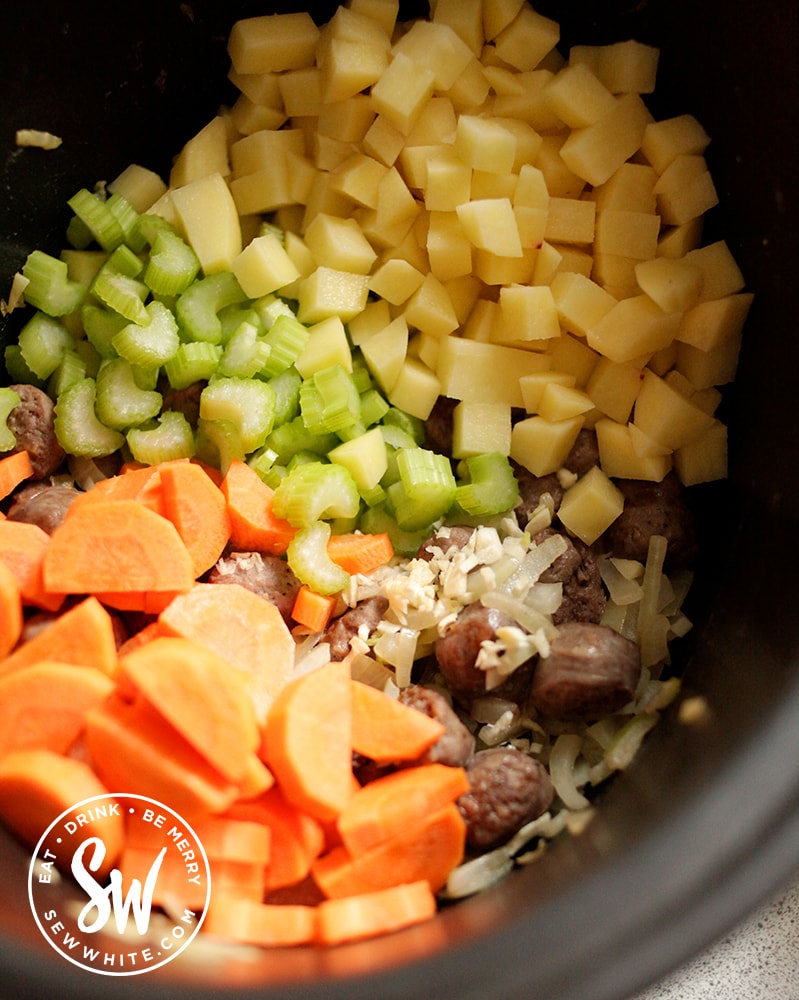 Make up the stock and add it to the pot.
Then add the red wine.
Stir in the passata and season.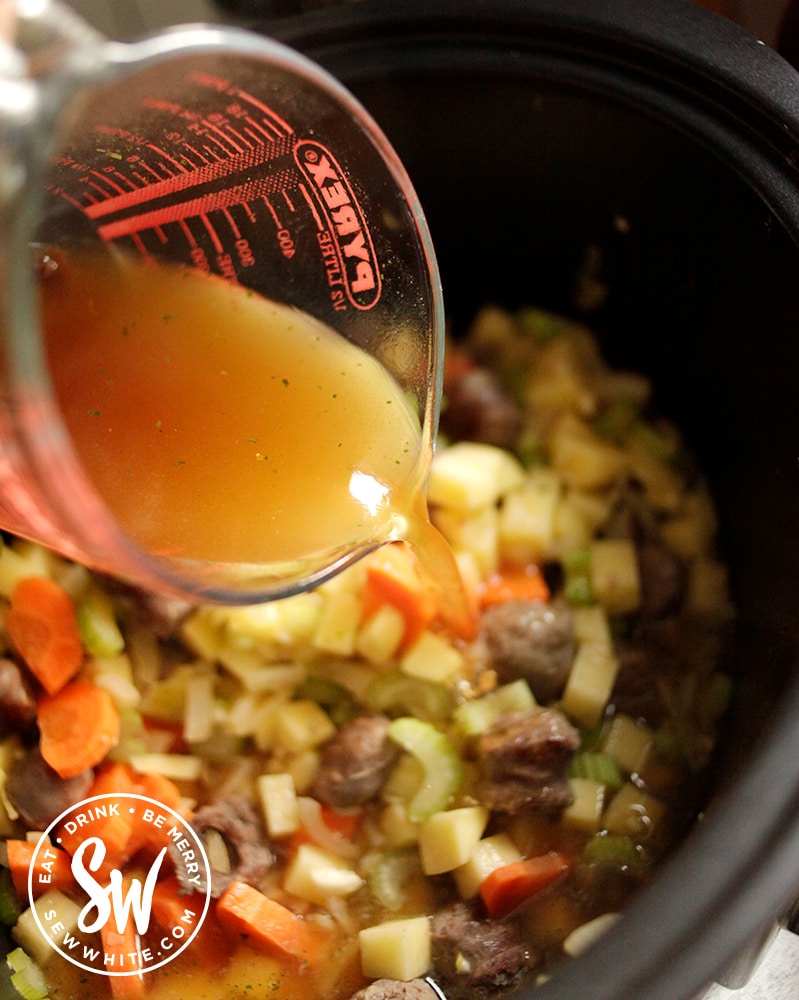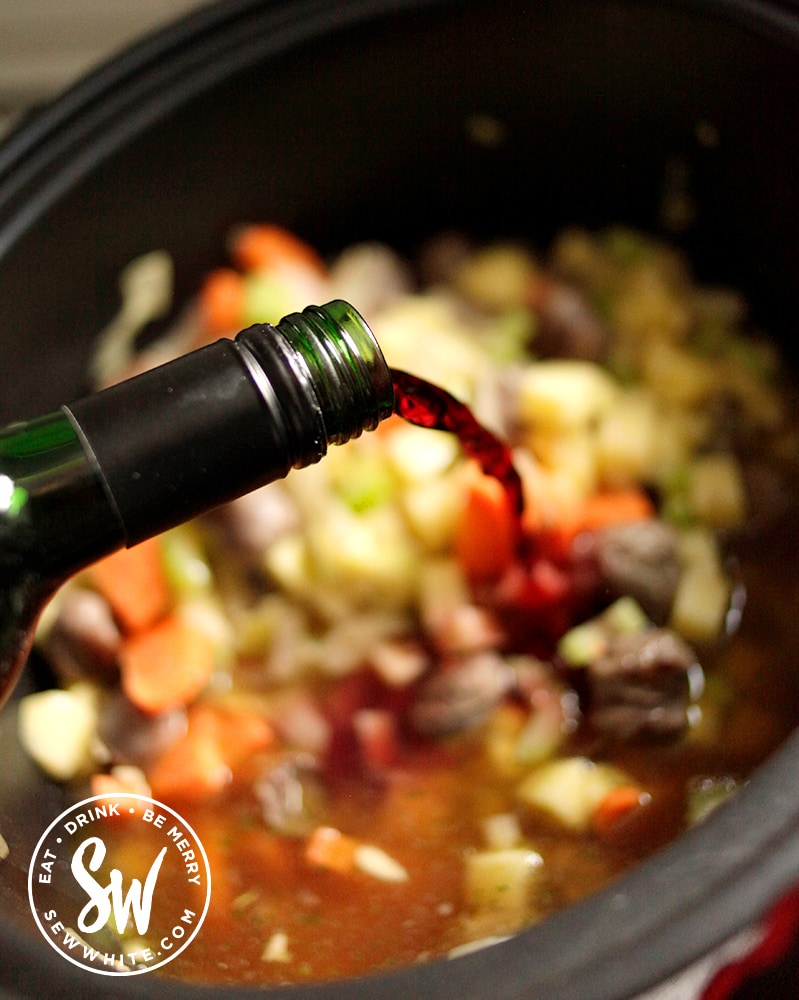 Stir in the celery leaves and rosemary.
Leave to cook with the lid on on a medium heat for 5-6 hours.
Give the casserole a stir every now and again. Add a little extra water if it starts to look at all dry.
Serve when the potato and carrot are cooked.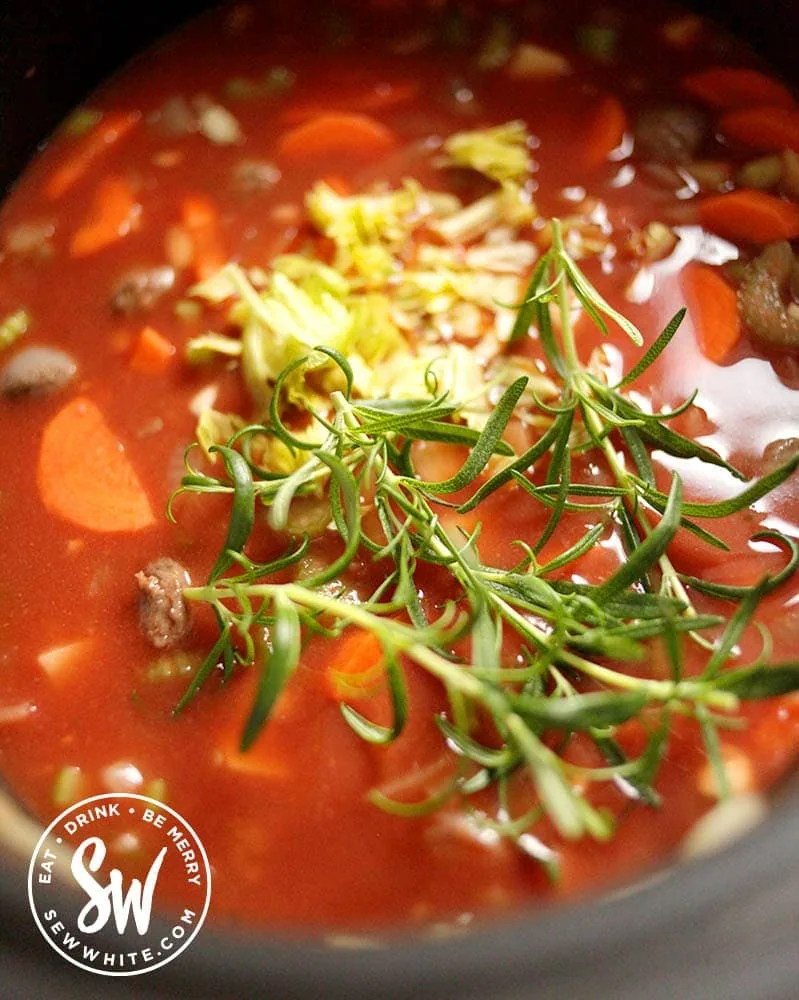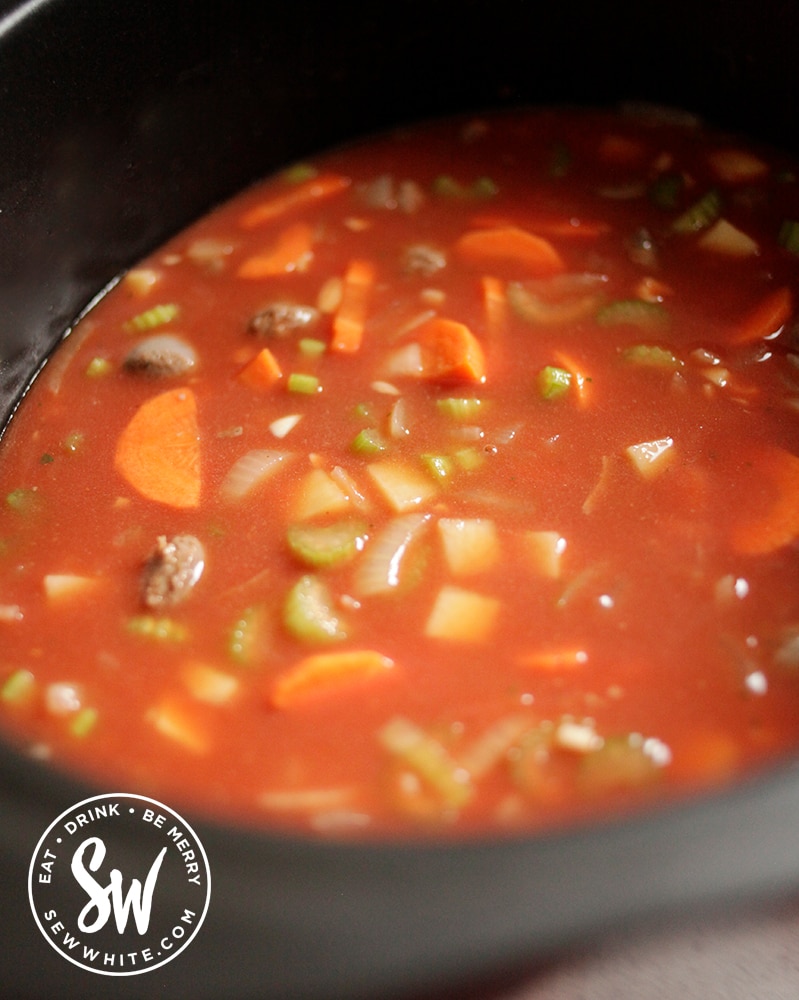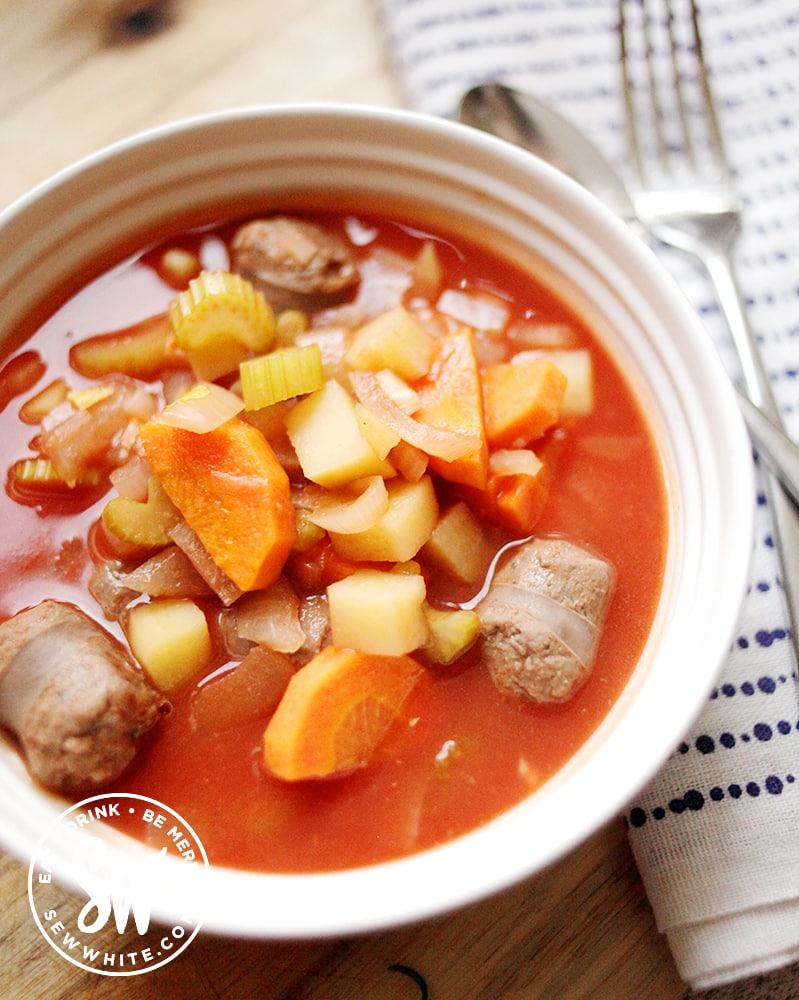 How to make Venison Sausage Casserole – Oven Method
The method is very similar. All you need to do different is use a frying pan to brown the sausages and soften the onions. Then transfer everything to an ovenproof dish Add all the other ingredients, cover with a lid or foil and cook in a low oven for the same amount of time.
Variations of this Venison Casserole Recipe
I've mentioned above that this slow cooker sausage casserole is super adaptable.
You can use another flavour of sausage. Wild boar sausage will really stand up to the other flavours. A well seasoned regular pork sausage is still a delicious option. You might find that chicken sausages don't really have the depth of flavour needed to stand up the sauce. If if they're you're favourite, why not give it a go?
Other vegetables can be used as I've also mentioned above.
I've also experimented with making the casserole a little spicier in the past and added peppers and fresh or dried chilli. It tasted lovely and is a great option.
Sausage and baked bean casserole
If you want to add some more tasty ingredients to the stew, a really easy way to do so is with baked beans. A sausage and baked bean casserole is really yummy and works very well for fussy eaters.
Using a can of baked beans (British style like Heinz) will add some more liquid to the recipe. As long as your slow cooker or casserole dish is big enough, the extra liquid won't be an issue. You can however reduce the amount of stock a little if you prefer.
What Should I Serve with venison sausage Casserole?
Everything you need is in the stew itself – protein, vegetables and carbs. But if you'd prefer to have something a little extra to serve on the side, mashed potatoes would be a great option. If I am serving the stew with mash, I simply don't add the potatoes into the stew.
A side of steamed green vegetables like broccoli is also a welcome addition.
And of course, this casserole has a lot of delicious sauce. You will never go wrong by serving it with hunks of crusty bread for soaking up the juices.
Here are a few extra ideas for fab sides to serve:
What wine Should I Serve Slow Cooker Sausage Stew?
To go with this slow cooker stew, I would have to recommend a rich full bodied red like Merlot. The rich game flavour of the venison works with the red wine as a divine pairing.
You can use a little of the wine you choose to drink as the wine element of the casserole. I would also recommend adding a splash to the slow cooker to as it's cooking to boost that rich red flavour into the casserole too.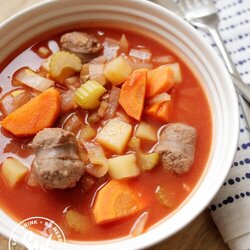 Slow Cooked Venison Sausage Casserole
This delicious Slow Cooked Venison Sausage Casserole makes the most of deer sausages with a flavour packed sauce full of veggies and potatoes. It's as easy to make in the crockpot as it is in the oven and the ingredients are super versatile – you can even make this into a pork sausage casserole.
Equipment
Slow Cooker

chopping board

Vegetable Peeler

knife

spoon
Ingredients
10

venison sausages

cut into 2cm chunks

1

tbsp

olive oil

2

onions

peeled and chopped into 1 cm chunks

2

cloves

garlic

peeled and crushed

2

carrots

peeled and sliced into rounds

2

sticks

celery

cut into 1cm chunks

3

baking potatoes

peeled and cut into 3cm chunks

1

handful

celery leaves

2

sprigs

rosemary

2

beef stock cubes

1

vegetable stock cube

500

ml

water

boiling

100

ml

red wine

500

g

passata

salt and pepper
Instructions
Add the olive oil to your hob safe slow cooker inner and place on the stove over a medium heat.

OR

If your slow cooker inner is not stovetop safe or does not have a saute function, add the oil to a frying pan instead.

Add the sausages to the hot oil and keep moving the sausage chunks around the pan until brown on all sides – around 5 minutes. They do not need to be cooked through.

Add the chopped onion and turn the heat down a little. Cook until slightly softened – around 5 minutes.

While the onions are cooking, boil the kettle and add the stock cubes. Stir until dissolved then set aside.
Slow Cooker Method
Turn your slow cooker on to a medium heat setting and either put the inner dish back into the cooker or tip the contents of the frying pan into the slow cooker.

Add the crushed garlic, chopped celery, sliced carrots and cubed potatoes to the slow cooker.

Add the made up stock to the slow cooker

Followed by the red wine.

Stir in the passata along with a pinch each of salt and pepper

Stir in the celery leaves and rosemary.

Add the lid to the slow cooker.
Regular Oven Method
Preheat the oven to 120c | 250f | Gas mark 1.

Add the browned sausages and softened onions to a casserole dish.

Add the crushed garlic, chopped celery, sliced carrots and cubed potatoes to the dish.

Add the made up stock to the dish.

Followed by the red wine.

Stir in the passata along with a pinch each of salt and pepper

Stir in the celery leaves and rosemary.

Cover the dish with foil or add the lid if available.
Both Methods
Cook for 5-6 hours.

Check the casserole every now and again and give it a quick stir. If it starts to look at all dry, Add a little more water.

The casserole is ready once the potatoes and carrots are soft all the way through.

Serve in bowls with a little sprig of rosemary on top and a glass of red wine.
Notes
• If you have leftovers allow to cool and store in the fridge. Either in an airtight box or in a bowl wrapped in film.
• Reheat once cold in the microwave in short bursts until piping hot.
Nutrition
Calories:
531
kcal
Carbohydrates:
55
g
Protein:
32
g
Fat:
20
g
Saturated Fat:
7
g
Polyunsaturated Fat:
3
g
Monounsaturated Fat:
9
g
Cholesterol:
1
mg
Sodium:
1257
mg
Potassium:
1498
mg
Fiber:
9
g
Sugar:
14
g
Vitamin A:
5830
IU
Vitamin C:
52
mg
Calcium:
83
mg
Iron:
4
mg
Please note that the nutrition information provided above is approximate and meant as a guideline only.
My easy slow cooker lamb stew is a delicious and easy spring dish. Pop everything in the slow cooker and leave it cook all day.
Pulled pork is incredibly popular at the moment and making it in a slow cooker is really easy. The Beer Pulled Pork can be used in so many different ways but a family favourite is using it in burgers.
This easy one-pot tomato olive pasta is a quick and delicious dinner that only takes 20 minutes to cook! It's perfect for dinner any day of the week!
Christmas is stressful when it comes to cooking so I've come up with a really simple one pot chicken recipe which keeps the Christmas flavours.
September and slightly cooler weather is bringing in the love of oven bakes. The favourite in our house is Toad in the Hole and it's so easy to make.
A rich and warming dish for winter nights is my dad's Sausage and Lentil Pasta. Cooked with chorizo and tomatoes it's a great healthy and tasty dish.