A rich and warming dish for winter nights is my dad's Sausage and Lentil Pasta. Cooked with chorizo and tomatoes it's a great healthy and tasty dish.
Sausage and Lentil Pasta is a hearty dish and one that has become incredibly popular in our house in the last few weeks. My dad is the creator of this dish and has been perfecting it regularly. It's also tasty served with bread instead of pasta or served with rice. It's a great versatile dish and we hope you enjoy it.
A new dish deserves a new pan
As an early christmas present the kitchenware company Horwood have given me a beautiful new Stellar non stick sautee pan. As well as beautifully shiny on the outside and made with a thick non stick layer but what I love most is the extra handle. Opposite the long handle is a smaller handle which makes it so easy to pick the pan the up and move it. I'm not very strong and I'm always worried I will drop pans when moving them from hob to serve up but now I feel so much more confident moving it. A small detail which can really make a difference.
As well as super non stick it's also so quick to wash up. Two qualities I love more than anything when it comes to kitchenware. I'm sure I'm not alone in that.
As a family of left handers and right handers having the pouring lips on each size makes it lovingly multi-handed. The glass lid, with silicone rim, makes it easy to check on your food while it's cooking.  Plus you know the silicone rim is sealing the pan but also not breaking the non stick coating.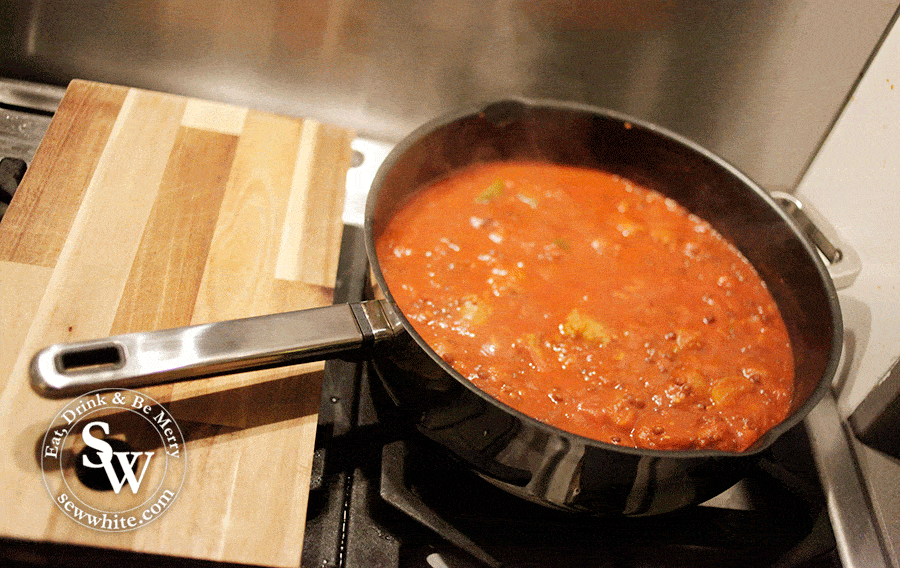 What a Christmas present to receive for this foodie.
To find out more about this glorious saute pan click here to be taken to the product page.
How to make the Sausage and Lentil Pasta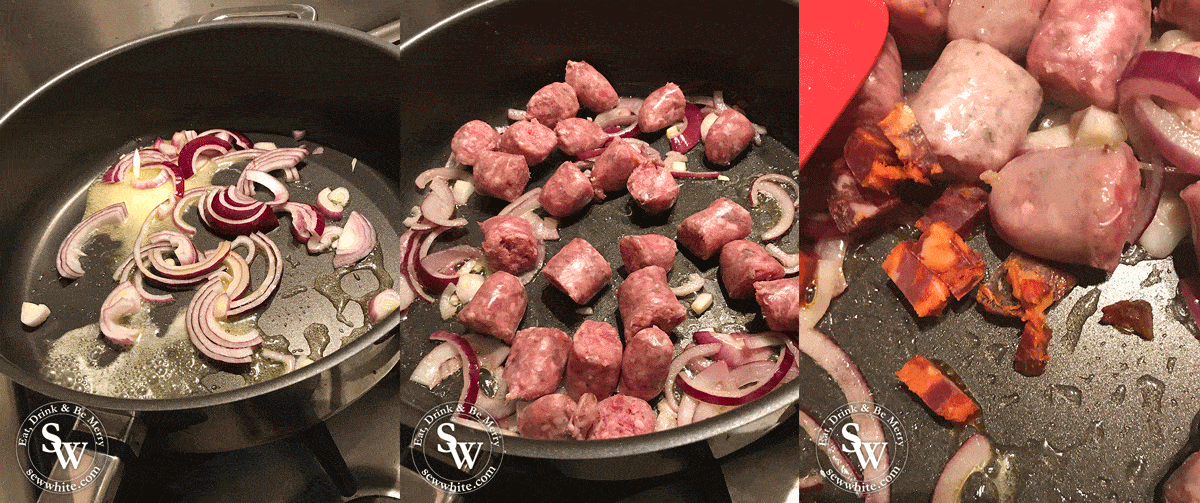 Slowly soften the onions in the olive oil and butter. Stir in the chopped up sausages and chorizo.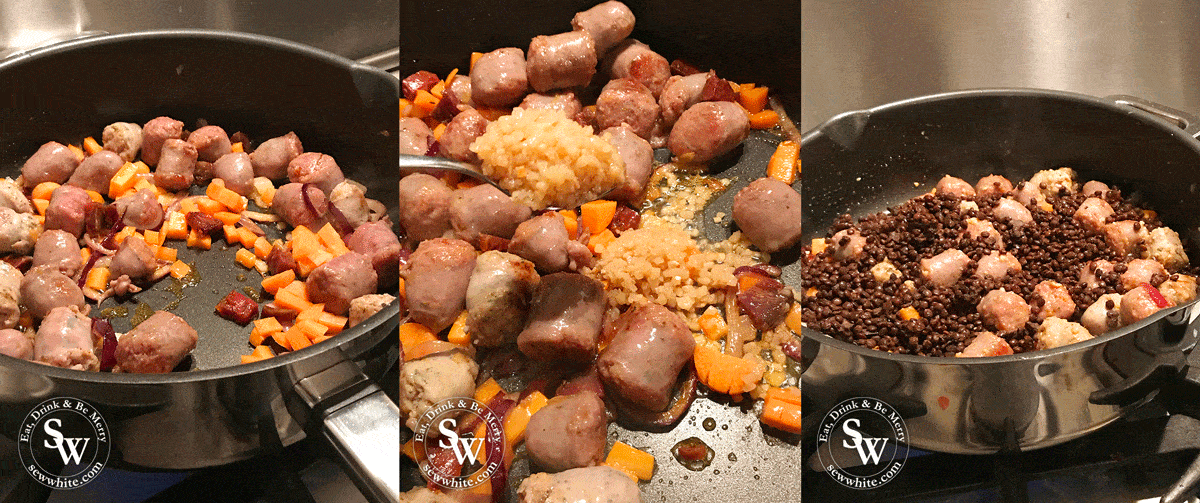 Add the carrots, garlic and lentils.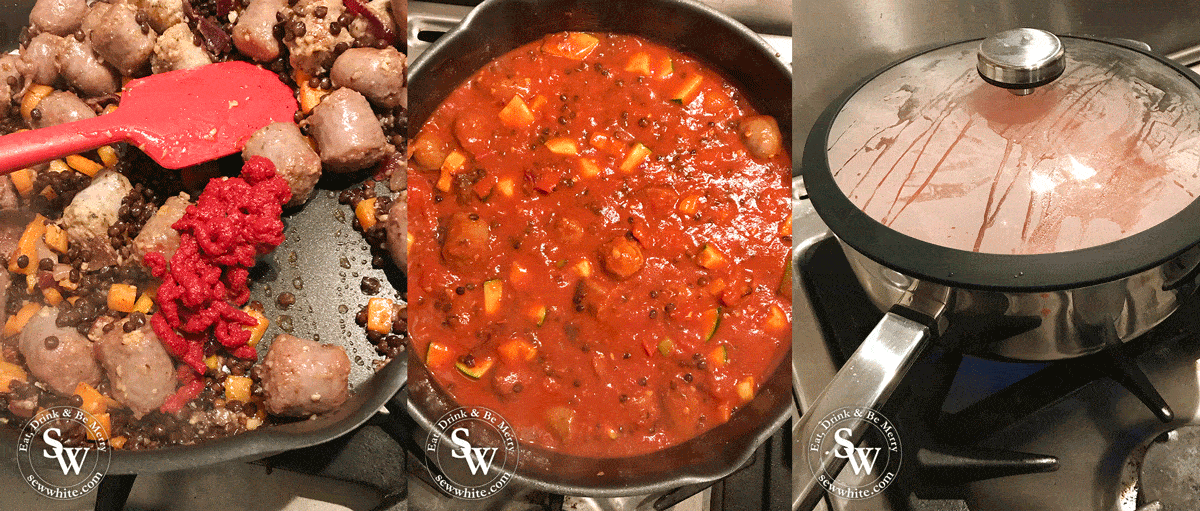 Add the tomato puree, passata and chopped tomatoes. Leave to simmer for 45 minutes and serve.
Sausage and Lentil Pasta Recipe
Spooning out the delicious sausage and pentil pasta sauce. Proper winter warming dishes.
Dinner is served
Check out my other main meal recipes
This dish was gifted to me in exchange for a review. All opinions and the recipe are my own.
Sausage and Lentil Pasta
A rich and warming dish for winter nights is my dad's Sausage and Lentil Pasta. Cooked with chorizo and tomatoes it's a great healthy and tasty dish.
Ingredients
1

red onion

1

tbsp

unsalted butter

8

sausages

50

g

chorizo

1

carrot

2

teaspoons

ready garlic

(or 2 cloves of fresh garlic)

1

tablespoons

white wine vinegar

250

g

Cooked Puy Lentils

(Merchant Gourmet microwave pack is good)

1

tablespoon

tomato puree

1

courgette

500

g

passata

1

tin

chopped tomatoes

salt and pepper to taste

Pasta of choice

A few leaves

fresh basil
Instructions
Peel and chop the red onion and add to a pan on a low/medium heat along with the oil and butter. Slowly cook until the onions are soft.


Meanwhile cut the sausages into bite-size chunks and add them to the softened onions. Cook until the sausages are browned on the outside.


Add the chorizo for extra taste and colour. Keep stirring.


Chop and cube a carrot and add to the mix.


Add the ready garlic or fresh garlic to the pan and stir. Make sure to keep your eye on the dish to make sure it doesn't burn.


Add the white wine vinegar.


Stir in the cooked put lentils


Mix in the tomato puree and stir.


Chop the courgette and add it to the pan.


Stir in the tomato passata and the tin of chopped tomatoes.


Leave on a low heat to simmer for 45 minutes. Taste to see if you need salt and pepper.


Serve with pasta of your choice and top with a fresh basil leaf.

Nutrition
Please note that the nutrition information provided above is approximate and meant as a guideline only.
Other dishes you might enjoy
This delicious Slow Cooked Venison Sausage Casserole makes the most of deer sausages with a flavour packed sauce full of veggies and potatoes. It's as easy to make in the crockpot as it is in the oven and the ingredients are super versatile – you can even make this into a pork sausage casserole.
This easy butternut squash tart with chorizo is a wonderful light dish that's perfect for all weathers – spring, summer, autumn or winter!
September and slightly cooler weather is bringing in the love of oven bakes. The favourite in our house is Toad in the Hole and it's so easy to make.
Beer pulled pork is incredibly popular at the moment and making it in a slow cooker is really easy. The Beer Pulled Pork can be used in so many different ways but a family favourite is using it in burgers. Slow cooker pulled pork is a super recipe and perfect for burgers or even a stirred through a pasta sauce.
The fresh and fragrant Spiced Orange Salmon Parcels are a beautiful dish and incredibly easy to make. The perfect light spring meal.
These easy grilled lamb kebabs with coriander, garlic, chilli and coconut oil marinade are a super easy recipe and only take 5 minutes to prep, a few minutes to cook and seconds to eat!
This delicious Lamb Meatball Salad is a perfect summer dish. Marvellous hot and minty meatballs, fresh crunchy salad with roasted tomatoes and creamy mozzarella.