My easy slow cooker lamb stew is a delicious and easy spring dish. Pop everything in the slow cooker and leave it cook all day.
On a cold spring day my easy slow cooker lamb stew will bring you joy for dinner. I love a slow cooker dinner that I can put on in the morning and leave until dinner. Pop things in and let the slow cooking marinade and really boost the flavours.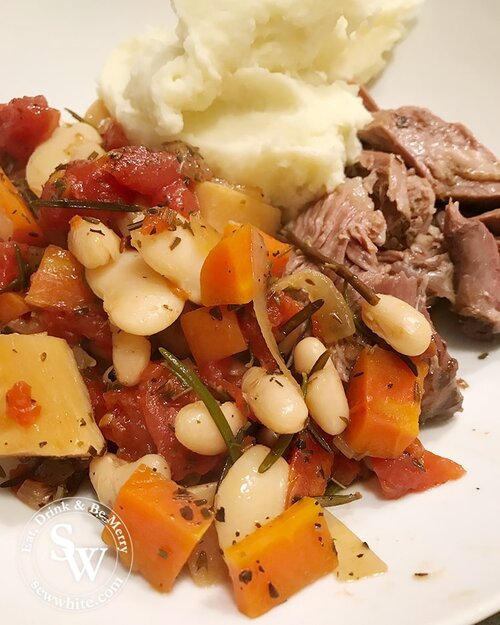 I used a lamb shoulder with the bone still in which was a bit of a cheaper cut of meat (it's always great to save a bit of money when you can). It looks like a lot of liquid but much of it will reduce down and give you a good stock/gravy.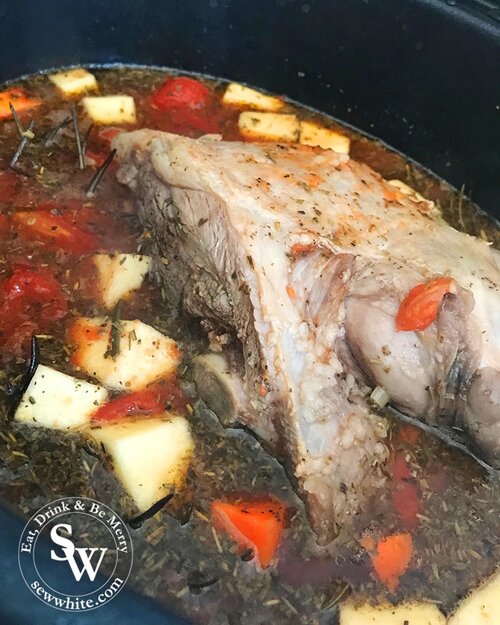 I love creating slow cooker dishes as they are super delicious and it makes the house smell great all day. It also looks great all day and seeing how it changes as it cooks is a joyous thing.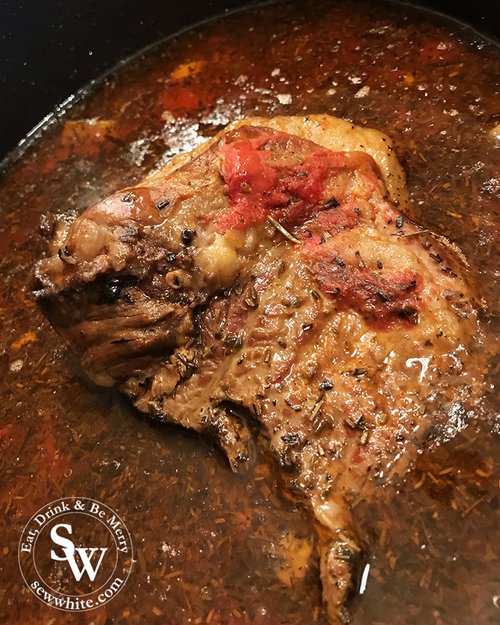 My family love butterbeans so I threw in a can to add some extra flavour and taste for the finished dish. The mix of butterbeans, lamb, carrots and mash potato work really well together with all the herbs too.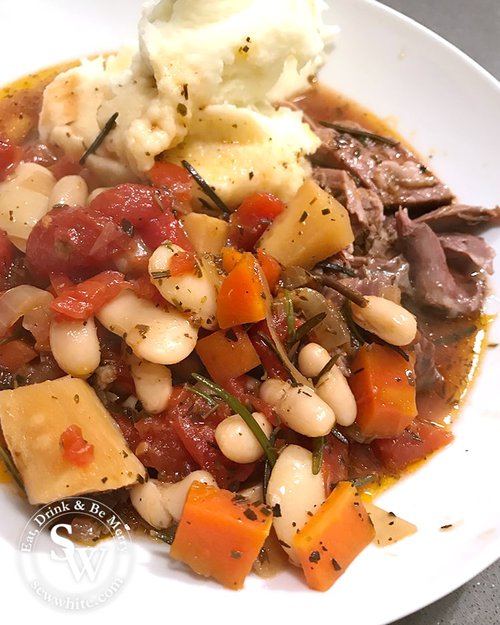 Can you put raw lamb in a slow cooker?
Absolutely! You will need to cook it for longer than cooked meat but that is the joy of a slow cooker. Letting the flavour relax out and cook long and slow will give you great results for the finished stew. 
The flavour and taste of a long and slow cook will make the finished meat really tender and absolutely delicious. I love how it gets so tender it falls apart no need to pull it apart at all.
I put the meat in the slow cooker with everything else and just let it slow get up to a hot setting for about an hour or 2 and then reduce to medium or low depending on what I'm making.
Do butterbeans go with a slow cooker lamb stew?
Absolutely! In my easy slow cooker lamb stew I add butterbeans and they work a treat. I add them in a about an hour before serving as if left in too much they can start to fall apart. 45 minutes to an hour is definitely the best time for warmed, cooked and still holding their shape.
Butterbeans taste incredible with a slow cooker lamb stew.
Do you have to brown lamb before slow cooking?
You can do but you don't have to! Some slow cookers are made so you can take the bowl out and it's hob proof so you can soften onions and brown meats like lamb. However I have found that cooking it from raw in the slow cooker still cooks the meat perfectly and gives great results.
Can you cook raw meat in a slow cooker?
Yes you can. Most meat including pork, beef, lamb and chicken can be added to the slow cooker. I'd always recommend adding some water to the cooker, it really helps cook the meat. You don't need much normally but for a stew I do add a little extra. A tin of tomatoes totally counts and contributes to the juice for a stew.
Can you overcook lamb in a slow cooker?
Absolutely. Pop it in on low and leave it over night with a little liquid. The smell alone of gorgeous lamb will make you up in a brilliant mood. Definitely cook on low if you need to do it over night. Medium or or high will be too much for the lamb for more than a few hours.
Can you cook lamb chops in a slow cooker?
Yes you can. They won't have the same look as pan cooked but they will still cook. If they are fatty the fat will melt out and could help create a beautiful stock if you wanted to.
Easy Slow Cooker Lamb Stew Recipe
When I say easy I do really mean it. It's a great recipe for throwing everything in and leaving it to cook. My favourite kind of recipes are those which don't take for ever to make. Or at least don't take ages to prepare and I can enjoy something delicious which has been sorting itself out for a while. Long story short I love a stew!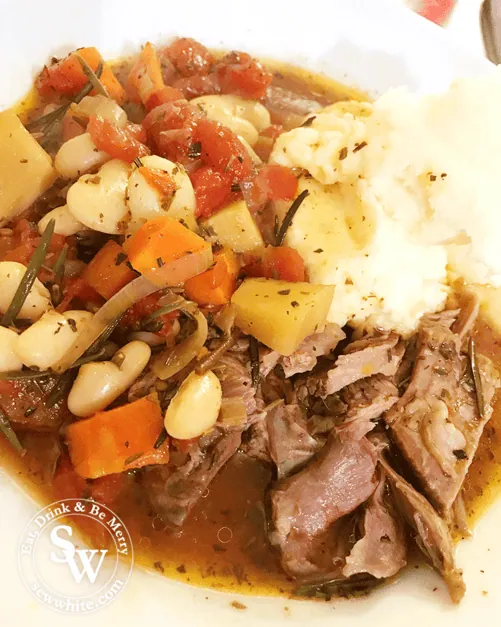 Pin me for later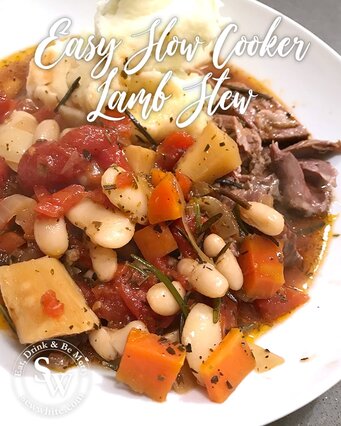 Easy Slow Cooker Lamb Stew
My easy slow cooker lamb stew is a delicious and easy spring dish. Pop everything in the slow cooker and leave it cook all day.
Ingredients
1

large onion

Drizzle of oil

1

teaspoon

unsalted butter

2

chicken stock cubes

1

beef stock cube

1

teaspoon

herbs de Provence

1.5

kg

lamb shoulder

1

tablespoon

tomato puree

2

garlic cloves

2

carrots

1

parsnip

1

tin of plum tomatoes

fresh rosemary

salt and pepper

1

tin

cannelloni beans

1

tin

butter beans
Instructions
In the slow cooker pan (if yours is hob safe if not do this in a saucepan and add to the slow cooker later) place on a low/medium heat on the cooker and add the chopped onions, butter and oil and soften.


Remove the pan from the heat and put in the slow cooker on hot. Mix the stock cubes with a pint of water and add to the pan. Stir in the herbs de Provence.

Add the meat to the slow cooker.


Add the tomato purée, peeled garlic lightly chopped, chopped up carrots and parsnips, tin of plum tomatoes and the fresh rosemary. Give it a good stir.


Top up the stock with water until the lamb is almost covered.

Leave on a high setting for 1 hour. Then to a medium heat for 4 hours. Any longer turn it down to low.


Turn the meat every hour so, not to worry if you don't have time once or twice will do.


45 minutes before serving add the tins of beans (drain them first).


Serve with mash potato (our favourite) or anything else you'd like.

Nutrition
Please note that the nutrition information provided above is approximate and meant as a guideline only.
Follow me on Instagram to see what I've been making recently. www.instagram.com/sewwhite
These easy grilled lamb kebabs with coriander, garlic, chilli and coconut oil marinade are a super easy recipe and only take 5 minutes to prep, a few minutes to cook and seconds to eat!
This delicious Lamb Meatball Salad is a perfect summer dish. Marvellous hot and minty meatballs, fresh crunchy salad with roasted tomatoes and creamy mozzarella.
This is a very simple way to roast a piece of lamb and can be done on lamb steaks too. If you have fresh mint growing your garden brilliant, otherwise dried will do. I hope you enjoy this easy roast lamb.
This delicious Slow Cooked Venison Sausage Casserole makes the most of deer sausages with a flavour packed sauce full of veggies and potatoes. It's as easy to make in the crockpot as it is in the oven and the ingredients are super versatile – you can even make this into a pork sausage casserole.
Beer pulled pork is incredibly popular at the moment and making it in a slow cooker is really easy. The Beer Pulled Pork can be used in so many different ways but a family favourite is using it in burgers. Slow cooker pulled pork is a super recipe and perfect for burgers or even a stirred through a pasta sauce.