Christmas Pudding Corn Flake Cakes are great fun to make and even more fun to eat. Perfect for children to make during the festive season. Cornflakes make such great easy chocolate fridge cakes that it is simple to do and upgrade them in time for Christmas. A chocolate cornflake cake covered with white chocolate and decorated with Christmas sprinkles to resemble a cute Christmas pudding. Easy no-bake Christmas pudding cakes.
This is a very simple and rather fun way to make Christmas puddings for chocolate fans. The fantastic traditional and brilliant childhood corn flake cake has had a Christmas facelift. It's fun to make and quick so perfect to make with children who fancy doing more baking and getting their hands dirty in the kitchen. It's also no-bake so no worries about burning hands or fingers. The chocolate itself can get hot so do please be careful with that.
I used a half-sphere mould to make them but you can also use cupcake cases and when they're set you can then turn them upside down to get the shape. Cups from cup and saucers can work too.
Once you've turned out the chocolate corn flake cake comes the fun decorating bit. Melt while chocolate and drizzle it over the top. It's fun to do and doesn't matter if it gets messy. It's all going to be eaten and enjoyed. Once you've added the white chocolate go mad with the sprinkles. You can keep it classic like I have to look like a Christmas pudding or just go crazy and add all the sprinkles. I love sprinkles. They are so much to play with especially on fridge bakes like this as the finished result is meant to be fun.
Other Christmas recipes you might enjoy
Brussels Sprouts Chocolate Truffles are a fun and silly thing to make and will have your guests giggling this Christmas. Luckily they taste much better than sprouts! This is the best chocolate Brussels sprouts recipe for a rich chocolatey truffle centre dipped in a white chocolate shell.
My Chocolate Star Christmas Tree is a very easy, cute and fun way to get creative with children this Christmas. Build up the stars and get decorating.
It's finally Christmas season and that means it's time to enjoy this easy chocolate cranberry cake! It's fruity, sweet and creamy – and ridiculously delicious!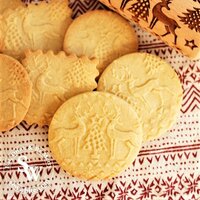 This easy to follow and lightly spiced Embossed Cookie recipe produces a dough which holds the pattern of an embossed rolling pin whilst tasting great! I've got all the tips and tricks you'll need to make perfect rolling pin cookies plus a troubleshooting guide so you'll be able to make the most out of your patterned rolling pin. These spiced sugar cookies are simply perfect and you can use the same recipe to make simple cookie cutter biscuits too.
Enjoy a slice of the Black Forest Christmas Bundt Cake this festive period. It's made with delicious cherry yoghurt and chocolate chips.
Follow me on Instagram to see what I've been making recently. www.instagram.com/sewwhite
Christmas Pudding Corn Flake Cakes
Christmas Pudding Corn Flake Cakes are great fun to make and even more fun to eat. Perfect for children to make during the festive season.
Ingredients
200

g

milk chocolate

200

g

cornflakes

100

g

white chocolate

Holly leaf sprinkles or sugarpaste cut into holly leaves

Red sprinkle sugar pearls or sugarpaste rolled into balls.
Instructions
Melt the chocolate and add the cornflakes and mix in well.

Spoon the mix between the cupcake cases or half sphere mould and pop in the fridge to set.

When they have set remove from the fridge and turn them out and over so they look like little puddings.

Melt the white chocolate and set aside to cool slightly so it thickens up a little.

Pop a spoonful of white chocolate on the chocolate puddings and add the holly and red pearls and leave to set.

Pop in the fridge to set.

Enjoy and Merry Christmas.
Nutrition
Please note that the nutrition information provided above is approximate and meant as a guideline only.