Brussels Sprouts Chocolate Truffles are a fun and silly thing to make and will have your guests giggling this Christmas. Luckily they taste much better than sprouts! A rich chocolatey truffle dipped with a chocolate shell. The white chocolate for the shell of the truffle is dyed green using colour paste. Luckily as we want them to be messy this is a great recipe for christmas chocolate truffles. Brussels Sprouts Chocolate Truffles are a fun thing to make and even more fun to make with children in the kitchen this Christmas.
You think you wouldn't but you will definitely be Enjoying Brussels Sprouts Christmas Truffles this festive season!
These are such a cute and funny way to adapt the delicious Christmas truffle recipe for something quirky. They are a brilliant centre piece and will definitely get your guests chatting. They also make great homemade foodie gifts.
They are so bright green and look so weird yet I love them. I always feel weird eating them but they taste incredible. Rich Christmas spice truffles perfect for friends and family who would like a little funny foodie gift.
Plated up Brussels Sprouts Christmas Truffles ready to be enjoyed at Christmas.
The Brussels Sprouts Christmas Trufffles
Let's get truffle making! These are fairly quick to make but are definitely messy. If you have hot hands like me wash them in cold water regularly when you're handling the chocolate to stop it melting too fast.
For the food colouring use colour pastes to dye the chocolate not liquid ones as they won't mix in properly. The paste doesn't make the chocolate have any reaction so will harden properly.
The finished Brussels Sprouts Christmas Truffles look so beautiful when the chocolate had hardened. The colour definitely make people look twice but it's so worth making. They always make people laugh and that is worth the effort alone.
Other Christmas recipes you will like…
My Chocolate Star Christmas Tree is a very easy, cute and fun way to get creative with children this Christmas. Build up the stars and get decorating.
I absolutely love these Lemon Spice Cakes. They are a delicious mix of lemon citrus, sweetness from the cake and spice which tastes like Christmas.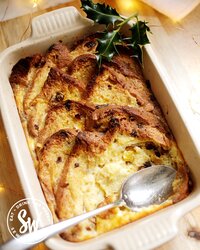 I adore this Christmas bread and butter pudding and of course with Christmas on the way I had to make it with Panettone. It's so fruity with a smooth homemade custard and has a delicious toasted flavour too. Panettone Bread and Butter Pudding is a wonderful winter dessert or Christmas pudding. It's a family favourite dessert in our house and a brilliant Christmas bake. The Christmas spices in the custard add some lovely warmth and flavour to the finished baked dessert.
These White Chocolate Christmas Cupcakes are the cutest addition to a Christmas party. They are easy to make, taste delicious and look wonderful.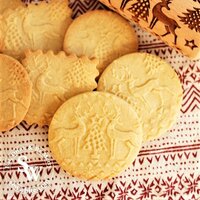 This easy to follow and lightly spiced Embossed Cookie recipe produces a dough which holds the pattern of an embossed rolling pin whilst tasting great! I've got all the tips and tricks you'll need to make perfect rolling pin cookies plus a troubleshooting guide so you'll be able to make the most out of your patterned rolling pin. These spiced sugar cookies are simply perfect and you can use the same recipe to make simple cookie cutter biscuits too.
Follow me on Instagram to see what I've been making recently. www.instagram.com/sewwhite
Find out what else I've been writing about
Brussels Sprouts Christmas Truffles
Brussels Sprouts Christmas Truffles are a fun and silly thing to make and will have your guests giggling. Luckily they taste much better than sprouts!
Ingredients
300

g

dark chocolate

300

ml

double cream / heavy cream

half

teaspoon

ground cinnamon

half

teaspoon

ground cloves,

half

teaspoon

ground ginger

half

teaspoon

mixed spice

cocoa powder

for dusting

200

g

white chocolate

2

teaspoons

vegetable oil

green colour paste

Use the paste not liquid colours
Instructions
Line a bowl with cling film.

Put the chocolate in a bowl snapped up or cut into small pieces.

In a saucepan warm up the double cream with the spices until it starts to boil and take it off the heat and pour it over the chocolate.

Mix the chocolate and cream together slowly until smooth and glossy.

Pour into the bowl and leave to cool at room temperature and then pop in the fridge for about 1 hour until firm.

Remove the truffle bowl from the fridge.

Scoop out balls of truffle with a teaspoon and set aside.

Melt 200g white chocolate and added a green colour paste to get it to a Brussels Sprouts colour. Gradually add up to 2 teaspoons of vegetable oil to make the chocolate slightly runnier.

Dip the truffles in the chocolate using a kebab stick, shook off the excess chocolate and set them to harden on greaseproof paper. The messier the better!

If you have any truffles left over coat them in cocoa powder.
Nutrition
Please note that the nutrition information provided above is approximate and meant as a guideline only.