Orange & Cinnamon Eggnog is a weird cocktail but one that once you try you'll be surprised at how delicious it can be. Creamy with orange and spicy flavours.
I think it's a very British thing to think that Eggnog is weird. It is, but it is delicious.
I've been trying out this American Christmas staple and adding my own flavour twist to the classic recipe by Waitrose Cellar. See the original recipe here Waitrose Cellar Eggnog.
Orange Cinnamon Eggnog
I love the cinnamon and orange flavours at Christmas and love adding to them to most things. With the addition of Cointreau to the rum and the nutmeg on top this frothie and milky drink takes on a lovely extra Christmassy feeling. I hope you like it and it makes a very nice pudding.
Orange Eggnog recipe
Orange goes so well with eggnog. It takes something away from the creaminess which can be a little over powering if you aren't a fan of dairy. The orange doesn't take anything away from the flavour of the eggnog but really adds some extra Christmas flavours that increase the wonderful experience.
Eggnog recipe UK
Eggnog isn't a hug cocktail to have in the UK but I think it will be gaining momentum. Once you've tried it, it really does seem something special for a festive treat.
Cointreau eggnog recipe
Cointreau is a beautiful flavour and works with the creamy eggnog so well to give a delicate but moreish orange flavour.
Can I use liquid egg whites/ pasteurised egg whites for eggnog?
Yes you can. Using Egg whites from supermarkets for eggnog is an option if you don't want to use raw eggs at home. The egg whites available in bottles are often pasteurised so they come with less risk than using raw. They still work in exactly the same way as normal for this Orange Cinnamon Eggnog recipe.
Waitrose Cellar provided me with gift voucher to purchase the ingredients for my recipe. The ideas are all my own.
Orange Cinnamon Eggnog
Orange & Cinnamon Eggnog is a weird cocktail but one that once you try you'll be surprised at how delicious it can be. Creamy with orange and spicy flavours.
Ingredients
2

large eggs

separated

25

g

caster sugar

100

ml

rum or bourbon

50

ml

Cointreau

200

ml

whole milk

150

ml

whipping cream

a little sprinkle of nutmeg and mixed spice

nutmeg to serve

freshly grated orange zest to serve
Instructions
Whisk the caster sugar and egg yolks together for a few minutes until light and fluffy.

Gradually add in the rum, Cointreau and the milk along with the spices.

In a separate bowl, whisk the egg whites until they form soft peaks.

Fold the rum and egg yolk mixture into the whites very gradually using a metal spoon.

Finally, whip the cream (until just holding its shape) then fold into the mixture too.

Ladle into your glasses and dust with nutmeg and orange zest to serve.
Notes
*Contains raw egg, so it is not suitable for pregnant women, the elderly and those with weak immune systems.
Nutrition
Please note that the nutrition information provided above is approximate and meant as a guideline only.
Follow me on instagram to see what I've been making recently. www.instagram.com/sewwhite
This is definitely going to be a Christmas favourite! My Christmas Cranberry Gin Cocktail is a Christmas twist on a classic gin cocktail.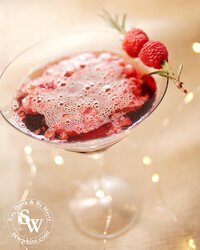 This delicious Rum and Raspberry Cocktail is always a winner at a party. The spiced rum and raspberry flavours work so incredibly well together.
Enjoy a glass or two of my Sparkling Cranberry Ginger Cocktail. It's a warming and fiery blend of cranberries, ginger beer and cranberry liqueur. This is a perfect sparkling ginger cocktail. My cranberry ginger beer cocktail is so easy to make and is a great recipe for your favourite Christmas party drinks collection.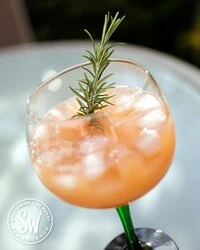 This is an easy yet absolutely delicious Aperol apple cocktail. Apple juice works so well with the iconic Aperol drink and you will want to have more than one of these! Perfect drink for enjoying in the sunshine.