Welcome to my Easter gift guide 2022. I have rounded up the best non-traditional Easter gifts which are perfect to give to friends and family this April. There are a lot of drinks, a vegan drink and more too.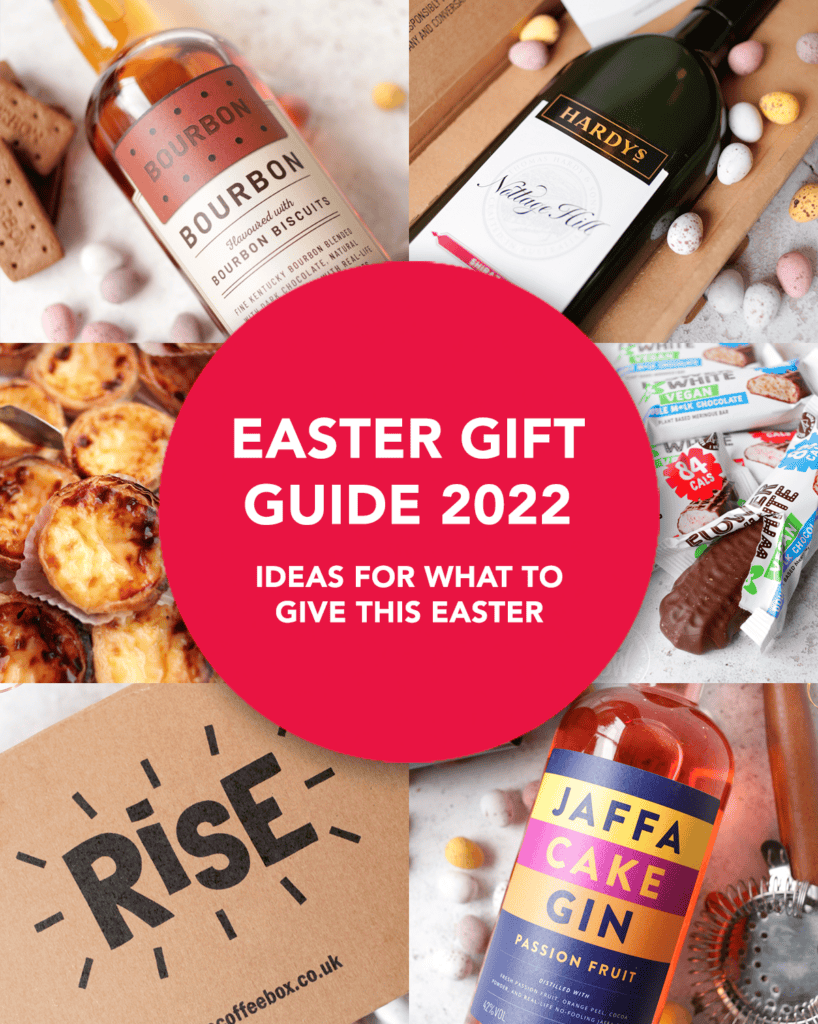 RiSE each morning with Rise Coffee
For the coffee lover in your life, a great Easter present would be a subscription to RiSE coffee. In the monthly box, you'll get two new speciality coffee blends from different UK roasters. It's also delivered to your door every month. In the box, there is also other independent, sustainable special treats, recipes and more.
When I received the RiSE coffee box I was hit overwhelmingly with the smell of rich coffee. the smell that makes your mouth water and makes you run over to the kettle to get the coffee making started.
Having two coffee varieties to try was a treat. I know I love coffee but I don't know what I like yet in terms of flavours. I've found so many I like so narrowing down to certain tastes is proving hard. Getting to try coffees in my own home works so well as the packets of coffee are large enough to have more than one cup. I can try and retry them and decide which is my favourite.
Part of the RiSE ethos to coffee making is to have independent, sustainable and premium coffee. By shopping with RiSE you are supporting an Independent business that supports other independent businesses.
Order your coffee subscription from RiSE Coffee.
Vegan Easter treats from Flower and White – Easter gift guide 2022
In my Christmas food gift guide, I featured the Flower and White chocolate covered meringues and I can't believe how popular they were. For Easter this year they have the perfect snacks for your vegan friends and family… plant-based meringue bars.
I would recommend the taster pack. It comes with Double M*lk Chocolate and Chocolate Dipped Strawberry Vegan Meringue Bars. They are made using natural flavours and colours, with no additives and no nasties. What is also great is that their vegan bars are also gluten-free!
Hand made, baked and packed in their Shropshire bakery too. Plus the packaging is plastic-free too.
These snacks are so moreish. I can see why they have created the tester pack. They are filling and a fun treat but tasty to even non-vegans so everyone will want more. The strawberry is sweet and the chocolate one is smooth and milky (even though it's vegan) and even easier to eat.
Order your tasty Easter treats from Flower and White.
Chocolate Bourbon Biscuit Infused cocktails with Atom Labs
Bourbon Bourbon binds the beautiful flavours of bourbon and the iconic chocolate bourbon biscuit. There is such a wonderful mix of flavours and I was surprised with how much bourbon and chocolate bourbon would work together. The dark chocolate is sweet and has hints of vanilla while the Kentucky bourbon adds the rich earthiness that only bourbon can give.
Serving wise; it can be mixed into cocktails or sipped neat. Definitely try a sip neat to really taste the flavours and enjoy the mix of chocolate and bourbon.
The reason this Bourbon Bourbon works so well for the Easter gift guide 2022 is that the mix of chocolate flavours works so well with chocolate. This bourbon would make a brilliant Easter cocktail and can be served with your favourite Easter chocolates. If you are feeling really snazzy this Easter why not make the cocktail and serve it in an Easter egg? Enjoy the drink and nibble on the chocolate too.
Order your bottle of Bourbon Biscuit Bourbon from Masters of Malt.
Send wine by post with Garçon Wines in the Easter gift guide 2022
This Easter is the first time in over two years we can meet without restrictions and party. Sadly some friends and family are still at other ends of the country and Garçon Wines have a great option of what to send them this Easter – wine by post!
Yes, you read that right. Wine by post. The bottles they use are flat and are a perfect size to be posted through the letterbox. Garçon wines have an ethos about using recycled packaging and their bottles are made of 100% recycled plastics making them extremely planet-friendly.
As the bottles are made of recycled plastic they are safer to transport without fear of breaking. Their unusual shape means they can be popped into the letterbox without any fuss too. I love that I don't have to make sure the recipient is home on the day you want the gift delivered and spoil the surprise.
There are a huge range of wines available in eco flat bottles and you can find them from Funky Pigeon and in some Co-Op stores. Check out the full list of stockists on the Garçon wines website.
Portuguese Custard Tart Easter Nests from Luso Brazil
These are the best Portuguese custard tarts you will ever have. In my humble opinion. I am obsessed with the pasteis de nata made by Luso Brazil. I have been known to enjoy a box or two to myself over a weekend. On their own or with a little sprinkling of cinnamon they are mouthwateringly good.
While not essentially Eastery, the Portuguese tarts are nest shaped and lend themselves very well to being turned into Easter nests. Just top the Portuguese tarts with a few choice mini eggs or Easter eggs. The soft creamy filling with flakey pastry outsides are just so good but with added chocolate, it takes the tarts up to the next level.
If you or your children are feeling creative you could even make a decorating afternoon. It would be a fun time to decorate the tarts as nests for Easter.
Order your Pasteis de Nata from Luso Brazil on their website or visit them at the Love Wimbledon or Wimbledon Village Markets.
Passionately longing for spring drinks with Passion Fruit Jaffa Cake Gin
When Jaffa Cake Gin was released I thought that was one of the best drinks I had tried in ages. (Make sure you check out my Jaffa Cake gin Cocktail). It was easy to add tonic too and have a great tasting drink straight away. The geniuses behind Jaffa Cake Gin then make it into vodka and rum too. It gave cocktail fans like myself even more ways to enjoy the great flavour. Now to continue in their success they have bought out a Passion Fruit Jaffa Cake Gin!
Along with the delicious orange chocolate flavour is now the same gin but with a fruity extra helping of passion fruit. I wouldn't think the flavours would work but it's like a tropical punch that will work all year round.
For Easter, and hopefully a sunny weekend, I couldn't think of anything better than a gin and tonic made with Passion Fruit Jaffa Cake Gin. The chocolate orange flavour definitely lends it self to a chocolate festival such as Easter. It would pair very nicely with your haul of Easter chocolate.
This makes a great gift for friends and family or as a drink for everyone to enjoy as you meet up and celebrate the bank holiday.