It's the best time of year for al fresco dining and enjoying fresh and fruity recipes. From gorgeous fresh salads and fruity desserts check out my top picks for recipes to try this spring and summer.
Fresh and Fruity Main Meals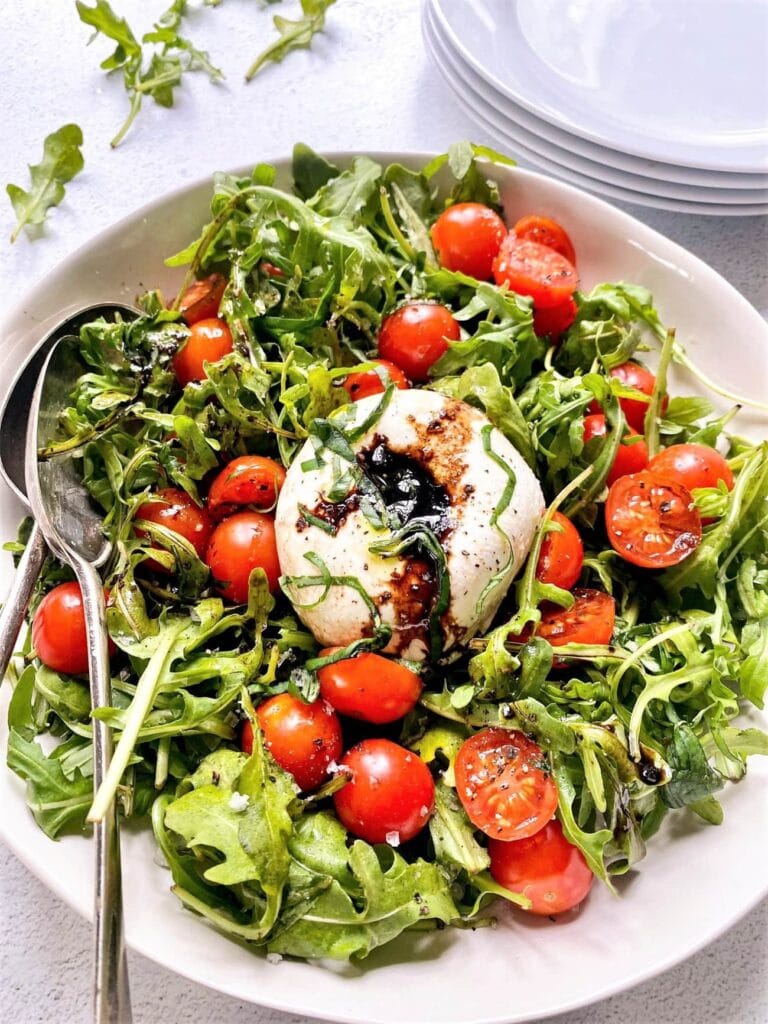 Arugula Burrata Salad with Balsamic Vinaigrette by The Family Food Kitchen
This easy Arugula Burrata Salad with Balsamic Vinaigrette is next level. Simply top peppery arugula with cherry tomatoes, basil and a ball of soft and creamy burrata cheese. Perfect as a quick dinner or a side dish, it's ready in under 10 minutes too.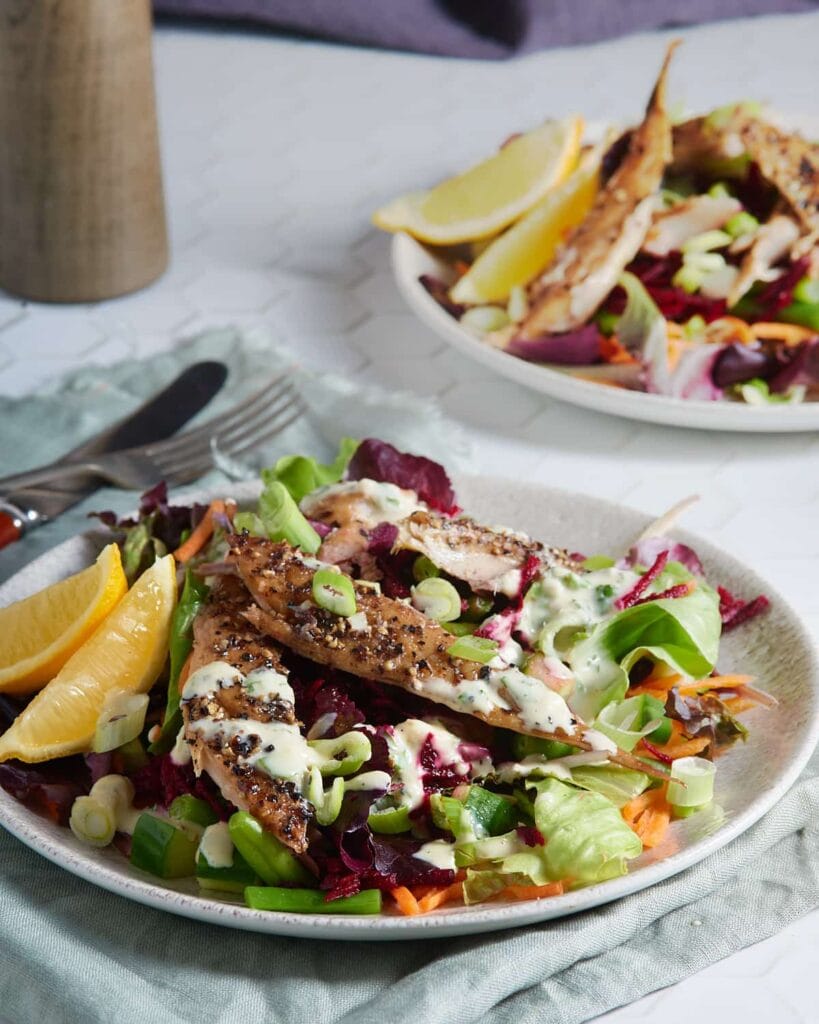 Smoked Mackerel & Beetroot Salad by Lost in Food
Our Smoked Mackerel & Beetroot Salad pairs smoky mackerel with earthy beetroot, sweet carrot and fresh cucumber. Then we finish our mackerel salad with horseradish dressing, which has a citrus burst from the lemon and freshness from parsley.
Easy Chicken Salad Bowl by Me at Sew White
This chicken salad bowl is a perfect mid-week meal, a great mixed summer platter for barbeques, and great for a lunchbox of leftovers. This warm chicken salad is freshly made and is super healthy too. The chicken is cooked in fresh herbs and served in a salad bowl with avocado, mozzarella, crisp red onion, juicy tomatoes plus the delicious staples of salad lettuce and cucumber. It is topped with an easy to make a dressing of balsamic vinegar and olive oil.
Sweet Fresh and Fruity Recipes
Forest Fruit Curd Tarts by Feast Glorious Feast
This Forest Fruit Curd Tarts recipe is a brilliant way to use and serve a dark fruit curd but it's also super versatile and can be as homemade or not as you choose! Smooth curd is piled into crisp pastry shells and topped with whipped cream and more fruit. How simple is that?!
Fondant Fancies with Raspberries, pistachio and orange by Gluten Free Alchemist
Beautiful and very special Gluten Free Fondant Fancies with Pistachio, Orange and Raspberry that make Mr Kipling French Fancies look like children's party food. Inspired by the Great British Bake Off, these morsels of deliciousness would happily grace the tables of the most sophisticated afternoon tea or celebration.
Strawberry and White Chocolate Cheesecake
If you are looking for a show stopper of a no-bake Strawberry White Chocolate Cheesecake you are in the right place. It looks incredible but with my recipe, it's also incredibly easy. A perfect white chocolate strawberry cheesecake for summer parties, birthdays and events. This is a Strawberry White Chocolate Cheesecake UK recipe but there are American measurements too.
WHAT IS #COOKBLOGSHARE?
CookBlogShare is a community for food bloggers to share recipes and foodie posts and generally support the food blogging community. The community is centred around the #CookBlogShare linky.
It is a wonderful way for a wide range of food writers, recipe creators and bloggers to come together and share each other's recipes.
The linky is now run by Sisley from Sew White & Chloe from Feast Glorious Feast. New members are always welcome to join so make sure you invite your other food blogger friends!
The last linky was hosted by Feast Glorious Feast who put together a collection of Jubilee Weekend Recipes.
Each week the host chooses a selection of recipes which have been submitted during the previous week to showcase.
HOW TO TAKE PART IN THIS WEEK'S #COOKBLOGSHARE
BLOGGERS
Scroll down to the linky widget and add your links. Make sure to read the rules so we can all share the love!
I'll be commenting and sharing as many of the links as possible. They'll also be pinned to the #CookBlogShare group Pinterest board.
Use the same hashtag #CookBlogShare on Instagram and social media and you can post your recipes in the CookBlogShare Facebook Page.
READERS
Scroll down to see what recipes have been linked up so far this week. Have a read and let us know what you think. Feel free to help share the love by sharing the recipes far and wide! You can also follow the #CookBlogShare hashtags on Twitter and Instagram to discover new and wonderful recipes.
THE RULES!
You can link up any recipe or foodie posts you have. Both old and new posts are welcome as long as they have not been linked to #CookBlogShare before. There is no set theme but it is always sensible to think about upcoming seasons and holidays.
It is usually beneficial to link up towards the beginning of the week for maximum benefit to you.
You can link up to a maximum of 4 posts per linky.
Required – Add a link from your post(s) back to the host's post. E.g. "I have linked this recipe to #CookBlogShare run by Sisley & Chloe which was hosted by Sisley at Sew White at https://www.sewwhite.com/fresh-and-fruity-recipes/.
Required – For each recipe that you link up, choose at least 2 of the other recipes linked that week, go to the blog post and leave a 5* rating & lovely positive comment. You might want to come back later in the week when more posts have been linked up – but don't forget!
Required – Please also comment on at least one post from that week's host. Their linked posts will be marked "HOST" in the title. Please note that a host might request that comments are not left on the linky post as this isn't always the most beneficial place for a host to feel the love!
Please note that by joining in, you are giving the #CookBlogShare hosts permission to use your pictures in a roundup and on social media if your recipe is selected as one of our favourites!
WAYS TO HELP THE #COOKBLOGSHARE COMMUNITY
Become a guest host.
Follow #CookBlogShare on Instagram and like/comment on linked up posts.
Follow #CookBlogShare on Twitter and like/retweet linked up tweets.
Keep up with the Facebook Group for roundup recipe requests and other shouts for help.
And do all these things yourself too!
Get involved with the Facebook Group. Ask questions, answer questions, share successes and generally be part of the awesome community!
THIS WEEK'S #COOKBLOGSHARE LINKY