This week I am rounding up the best Midweek Meal Ideas to try. There are healthy dishes, delicious pastas, seafood and of course they are all easy to make at home.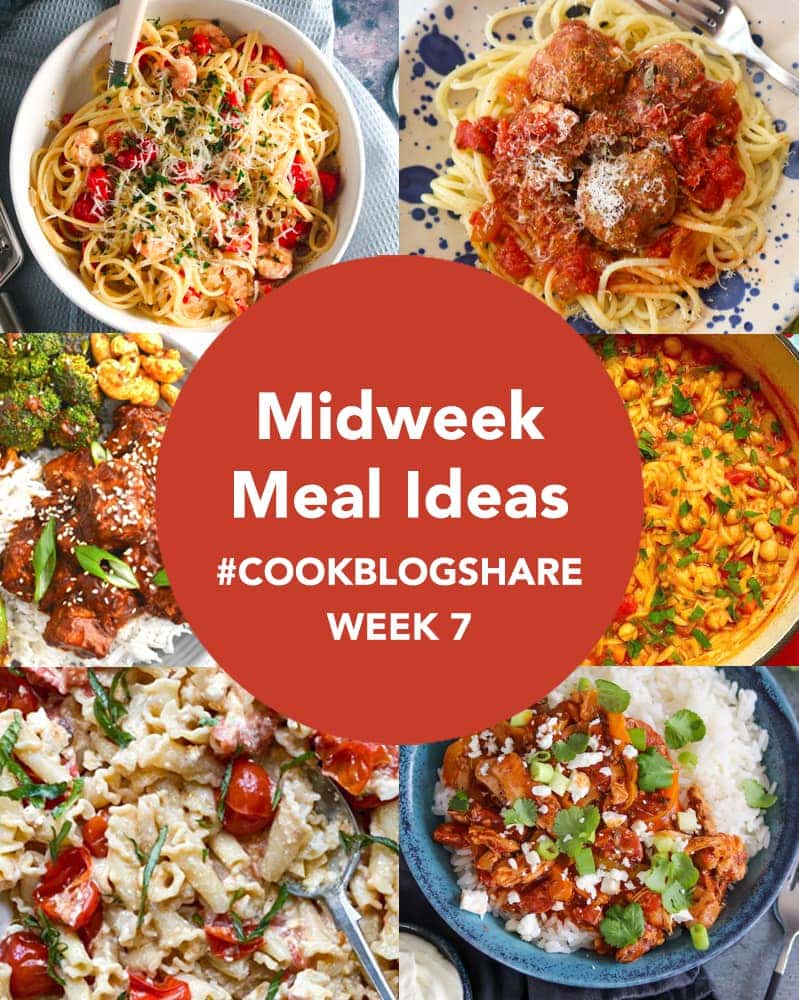 Welcome to Week 7 of #CookBlogShare. Last week we were treated to a round of Flipping Good Pancakes hosted by Karen at Lavender and Lovage.
This week I have had the not-so-hard job of looking through the incredibly gorgeous entries from last week's linky party to pick this weeks theme. So this week we have a lovely round-up of tasty Midweek Meal Ideas.
With the never-ending lockdown, I am so in need of something new to cook, having exhausted all my usual favourites.
Midweek Meal Ideas – Pasta Ideas
Chilli Prawn Linguine with Tomatoes and White Wine by Carrie Carvalho
This gorgeous and fresh linguine with king prawn, chilli and tomato is not only quick and easy to make for a midweek meal. However, it also makes a super stylish meal for Date Night or entertaining. It looks fancy but is really simple to prepare at home. The light yet decadent sauce comes together in the time it takes to cook the linguine!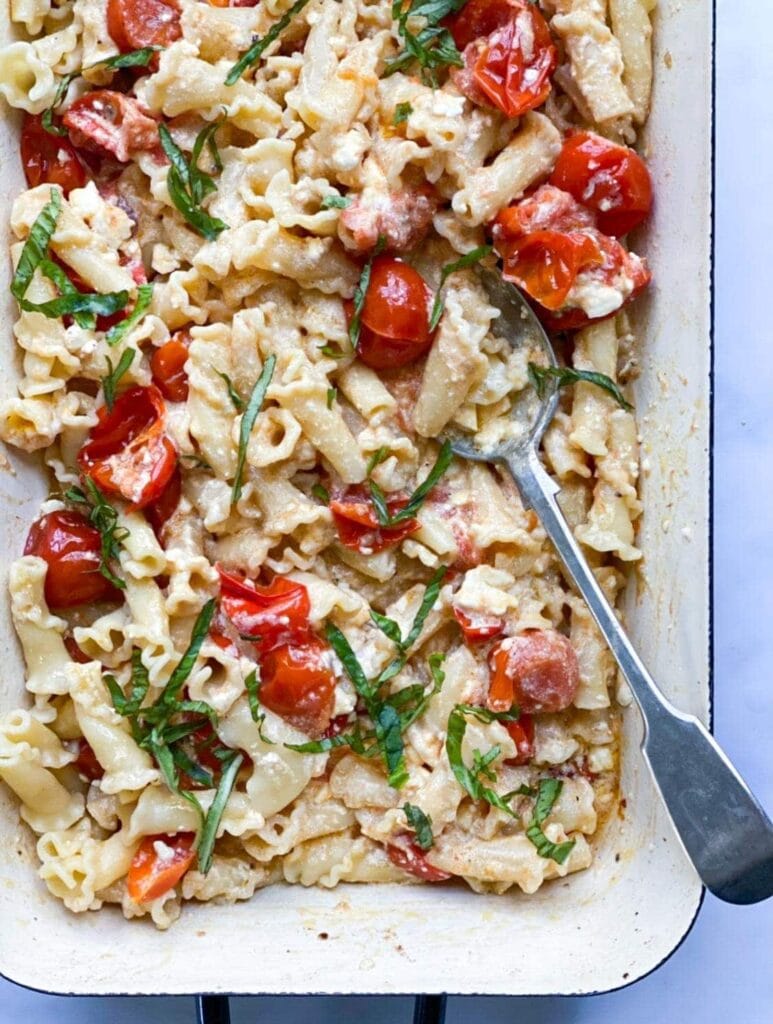 Baked Feta Pasta by The Family Food Kitchen
This Baked Feta Pasta is a super simple hands off dish made from only 5 ingredients! The yummy Feta is roasted in the oven with cherry tomatoes to create an unbelievably good creamy tomato sauce. As simple dishes go this is a recipe you will make time and time again. I can imagine enjoying this outside in the sunshine when we finally have summer.
The Best Spaghetti & Meatballs by Mummy Lauretta
If you want a new dish that the kids will love, has loads of flavour, that is easy to make and makes enough so that you have a super quick meal another day, then this is the recipe for you. This meal is the ultimate in comfort food and home cooking. I love a rich yet simple tomato sauce with meatballs. You really can't beat it.
Three of my pasta dishes to try…
Midweek Meal Ideas – Comfort food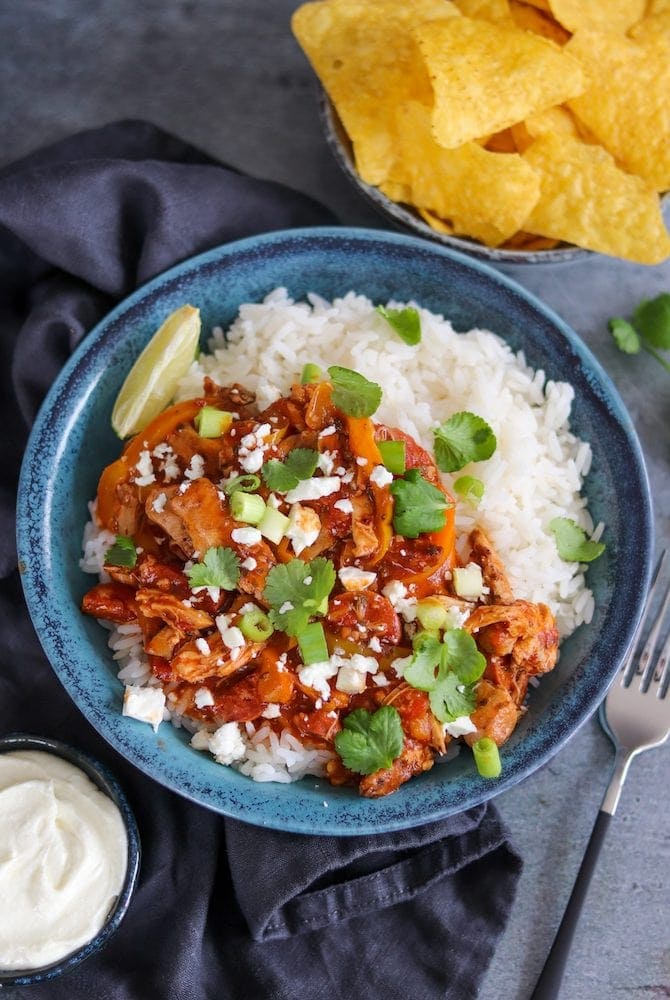 Slow Cooker Chicken & Chorizo Stew by Curly's Cooking
This Chicken and chorizo in a rich tomato sauce with a subtle warmth is calling to me for dinner. This Slow Cooker Chicken & Chorizo Stew is perfect for a cold winter night served with rice or tortillas and salad and a dollop of soured cream. I also love the addition of fresh herbs to add that extra sprinkling of flavour.
One Pot Vegetable Stew by Family Friends Food
This vegetable stew is a delicious one-pot dinner that practically makes itself! Simply pop everything in the pot and let it cook in the oven while you relax. I love a dinner where it is as simple as popping all the ingredients into a pot, pop it in the oven, and come back a while later when everything is cooked and ready to serve.
Pan-Fried Crispy Tofu Bowl by Cook with Renu
Struggling with Tofu? Want to make it more appetizing or you think whatever you make with it it is going to be bland? Well, then you must try these Pan-Fried Crispy Tofu Bowl by Cook with Renu. It is a delicious dish and every bite has that burst of flavours. It has a hint of chilli, some sweetness and a hint of sour taste from the sauces.
Three of my comfort food recipes to try…
Join this week's #CookBlogShare
We will be tweeting and commenting (on some/all of the links) and the recipes will be pinned to the #CookBlogShare group board on Pinterest.
Share on social media
If you are on Twitter we invite you tag @lavenderandlovage and
@sewwhite using the #CookBlogShare hashtag for retweets.
Please feel free to add the #CookBlogShare hashtag to their
Instagram posts. Or post your recipes on the Cook Blog Share Facebook Page.
Non Bloggers – skip to the bottom of the page and click on the thumbnails that catch your eye to take you to the website where the recipe can be found. Remember they will be added to as the week goes on, so don't forget to pop back and take a look again later.
Bloggers – How do I join #CookBlogShare Week 7?
•You can link up any foodie posts you have. Both old and new posts are
welcome as long as they have not been linked to #CookBlogShare before.
Link up a recipe or foodie post by clicking the blue 'add your link' button
below and following the instructions. You can link up to 4 posts.
•Add a link from your post back to this post https://www.sewwhite.com/recipe-collections/midweek-meal-ideas/ (so everyone else can find it
and link up too!)
•Add the #CookBlogShare badge to your post (Code below – for
WordPress copy and paste the code below into the text view of your post
or copy and save image).
•Comment on some of the other recipes linked up here (at least 2 for each
link you added but the more you can the better) and generally share the
love with a bit of social media action!
•Plus comment one of the posts labelled HOST in the linky.
By joining in you are giving the #CookBlogShare hosts permission to use your pictures in a roundup and on social media if your recipe is selected as one of their favourites!