With so much fruit available in the summer making my Peach and Raspberry Jam is the greatest way to savouring it for future months.
This is a fantastic jam for summer and it lasts really well if you make a few bottles for the store cupboard. It might sound unusual but I promise you it's a winning flavour. If you like tarter jam add limes instead of lemons. It really brings out the flavour of the raspberries a lot more too. Last time I used two lemons and one lime and it was a great combo.
Peach and Raspberry Jam
During the summer month when fruit is plentiful I tend to over buy especially when it is on offer. When I made this I accidentally bought way too many peaches one day and had a few packets of raspberries in the fridge already. I decided to have a go turning them into jam. I tried perfecting this recipe a few times and this is the best I came up with for amounts.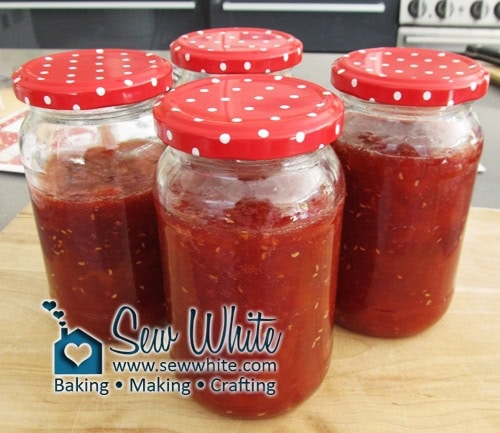 I absolutely love the colour of this jam. A few batches were a little more yellow than red. I think it depends on the fruit and how many raspberries you use. I'm a big of raspberries in jam so I tend to add a few extra. And leave a few for snacking on while I'm making it.
The recipe for my Peach and Raspberry Jam was very simple and although it takes a while for the jam to simmer down it's really relaxing. I really love watching how fruit can boil down into delicious jam and last for so long.
You will need to strain the jam if you don't want bits as the skin will stick out a bit. If you cut up the peaches pretty small the skin isn't too much of a problem if you like chunky jam.
You will also want to sterilise your jam jars, you can do this in the oven or in the air fryer.
Peach and Raspberry Jam
With so much fruit available in the summer making my Peach and Raspberry Jam is the greatest way to savouring it for future months.
Ingredients
1

kg

peaches

cut up in to chunks without stones – I used 3 punnets

1

punnet of raspberries

about 150g/200g

2

lemons

4

tablespoons

of water

800

g

preserving sugar
Instructions
Place a plate in the freezer

Put the peaches, lemon juice, water and raspberries in to the jam pan or saucepan.

Cook gently for 15 minutes until the fruit is soft and mushy.

Add the sugar, stir gently until the sugar has dissolved.

Put the pan back on the heat and boil for 15 minutes.

Take the plate out of the freezer and put a few drops of the jam on.

Leave it for a few seconds and gently push the jam to see if it wrinkles. If it doesn't wrinkle boil for another 5 minutes.

Using a funnel pour the jam into sterilised jars. Make sure the jars are warm otherwise the hot fruit may shatter them.
Nutrition
Please note that the nutrition information provided above is approximate and meant as a guideline only.
Follow me on instagram to see what other cakes I've been making recently. www.instagram.com/sewwhite
With so much gorgeous fresh fruit available in the summer, I decided it was the perfect time to make my easy strawberry and raspberry jam!
Strawberry Jam Gin and Tonic is my new favourite drink! Adding jam is a
quick way of adding a new taste to a classic gin and tonic.