These pumpkin brownies (UK recipe) are absolutely delicious and so easy to make. The mix of fudgy chocolate brownie and pumpkin is a match made in heaven. These pumpkin pie brownies are a perfect Halloween dessert and a great way to use up your leftover pumpkin from pumpkin carving.
This is a pumpkin brownies UK recipe but has a conversion for US measurements too. You can use homemade pumpkin puree or shop-bought pumpkin puree.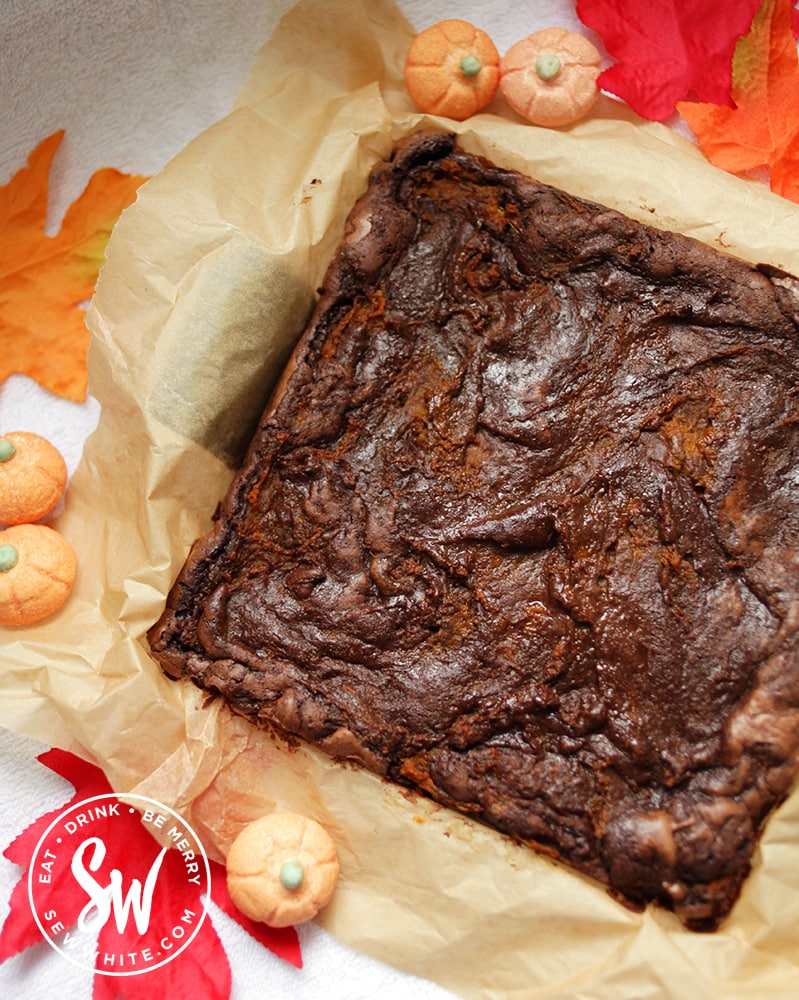 Plus I'm convinced that the pumpkin in some way makes it a tiny bit healthier than normal. Well it does now contain some tasty vegetable puree so that has to count if only a little bit.
Why you'll love this recipe for pumpkin puree brownies
They are so reasons to love this recipe but I think the best is how squidgy and moist these brownies are when cooked. They also stay soft so they last really well.
The recipes makes perfect Halloween party food or give as a Halloween edible gift.
It is packed full of pumpkin which I think* makes it healthier. (*A girl can hope).
I am very generous with the pumpkin spices and it really does take it to the next level for the season.
Substitutions and variations
When make these brownies you can use homemade or shop bought pumpkin puree.
If you want to make them even more chocolaty then add some extra chop chips to the mix. I would recommend a mix of white, milk and dark chocolate. Definitely delicious.
If you don't like pumpkin pie spices then leave them out. Alternatively you can add more of the spices you do like. I love adding extra cinnamon.
What can I serve with pumpkin brownies uk?
The best thing you can serve with warm fudgy pumpkin brownies is a dollop of whipped double/heavy cream. However I do love having a scoop of vanilla ice cream with mine, especially when they are freshly baked and still warm. I can't help but dive right in and enjoy when the brownies are still warm, squidgy and fudgy.
You can also decorate your pumpkin pie brownies with gorgeous dried orange slices. Usually reserved for Christmas recipes, these dried orange slices fill your house with that warm orangey smell and look great scattered across your brownies.
What makes brownies more fudgy?
The greatest way to make brownies more fudgy is to add pumpkin. It keeps them moist and the natural sugars help the chocolate brownie mix stay more fudgy when cooking.
Another way to make brownie more fudgy is to reduce the baking them. Over cooking them is the easiest way to remove any hope of them being fudgy when they've cooled.
Do brownies harden as they cool?
Yes brownies do harden as they cool. They might be molten and squidgy when you take them out of the oven but as they cool they will dry out slightly. The pumpkin will help keep them soft and making sure you remove them when they are still squidgy will help them softer for longer.
When I make these pumpkin brownies I add the chocolate mixture to the prepared cake pan and dollop spoonfuls of the pumpkin puree on top. From here I used a spoon to swirl it together.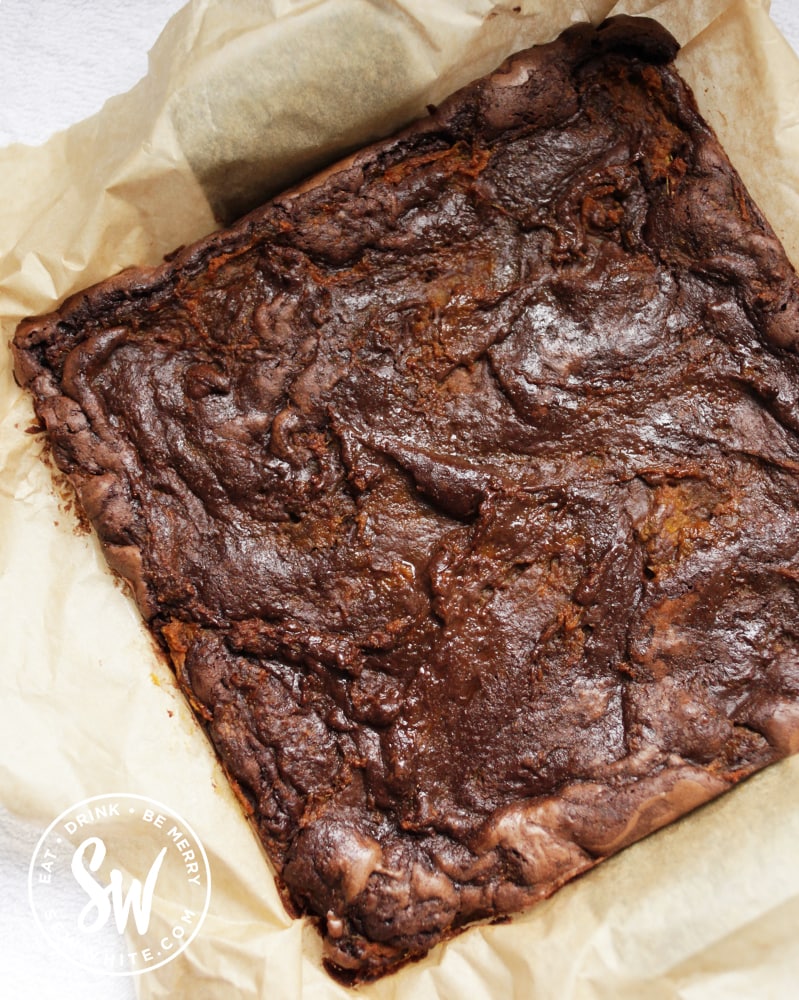 After baking, the brownies have gorgeous orange pumpkin slithers throughout them. I love the mix of colour and shiny brownies this recipe creates.
Pumpkin puree brownies
Adding pumpkin puree into brownies is a really easy way to add pumpkin to your bake. If you have leftover pumpkin puree or you fancy adding it couldn't be easier. For this pumpkin puree brownies recipe, I create a normal tray of brownies and before baking, I swirl the puree through the chocolate.
This way I give each slice of the finished fudgy pumpkin brownies a mix of dense chocolate and then a bit of pumpkin with chocolate. You can mix it in completely but I prefer this way. I like the squidgy areas of the brownie where there is dense pieces of spiced pumpkin puree.
You can keep the pumpkin as it is when you puree it for the brownies or you can add some delicious spices. I would recommend cinnamon! The cinnamon, or other spices, work so well with the pumpkin and chocolate and take it to the next level.
What does pumpkin puree do in baking?
Pumpkin puree in baking adds flavour but can also add moisture to your baking. The soft vegetable when cooked goes soft and squishy. When added to cake or pumpkin brownies like this recipe it gives a softer baker and keeps the finished bake moister.
It is also a brilliant way to add vegetables to your bake and make your bakes more healthy. Adding pumpkin puree to your bakes also gives you an autumn / winter feeling as it brings in the love of pumpkin pie to what you make.
Pumpkin doesn't have a strong flavour but is very versatile in how it can have flavours added to it. It works well being mixed into chocolate recipes like this one. However, it can be used with a range of spices and herbs. For example, a pumpkin and other squashes are a brilliant addition to curries. The curry powder and heat from the spices works incredibly well.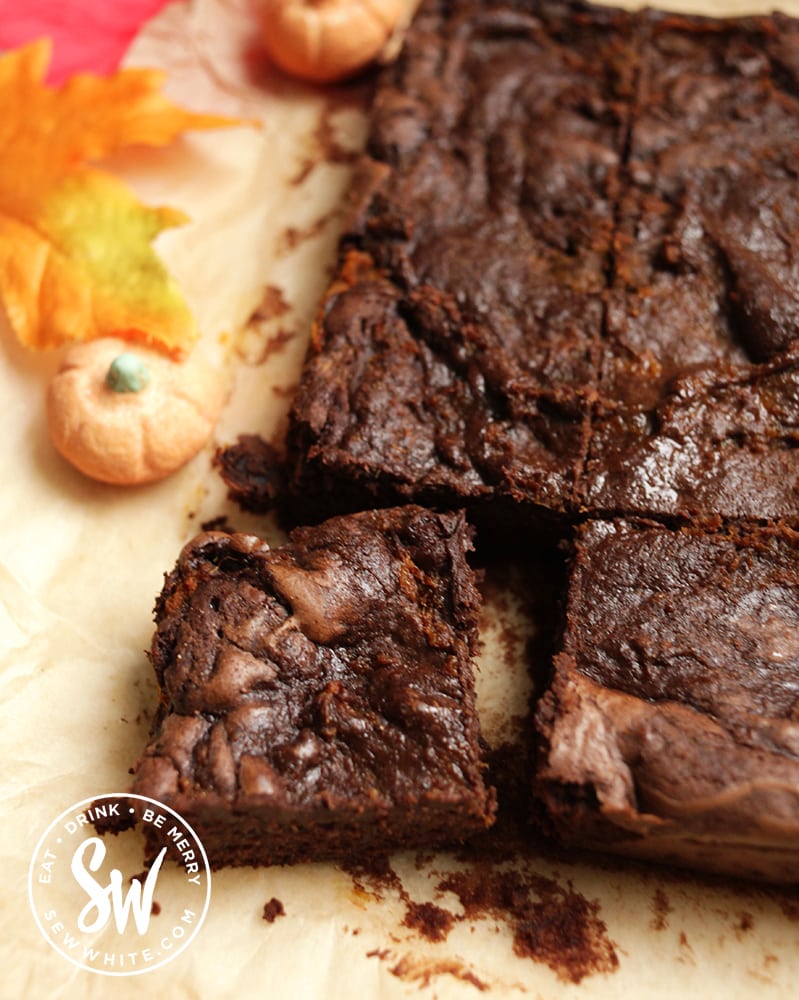 What can I do with half a can of pumpkin?
These brownies are a great way to use up leftover pumpkin puree or half a can of pumpkin. You don't need much but you could easily do a batch of brownies, half with pumpkin and a half without. Making brownies definitely gets my vote for what to do with half a can of pumpkin.
Can I use homemade pumpkin puree for the chocolate brownies UK?
Yes I think pumpkin brownies are a brilliant and easy Halloween dessert to make with home-roasted pumpkin. If you use homemade puree you also have the option of having it more shredded or make the puree smooth with a blender.
Check out my how to cook pumpkin guide to see how to take your pumpkin and transform it into a gorgeous baked vegetable. Once cooked the pumpkin is perfect for use in savoury dishes. Or you can pop it into the blender to make puree which can be used in this pumpkin brownie recipe. It is a great way to make your own pumpkin filling and is very easy too. If I can do it, you can too!
Looking for other recipes that use pumpkin? Or need some Halloween ideas…Check these out
Pin me for later or follow me @sewwhiteblog on Pinterest for my latest recipes and to discover of my others.
Pumpkin Brownies (UK recipe)
These pumpkin brownies are absolutely delicious and so easy to make. The mix of fudgy chocolate brownie and pumpkin is a match made in heaven. These pumpkin pie brownies are a perfect Halloween dessert and a great way to use up your leftover pumpkin from pumpkin carving.
Equipment
9 x 9 inch square cake tin
Ingredients
200

g

(

1.14

cups

)

dark chocolate

250

g

(

1.1

cups

)

unsalted butter

at room temperature

200

g

(

1

cups

)

soft brown sugar

100

g

(

0.5

cups

)

caster sugar

1

teaspoon

(

1

teaspoon

)

vanilla extract

3

medium

(

3

medium

)

eggs

1

(

1

)

egg yolk

120

g

(

1

cups

)

plain flour / all-purpose flour

80

g

(

0.75

cups

)

cocoa powder

pinch of salt

200

g

(

7.05

oz

)

pumpkin puree

2

teaspoons

(

2

teaspoons

)

mixed spice

(pumpkin pie spice)
Instructions
Line and lightly grease a 9-inch x 9-inch cake tin with greaseproof paper.

Preheat the oven to 180ºC/160 fan/350ºF.

Melt the chocolate and butter in a microwave in short bursts or over hot water. Once melted set aside to cool.

Whisk the sugars, vanilla and eggs with extra egg yolk until light and fluffy. (the extra yolk really helps get a crisp top to the brownie).

Add the slightly cooled melted chocolate and mix together.

Sieve in the flour, a pinch of salt, baking powder and the cocoa powder and mix until combined.

Pour the mixture into the prepared baking tin.

In a bowl mix the pumpkin puree with your choice of spices. I go for cinnamon for these but all those iconic winter spices and pumpkin pie spices work.

Add dollops of the pumpkin to the brownie mix.

Using the back of a spoon pull the pumpkin in to the chocolate. This way you get lovely brownies with strong areas of pumpkin. You can mix them in more if you would like.

Bake for 40-50 minutes in the middle of the oven. Add an extra 10 if you want it to have a firm set.

Remove from the tin and allow to cool on a wire wrack for at least a few seconds before cutting in and enjoying.
Notes
•Enjoy when it's still warm with ice cream or cream.
•Once cooked and cooled you can wrap the pieces up and put them in the freezer.
•Adjust the spices to your taste.
•A great recipe for Halloween party food.
Nutrition
Calories:
255
kcal
Carbohydrates:
27
g
Protein:
3
g
Fat:
16
g
Saturated Fat:
10
g
Polyunsaturated Fat:
1
g
Monounsaturated Fat:
4
g
Trans Fat:
1
g
Cholesterol:
61
mg
Sodium:
18
mg
Potassium:
188
mg
Fiber:
3
g
Sugar:
18
g
Vitamin A:
1922
IU
Vitamin C:
1
mg
Calcium:
34
mg
Iron:
2
mg
Please note that the nutrition information provided above is approximate and meant as a guideline only.